Major League Baseball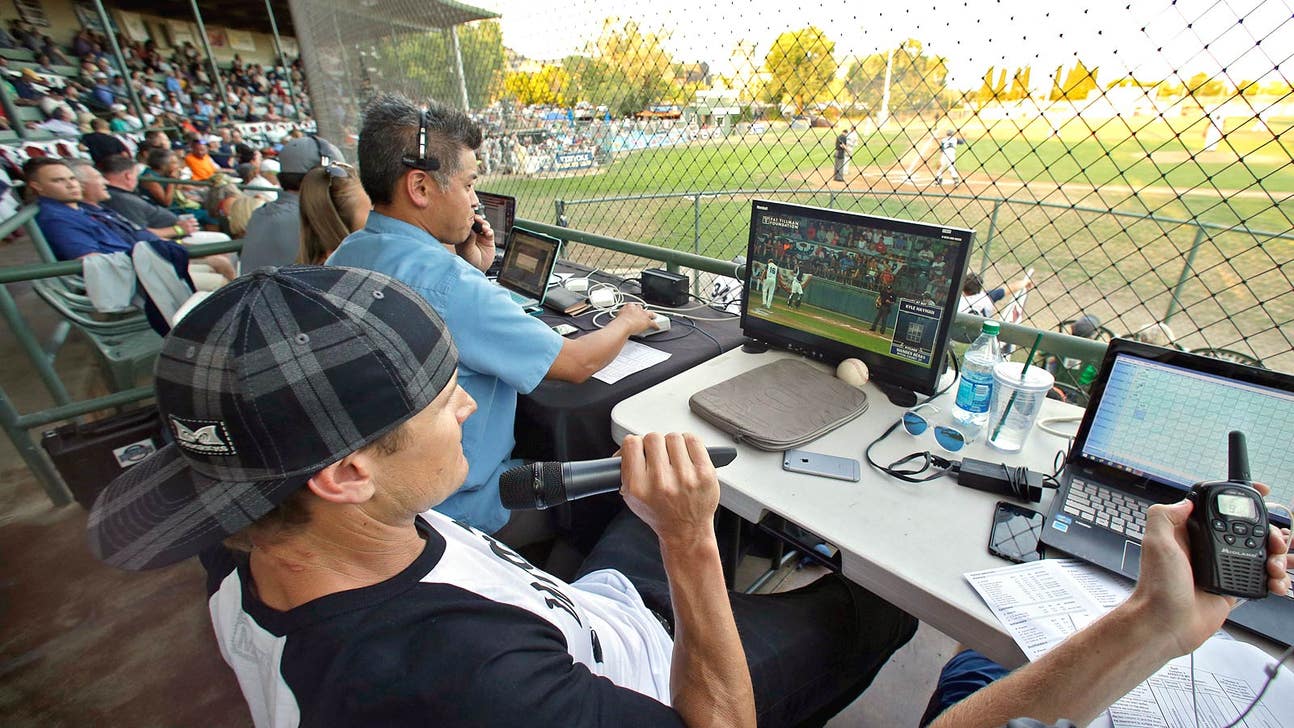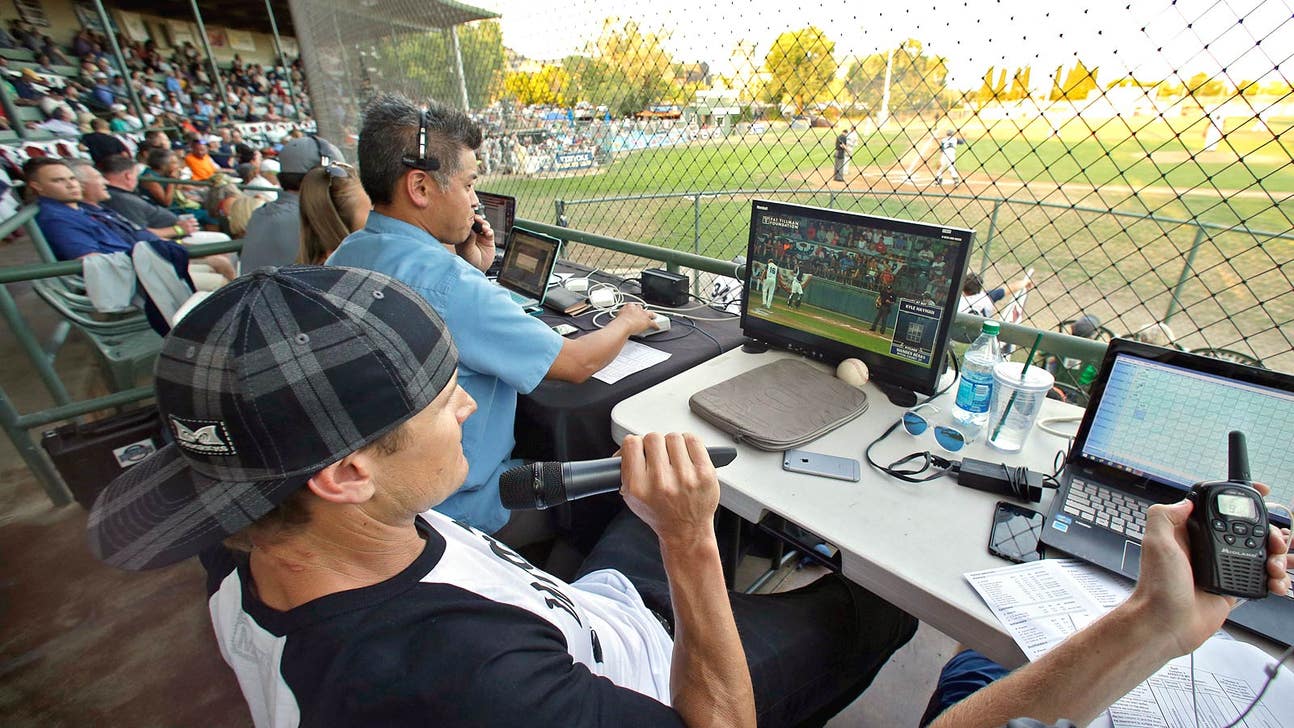 Major League Baseball
Who needs umps? Computer calls balls, strikes in minors
Published
Jul. 30, 2015 2:44 a.m. ET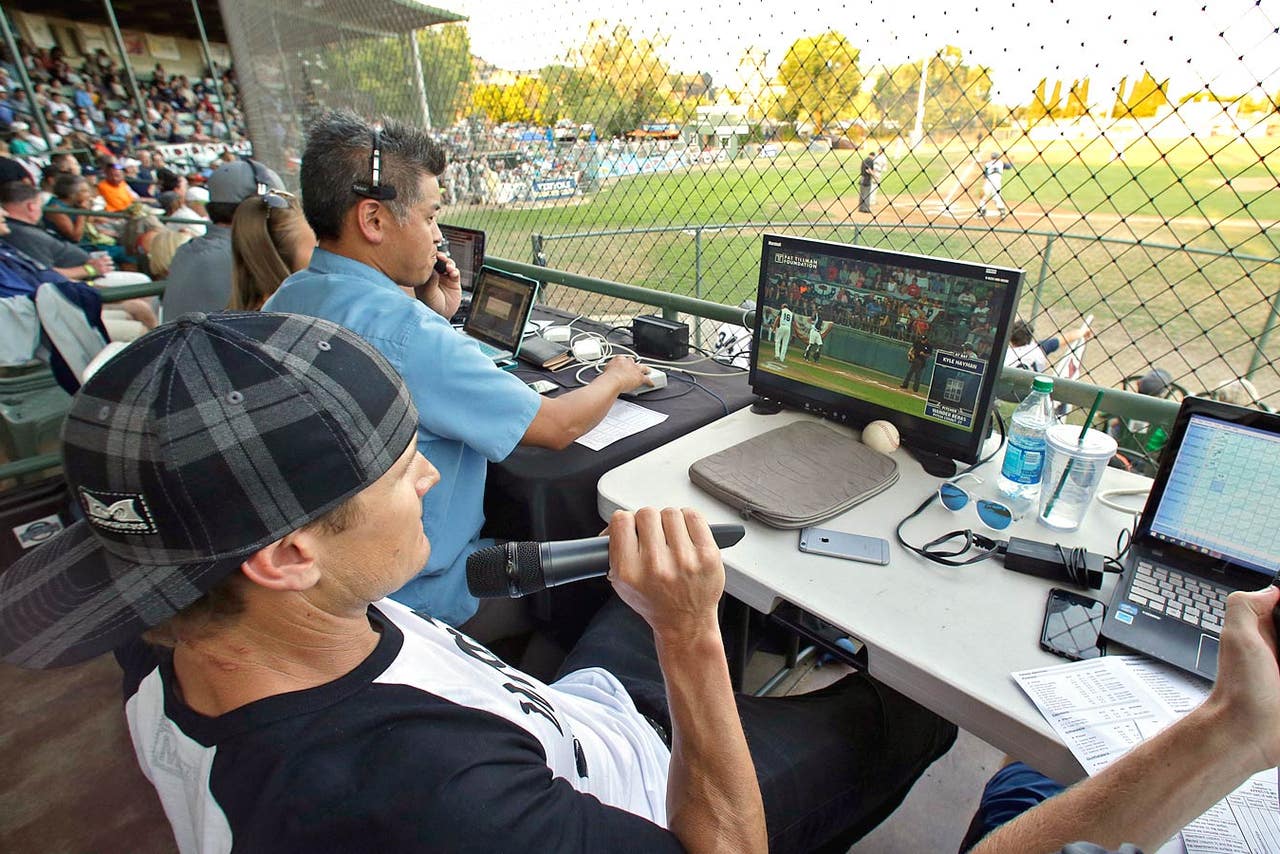 SAN RAFAEL, Calif.
''St-riike! ... And we're talking outside of outside corners.''
''Ball!''
''St-riiike! ... Inside of inside corners.''
Eric Byrnes sat behind the large monitor some 90 feet from home plate watching the screen as the computer told him exactly what to announce for the intimate crowd watching independent league baseball at Albert Field, a full moon in the distance.
For the second straight night Wednesday, Supermicro computers in a nearby van and overseen in the ballpark by the former major league outfielder called balls and strikes in what is believed to be the first time in professional baseball an umpire didn't handle those duties.
The visiting Vallejo Admirals and San Rafael Pacifics were thrilled to be part of an experiment using the Pitchf/x automated system designed by Fremont-based Sportvision.
The batter's box is broken down into nine tiny squares, and a yellow spot lights up where the pitch goes, then Byrnes serves as the strike zone umpire by relaying the call. Between innings, he obliges regular autograph requests.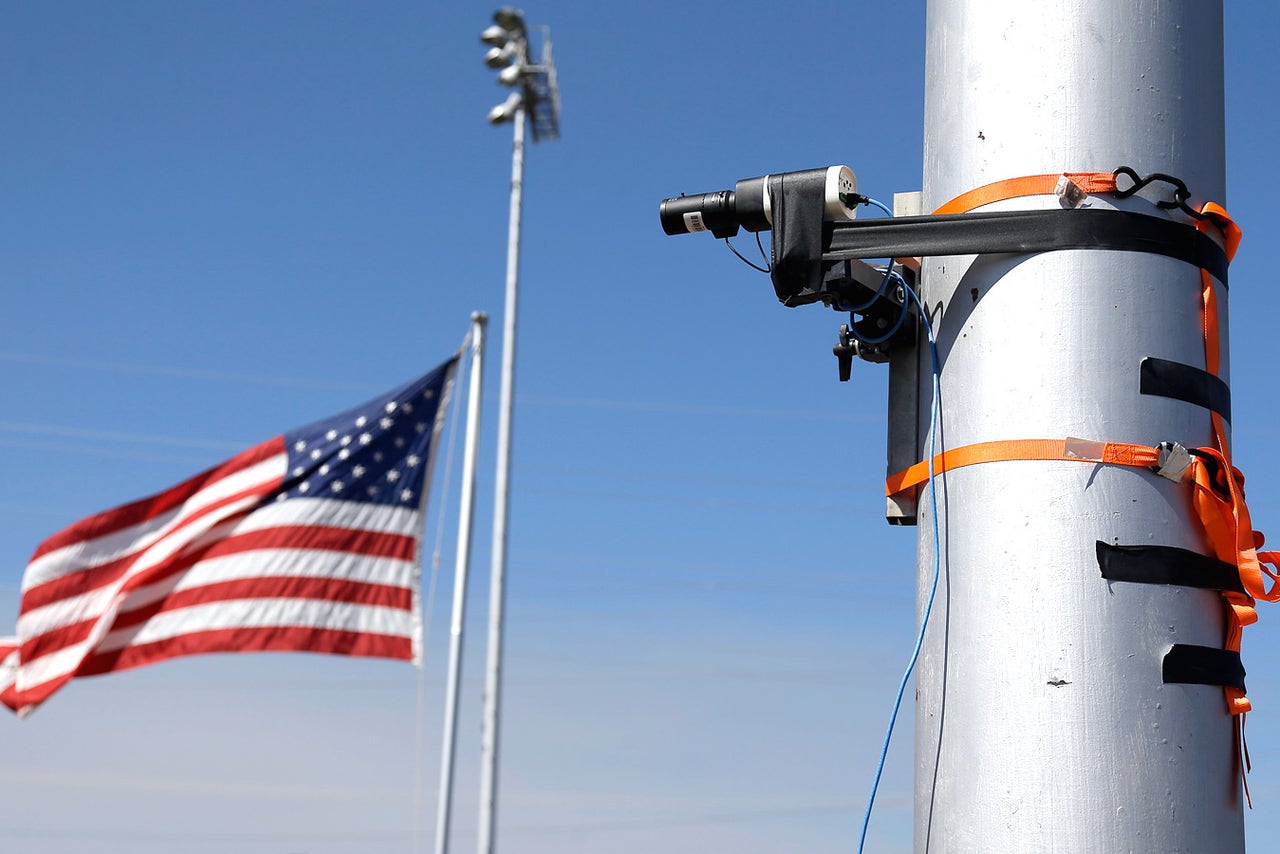 A video camera is shown mounted to a light standard in center field.
''That actually caught more than I thought,'' Byrnes quipped into the microphone at one point.
Byrnes is a longtime proponent of an automated strike zone, something he insists is ''seamless'' and barely changes the game.
Three cameras record the velocity, trajectory and location of every pitch to determine how closely each pitcher comes to hitting the catcher's target.
''To know you're getting every single call right, it takes away all the injustices, in my opinion,'' Byrnes said.
When the Pacifics' Jeremy Williams struck out looking in the third, Byrnes yelled ''Strike three!''
The small crowd booed loudly; capacity at the ballpark in the heart of Northern California's affluent Marin County is about 940. The level is comparable to high Class A ball, with some former Double-A and Triple-A players in the mix.
Byrnes stood up and offered: ''I'm just the messenger, I mean, yell at this! Blame the computer! Blame the camera!''
Then the public address announcer sought donations for ''paper towels and Windex for Eric to use on his TV screen.''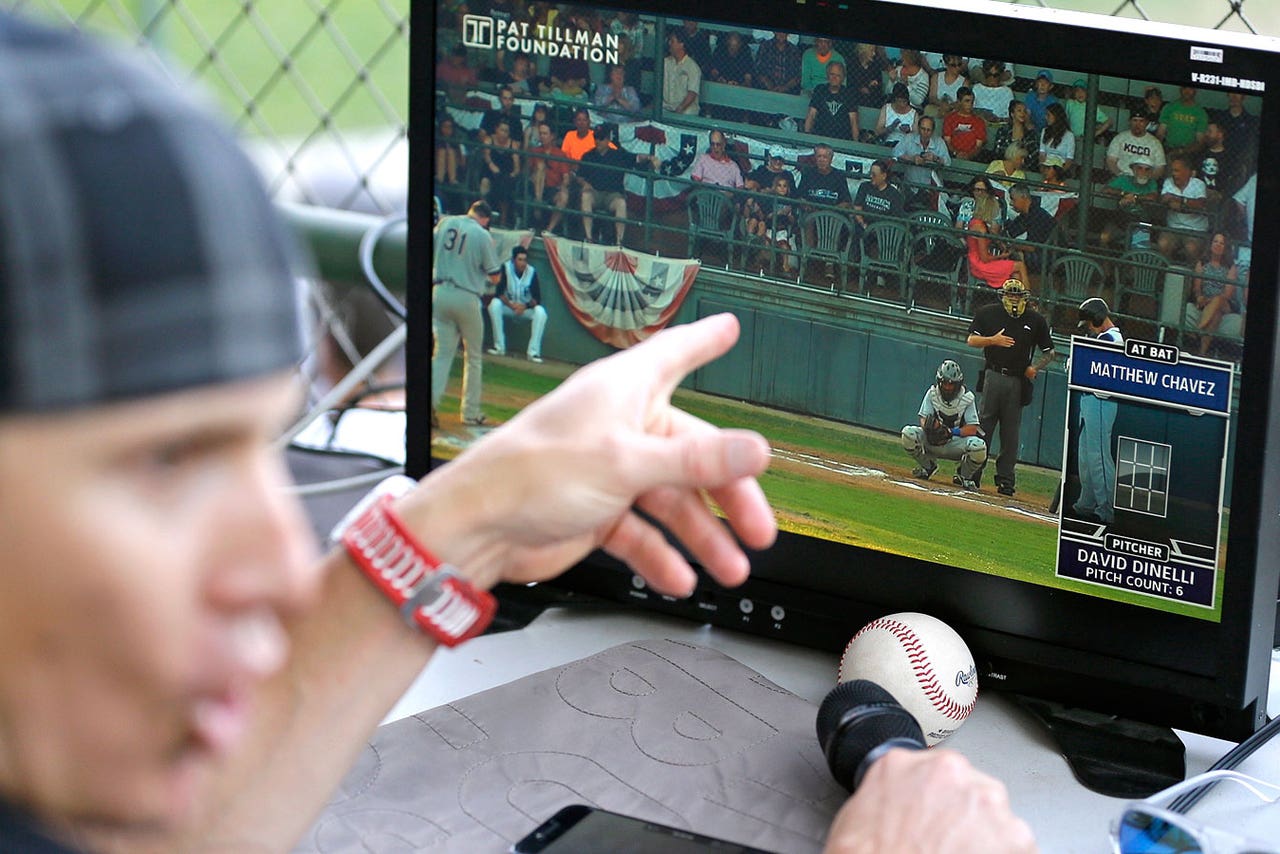 Byrnes gestures while using a computerized video system to call balls and strikes.
In the bottom of the first, the computer retired Pacifics shortstop Danny Gonzalez on a called third strike.
Byrnes stood up and hollered down to the caged-in dugout below with ''Gonzo!'' curious what the player thought the pitch was. Gonzalez thought it was low.
Later, another close one on the screen.
''Strike, wow. Nicked it. Shocked, looked like a ball to me, too,'' Byrnes announced.
''You call them as the computer calls them. This isn't rocket science,'' said Byrnes, who figures he would have been better than a career .258 hitter with this technology. ''It promotes action. Hitters have to swing basically from the bottom of the knees to the armpit.''
Wayne Acerogiles, Wednesday's plate umpire, likes the idea of a power pack transmitter and ear piece that would give each pitch to the umpires, who could still make the calls.
''Might as well try it,'' Pacifics catcher Ricky Gingras said. ''It seems like it's real good technology. Might as well see how everybody likes it and try to promote it. It's kind of cool.''
Byrnes razzed Acerogiles in the second with, ''Easy, Wayne, got a little excited right there.''
''Tempo was tricky, and tricky for the batters, too,'' fellow umpire Eric Thompson said of how Day 1 went. ''We have fun being on the field. If we get replaced by robots, we're not on the field anymore, so we're not going to have fun. It's fun to argue.''
The crew came into the stands afterward to thank Byrnes, shake his hand and offer their support.
Byrnes was joined by his wife and three children, and 3-year-old son Colton won a musical chairs contest between innings before announcing a couple of pitches late in the game. Byrnes is donating $100 for each walk and strikeout to the Pat Tillman Foundation and would have given $10,000 if he ejected a player for arguing balls and strikes.
He raised $2,700 the first night, $1,900 more Wednesday.
The first game drew about 850 people and took 2 hours, 48 minutes, after breezing through the first six innings in roughly 1:30. Wednesday's 8-2 win by San Rafael went 2:44.
Pacifics Tuesday starter Wander Beras noticed on the screen before his outing how big the strike zone was and immediately made a mental adjustment.
Hitters had a lesson, too.
The technology is more likely than the human eye to call a strike on a breaking pitch that touches the outside of the plate before cutting through the plane.
''We have the technology now to do things like this,'' Vallejo manager Garry Templeton II said. ''It was a pretty cool experience to be a part of. You kind of get to see where some of these umpires are not making calls or making calls. The hitters got a real good experience to what a strike zone is really is. There were pitches they were taking that would usually be called strikes and aren't strikes, so they enjoyed that a lot. At the same time there were pitches they don't usually swing at that were called strikes.''
Milwaukee Brewers manager Craig Counsell was intrigued enough he would have liked to be there Wednesday after playing an afternoon game in San Francisco, but the team was flying home to Wisconsin.
''I think it's fascinating, I really do,'' Counsell said. ''It's very interesting and I'm anxious to see the result. I'd love to be able to watch the game even. Now that the technology is available to do something like that, and I'm sure the accuracy will be brought into question, but the fact that there is technology to be able to at least attempt it, it's fascinating. It's something that kind of makes your head spin, really.''
---
---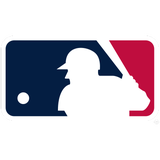 Get more from Major League Baseball
Follow your favorites to get information about games, news and more
---