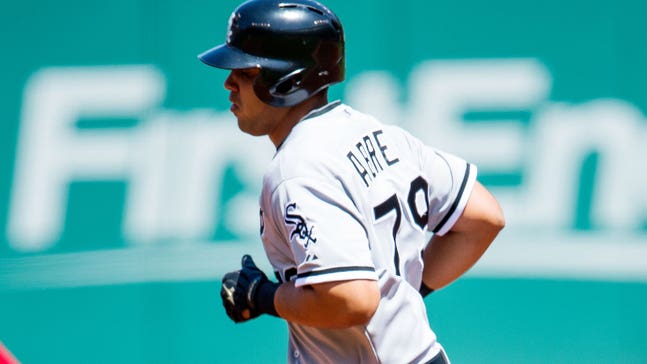 Jose Abreu, Dayan Viciedo HRs lift White Sox over Indians
Published
May. 4, 2014 4:21 p.m. EDT

One swing by Dayan Viciedo provided a dramatic turnaround for the Chicago White Sox.
Viciedo hit a three-run homer in the ninth inning off John Axford, lifting the White Sox over the Cleveland Indians 4-3 and stopping a four-game losing streak.
After the ball cleared the right-field fence, Viciedo pointed to Chicago's dugout, which erupted in celebration.
''That was for the team. That was very exciting,'' he said.
Other than Jose Abreu's major league-leading 12th homer, a solo drive in the first inning, the AL's highest-scoring team couldn't manufacture any runs.
Corey Kluber struck out a career-high 13 in eight innings, including a team-record seven straight. He allowed three hits and two walks, leaving with a 3-1 lead after 110 pitches.
''It's good for the guys to just stay with it,'' Chicago manager Robin Ventura said. ''Even though it looks bleak, you can still make a little bit of a comeback.''
Axford (0-2) walked Gordon Beckham leading off the ninth, but struck out Abreu. Adam Dunn walked, and Viciedo homered on a 2-2 pitch.
''I was looking for a pitch I could make good contact with,'' Viciedo said. ''He made a mistake, and I made him pay for it.''
Axford gave up the homer on a 96-mph four-seamer.
''I fell behind in the count to too many guys, and it didn't work out,'' he said. ''I put two guys on base without me even challenging. I just couldn't find it. The home run was on a fastball. Not a very good pitch, obviously.''
Indians manager Terry Francona, citing pitch count and the narrow lead, didn't second guess himself for pulling Kluber.
''If anyone got on base, he was going to come out of the game, and I didn't think that was fair to him,'' Francona said.
Kluber had no problem with Francona's strategy.
''That's not my decision. I trust Tito's judgment,'' he said.
Axford has blown two saves in 11 chances, both against the White Sox. He gave up a walkoff homer to Alexei Ramirez in the ninth inning on April 13 at Chicago.
Daniel Webb (2-0) pitched the eighth, and Matt Lindstrom threw a one-hit ninth for his fourth save in seven chances.
George Kottaras, the Indians' backup catcher, became the first player to homer in his first two plate appearances for Cleveland.
Andre Rienzo allowed three runs and seven hits in 4-2/3 innings.
Kluber's streak began when he struck out Gordon Beckham and Abreu for the final two outs of the third. He fanned Dunn, Viciedo and Ramirez in the fourth, and Jordan Danks and Tyler Flowers struck out beginning the fifth. Leury Garcia broke the streak by walking on a 3-2 pitch, and Kluber struck out Alejandro De Aza.
Kluber fell two strikeouts short of the AL record set by Doug Fister for Detroit against Kansas City on Sept. 27, 2012. Tom Seaver holds the major league record of 10 for the New York Mets against San Diego on April 22, 1970.
Cleveland's previous mark was six by Bob Feller, Bartolo Colon, Chuck Finley and Mitch Talbot.
Four of Abreu's five hits against the Indians this season have been homers.
The White Sox broke an eight-game losing streak at Progressive Field, where they had gone 6-20 since 2013.
''It hasn't been good to us here so to be able to come back and take one like this is pretty nice,'' Ventura said.
The White Sox returned to Chicago to start a four-game, home-and-home stretch against the Cubs on Monday at Wrigley Field.
''It was a much-needed win, obviously,'' Lindstrom said. ''Now we can go home and start to put together a pretty good series against the Cubs.
Kottaras, whose contract was selected from Triple-A Columbus on Saturday when Yan Gomes was placed on the paternity list, hit solo homers in the third and fourth. Kottaras had been 2 for 25 (.080) in the minors.
Lonnie Chisenhall had an RBI single for Cleveland in the third.
Indians center fielder and leadoff hitter Michael Bourn missed the game because of tightness in his left hamstring.
NOTES: Indians DH Jason Giambi (cramp in right calf) didn't play. . . . The White Sox added OF Moises Sierra, claimed off waivers from Toronto, to the 25-man roster. LHP Frank De Los Santos was optioned to Triple-A Charlotte. . . . The Indians optioned LHP Nick Hagadone to Columbus. . . . Chicago 3B Conor Gillaspie (bruised left hand) homered on a minor league injury rehabilitation assignment at Charlotte and could return this week.
---
---