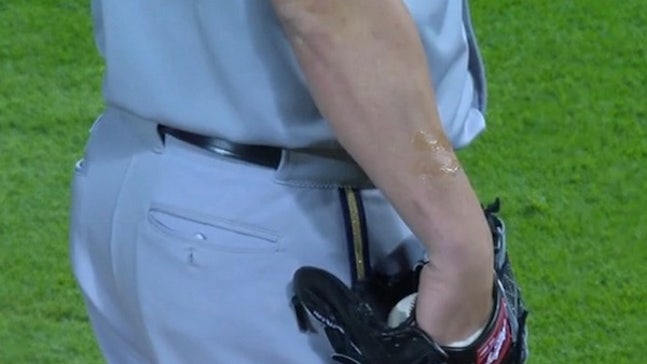 Brewers' Will Smith ejected for foreign substance on arm
Published
May. 21, 2015 10:07 p.m. EDT

By Gordon Dixon
Will Smith came in from the Brewers bullpen in the seventh inning in relief of starter Matt Garza. However, Smith faced just one batter because he was ejected for having a foreign substance on his non-throwing arm.
With the bases loaded, Braves manager Fredi Gonzalez left the dugout to have a word with home plate umpire Chris Segal. Segal called crew chief Jim Joyce, who headed towards Smith to inspect the pitcher's arm. After touching just above glove, Joyce ejected Smith for the presence of a foreign substance.
Smith was furious as he left the field and yelled obscenities upon reaching the dugout, although the substance is blatantly visible and the ejection was a no-brainer.
As noted on the broadcast, pitchers using substances to help improve their grip on the baseball is not uncommon and has been a practice for decades. In this case, Fredi Gonzalez wasn't about letting what is generally deemed customary slide on his watch. And Smith will likely be suspended as a result, as Michael Pineda was last season for having pine tar on the side of his neck.
More from Larry Brown Sports:
---
---