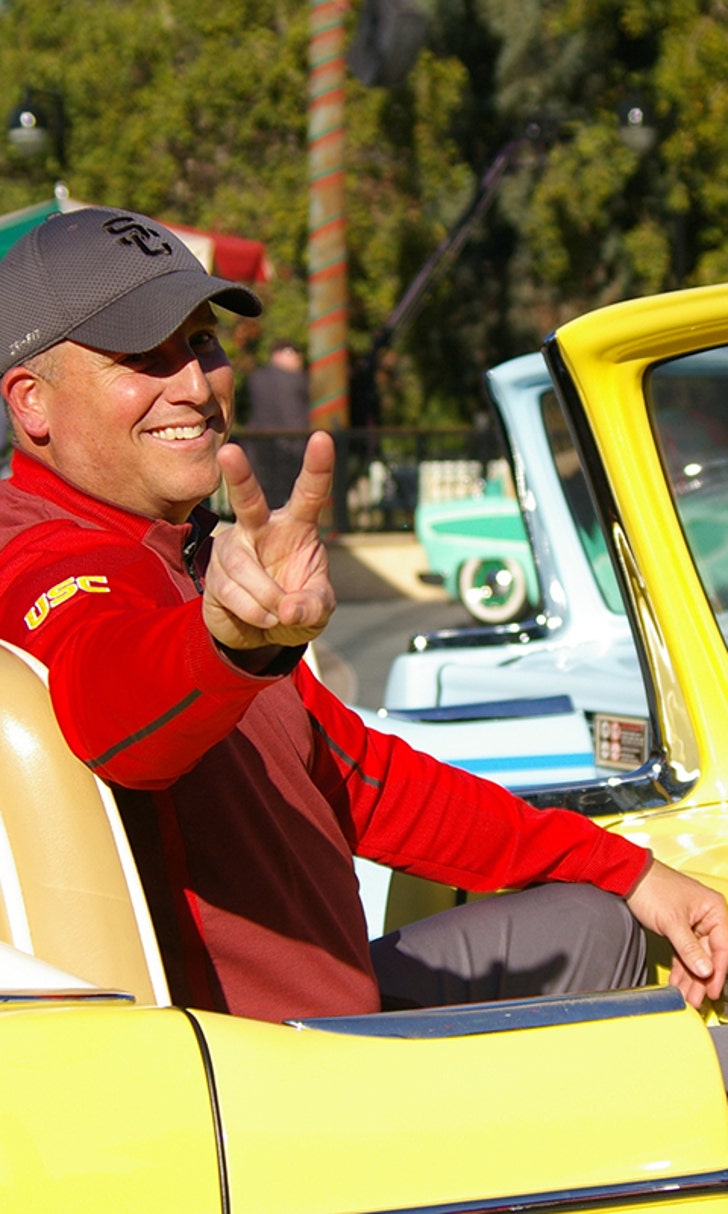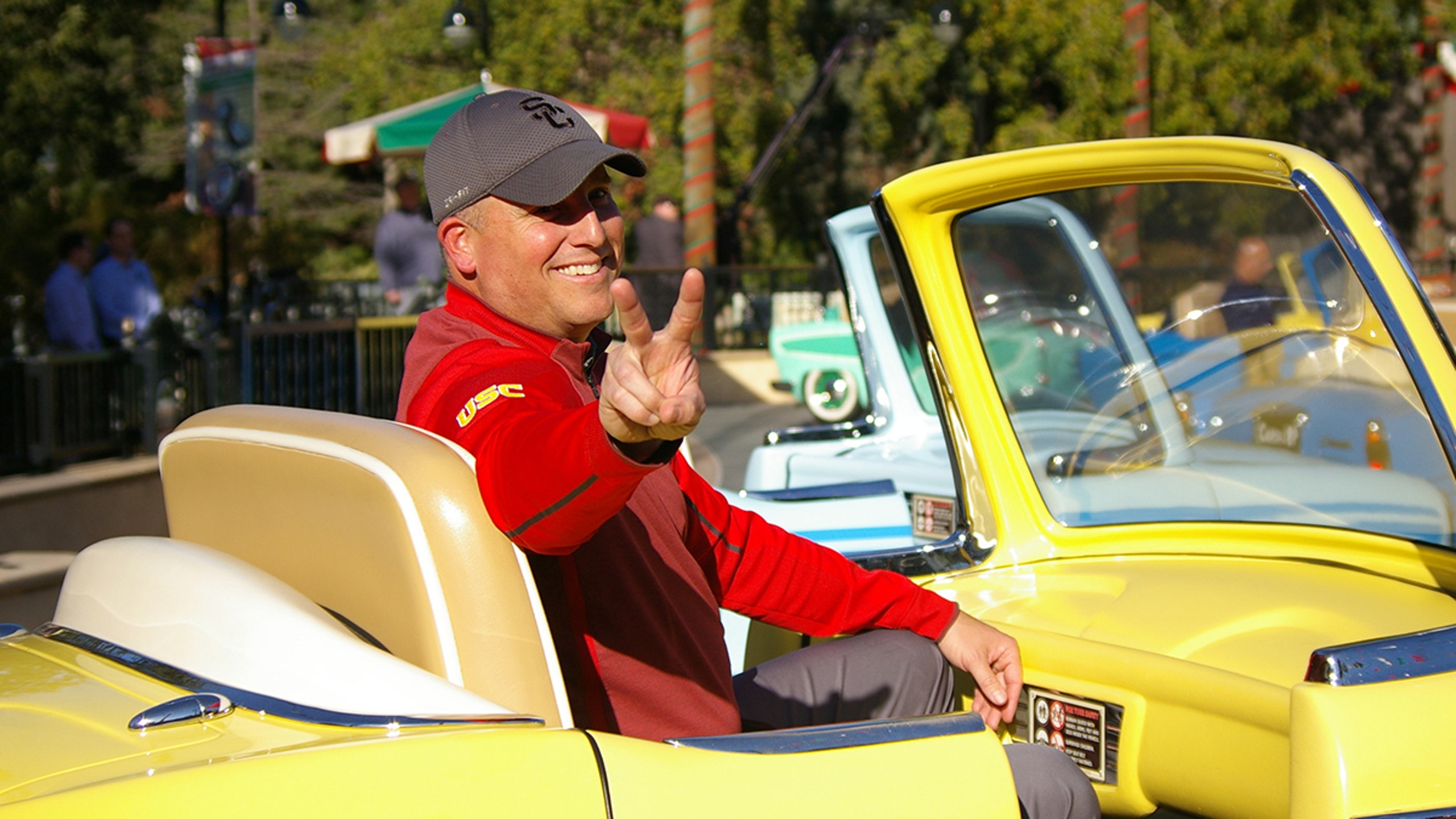 USC Kicks Off 2017 Rose Bowl Week At Disneyland
BY Fansided and Alicia de Artola/FanSided via Reign of Troy • December 27, 2016
The USC Trojans and Penn State Nittany Lions started Rose Bowl festivities off with a trip to Disneyland, full of excitement and memories.
Rose Bowl Week for USC kicked off at Disneyland on Tuesday afternoon exactly as you might have predicted it — with offensive lineman Zach Banner wearing a pair of Minnie Mouse ears on his head.
Said ears belong to a member of USC's sports information department before Banner commandeered them. Why? "This is the happiest place on earth," the lineman said.
"I would expect nothing less from Zach," head coach Clay Helton laughed. "He's the ultimate character on our team."
Banner's character stood out in the land of characters on Tuesday during the Rose Bowl Welcome Press Conference, when Helton and Penn State's James Franklin each introduced four of their players to the mixture of Trojans, Nittany Lions, media and unaffiliated park-goers in California Adventure's Carsland.
Along with Banner, Helton brought along quarterback Sam Darnold, cornerback Adoree' Jackson and receiver JuJu Smith-Schuster.
As part of the festivities, all the coaches and players walked over to Luigi's Rollickin' Roadsters, a trackless ride featuring synchronized dancing cars.
Helton jested that the car holding Banner and Darnold was overweight. Banner shot back that he couldn't tell what was shinier, the car or Helton's shiny bald head.
"Zach and I love to tease each other," Helton said. "That's part of family, goofing on each other."
USC football players at Disneyland's California Adventure during Rose Bowl week. (Alicia de Artola/Reign of Troy)
There's no question that the day was a chance for Helton to focus on family, from his players to his actual family unit.
"It's like a date for me and my wife and kids," Helton said. "When you're grinding through a football season, you don't get to see each other very often. Now, to be able to ride some rides with them today is going to be very fun."
There's one ride in particular Helton wanted to experience with his family.
"I grew up with Space Mountain, so I love the speed factor," said Helton. "I'm looking forward to getting back on Space Mountain with my kids now."
Jackson was on board with Helton's Space Mountain pick, also enjoying Tower of Terror when he made his first trip to the park over the summer.
"I'm excited to see what else they have here," Jackson said.
JuJu Smith-Schuster, who shared a car with Jackson on Luigi's ride, turned his focus to the people he might meet while exploring Disneyland.
"I'm just looking forward to meeting the fans that came all the way from other states and just be with them," the receiver said of the memories he hopes to make.
For Darnold, one of his first memories of Disneyland was the bane of all amusement park goers — waiting.
When he was a child, Darnold remembers the long line to go on Pirates of the Caribbean.
More from Reign of Troy
"We were waiting forever and my dad said, 'trust me, it's worth it,'" Darnold recalled. The future Trojan quarterback, self-described as moody at the end of a long day, told his dad that he just wanted to go home.
But it turned out the wait was indeed worth it.
"We finally went on it and I just remember having the biggest smile on my face and having the time of my life," said Darnold.
Years later, Darnold and the Trojans were set to wait in their share of lines on a crowded day at the park, but all agreed that it doesn't get much better than Disneyland on a beautiful Southern California day.
"You look up and there's not a cloud in the sky. It's 71 degrees," Helton said. "[We] enjoy that as well as Penn State, and it makes it special. What a great start to the Rose Bowl."
---
---