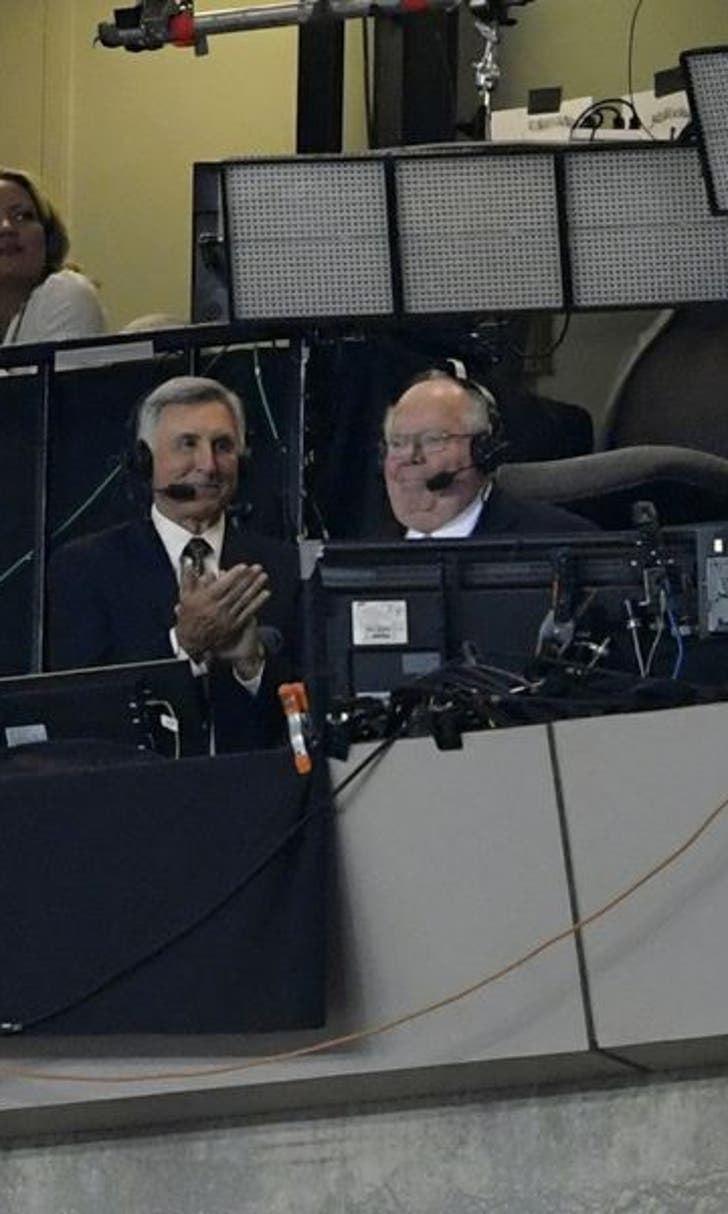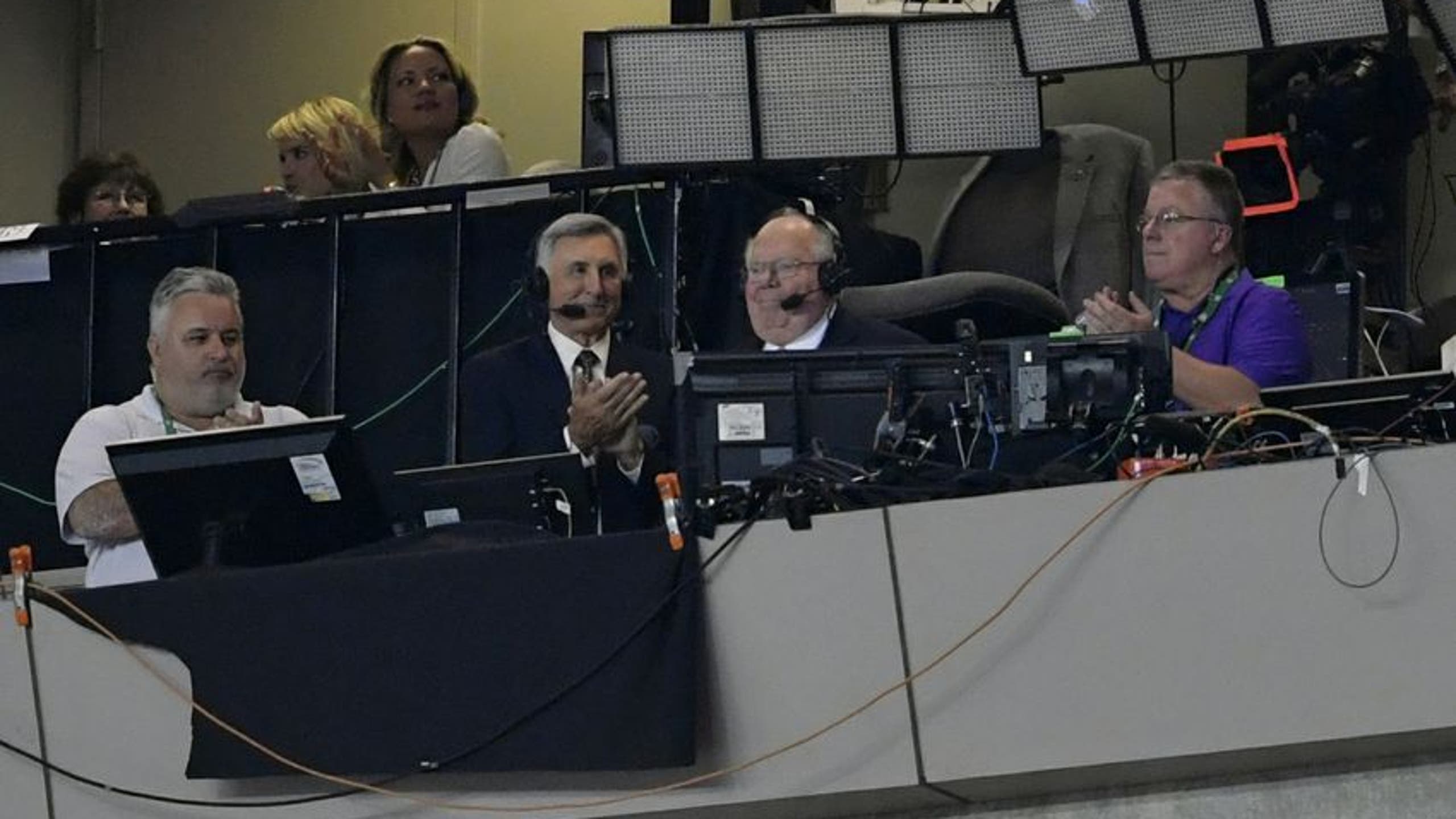 Tennessee Football: Vols' 10 Worst Losses With Verne Lundquist Calling the Game
BY Fansided and Caleb Calhoun/FanSided via All for Tennessee • December 13, 2016
Aug 12, 2015; Sheboygan, WI, USA; CBS Sports personality Verne Lundquist does an interview at the CBS compound during a practice round for the 2015 PGA Championship golf tournament at Whistling Straits -The Straits Course. Mandatory Credit: Kyle Bursaw-Press-Gazette Media via USA TODAY Sports
Verne Lundquist began doing the SEC on CBS in 2000 and called many Tennessee football games. Here are the Volunteers' 10 worst losses with him in the booth.
As we mentioned last week, Tennessee football had many big wins in front of Verne Lundquist, with either Gary Danielson or Todd Blackledge as his color commentator.
Unfortunately, however, the Vols had more upsetting losses. Given the fact that the late 2000s through the early part of this decade saw the worst downturn in the history of the school, the Vols suffered a lot of bad losses with Lundquist in attendance.
He was there for most of Tennessee's 11-game losing streak to Florida, witnessed many heartbreaking losses to Alabama, Georgia, and other elite SEC opponents, and even saw them collapse in championship games.
We are going to get to many of those bad outcomes here as we take a trip down memory lane with some of the worst moments in school history.
Tennessee football ended up going an abysmal 13-30 with Lundquist calling the game from 2000 to 2016. It wasn't his fault, and he certainly provided lots of great memories for the Vols that fans will miss, but that's still a bad track record.
As a result, we'd be disingenuous if we only talked about the great moments the Vols had in front of Lundquist.
With the end of his career after this past week's Army-Navy game, we have to go back and look at some of those bad losses dating back to 2000. After all, many of them weren't pretty.
Here are the 10 worst Tennessee football losses in games that Verne Lundquist has called.
Dec 5, 2014; Atlanta, GA, USA; The Southeastern Conference logo is seen at midfield at the Georgia Dome. The Alabama Crimson Tide plays the Missouri Tigers in the SEC Championship on Saturday. Mandatory Credit: John David Mercer-USA TODAY Sports
10. 2004 SEC Championship: Tennessee Volunteers vs Auburn Tigers
Final Score: Auburn 38 Tennessee 28
Given the fact that this was a championship loss, it should probably be higher up on the list. However, this may have been the most forgivable championship loss in Tennessee football history.
Still, losing out on a championship has to make it on this list.
Tennessee entered this game as a 13-point underdog to the Auburn Tigers. Down to their third string quarterback in Rick Clausen, they had won the SEC East by beating the Florida Gators, Georgia Bulldogs, and Alabama Crimson Tide.
And their only losses were to this Auburn team, which was undefeated in the regular season, and a weird one to the Notre Dame Fighting Irish in which they lost Erik Ainge at halftime due to injury.
So entering this game at 9-2, they had nothing to lose. And behind the rushing of Gerald Riggs Jr. and Cedric Houston, the Vols put forth an amazing effort.
Down 21-7 at halftime, they tied the game in the second half and turned it into a shootout. However, the  Vols could not stop Jason Campbell and the running game of Carnell Williams and Ronnie Brown, losing 38-28 in the process.
Penalties kept one Auburn touchdown drive alive and wiped out a Tennessee touchdown, so this could have easily been an upset for the Vols.
It was a heartbreaking loss at the time, but it's only No. 10 on the list because Tennessee football fans had lots to be proud of. And the future seemed to be bright at the time.
Nov 19, 2011; Tuscaloosa, AL, USA; A general view of Bryant Denny Stadium during the game between the Alabama Crimson Tide and GEorgia Southern Eagles . Mandatory Credit: Marvin Gentry-USA TODAY Sports
9. 2009: Tennessee Volunteers vs Alabama Crimson Tide
Final Score: Alabama 12 Tennessee 10
Like the Auburn loss in the SEC Championship, this loss to the Alabama Crimson Tide would have been higher had it not been for the circumstances surrounding this one. Tennessee football appeared to be in a rebuilding process in Lane Kiffin's first year.
That process obviously didn't work out, but nobody knew it at the time.
So going into this game, the Vols were facing the No. 1 team on the road and had found a rhythm with Jonathan Crompton at quarterback. They outplayed the Tide all day, but every time they got inside the red zone, they made numerous mistakes.
Daniel Lincoln missed a field goal and had one blocked in the first half. Penalties kept them from scoring on other drives.
So despite holding the Tide out of the end zone, the Vols were trailing 12-3 late with Alabama holding onto the football. That's when the greatest tease in history happened.
Mark Ingram fumbled, and Tennessee scored the only touchdown of the game with a pass from Crompton to Gerald Jones. Right after that, thanks to an amazing play by Eric Berry, the Vols recovered the onside kick.
Then, Crompton made a beautiful pass to Luke Stocker, setting the Vols up in field goal range. But Kiffin inexplicably ran down the clock after that and decided to let Lincoln try another long field goal for the win.
The kick was blocked by Terrance Cody. Alabama survived. And the Vols blew a game that the Tide handed to them on a silver platter.
Nov 14, 2015; Knoxville, TN, USA; General view of Neyland Stadium during the game between the Tennessee Volunteers and the North Texas Mean Green. Mandatory Credit: Randy Sartin-USA TODAY Sports
8. 2005: Tennessee Volunteers vs Georgia Bulldogs
Final Score: Georgia 27 Tennessee 14
This was the game to start a downward slide in a season that started the downward slide of the Tennessee football program. The Vols started the year off ranked No. 3 in the country. They still made it to 3-1, though, after a tough road loss to the Florida Gators and then an epic road comeback against the LSU Tigers.
Back in the Top 10 at No. 8, the Bulldogs were undefeated and No. 5, and the winner of the game would seem to control the SEC East. Tennessee's offense was looking hideous for weeks due to Rick Clausen and Erik Ainge splitting time, but things seemed to settle in by this point with Clausen as the full-time starter.
Like it had been going all season, though, the offense was unable to generate anything of value. Faced with their third game in 13 days and against a Dawgs team coming off of a bye week, the Vols were brutalized.
However, the historic Tennessee defense kept them in it. Down 13-0, Jonathan Wade intercepted a pass and took it to the one-yard line, setting up a Tennessee touchdown to make it 13-7.
But as the defense continued to get stops, the Vols' offense remained inept. Late in the fourth quarter, Georgia finally broke it open with a punt return for a touchdown and another offensive touchdown to make it 27-7. Tennessee's offense finally came alive with a meaningless late touchdown, but it meant nothing.
The Vols had lost the game 27-14 and blew any real chance of winning the SEC East in a year where they started ranked No. 3. The magnitude made this loss hurt worse.
But Verne Lundquist would witness an even more sickening Tennessee football loss two weeks later.
Oct 10, 2015; Tuscaloosa, AL, USA; A general view of Bryant-Denny Stadium during the game between the Alabama Crimson Tide and Arkansas Razorbacks. Mandatory Credit: Marvin Gentry-USA TODAY Sports
7. 2005: Tennessee Volunteers vs Alabama Crimson Tide
Final Score: Alabama 6 Tennessee 3
It's another Tennessee-Alabama game with the Tide undefeated and in the Top 5 at Bryant-Denny Stadium. At this time in history, Alabama had not achieved a home win against the Vols since 1991, and they hadn't won in Tuscaloosa since the 1930s.
Tennessee football's reputation at that time of pulling off huge road wins against Top 5 teams preceded it, and coming off a bye week, experts expected them to pull off another one. Alabama, after all, was undefeated but overrated given a key injury to Tyrone Prothro earlier in the year.
That potential brought Verne Lundquist and Todd Blackledge again to a Tennessee game.
Without Alabama's top receiver and with the Vols offense reeling, this became one of the worst offensive outings in football history.
Alabama and Tennessee exchanged fumbles early. Nobody scored through halftime. Tennessee spotted Alabama a field goal after a fumbled punt return.
The Vols responded with a field goal of their own.
They got the ball back and finally mounted a long drive. Tennessee had driven all the way inside the 10-yard line before a series of bad-luck incidents happened. First, starting running back Gerald Riggs Jr. went down with what turned into a season-ending injury.
That ruined their goal-line sets.
Then, a series of penalties knocked the Vols back. But finally, knowing all they needed was a field goal in this struggle, Randy Sanders made a brilliant but safe call with a fullback screen. However, as Corey Anderson was going for the touchdown, he was hit and fumbled the ball out of the back of the end zone.
That meant a touchback for the Tide. They got the ball, and Brodie Croyle made one nice throw all day to D.J. Hall, setting up a game-winning Alabama field goal.
Tennessee gave away a game to the Tide, losing 6-3. They fell to 3-3 on the year after that, and the team began to reel the rest of the way.
Sep 5, 2015; Gainesville, FL, USA; A general view of The Swamp where the Florida Gators play during the second half at Ben Hill Griffin Stadium. Mandatory Credit: Kim Klement-USA TODAY Sports
6. 2007: Tennessee Volunteers vs Florida Gators
Final Score: Florida 59 Tennessee 20
So far, we have dealt with heartbreaking losses that Tennessee football suffered in front of Verne Lundquist. But in the start of the slide for the program, this one was downright embarrassing.
It was Erik Ainge's senior year, and Tennessee had already lost the season-opener to the California Golden Bears. Still, they were 1-1 heading into The Swamp to face Tim Tebow and Urban Meyer.
Florida seemed to have complete control early, taking a 28-6 lead. The Vols at least made it 28-13 at halftime, but they seemed to have no life.
Then came the fireworks. In the third quarter, the Gators were driving, but Eric Berry brought the Vols back to life with a pick-six. Tennessee's defense got a stop.
Suddenly, after being down 28-6, Tennessee was only down 28-20 and had the ball. But a fumble on the exchange from Ainge to Arian Foster was returned for a Florida Gators touchdown. That changed all the momentum.
Right after that, Florida went on a huge offensive run, hanging 59 on Tennessee, the first time they had surrendered over 50 points since 1995. That game was also against the Gators.
The Vols had suffered an embarrassing 59-20 loss to the Gators in The Swamp, and for the first time in years, they really looked like they did not have the talent to hang with the elites of the SEC.
However, they did tease everybody by backing into the SEC Title game thanks to a cupcake SEC West schedule.
Nov 22, 2014; Knoxville, TN, USA; A general view of Neyland Stadium home of theTennessee Volunteers following the game against the Missouri Tigers. Missouri won 29-21. Mandatory Credit: Jim Brown-USA TODAY Sports
5. 2006: Tennessee Volunteers vs Florida Gators
Final Score: Florida 21 Tennessee 20
Nobody knew in the midst of a terrible losing streak that this one would be the first of heartbreaking losses that Tennessee football suffered to the Florida Gators, but it still hurt a lot.
The Vols seemed to be on the rebound from a 5-6 disaster in 2005 with David Cutcliffe as offensive coordinator and Erik Ainge refurbished, and that showed with a dominating victory over the No. 9 ranked California Golden Bears to start the season.
At 2-0, they seemed to be in great shape to beat Florida at home in a night game. This was the first Tennessee game that Verne Lundquist and Gary Danielson would call together.
And it was a dandy.
Florida jumped out to a 7-0 lead, and although Tennessee cut it to 7-3, they could not generate any rushing yards. Still, Cutcliffe called a brilliant reverse pass that went for a touchdown to give them a 10-7 lead, and they mounted a great second half drive to build the lead to 17-7.
But inexplicably, with a terrible run game, Phillip Fulmer and Cutcliffe decided to sit on the lead. Senior Chris Leak led the Gators in a comeback with help from Tim Tebow, who was a freshman at the time and converted a key fourth and one late.
Florida scored a fourth-quarter touchdown to take a 21-20 lead.
Tennessee was driving close into Florida territory on the next drive, but then Michael Frogg at center managed to cap off one of the worst performances by an offensive line unit in any game in school history.
He missed an easy blocking assignment, forcing an intentional grounding, and knocking the Vols out of field goal range. They couldn't convert on fourth down, and Florida got one first down to run out the clock.
This game decided the SEC East, and along with one other fluke play later that year, it also decided Tennessee's ability to play for the national title.
Oct 25, 2014; Knoxville, TN, USA; Tennessee Volunteers fans outside Neyland Stadium prior to the game against the Alabama Crimson Tide. Mandatory Credit: Jim Brown-USA TODAY Sports
4. 2000: Tennessee Volunteers vs Florida Gators
Final Score: Tennessee 27 Florida 23
While the 2006 version of Tennessee-Florida was the first one that Verne Lundquist and Gary Danielson called together, the 2000 version was the first one that Lundquist and Todd Blackledge called together.
It was also Lundquist's first game ever at Neyland Stadium.
And it's a game that lives in infamy for Vols fans.
Tennessee was starting a redshirt freshman in A.J. Suggs due to an injury to freshman phenom Casey Clausen. Their offensive line dominated the Gators from start to finish in this game, and the Vols got inside the red zone six times in the first half.
However, they only came away with 12 points those six times: four field goals and a turnover. Three field goals came while they were inside the five-yard line, and two came inside the one.
That would be key.
Florida made it 12-10 with a field goal and an Earnest Graham touchdown run that wasn't a touchdown.
In the second half, Suggs threw a pick-six to Lito Sheppard, and Florida took a 17-12 lead despite being massively outplayed.
Tennessee finally got into the end zone and then got a two-point conversion, and the two exchanged field goals. So the Vols led 23-20 late.
They then had the ball and only needed to convert a third-and-one to be able to run down the clock. But Travis Henry got stuffed, the story of their short-yardage failures all game.
Then, a David Leaverton punt pinned Florida on the nine-yard line with little time left. But Jesse Palmer, who was awful all game, turned it on late.
He led the Gators to inside the Tennessee 10 within a minute, aided by a terrible pass interference call. And then, in one of the most infamous calls in history, Jabar Gaffney dropped a pass from Palmer in the end zone, but the refs threw their hands up immediately and ruled it a touchdown.
With no instant replay, the call stood, and Tennessee lost 27-23. If they could have converted on one short-yardage play, had one big stand late, or gotten one of those three bad calls, they would have won.
As it was, this loss cost them the SEC East and a likely title. Even Steve Spurrier admitted they were lucky to win this game in the postgame.
Sep 26, 2015; Gainesville, FL, USA; Tennessee Volunteers coach and players react as they lost to the Florida Gators at Ben Hill Griffin Stadium. Florida Gators defeated the Tennessee Volunteers 28-27. Mandatory Credit: Kim Klement-USA TODAY Sports
3. 2015: Tennessee Volunteers vs Florida Gators
Final Score: Florida 28 Tennessee 27
Of all the heartbreakers that Tennessee football could have suffered to the Florida Gators, 2015 was clearly the worst.
Butch Jones's team was 2-1 going into the game and had no national title expectations, but they hoped to win the East. Part of that was getting past Florida and ending that frustrating 10-year losing streak.
The year before, they had blown a 9-0 fourth quarter lead to lose 10-9. But this was the year they'd get their revenge.
In a back and forth game, the Vols took control by the third quarter. Then, nursing a 20-14 lead going into the fourth, they mounted a long drive and scored to make it 27-14. Jones made a dumb decision not to go for two there, but with this lead, Tennessee had to be in control right?
Well, the Vols liked to invent ways to lose to Florida. So on the next drive, they let Will Grier convert three fourth downs to score a touchdown and make it 27-21.
Tennessee got the ball back, and Jones did not give Joshua Dobbs or the offense any chance to win the game.
Still, after a punt, the Gators were stopped on three straight plays. Facing a fourth-and-14, they had to convert or lose. Grier hit Antonio Callaway after a terrible defensive call, and he took the ball in for a touchdown and a 28-27 lead.
You could feel the shock of Verne Lundquist and Gary Danielson going through the television set.
Still, Tennessee was about to get the ball back with two minutes and two timeouts. Surely they could get into field goal range.
Well, due to a series of mistakes, an offense based on tempo was only able to get four plays off, and Jones had to try a 50-yard field goal. Aaron Medley missed the field goal, and Tennessee lost its 11th straight to Florida.
And once again, they lost the SEC East in the process.
Dec 5, 2014; Atlanta, GA, USA; The Southeastern Conference trophy is seen during a press conference with Missouri Tigers head coach Gary Pinkel and Alabama Crimson Tide head coach Nick Saban at the Georgia Dome. Missouri plays Alabama in the SEC Championship Saturday. Mandatory Credit: John David Mercer-USA TODAY Sports
2. 2007: Tennessee Volunteers vs LSU Tigers
Final Score: LSU 21 Tennessee 14
Although the Florida Gators consistently dealt heartbreaking losses to the Vols in front of Verne Lundquist, the LSU Tigers gave their own share as well.
This one was very notorious.
Tennessee had backed into the SEC Championship game thanks to three missed field goals from opposing teams down the stretch. Then, they got to play an LSU team in the title game that had lost its starting quarterback in Matt Flynn.
So against Ryan Perrilloux and a Top 5 Tigers team hoping to make the national title game under Les Miles, the Vols had a great chance to pull off an upset. Add in the fact that they had a senior quarterback in Erik Ainge and that LSU was suffering from distractions with Miles possibly leaving for Michigan, and they had a recipe for a huge upset.
The Vols played a near perfect game for three quarters. In a defensive struggle, they scored on the opening drive and in the second half while also taking advantage of numerous LSU turnovers to take a 14-13 lead in the fourth.
But then Ainge came undone. With a chance to win the title, he threw a pick-six on a curl route late, a huge mistake knowing he didn't have to do too much since the defense was playing so well.
LSU made it 21-14 with that play. Then, the Vols got the ball back and moved into LSU territory, but multiple missed throws by Ainge kept them from converting in the red zone, and they were stopped on fourth down.
But they got the ball back again and moved into LSU territory, and Ainge threw another interception. LSU was able to run the clock after that, and the Tigers would go on to win the SEC and the national title with two losses.
It was a sickening loss for Tennessee football fans because they win that game if their senior quarterback just eliminates two of his numerous mistakes late.
Instead, they did not get to ruin LSU's national title hopes in the SEC Championship game to get revenge for what happened in 2001. That brings us to our final Tennessee football heartbreaking loss under Lundquist.
Dec 5, 2015; Atlanta, GA, USA; General view of an SEC pylon prior to the 2015 SEC Championship Game at the Georgia Dome. Mandatory Credit: John David Mercer-USA TODAY Sports
1. 2001: Tennessee Volunteers vs LSU Tigers
Final Score: LSU 31 Tennessee 20
If you remember last week and what we wrote then, you'll realize that with this game the biggest win and worst loss for Tennessee football in front of Verne Lundquist happened a week apart.
The week before this game, the Vols had secured a huge upset over the No. 2 ranked Florida Gators in The Swamp to win the East and move to No. 2 themselves at 10-1, in control of their own destiny to face the Miami Hurricanes for the national title.
All they had to do was beat a young but not that deep LSU Tigers team that was 8-3 and barely in the Top 25 with an up and coming but unproven coach in Nick Saban.
Phillip Fulmer and the Vols were so arrogant in this game that they let John Henderson and Travis Stephens fly out for the college football awards show two days before the title game, an idiotic decision looking back.
When the game kicked off, the Vols had trouble moving the ball on offense. But LSU gave them a scare early. With Rohan Davey taken out of the game, Matt Mauck came in and scored to give them a 7-0 lead.
However, the Vols responded with two touchdowns and a field goal. Meanwhile, Davey came back in and was unable to generate anything against John Chavis's defense.
Tennessee was in complete control 17-7. But then, Davey was taken out of the game permanently due to another injury.
Mauck, a freshman, became an ironic curse in disguise for the Vols.
He led the Tigers to three field goals to make it 17-16 in the second half. And the Vols continued to falter on offense.
Then, Stephens, who had flown out for the awards show that Thursday, fumbled the ball deep in Tennessee territory. LSU capitalized and scored to make it 24-17.
The Vols got back into the red zone but failed to get a touchdown, only getting a field goal to make it 24-20.
Still, they got the ball back and were moving again. But a Donte Stallworth fumble deep in LSU territory gave the Tigers the ball. Julian Battle then dropped a sure pick-six.
And then, the best rush defense in the nation that year with Henderson and Albery Haynesworth got torched by Mauck, as he ran the ball down the field into Tennessee territory, all the while milking the clock. On fourth and goal, he scored a touchdown to put LSU in control 31-20.
All of a sudden, the Vols blew the surest chance to get to the national championship, taking the SEC Championship for granted, which nobody should ever do.
They suffered the worst loss in school history as a result, and it was far and away the worst loss they ever suffered in front of Lundquist.
More from All for Tennessee
This article originally appeared on
---
---