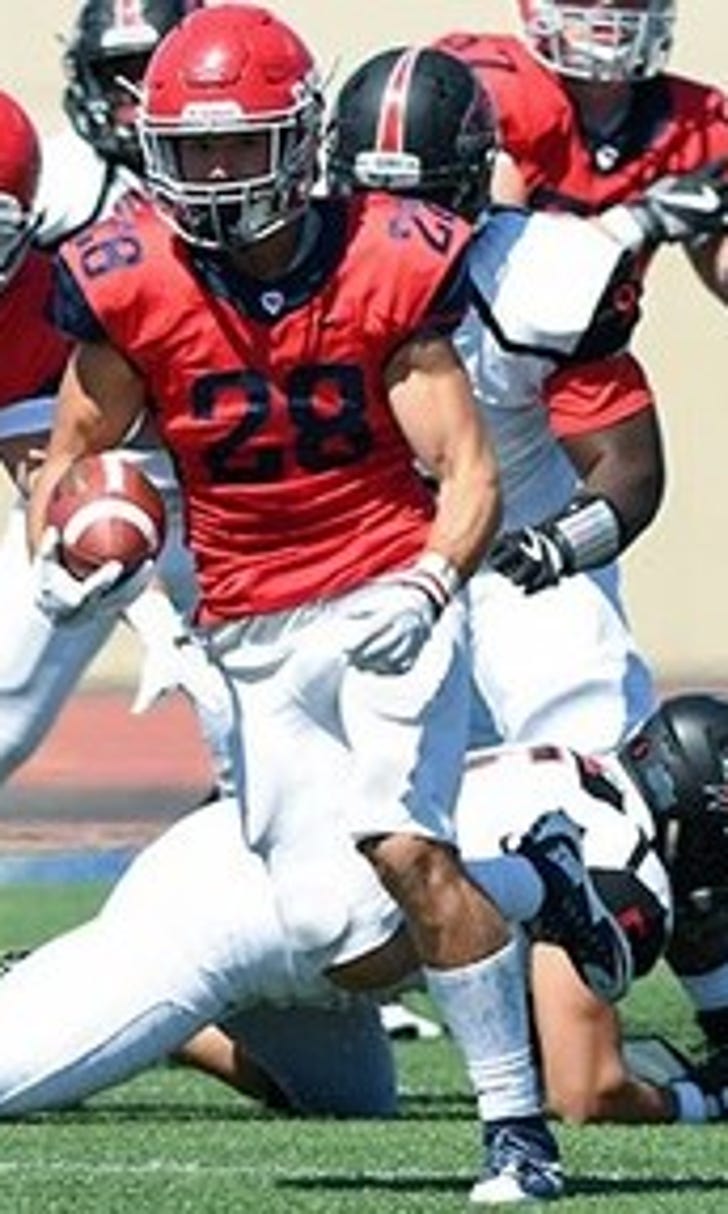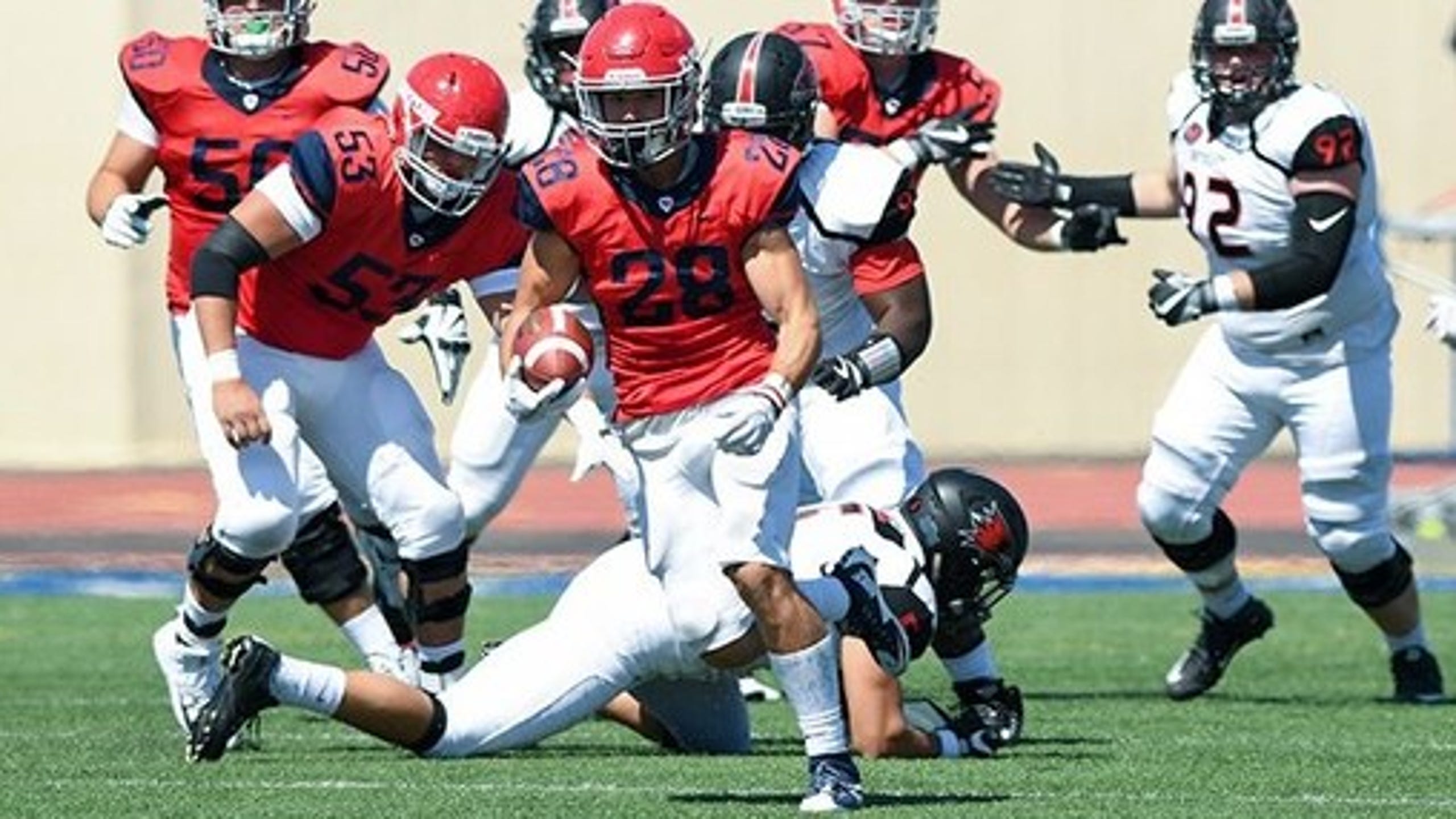 Pioneer Football League spring outlook
March 1, 2018
(STATS) - Improvement during spring practices will go a long way if Pioneer Football League teams are going to loosen San Diego's grip on the conference.
Graduation losses just don't deter the Toreros. In the wake of losing 19 seniors from the 2016 team that presented the PFL with its first-ever FCS playoff win, they posted their first 8-0 league record before claiming another playoff win last season.
Since 2011, the Toreros have won 50 of 56 games against PFL competition, although their seven wins in 2013 were relinquished for mistakes made in awarding financial aid. They've won six of the last seven league titles, and it could have been seven in a row.
Not surprisingly, they're the team to beat again this year - a race that has dropped to 10 following Campbell's move to the scholarship Big South.
Following is a look across the PFL with spring practices underway in college football:
---=
BUTLER
HEAD COACH: Jeff Voris (70-65, 12 seasons; 85-99 overall)
2017 RECORDS: 6-5, 4-4 Pioneer (Tie/6th)
SPRING PRACTICES: March 23-April 21
WHAT TO KNOW: The spring focus is on defense, where the Bulldogs return only three starters, but some backups are primed to step into bigger roles. Cornerback Mike Cerone, a three-year starter, has opted not to use his fifth season of eligibility. The offense is much more experienced with all five starters returning up front, and that will aid quarterback Will Mary's continued development as a senior. Wide receiver Pace Temple is exceptional, but the Bulldogs need some playmakers in the backfield.
---=
DAVIDSON
HEAD COACH: Scott Abell (first season; 39-24 overall)
2017 RECORDS: 2-9, 0-8 Pioneer (11th)
SPRING PRACTICES: March 22-April 21
WHAT TO KNOW: Abell arrives from Washington & Lee to try to improve a Wildcats program that has only seven wins (and just one against FCS competition) in the last five seasons. His teams prefer to run the ball, so it bodes well that 1,000-yard rusher Wesley Dugger is among 11 offensive starters returning. There will be even more evaluating on defense, which returns just five starters and was particularly hit by graduation in the secondary.
---=
DAYTON
HEAD COACH: Rick Chamberlin (79-33, 10 seasons)
2017 RECORDS: 5-6 overall, 4-4 Pioneer (Tie/6th)
SPRING PRACTICES: March 16-April 15
WHAT TO KNOW: Last year's record was Chamberlin's first below .500, but his Flyers figure to be much improved this year. They expect to have a full season out of quarterback Alex Jeske, who missed the first five games following foot surgery last August. Tucker Yinger, a 1,000-yard rusher, will work behind an experienced offensive line. The Flyers need to improve their pass rush immensely - just four sacks, the second-fewest in the FCS to Valparaiso's three - to take pressure off the linebackers and defensive backs.
---=
DRAKE
HEAD COACH: Rick Fox (26-18, four seasons)
2017 RECORDS: 7-4, 6-2 Pioneer (2nd)
SPRING PRACTICES: March 20-April 21
WHAT TO KNOW: Drake has to break through the San Diego and Dayton roadblock to reach a championship level. But the Bulldogs bring back 13 starters, including third-year quarterback Grant Kraemer - one of the PFL's best at the position. Their late-season improvement on the ground must continue into 2018. Despite losing three starters on the defensive line, the Bulldogs are working in younger players like Erin Morgan, Gavin Dineen and Jacob Hardy. The secondary fuels the defense with four returning starters.
---=
JACKSONVILLE
HEAD COACH: Ian Shields (12-9, two seasons; 28-15 overall)
2017 RECORDS: 7-4, 5-3 Pioneer (Tie/3rd)
SPRING PRACTICES: March 7-April 14
WHAT TO KNOW: Fourteen starters return from last year's successful team. The Dolphins still have to beat the upper echelon of the PFL, and they will face a pair of sub-FCS opponents for the second straight year. Although quarterback Rylan Wells departs, the option offense will remain strong with running backs Irvin Riley and Keenan Simpson. Linebacker Trevor Tufano is coming off a breakout season, one of four returning defenders with more than 50 tackles. The big losses on that side of the ball are in the secondary.
---=
MARIST
HEAD COACH: Jim Parady (133-139-1, 26 seasons)
2017 RECORDS: 4-7, 3-5 Pioneer (Tie/8th)
SPRING PRACTICES: April 3-28
WHAT TO KNOW: Coming off a disappointing season, the Red Foxes are in a retooling stage. They have to replace three-year starting quarterback Mike White, who isn't using his final season of eligibility. Redshirt sophomore Jacob Hallenbeck is the leading candidate to step into the position. In addition, three-year starting running back Marcellus Calhoun and the left side of the offensive line are gone. The strength of the team is linebacker, led by first-team All-PFL choice Willie Barrett. Cornerback Drew Daniel is working his way back from a midseason knee injury.
---=
MOREHEAD STATE
HEAD COACH: Rob Tenyer (22-35, five seasons)
2017 RECORDS: 4-7, 3-5 (Tie/8th)
SPRING PRACTICES: March 28-April 21
WHAT TO KNOW: Four of Tenyer's five teams have finished 3-5 in the PFL, so the Eagles are working toward having another season like 2015, when they were 7-4 overall and 6-2 in the league. With seven starters returning on each side of the ball, there is an expectation of improvement. New defensive coordinator Dovonte Edwards will work in a new scheme this spring, and linebacker Jerome Brooks is back after a late-season injury. Quarterback Lawson Page had a good first season and figures to be better as a senior. Tenyer went for bigger and taller athletes in his recruiting class - an emphasis going forward.
---=
SAN DIEGO
HEAD COACH: Dale Lindsey (46-13, five seasons)
2017 RECORDS: 10-3, 8-0 Pioneer (1st)
SPRING PRACTICES: Feb. 20-March 23 (spring game is March 17)
WHAT TO KNOW: The Toreros have turned to the "next man up" mentality as they return 10 starters, and just four on offense. Also, last year's offensive and defensive coordinators moved on to FBS schools. But senior quarterback Anthony Lawrence dominates in the PFL and 1,000-yard rusher Emilio Martinez returns as well. The big offensive question is what linemen were waiting in the wings to work alongside left tackle Daniel Cooney. The front seven on defense is punishing, but cornerback Arrion Archie is the only returning starter in the secondary. The Toreros also are figuring out their kickers in the spring.
---=
STETSON
HEAD COACH: Roger Hughes (16-40, five seasons; 63-92 overall)
2017 RECORDS: 2-9, 1-7 Pioneer (10th)
SPRING PRACTICES: March 20-April 21.
WHAT TO KNOW: The 2017 season was the Hatters' worst since the program restarted five years ago, so they will open the new campaign with back-to-back sub-Division I opponents. All but one starter is back on offense, but quarterback Colin McGovern must cut down on interceptions as he works with a deep receiving unit, led by 6-foot-9 tight end Donald Parham. That group adds in wide receiver Jack Bowen, who was lost for the season in the first game. The Hatters' special teams expect to be excellent, leaving the focus on improving the defense, which returns just four starters.
---=
VALPARAISO
HEAD COACH: Dave Cecchini (15-29, four seasons)
2017 RECORDS: 6-5, 5-3 Pioneer (Tie/3rd)
SPRING PRACTICES: March 28-April 23 (spring game is April 21)
WHAT TO KNOW: Cecchini has been rewarded for the program's first winning season since 2003 with a contract extension through the 2020 season. Optimism abounds for an even bigger season because the Crusaders have nine returning starters on offense, seven on defense and better overall depth. Quarterback Jimmy Seewald fuels the offense, but the unit has been hurt by the early departure of leading receiver Donny Navarro. Senior linebackers Drew Stouffer and Nick Turner are both coming off 100-tackle seasons.
---
---