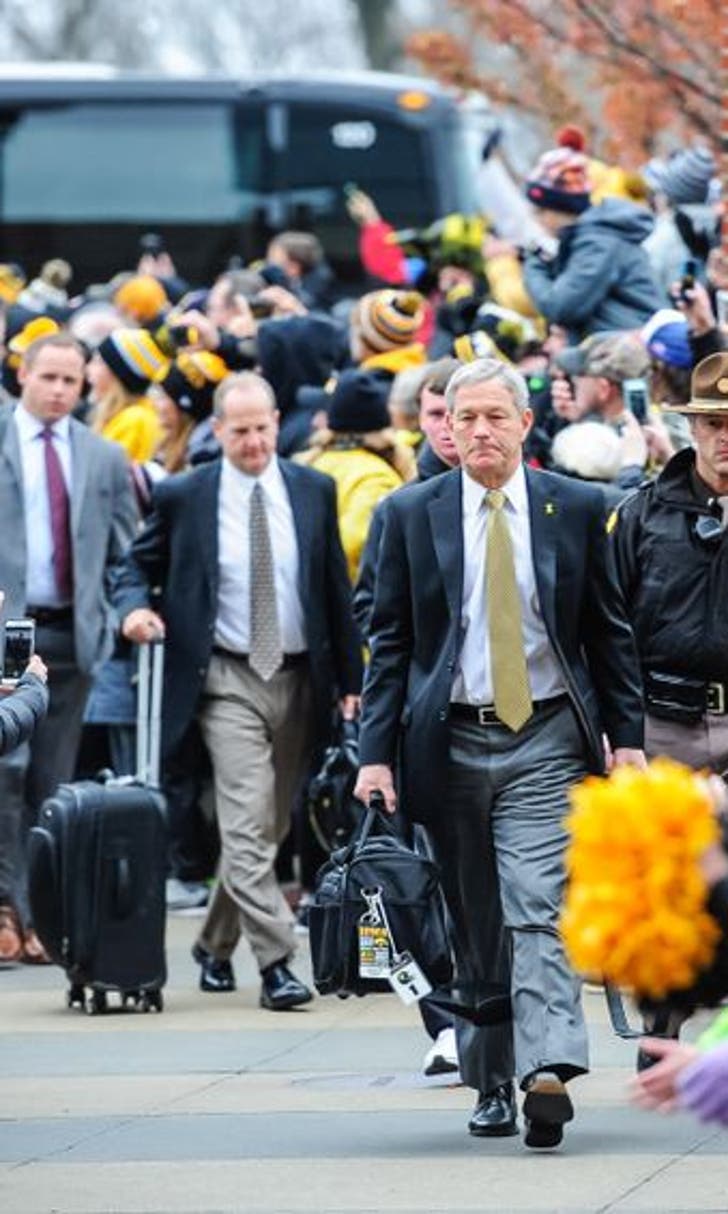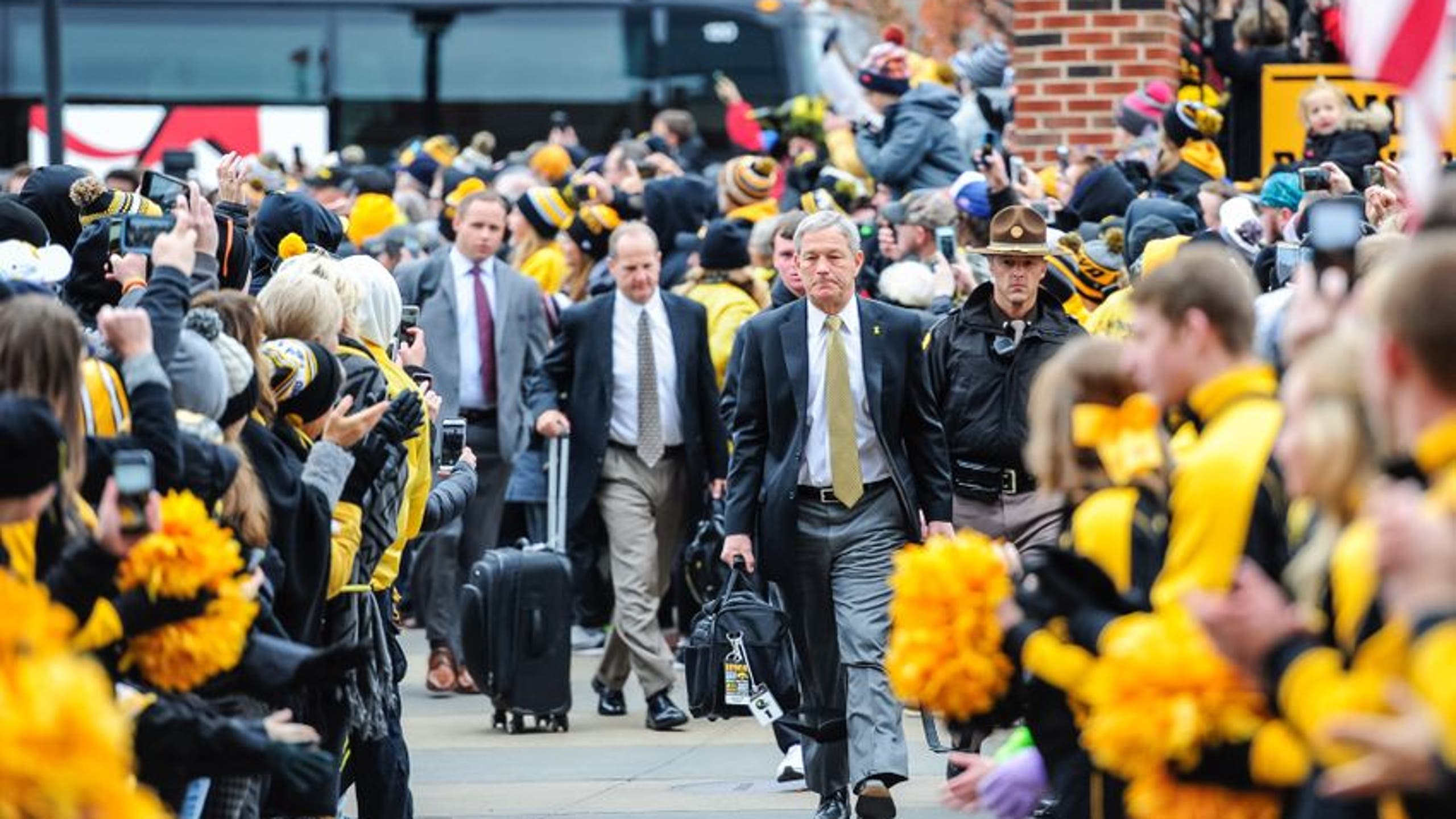 Iowa Football: Hawkeyes History Versus The Florida Gators
BY Fansided and Jeremy Karll/FanSided via Dear Old Gold • December 14, 2016
Mandatory Credit: Jeffrey Becker-USA TODAY Sports
A look at Iowa's previous three meetings with the Florida Gators
If the Florida Gators and Iowa football meeting in the Outback Bowl sounds familiar, it's because it is. This is the third time these teams will meet in the Outback Bowl since 2004.
The Hawkeyes and Gators split the first two meetings in the Outback Bowl under Kirk Ferentz, although Florida owns the all-time series lead 2-1 with a win in the 1983 Gator Bowl. Therefore, even though these two teams have never met in the regular season, they still have a long history of postseason football against each other.
Many expect the 2017 Outback Bowl to be an extremely close and defensive-minded game. Both teams enter the game at 8-4 and ranked in the Associated Press top 25, however the College Football Playoff Ranking only includes Florida.
Three impressive wins by Iowa to end the season helped them jump Nebraska for a spot in Kirk Ferentz's fifth Outback Bowl since becoming Iowa's head coach in 1999. He is 2-2 in Outback Bowls and 6-7 overall in bowl games, but Iowa has lost their last four bowl games dating back to 2011.
As previously mentioned, this will be Ferentz's third game against Florida. Hayden Fry and Charley Pell in 1983 started the great coaching duels between these two teams. It followed with future Big Ten coaches in Ron Zook and Urban Meyer coaching across from Ferentz, with this year being Jim McElwain, who is in his second season at Florida.
In one of the more anticipated matchups outside the New Year's Six games, here's a look back at what happened when Iowa and Florida took the field together the first three times.
Mandatory Credit: Kirby Lee-USA TODAY Sports
1983 Gator Bowl: Florida 14 Iowa 6
No players playing in the 2017 Outback Bowl were alive when the Iowa Hawkeyes and Florida Gators met for the first time. Although, many expect this year's game to have a similar score.
Iowa and Florida both came into the game ranked 10th and 11th in the country, respectively. Iowa was 9-2 and coming in on a four-game winning streak, and Florida was an odd 8-2-1 on the year.
In an old-fashioned football game where both teams ran more than 40 times, Iowa's defense held Florida to 250 total yards and 14 first downs — Iowa finished with more yards and first downs. Iowa's stout defense, that ranked 20th in points allowed per game, also shutout the Gators in the second half and intercepted Wayne Peace twice to keep Iowa in the game.
The Hawkeyes' offense did everything they could to lose the game, though.
The Hawkeyes turned the ball over five times and fumbled another, but luckily recovered it. Chuck Long, who is arguably the greatest quarterback in Iowa football history, threw four interceptions after only throwing four in Iowa's first 10 games.
It negated Owen Gill's 83 rushing yards on 10 carries, which is an extremely impressive mark considering Iowa only gained 114 yards on 40 carries, and kept Iowa's offense from gaining any momentum.
In front of over 81,000 fans, Iowa only managed two field goals and lost a barn burner 14-6. Surprisingly, under Hayden Fry, Iowa scored fewer than six points in a bowl game three other times.
2003 Outback Bowl: Iowa 37 Florida 17
The first time Kirk Ferentz got a crack at Florida, he and Iowa demolished them in the biggest win, and Iowa's only win, of this series. Despite Florida being 8-4, the Gators came into the game in the AP top-25, along with Iowa being ranked 13th in the nation at 9-3.
The Gators jumped out to a quick 7-0 lead with the help of a 70-yard touchdown pass to Kelvin Kight from Chris Leak. Iowa took over from there, though, and scored 27 straight points, including 20 in the first half to give Iowa a sizable lead at halftime.
Iowa scored in almost every way possible in their dominating win. The Hawkeyes finished with one passing touchdown, two rushing touchdowns, a punt return touchdown by Matt Melloy less than a minute in the second half, as well as three Nate Kaeding field goals.
However, the constant theme from Iowa against Florida over the years has not been an explosive offense that topped 35 points for just the fifth time that season, rather a stifling defense.
Florida ranked 34th in the nation at 30 points per game but only averaged 24.2 points per game against six ranked teams in the regular season. Although, inconsistency is what hit the Gators the hardest that season, as they scored 30-plus points against a ranked team three times.
The same problem occurred against the Hawkeyes, as Iowa held Leak to just 268 passing yards and two touchdowns, while also intercepting him once. Plus, the Gators only gained 56 rushing yards on 27 carries, as Iowa held three 500 yard rushers to 72 yards.
This was the first of now five Outback Bowls under Kirk Ferentz, and also gave him a 2-1 career bowl record at the time.
2005 Outback Bowl: Florida 31 Iowa 24
In the highest scoring game between these two teams, Florida won a controversial game 31-24. Iowa came into the game just 7-4 and ranked 25th in the nation but almost pulled off an upset of the 16th ranked 8-3 Florida Gators.
Urban Meyer dominating Big Ten teams started early. Chris Leak got another crack at Iowa, and he did not disappoint. Leak finished with two touchdowns, no interceptions and 278 passing yards in what looked like a completely different quarterback.
hawkeyes
Dear Old Gold 16hIowa Basketball: Hawkeyes Will Be Great In 2018-2019
More headlines around FanSided:
2d - Iowa Football: Is C.J. Beathard An NFL Quarterback?3d - Iowa Football: Four Seniors Who Will Be Missed Most3d - Iowa Basketball: Three Takeaways From Win Over Iowa State4d - Big Ten Pre-Conference Power Rankings4d - Iowa Basketball: Hawkeyes rebound from three straight losses to Iowa StateMore News at Dear Old Gold

The fact that Iowa was even in this game at the end is impressive in its own right. Led by a punt return touchdown, pick-six and two touchdown tosses by Leak to Dallas Baker, Florida led 31-7 at the end of the third quarter.
A year before, Iowa downed LSU on a 56-yard touchdown throw to Warren Holloway from Drew Tate as time expired, so it's not like Tate wasn't used to making magical comebacks already. However, he had to take a rough game and flip it around in one quarter, and that's what he did.
He threw two touchdowns to Ed Hinkel in the fourth quarter and led Iowa down the field to kick a 45-yard field goal with 1:24 left to bring Iowa within seven, 31-24.
Then, the impossible happened. Well, almost.
Iowa attempted the onside kick, and with a couple of lucky bounces, recovered it. However, the referees called Iowa offsides, which negated the recovery and made them re-kick it. In a game filled with questionable penalties on Iowa, this one still sticks in fans' minds.
On the replay, it's clear that Iowa wasn't offsides. Even the announcing crew of Mark Jones, Chris Spielman and Rob Stone showed anger towards the call. This and many other controversial calls led to allegations of bribery by Florida.
Of course, Iowa would have needed to drive down the field and score a touchdown to even force overtime, however, not even getting the chance after a 17 point quarter is disappointing.
It's a game Iowa would like to forget about. Most fans remember it as one of the more controversial games in Iowa football history.
More from Dear Old Gold
This article originally appeared on
---
---