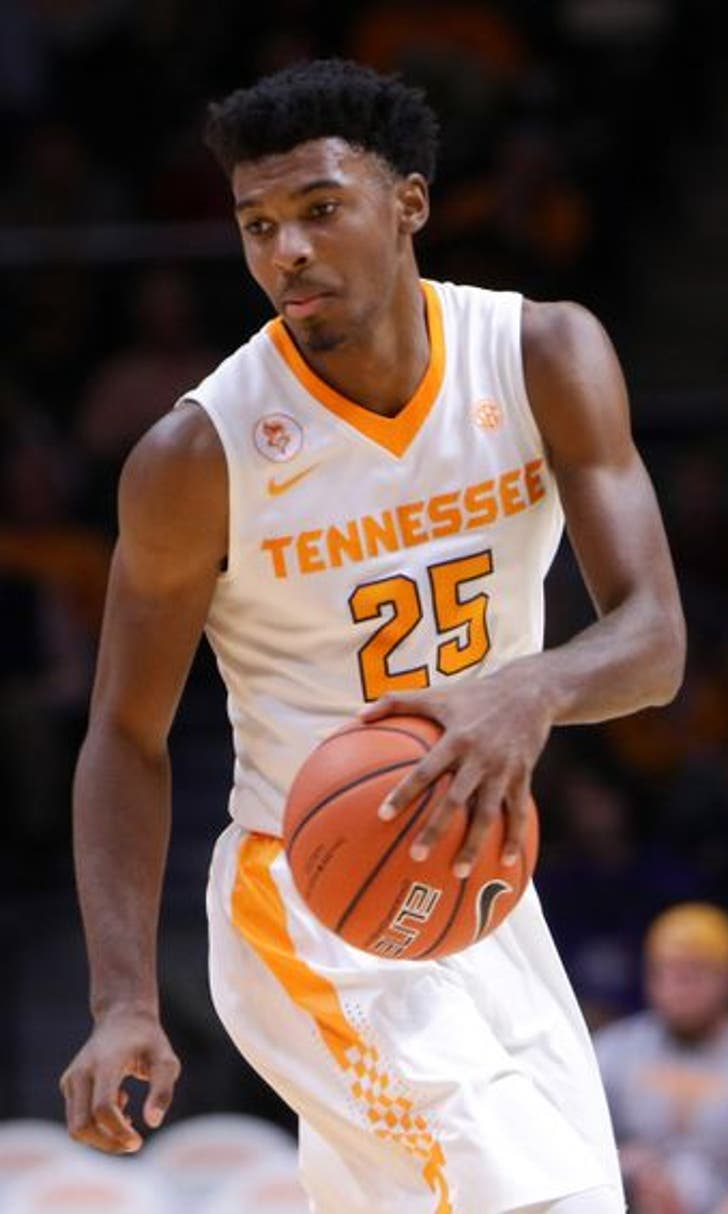 Tennessee Basketball Survives Tennessee Tech 74-68: Five Takeaways from Vols Win
BY Fansided and Caleb Calhoun/FanSided via All for Tennessee • December 13, 2016
Tennessee basketball survived the Tennessee Tech Golden Eagles 74-68 Tuesday in Knoxville. Here are five takeaways from the Volunteers' victory.
Coming off of a near improbable upset over the North Carolina Tar Heels on Sunday, Tennessee Basketball nearly suffered its own improbable upset loss Tuesday night at Thompson-Boling Arena.
The Vols held on against Tennessee Tech to win 74-68.
With the win, Tennessee got back to a winning record at 5-4, but it was not pretty, as they beat a team that fell to 4-8.
The Vols dominated the first half and built a 20-point lead in the second half but had to withstand a furious comeback by the Golden Eagles late.
Still, they held on to get the victory, and Rick Barnes's team is barely above water.
Here are five takeaways from Tennessee basketball's fifth win on the season.
1. Youth is still a problem.
We knew this going in, but with a ton of freshmen, it was extremely clear the Vols were feeling themselves in this game. They had nearly beat the North Carolina Tar Heels and then built a 20-point lead in this game.
However, they still are too young to be able to deal with any type of success. As a result, they began to coast and nearly cost themselves. That revealed something else about this team as well.
2. Tennessee basketball still remains very streaky.
The Vols teased fans with a nice run coming back from Maui, but the second half against North Carolina and then the end of this game show they are still very streaky. In this one, Tennessee led by 20 points with less than 12 minutes to go.
Then they committed 10 turnovers in Barnes's up-tempo system and simply had to hold on at the end. They have to be more consistent than last year if they are going to make any kind of run.
3. Robert Hubbs III can now add clutch to his aggression.
With 25 points on 10-of-17 shooting, Robert Hubbs III continues to show his aggression as a senior, and we continue to praise it. Again, he scored all of his buckets either in the paint or at the free throw line, showing that he knows where his strengths are.
However, he also showed he is clutch. Hubbs asked for the ball late in the game with Tennessee Tech threatening and sank two late free throws to ice it. He is becoming the clear go-to guy for this team, and that bodes well for the future.
4. Lamonte Turner keeps developing.
He showed this in the first half of the North Carolina game, and Lamonte Turner took it to another level Tuesday. Knowing that Tennessee basketball needs some extra scoring off the bench, Turner went 5-of-9 from the three-point line and scored 16 points.
He was a sharpshooter all night, and he also had four assists. Sure, his three turnovers were a problem, but he continues to get better and better. Perhaps he soon will be on Kevin Punter's level. After all, he's only a redshirt freshman.
5. Consistent point play is becoming a bigger issue.
This is the biggest problem with the Vols' consistency. We thought Tennessee basketball was developing without Jordan Bone and was able to handle point necessities. However, they go in these major spurts of mistakes.
Shembari Phillips struggles and random times, even though he did have five assists, and we have already mentioned Turner. Detrick Mostella also helped. But they all made mistakes too. Then, the point-forwards were huge failures. Grant Williams hit reality, and Admiral Schofield is still rusty. These guys have to play a role in this as well if Tennessee is going to make any sort of run in conference play.
More from All for Tennessee
This article originally appeared on
---
---