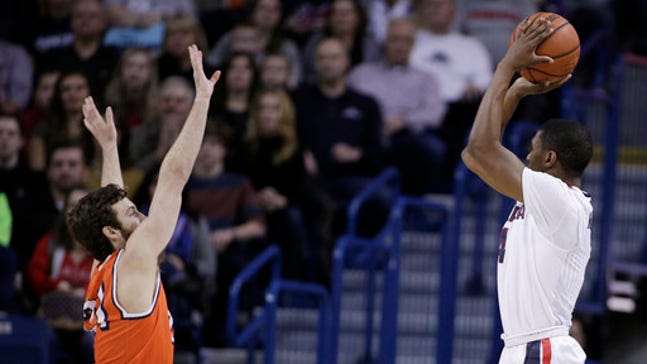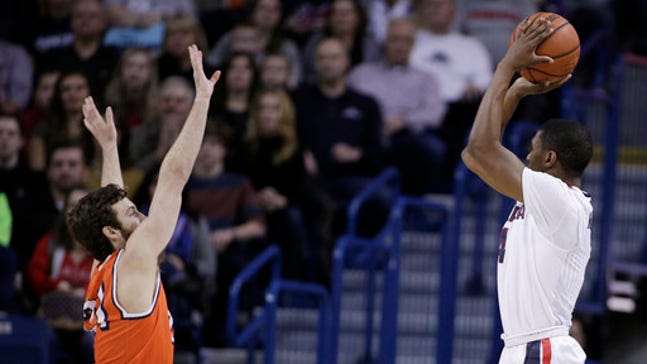 No. 7 Gonzaga beats Pepperdine 92-62 in WCC opener (Dec 29, 2016)
Updated
Mar. 4, 2020 12:18 p.m. ET

SPOKANE, Wash. (AP) No. 7 Gonzaga beat Pepperdine by 30 points, dominated the boards and forced the Waves into 20 turnovers.
The verdict?
''We played OK,'' said Jordan Mathews, who scored 15 points on five 3-pointers. ''We had some sluggish moments.''
Nigel Williams-Goss and Przemek Karnowski each had 16 points as Gonzaga beat short-handed Pepperdine 92-62 on Thursday night, extending the best start in program history.
Three other players scored in double figures for the unbeaten Bulldogs (13-0, 1-0 West Coast Conference).
''We didn't play our best tonight,'' Mathews said.
Gonzaga held a seven-point lead after the first half and did not put away scrappy Pepperdine until midway through the second.
''I didn't think that was one of our better efforts of the year,'' Gonzaga coach Mark Few said. ''In the second half, we defended much, much better.''
Lamond Murray Jr. scored 19 points for Pepperdine (4-9, 0-1), which has lost eight games in a row and was missing two starters because of injuries. Jeremy Major added 15.
Gonzaga went unbeaten in nonconference play for the first time since joining the NCAA in 1958. The Bulldogs have now won 21 straight conference openers, dating to a loss in 1996.
Coming in, Gonzaga had trailed for a total of 33 minutes, 29 seconds in 12 games this season, and only against Florida in the second half.
That didn't intimidate the Waves, who led for more than four minutes and stayed close for much longer.
Nolan Taylor hit three straight Pepperdine baskets as the Waves took an 18-15 lead midway through the first half.
Gonzaga scored six straight points for a 34-27 lead, and consecutive 3-pointers by Mathews pushed the lead to 40-32.
Gonzaga led 44-37 at halftime. Pepperdine stayed close by shooting 51.6 percent in the first and getting 13 points from Murray.
''I thought the first half we competed,'' Pepperdine coach Marty Wilson said.
But after that, ''our inexperience, our youth, showed,'' he said.
''They jump on you early with their size and physicality,'' Wilson added. ''You can't adjust. You can't practice for it if you don't have it.''
Gonzaga pushed its lead to 52-40 early in the second half.
An 8-0 run gave Gonzaga a 62-45 advantage midway through the second, as Pepperdine's shooting cooled off and the Zags dominated the boards. The lead soon reached 20 points and kept growing.
Gonzaga finished with a 44-28 advantage on the glass and forced the Waves into 20 turnovers while committing 11.
POLL IMPLICATIONS
No. 2 UCLA's loss to Oregon might give Gonzaga a chance to move up next week.
STATS
Gonzaga shot 10 of 27 from 3-point range while also outscoring Pepperdine 40-20 in the paint. Gonzaga also had a big advantage at the free throw line, sinking 16 of 24 while Pepperdine got just seven free throws and made six.
BIG PICTURE
Pepperdine: The Waves were missing point guard Amadi Udenyi, out for the season with a torn Achilles tendon, and forward Kameron Edwards, who broke his jaw in practice. The Waves have already lost 34 player-games due to injury or illness this season.
Gonzaga: The Bulldogs have won 32 consecutive games against Pepperdine, last losing in 2002. ... Gonzaga has been holding opponents to 36 percent shooting from the floor, including a nation-best 26 percent from 3-point range. Pepperdine did better, shooting 44.6 percent in the game and 42.9 percent from 3-point range.
UP NEXT
Pepperdine plays at Portland on Saturday.
Gonzaga plays at Pacific on Saturday.
---
---