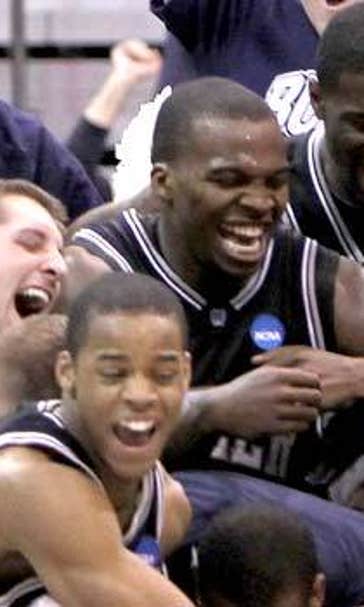 New Year's Marathon highlights 2015-16 BIG EAST men's basketball schedule
BY foxsports • September 8, 2015
The 2015-16 BIG EAST Conference men's basketball schedule was released Tuesday and features another year of wall-to-wall television coverage through the league's partnership with FOX Sports. The schedule includes a five-game New Year's Marathon on FS1 and a third consecutive season of double round-robin competition culminating with the 2016 BIG EAST Tournament at Madison Square Garden. 
This season, FS1 will carry more than 100 BIG EAST games nationally, and FOX broadcast network will increase its coverage of BIG EAST action to a record 12 games, all on weekends. All 90 conference regular-season games will be nationally televised. Gus Johnson and Bill Raftery will be back to serve as FOX Sports' lead announce team. 
The BIG EAST, which will be in the third season of its 10-team, basketball-centric membership, will start league play on Dec. 30 and 31. On Dec. 30, Seton Hall plays at Marquette and Georgetown travels to DePaul. The three games on Dec. 31 are: Xavier at Villanova, Providence at Butler, and Creighton versus St. John's at Carnesecca Arena.
The New Year's Marathon will take place on Saturday, Jan. 2, with all 10 teams in action on FS1. The games will begin at 11 a.m. ET with DePaul at Seton Hall and end at approximately midnight when Villanova at Creighton concludes. 
CBS Sports and CBS Sports Network again will televise selected BIG EAST conference games, with CBS Sports carrying two league games and CBS Sports Network set to air 14 conference contests. CBS Sports Network also will televise at least four non-league games.   
FS1 will be the television home of the 2016 BIG EAST Tournament at Madison Square Garden on March 9-12, 2016. The BIG EAST Tournament, which will be held at the World's Most Famous Arena for the 34th consecutive year, is college basketball's longest running postseason basketball conference tourney held at the same venue. 
The BIG EAST had previously announced that FS1 will telecast the four BIG EAST home contests in the inaugural Gavitt Tipoff Games, an eight-year, eight-game series between the BIG EAST and the Big Ten Conference held during the first full week of the regular season. Those games are: Nebraska at Villanova on Nov. 17, Illinois at Providence on Nov. 18, and Rutgers at St. John's along with Iowa at Marquette on Nov. 19.
The BIG EAST will conduct its Men's and Women's Basketball Media Day on Oct. 14 at Madison Square Garden.
2015-16 BIG EAST Men's Basketball Composite Conference Schedule
(All times Eastern. Neutral sites in parentheses where applicable -- CA =€" Carnesecca Arena in New York; MSG = Madison Square Garden in New York; WF = Wells Fargo Center in Philadelphia)
Wednesday, Dec. 30
Seton Hall at Marquette, 7 p.m., FS1
Georgetown at DePaul, 9 p.m., FS1
Thursday, December 31
Xavier at Villanova, 12 p.m., FS1`                        
Creighton at St. John's (CA), 2 p.m., FS1                  
Providence at Butler, 2:30 p.m., CBSSN                   
New Year's Marathon
Saturday, January 2   
DePaul at Seton Hall, 11 a.m., FS1                             
Butler at Xavier, 1 p.m., FS1                    
St. John's at Providence, 3:30 p.m., FS1 
Marquette at Georgetown, 5:30 p.m., FS1
Villanova at Creighton, 10 p.m., FS1 
Tuesday, January 5
Marquette at Providence, 7 p.m., FS1
Butler at DePaul, 8 p.m., FSN
Georgetown at Creighton, 9 p.m., FS1                            
Wednesday, January 6
Seton Hall at Villanova, 7 p.m., FS1
Xavier at St. John's (CA), 9 p.m., FS1
Saturday, January 9
DePaul at Georgetown, 12 p.m., FS1                             
Creighton at Seton Hall, 2 p.m., FS1     
St. John's at Marquette, 2 p.m., FSN                                        
Sunday, January 10
Villanova at Butler, 7:30 p.m., FS1                             
Tuesday, January 12
DePaul at Xavier, 6:30 p.m., FS1
Providence at Creighton, 8:30 p.m., FS1
Wednesday, January 13
Georgetown at St. John's (MSG), 6:30 p.m., FS1
Marquette at Villanova, 8:30 p.m., FS1
Saturday, January 16
St. John's at Butler, 12 p.m., FS1
Villanova at Georgetown, 1 p.m., CBS Sports
Xavier at Marquette, 2 p.m., FS1
Seton Hall at Providence, 4:30 p.m., FS1
Sunday, January 17
Creighton at DePaul, 1 p.m., FS1
Tuesday, January 19
Butler at Providence, 6:30 p.m., FS1
Georgetown at Xavier, 8:30 p.m., FS1
Wednesday, January 20
DePaul at Marquette, 8 p.m., FS1
Villanova at Seton Hall, 9 p.m., CBSSN
Saturday, January 23
Providence at Villanova (WF), 12 p.m., FOX
Seton Hall at Xavier, 2 p.m., FSN
Butler at Creighton, 7:30 p.m., FS1
Marquette at St. John's (MSG), 8 p.m., CBSSN
Tuesday, January 26
Creighton at Georgetown, 6:30 p.m., FS1
Xavier at Providence, 8:30 p.m., FS1   
Wednesday, January 27
DePaul at Butler, 7 p.m., CBSSN
St. John's at Seton Hall, 7 p.m., FS1
Saturday, January 30
Butler at Marquette, 12 p.m., FS1
Xavier at DePaul, 2 p.m., CBSSN
Seton Hall at Creighton, 8 p.m., FSN
Providence at Georgetown, 8 p.m., FS1
Sunday, January 31
Villanova at St. John's (MSG), 12 p.m., FOX
Tuesday, February 2
Georgetown at Butler, 7 p.m., FS1
Providence at DePaul, 9 p.m., FS1
Wednesday, February 3
St. John's at Xavier, 6:30 p.m., FS1
Creighton at Villanova, 8 p.m., CBSSN
Marquette at Seton Hall, 8:30 p.m., FS1
Saturday, February 6
Marquette at Xavier, 12 p.m., FS1
DePaul at Creighton, 2 p.m., FSN
Villanova at Providence, 2:30 p.m., FS1
Butler at St. John's (CA), 4:30 p.m., FSN
Georgetown at Seton Hall, 9 p.m., CBSSN
Monday, February 8
St. John's at Georgetown, 7 p.m., FS1
Tuesday, February 9
Xavier at Creighton, 8 p.m., CBSSN
Villanova at DePaul, 8:30 p.m., FS1
Wednesday, February 10
Providence at Marquette, 7 p.m., CBSSN
Butler at Seton Hall, 7 p.m., FS1
Saturday, February 13
Georgetown at Providence, 12 p.m., FOX
Xavier at Butler, 2:30 p.m., FOX
Creighton at Marquette, 8 p.m., FSN
St. John's at Villanova (WF), 8 p.m., CBSSN
Tuesday, February 16
Creighton at Butler, 7 p.m., FS1
Wednesday, February 17
Providence at Xavier, 8:30 p.m., FS1
DePaul at St. John's (CA), 8 p.m., CBSSN
Seton Hall at Georgetown, 9 p.m., FS1
Saturday, February 20
Xavier at Georgetown, 12 p.m., FOX
Marquette at DePaul, 2 p.m., FSN
Butler at Villanova, 2:30 p.m., FOX
Sunday, February 21
Seton Hall at St. John's (MSG), 12 p.m., FS1
Wednesday, February 24
Villanova at Xavier, 7 p.m., FS1
Marquette at Creighton, 8 p.m., CBSSN
Thursday, February 25
Providence at Seton Hall, 7 p.m., FS1
St. John's at DePaul, 9 p.m., FS1
Saturday, February 27
Butler at Georgetown, 12 p.m., CBS Sports
Villanova at Marquette, 1:30 p.m., FOX
DePaul at Providence, 4 p.m., CBSSN
Sunday, February 28
Xavier at Seton Hall, 12:30 p.m., FS1
St. John's at Creighton, 2:30 p.m., FS1
Tuesday, March 1
DePaul at Villanova, 7 p.m., FS1
Georgetown at Marquette, 9 p.m., FS1
Wednesday, March 2
Seton Hall at Butler, 8:30 p.m., FS1
Creighton at Providence, 9 p.m., CBSSN
Saturday, March 5
Seton Hall at DePaul, 12 p.m., FSN
Georgetown at Villanova (WF), 12 p.m., FOX
Providence at St. John's (MSG), 12:30 p.m., FS1
Marquette at Butler, 2:30 p.m., FOX/FSN
Creighton at Xavier, 2:30 p.m., FOX/FSN
---
---