Gareth Bale scored in his return and a scary good Real Madrid now look better than ever
Gareth Bale is back. He's not only back on the field after a four-month injury absence, but he's back to scoring ridiculously fun goals at breakneck pace – and that should make everyone very afraid of a Real Madrid squad that was doing just fine without him. Injuries haven't held the Spanish giants back to this point, and now they just got even better.
In his first minutes since November on Saturday, Bale wasted no time showing what the Spanish giants have been missing. It was a quintessential Bale goal with him out-running everyone on the pitch in a counterattack and firing a perfect left-footed finish.
GOAAAAAL! @GarethBale11 wastes no time to remind the fans of what they missed out on! #beINLaLiga https://t.co/vRgpl47EA1

— beIN SPORTS USA (@beINSPORTSUSA) February 18, 2017
The goal itself was great, to be sure, and it helped Real Madrid cruise to a 2-0 win over Espanyol. But it's Bale's quick return to form that should have Real Madrid fans salivating and the rest of Europe shaking. A Los Blancos team that has already been mostly unstoppable just got a huge boost.
Real Madrid have looked like probably the best squad in Europe the world this season, and they've done it without their first-choice squad much of the time. Bale has only appeared in 12 La Liga matches out of 21 this season. Sergio Ramos, Luka Modric, Cristiano Ronaldo and Karim Benzema likewise have all had to miss a handful of games too.
Despite their share of injuries, Real Madrid have now scored in 42 consecutive games across all competitions for the first time in the club's history after Saturday's match. They've been historically good, but look through Zinedine Zidane's starting line-ups this season and see the first-choice ranks of Ronaldo, Bale, Modric, and others have only started together about half the time. The player to make the most appearances for Real Madrid is Lucas Vazquez, who has made 18 appearances – which says a lot about the choices Zidane has had to make.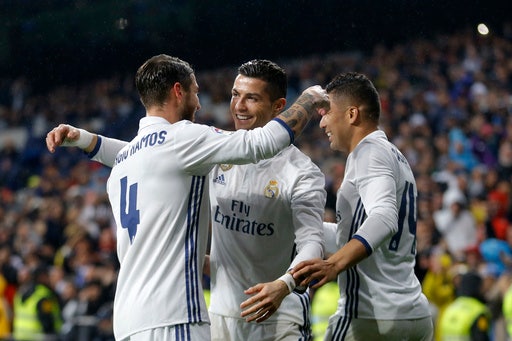 But now, everything seems like it might be coming together at the right time to make the push not just for the La Liga title, but for another Champions League trophy too. Bale's return on Saturday puts an exclamation point on a statement of intent from Real Madrid.
Zidane summed it up after Saturday's win: "Gareth is Gareth. We have just one Gareth. He is a special player, of course, different to the others. But each one brings his grain of sand to the team. That is important."
That's the key — every player will be pulling their weight, which hasn't happened much this season. Although Ramos was injured earlier this week, it sounds minor and the foreseeable future looks like smooth sailing.
Madrid easily handled a good Napoli team earlier this week in Champions League, cruised past Espanyol in La Liga on Saturday, and there's a very real possibility they will only get better from here. This might be the best Real Madrid team we've seen in a long time, and they aren't giving anyone reasons to doubt that now.
MORE FROM FOX SOCCER