Will Kirk Cousins End Up Being A Pro Bowler In 2016?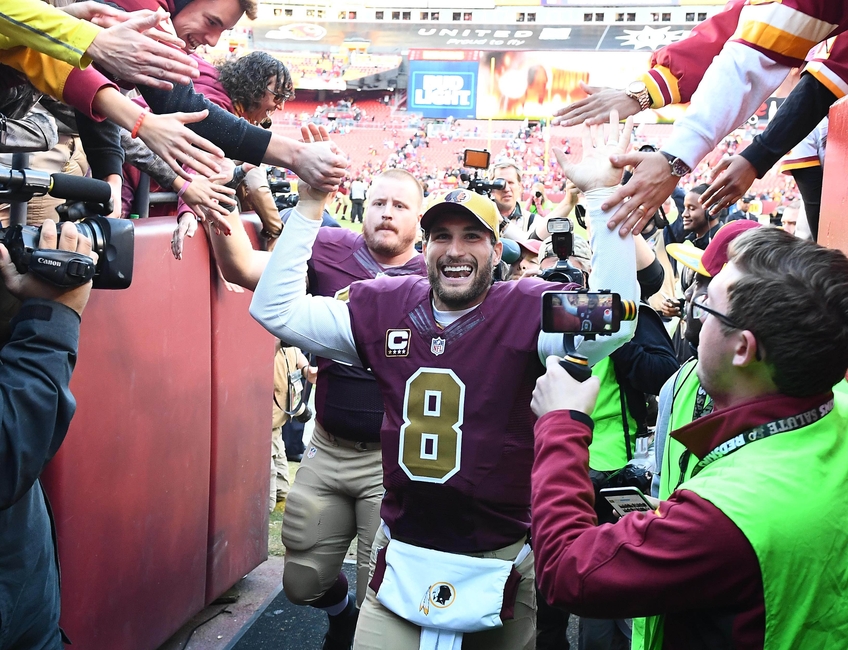 Washington's Kirk Cousins has been playing phenomenally of late. Could a Pro Bowl appearance be on the horizon?
9 weeks into the season, Washington Redskins quarterback Kirk Cousins is heating up.
After a long offseason of contract talks, Cousins finally accepted a deal including $24 million in guaranteed money. With the salary of an advanced player, Cousins was expected to come in to 2016 as an elite quarterback. Though it's been tumultuous at times, Cousins currently plays at the level that his contract dictates. His accurate arm, smart decision-making and leadership might even earn him a spot in January's Pro Bowl.
Early Woes
At the beginning of the season, Cousins was shaky. In the two opening losses to Pittsburgh and rival Dallas, he delivered many low balls and appeared indecisive and confused. After Dallas, some speculated that the locker room was in disarray. Sources both inside and outside of the organization questioned his leadership.
Want your voice heard? Join the Riggo's Rag team!
However, he began to turn it around. He made many tight throws and showed a masterful knowledge of time management and the playbook in the Redskins' nail-biter, fourth-quarter victory against the Giants in Week 3. He had solid, if not spectacular, performances against the Browns and Ravens, limiting mistakes.
Turning the Corner
Cousins really began to come into his own in Week 6 against Philadelphia. He linked up with DeSean Jackson on the deep ball and showed immense poise and comfort in the pocket. Continuing with this discipline, he led a quick, late drive against the Lions the next week to put the Redskins in the lead with limited time left to play. On that drive, he showcased his accurate passing, capability with the two-minute drill and even his running ability.
Cousins' played his best game in Week 8's tie against Cincinnati. He threw for 301 yards and one touchdown, and ran in a TD as well. His 106.9 passer rating in that game was notable as well. Again, he was money in the fourth quarter.
Last week against the Vikings, Cousins had another big day. He led the team to two touchdowns on the first two drives of the game. In addition, he converted many third downs to keep drives alive in the second half and preserve the Redskins' lead. Cousins went 22 for 33 and passed for 262 yards and two touchdowns.
Becoming A Statistical Monster
Cousins has done a great job limiting mistakes in 2016 — he only has 7 interceptions on the year. But more than that, he is playing at a very high level, especially compared to his peers.
Cousins ranks fourth in the league in overall passing, with 2,716 total yards. He is 7th among quarterbacks who have thrown at least 100 passes in completion percentage, with a mark of 66.9 percent. Finally, he has proved to be evasive and intelligent in the pocket, as only three starting quarterbacks have been sacked fewer times.
Many will critique Cousins for not living up to his 2015 standards, but most of his amazing games last year took place in the second half of the season. Cousins is heating up at the exact right time, just like 2015. Plus, his September and October of 2015 were average at best, and he is currently playing at a very high level. As he has only improved with each game, he is on pace to be truly elite in the coming weeks. That could start on Sunday night in prime time against the Packers.
Praise from Outsiders
Analysts are taking note of the mild-mannered quarterback's success. Hogs Haven's Alex Rowsey had praise for the 28-year-old quarterback, saying,
This year has been very comparable to last year for him, it's just that last year was split so extremely between a below average first half and a dynamite second half. He's brought both of those extremes more to the middle ground this year and has landed into a pretty consistent, very good place…Really, he hasn't been much different this year from last year aside from the fact that he's gotten more consistent it seems. I see no reason why he won't continue this same level of play the remainder of the year and am even a little hopeful that he can still play better. He seems to have gotten better as the season goes on both last year and again so far this year.
Even broadcasters who cover the NFL as a whole have taken note. Terry Bradshaw, who knows a thing or two about being an elite quarterback, didn't stop at just calling Cousins a franchise quarterback.
He's a top ten quarterback in this league. You can win with him and the better the players are around him, he will play even better and I believe you can even win a Super Bowl with him.
Will Cousins Gain Pro Bowl Status?
Bradshaw thinks he's top ten, but is he top six? The top six quarterbacks, as voted on by fans, make the Pro Bowl. Cousins has never made a Pro Bowl before, but 2016 could be his year.
New England's Tom Brady, Atlanta's Matt Ryan and New Orleans' Drew Brees are virtual locks.
Oakland's Derek Carr and Dallas' Dak Prescott are other likely candidates, which leaves one spot. Cousins is a hot pick. His competition could come from Philadelphia's Carson Wentz, the always-popular Aaron Rodgers of Green Bay, or Seattle's Russell Wilson.
Of course, 2015 MVP Cam Newton might make an appearance as well. If fans choose based purely on merit however, Cousins is outperforming all of those quarterbacks. He leads all in passing yards, in memorable moments and in team record (except for Wilson). Of course, many chosen quarterbacks decline the invitation to play, so Cousins could get a spot that way too.
Last year at this time, Cousins became a star. Considering that he's already playing at a high level while simultaneously heating up, the back half of the season could bring him to incredible heights.
This article originally appeared on