What Kevin Love's Injury Means Going Forward
Zack Geoghegan/FanSided via Hoops Habit

Fansided
Knee surgery will sideline Kevin Love until April, how will the Cleveland Cavaliers respond?
After an outstanding start to his third year in Cleveland, Kevin Love will have to sit on the sidelines for an extended period of time.
It isn't quite explained when exactly the injury occurred, but according to ESPN's Dave McMenamin, Love has been dealing with some swelling in his left knee over the course of the Cleveland Cavaliers' recent four-game road stretch.
The team decided that surgery on the knee was the proper route to take and now Love will be sidelined for six weeks to fully recover, which should be about two weeks before the regular season ends.
The loss is a pretty sizable hit to the Cavaliers offensive front. Love is currently averaging 20 points and 11.1 rebounds per game on 42.9 percent shooting, including 38.4 percent from 3, his highest average in a single season since his 2010-11 season in Minnesota.
He had also made 24 straight free throws before missing one in their most recent game against Denver, although you might have thought he had been shot down by a fine young lady he had been eye-balling at the club all night with the way he reacted.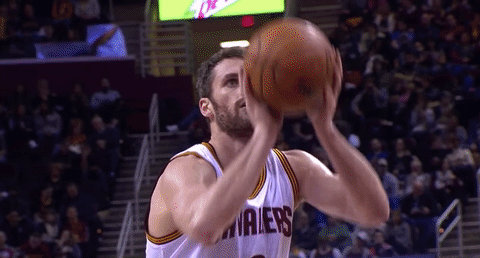 Love has come into his own this season, finally developing the chemistry that Cavs fans were drooling over when it was first announced he was signing with Cleveland. Now fans have to hope that he can come back healthy and do so seamlessly.
The timing of the injury is interesting for a couple of reasons.
Cleveland Cavaliers: The Cap Situation Following the "Birdman" Trade
First of all, the trade deadline is on Feb. 23, inching closer and closer every day. As if the rumor mill wasn't already filled with implausible and far-fetched trades, Love's injury will manage to churn up more talk.
Talks of trading Kevin Love for Carmelo Anthony will arise once again, but this time with more traction than before, although just as ridiculous.
Luckily, Love should be ready to return before the playoffs start and if the Cavs are coasting (more on that in a second) then they could simply continue to rest Love until the regular season ends, just to be safe.
There shouldn't be much of a reason for Love to be playing extreme minutes against whatever sub-.500 team in the East squeaks into the eighth seed, so he could even continue to rest as the playoffs begin (that is, if the Cavaliers can maintain the No. 1 seed).
I won't dive into why the Cavaliers should keep Love over Anthony — that's a whole different article that has been written a hundred times over.
Instead, I will focus on the argument that I have already heard, which is that the Cavaliers should trade Love because his health is becoming a growing concern.
This is a valid argument in general, but not when the return on such a deal would include someone such as Carmelo Anthony, who has actually had more troubles with injuries than Love has in recent years.
Since Kevin Love was traded to Cleveland before the start of the 2014-15 season, he has missed a total of only 19 games, while Anthony has missed a total of 53 games in that same time span.
Injuries will always be an issue and sometimes luck has a lot to do with it, but Love, who is four years younger than Melo, has proven to be healthier as of late with the best of his career still ahead of him.
Live Feed

nba trade rumors
This is about more than competing with Golden State and winning a title this year, it's about setting the team up to win and putting them in the best position even after LeBron James is gone.
Another note about Love's injury is the Cavaliers' competition.
The Cavaliers are currently taking on one of the easier months they have had this season (if not the easiest), schedule wise.
With only one of their remaining five games this month coming against a team with a winning record AND the fact that the whole league gets a week rest due to the All-Star break, the Cavs are set up to glide through the last half of February.
What is concerning is what lies ahead in March.
The Celtics, Hawks, Rockets, Jazz, Clippers, Wizards and Spurs all take on the Cavs during the month of March, which Kevin Love will supposedly miss all of.
This is where I can understand the talk about trading for Melo, but I can never take it too seriously. It would simply be a quick fix for a short-term issue.
If anything, this may cause management to hunt down that backup point guard that LeBron has been begging for just a little bit quicker than anticipated.
The Cavs have always been expected to make some sort of smaller move before the trade deadline and Love's injury may speed up that process.
Unfortunately, the Cavs will have to power through their toughest month of the season without their third-best player.
However, this will give fans a chance to get a real look at who Derrick Williams really is and if he can become a beneficial player come playoff time.
With Iman Shumpert expected to return on Tuesday night's game against the Timberwolves, J.R. Smith potentially returning from his hand injury earlier than first believed and Kyle Korver becoming fully involved and confident within the offense (Korver is shooting 50 percent on five attempts per game since be traded to Cleveland, including a 29-point game against the Indiana Pacers), there are reasons to believe that the Cavs' offense might not take as much of a hit with Love's injury than first thought.
The Cavaliers are still the best team in the Eastern Conference — no matter what Washington Wizards fans say — and as long as LeBron James is on the court, the Cavaliers have a shot to win every game they play.
The rumors will continue to spread, but Kevin Love is a Cleveland Cavalier and knee surgery isn't going to change that.
This article originally appeared on