Utah Jazz: Trey Burke's Smear Campaign Is Ill-Informed and Sad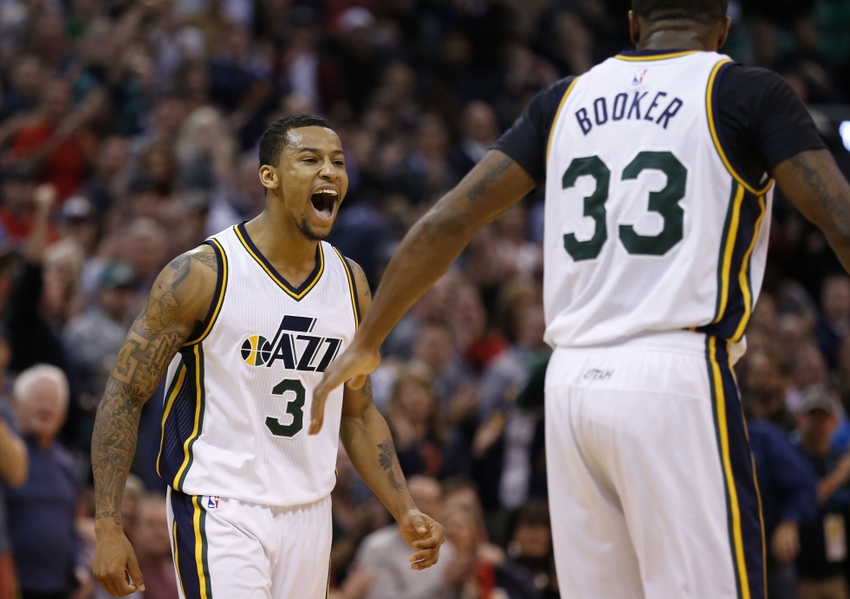 Former Utah Jazz point guard Trey Burke had some less-than-kind things to say about both his alma mater and the team that drafted him in recent interviews.
While his time with the Utah Jazz ended on somewhat of a sour note, it's always been hard not to like Trey Burke. Despite the fact that he saw his role with the team diminish on an annual basis, he kept his head down, said all the right things and kept working to improve himself as a player. He seemed like a true pro.
I've said it in the past, but it bears mentioning again — when Jazz GM Dennis Lindsey, acting on intel from former GM Kevin O'Connor, pulled the trigger on a draft-night trade to acquire him, I was ecstatic. No one could say for sure that the Jazz had found their Deron Williams replacement, but it sure felt that way.
These days, Burke is a lot closer to the league's fringes than stardom. He's currently averaging just 2.5 points and 0.7 assists per game in limited action for the Washington Wizards.
However, that's not the only thing that's changed for the Jazzman turned John Wall backup. It's also become a lot harder to root for the guy. In recent weeks, Burke has broken his silence, taking shots at his former team.
Following the Wizards' season-opening loss at Atlanta, he opened up about his experience in Utah, claiming the Jazz held him back.
"They couldn't break me," said Burke. "That's what they tried to do. They couldn't break me though. They gave me DNPs, everybody asked me what's going on, why you aren't playing; there's a reason everybody asked me that."
He went on to claim that six or seven teams were working hard to bring him into the fold. A curious statement considering the Jazz eventually dealt him for little more than a second-round pick.
Here's a video of the interview in question —
After taking the high road when he was with the Jazz, it's disappointing to see him go out of his way to knock on the organization now. Strangely, it's become a pattern for the embattled point guard, who claimed last month that the University of Michigan served him "jail food" and left him unprepared for NBA life.
Of course, this kind of talk has surrounded Burke for a while. Mostly it's come from his parents, who have bemoaned Burke's treatment by the Jazz in the media and on Twitter. Many of their more belligerent tweets have since been deleted, but they've been chronicled all over the 'net.
Despite his previous restraint on the matter, it seems the apple hasn't fallen far from the tree.
More from Purple and Blues
Burke was a lot of different things during his turbulent tenure with the Jazz. He began his pro career as the centerpiece to the aforementioned draft-night trade; one that got a lot of fans excited. He went on to become the savior for a squad that had depended on John Lucas III and Jamaal Tinsley's ghost for point guard play.
In short order, he was playing big minutes, hitting bigger shots and even garnered an NBA All-Rookie Team selection.
However, he's also the guy who wasn't quite the shooter the Jazz were expecting when he showed up for his first summer league. A smallish player without elite athleticism who was never consistent enough offensively or defensively to solidify his spot. One that eventually lost his minutes and starting role to a rookie.
He clearly remembers losing his spot, but his memory seems a bit fuzzy when it comes to why it happened or the fact that he was gifted a prominent role with the team as a rookie and given every opportunity to retain it.
Whether it's a case of revisionist history or an outright smear campaign, Burke's sudden scorched earth policy toward discussing his Jazz career isn't just ill-informed.
It's a little sad.
This article originally appeared on