New York Knicks: Don't Worry About Kristaps Porzingis' Weight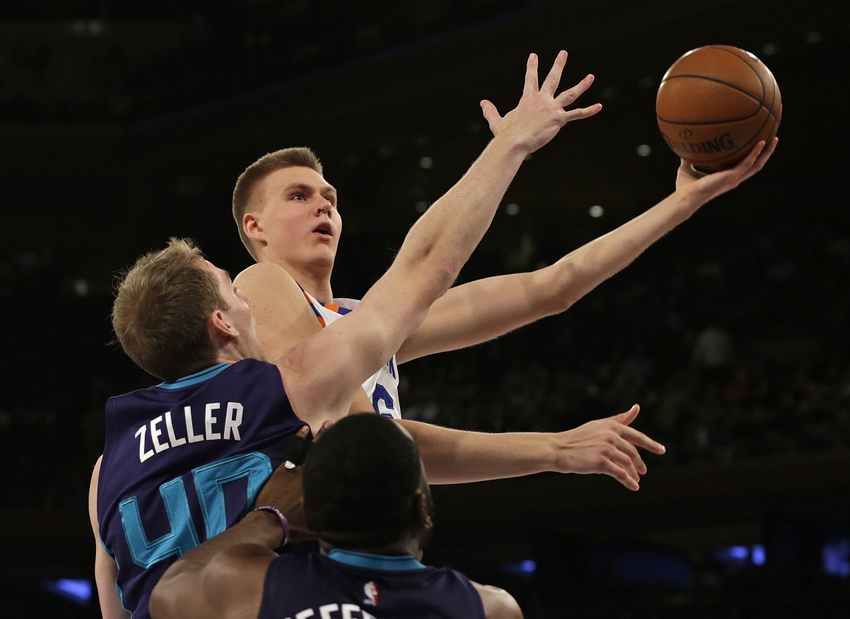 Kristaps Porzingis has only gained one pound since the New York Knicks held training camp in 2015, but the number isn't whats important.
---
If you're thinking about this from a video game perspective, then Kristaps Porzingis should be putting on weight. That's the only way to get stronger and be able to throw your body around without getting hurt.
If you're thinking about this from the perspective of actual physical development, then Porzingis' weight isn't a topic yet worth discussing.
Porzingis is in the process of adding muscle to his frame. That process generally leads to a player increasing their overall weight, especially when said player is as thin as KP6.
According to Chris Herring of The Wall Street Journal, Porzingis has gained a mere pound since the beginning of last season's training camp.
Porzingis says he weighs 238 now. He was 237 pounds at the end of training camp last year.

— Chris Herring (@HerringWSJ) September 17, 2016
Don't get too caught up on the number.
Porzingis discussed his need to put on weight with Anthony Donahue of the "33rd and 7th" podcast. Many will point to the need to get bigger up top, but Porzingis explicitly stated that he's focused on gaining strength in his legs.
When a player is as tall as Porzingis, leg injuries can often be their kryptonite.
Improving lower body strength is the best way to prevent such injuries from happening.
New York Knicks team president Phil Jackson knows all about helping his players improve physically. He coached the likes of Kobe Bryant, Michael Jordan, Shaquille O'Neal, and Scottie Pippen, who all underwent body transformations of some form under Jackson.
Whether it's improved stamina or increased muscle mass, Jackson keeps knowledgable people around him.
In Porzingis' case, pictures and videos of his offseason activities display how much stronger he's becoming. His arms are noticeably more defined than they were in 2015-16 and his legs appear to be sturdier and more powerful.
Knowing this, it stands to reason that Porzingis' weight increase was only one pound because he's replaced excess fat with muscle.
Rather than getting caught up on the number, look at how hard Porzingis is working as a sign that he's ready for what the future holds.
This article originally appeared on