Milwaukee Bucks History: Marques Johnson Player Profile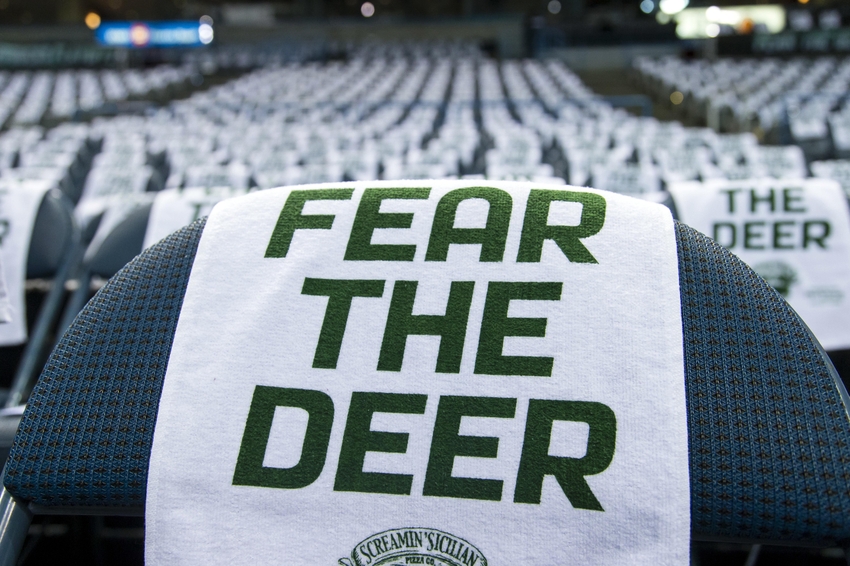 Marques Johnson is in rare air in terms of Milwaukee Bucks legends throughout franchise history.
There are several reasons why the 1980s were so good to the Milwaukee Bucks. More to the point, there were several players responsible.
Sidney Moncrief is one who certainly played a massive role in Milwaukee's winning ways over the course of the decade, but he was not alone. For the first half of the decade, a different Buck was actually in charge.
Marques Johnson was drafted third overall by the Bucks in 1977, and it did not take him long to make an impression in the NBA. Marques would spend seven seasons in Milwaukee, and only one of them did not result in a trip to the postseason for the Bucks.
If the 1980s really were Milwaukee's golden age, then Marques Johnson is the one who first ushered in success. He built the foundation that Moncrief and others would run with after his departure from Milwaukee.
In recognition of that, let's look back at his career. Marques had a long, interesting one–and still does!
Johnson's Career Before The Bucks
Marques Johnson was born in Louisana, but raised in Los Angeles. That's where his basketball career really took off. Marques starred for the Crenshaw Cougars, earning Los Angeles City Section 4-A Division Player of the Year honors in his senior season.
Marques stuck around in L.A. after graduating, attending UCLA and playing under legendary collegiate coach John Wooden. He excelled as a Bruin, leading the team in scoring his senior season and winning a title with UCLA in his sophomore season.
Wooden retired after the title run, and by the time Marques had that great senior season the NCAA had named the trophy given to the most outstanding player in NCAA basketball after him. Marques Johnson won the first Wooden Award, two years after winning a title under the man himself.
After averaging 21.4 points and 11.1 rebounds in his senior season, it was obvious Marques would be a high pick in the 1977 NBA Draft. The Milwaukee Bucks had the first overall pick, and blew it on Kent Benson.
Luckily, the Bucks had traded a different UCLA alum, Swen Nater, for the third overall pick in the draft. Remarkably, Johnson was still around and the Bucks snatched him up.
Johnson's Career With The Bucks
It didn't take Marques Johnson long to prove the Bucks made a great decision by picking him up in the 1977 NBA Draft. In his first-ever NBA game Marques dropped 21 points, and he set a new career high with 22 points the very next night.
He made the All-Rookie First Team that season, and posted averages of 19.5 points, 10.6 rebounds, 2.4 assists, 1.2 steals and 1.3 blocks per game. Somehow he got even better by his second season, increasing his scoring and assist totals and field goal percentage.
His sophomore season was probably Marques' best. He scored a whopping 25.6 points per game, and got both All-Star and All-NBA First Team honors. He would go on to qualify for two more All-NBA teams and get three more All-Star nods in his Bucks career, which resulted in him getting all the way to sixth all-time among Bucks in points scored despite only playing in Milwaukee for seven seasons.
Those seven seasons included six playoff berths, two trips to the Eastern Conference Finals and one 60 win season. Marques led the Bucks in wins added for the first four years of his career, and was instrumental in Milwaukee reaching 60 wins for the first and only time since Kareem Abdul-Jabbar left.
Johnson's Career After The Bucks
In 1984 Don Nelson (who was both the Bucks head coach and general manager at the time) traded Marques, along with Junior Bridgeman and Harvey Catchings to the Los Angeles Clippers for Terry Cummings, Craig Hodges and Ricky Pierce.
Johnson, unsurprisingly, did not enjoy playing on the Clippers. They were absolutely terrible even with him, winning 31 and 32 games respectively in his two full seasons there. He suffered a neck injury in his third year that caused him to have surgery and prompted the Clippers to attempt to withhold his pay, citing a permanent disability clause in his contract.
Perhaps only to prove his former team wrong, Marques did stage a comeback season with the Golden State Warriors in the 1989-90 season. Part of his decision came down to the coach of the Warriors at the time, Don Nelson.
Marques just didn't have enough left to really compete anymore though, and eventually retired after just ten games with the Warriors.
His NBA life did not end with that retirement though. Marques has been a color commentator for the Seattle Supersonics and currently serves that role with the Milwaukee Bucks. He also hosted a radio show in Los Angeles and acted in several films, including Blue Chips and White Men Can't Jump!
Johnson's Legacy
As great as his playing career was, Marques Johnson must also be remembered for his naming ability. According to Marques, he coined the phrase "point forward" during the 1984 NBA Playoffs.
Many people, including Del Harris, disagree with that assertion. Still, considering Marques was the point forward in question at the time it's safe to say he deserves at least some credit for the start of the term, which has since morphed into Point Giannis in Milwaukee.
Marques was the best player on a 60 win Bucks team, which puts him in a very exclusive club–only he and Kareem can say that they led Milwaukee to 60 wins in a season.
Johnson is all over Milwaukee's career leaders lists, despite only playing with the Bucks for seven years. That goes to show just how effective he was in his time with Milwaukee.
Luckily for Bucks fans, he's now back and currently serving as one of the best color commentators the NBA has to offer. Listening to Marques Johnson call games is a treat for sure–he's always got an interesting story to tell.
Now can we retire this man's jersey already?
This article originally appeared on