Kevin Garnett's top 5 moments of NBA career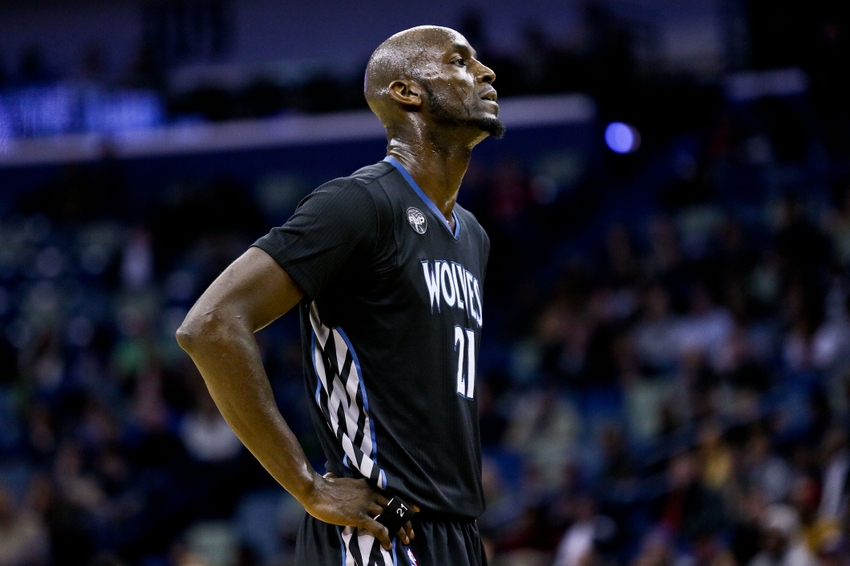 Kevin Garnett has announced his retirement from the NBA and has left everyone with memories they will never forget.
A legend stepped away from the game on Friday. With the NBA season just around the corner, Kevin Garnett officially announced his retirement from the NBA. After being drafted out of high school in 1995, Garnett went on to become one of the greatest big men to ever play the game. His intensity was unparalleled and his desire to win unmatched.
By stepping away from basketball, Garnett joins a list of legends that also includes Kobe Bryant and Tim Duncan. Each of these players has left a legacy on the court and were the face of a generation. Now they step aside while a new generation forms a legacy.
With Garnett set for the Hall of Fame, it's important to remember his legacy and everything he did on and off the court. Here are the top five moments of Garnett's career.
5. Kevin Garnett scores 47 points
While Garnett could put points on the board, he was never known for having those insane scoring games that others might have had. He usually wowed everyone with his ability to grab plenty of rebounds, block a lot of shots and anchoring the paint alongside his 20-plus points a game.
More NBA coverage from FanSided
Definitive Dunks: 30 greatest dunks in NBA history
Best NBA teams that never won a title
Power ranking all-time NBA uniforms
However, there was one special occasion where Garnett went off. In 2005, the Phoenix Suns were on a tepid pace behind point guard Steve Nash. With the Suns being a beacon for offense, Garnett managed to drop 47 points and grab 17 rebounds.
Although the Timberwolves would lose the game against the Suns, Garnett put together a game his fans won't ever forget. He showed just how versatile of a player he could be on that night.
4. Mixing it up with other players
Kevin Garnett might rank near the top of the most intense players of all time. He also occasionally found himself in the middle of some pushing and shoving with other players. Garnett had a knack for getting under the skin of his opponents.
He did it throughout his career and it didn't matter if it was a big name or a player that was at the end of a bench, he wasn't afraid to take some shots. He didn't do it just to be the bad guy in certain instances, he did it to bring an edge for his team.
He grew up playing with some of the toughest players in the game and had a bit of a different mind-set from today's NBA. By causing the guy he was going up against to lose his composure, Garnett immediately asserted his will upon them.
With the way the NBA is played today, it's hard to bring that same intensity without fear of getting a technical or ejected. There's a nuance to getting in your opponent's grill and Garnett was the master at doing it.
3. Being drafted out of high school
One of the moments that has always stuck with Garnett throughout his career is his draft night. In 1995, Garnett became the first player to be drafted out of high school since 1975. Teams weren't exactly thrilled with the prospect of taking an unknown.
Even today, a year out of high school is now the requirement for being draft eligible. Still, Garnett is one of the high school success stories. His game simply translated to the professional level for him. College simply wasn't necessary.
He had the rare blend of size, agility and power. While there was a bit of a learning curve, the potential was there from the beginning for him. After the success of Garnett, there was a wave of high school players that were drafted until the rules that are currently in place were set.
That makes him a pioneer and yet another milestone that can be fondly associated with him. He remains the best draft pick in team history and for a team that never won more than 29 games before him, Garnett changed things in a hurry.
2. Tribute to Flip Saunders
In a way, Kevin Garnett's career is also a story of the late Flip Saunders. When Garnett was drafted out of high school, Saunders became his coach early in his first season. That chance paid off and the two went to eight playoff appearances together.
After Saunders was gone from Minnesota, Garnett would be traded a couple of seasons later. After playing in Boston and Brooklyn, Saunders would find his way back to Minnesota and so would Garnett. Although their reunion wouldn't last long.
Before the 2015-16 season, Saunders would tragically pass away from cancer. The man who taught Garnett as a young man and brought him back in his final days of coach left a great legacy behind him.
With tributes around the league pouring in for Saunders, Garnett left a post on Facebook that said what needed to be said. The post was gut-wrenching, to say the least.
It was a reminder of just how special the bond between a coach and a player can be. Saunders was there for Garnett when he was just a young man out of high school and was there for him when Garnett was nearing retirement. At the end of their journey, Garnett was an older player that had been through a lot and was forever thankful for his coach.
1. "Anything is possible"
The hallmark of a legend is the ability to leave a quote that will be remembered. In 2008, Kevin Garnett did just that when helped lead the Boston Celtics to their 17th NBA Championship in franchise history. It was Garnett's first title and it came in his first season with the Celtics.
As the fans in Boston celebrated, Garnett was emotional over the biggest accomplishment of his career. He proudly exclaimed, "Anything is possible!" That quote has since gone on to be used in several NBA Finals highlight reels and used in many pop culture references.
After years of struggling to make the playoffs, Garnett's hard work finally culminated in a major moment. The intensity that usually defined his demeanor became nothing but joy. It was a long road to the biggest stage for him.
The kid that was drafted out of high school proved that it is possible to make dreams come true. He faced obstacles and blazed a trail for other athletes. If there is but just one way to remember Garnett from his time in the NBA, it is that truly anything is possible.
This article originally appeared on