Houston Rockets: James Harden Says He's The Best Player In The League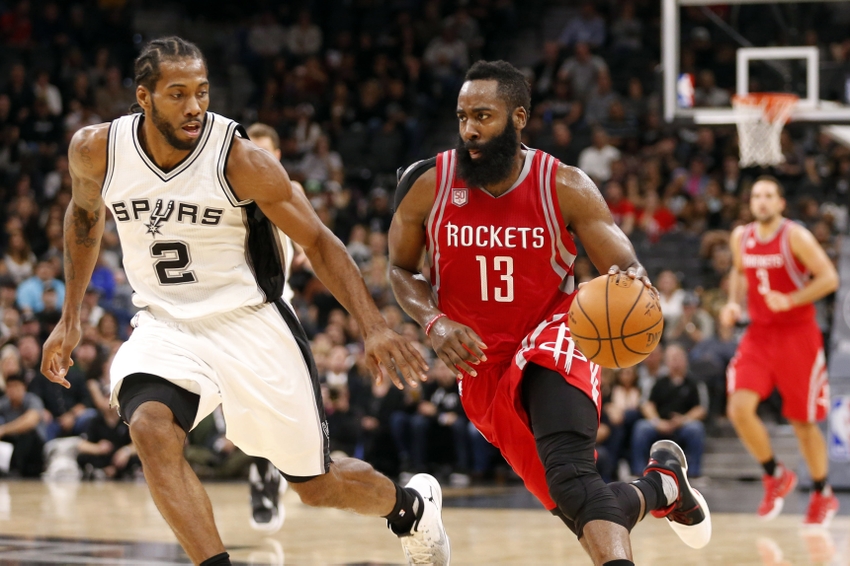 Recently, Houston Rockets star James Harden was asked who is the best point guard and overall player in the league was, and of course he said himself
James Harden is having himself a season so far. It's still early but let's get carried away, 2016-17 MVP? He's without a doubt making a case.
Through eight games, he is averaging nearly 31 points, eight rebounds and 13 assists per game. He has tied a record with Oscar Robertson and Nate Archibald by getting 30+ points and 12+ assist in four straight games.
He isn't just chucking up shots either, he's shooting 50 percent from the field. Harden has been flourishing since being moved to the point guard position.
Here is what James Harden had to say when asked about who's the NBA's best player at his position, from The Vertical:
Now that Harden is setting up teammates better than anyone else and currently leads the league in assists, who is the league's best player at his position?

"Best point guard or best player?" Harden responded when asked.

Either one.

"I am," Harden told The Vertical.
He was initially asked who is the best player at his position but maybe Harden asked "best point guard or best player?" on purpose because he knew what was coming next. James Harden wanted the world to know that he feels he is the best overall player.
With the type of numbers he's putting up, it's hard to disagree. This isn't the first time James Harden has came out to say this. He's stated it multiple times.
More from Sir Charles In Charge
Aug 2014 via James Harden's confidence still growing – Sessions – ESPN.
Scoop: Bottom line, you are on this team and a lot of players aren't, but in your mind, who is the best basketball player alive right now?

Harden: Myself.

Scoop: That's what I was about to say, "including you." You made that sound like it was an easy answer.

Harden: It is. Myself.

Scoop: Then here's the question: Are you where you want to be basketball-wise, even if you are the best?

Harden: Nowhere near close. I've got a long way to go, a lot of learning to do, improvements to make. Um, you know, as long as I'm listening and focused on the right things, I can reach my potential.

Scoop: So in your mind, you haven't reached [your potential] yet?

Harden: Not even close.
During the 2015 All-Star Weekend, Journalist Daniel Friedman tweeted the question James Harden was asked,  "Who's the best player in the NBA?" James Harden responded with "Probably me…"
There's more! Here's another time where James Harden expresses his opinion on who's the best in the league.
Oct 2015 via Fran Blinebury of NBA.com
"I am the best player in the league. I believe that," he said. " I thought I was last year, too"
James Harden is oozing with confidence. It's obvious to see why based on the way he's been playing ever since he's put on a Houston Rockets uniform. It's still the beginning of the season but James Harden is balling out of control and we'll just have to wait and see if he can keep it up.
This article originally appeared on