Remembering DeAndre Jordan's free agency saga, which remains insane one year later
Between Kevin Durant taking his talents to Golden State and Dwyane Wade coming home to Chicago, the 2016 NBA offseason has been full of twists and turns. Yet it can't hold a candle to this day last year, when DeAndre Jordan decided to abandon the Dallas Mavericks to return to the Los Angeles Clippers.
Jordan had reportedly agreed to a four year deal worth over $80 million with the Mavs, who were desperately trying to add a second All-Star-level player next to Dirk Nowitzki. In the Clippers center, they thought they had their man.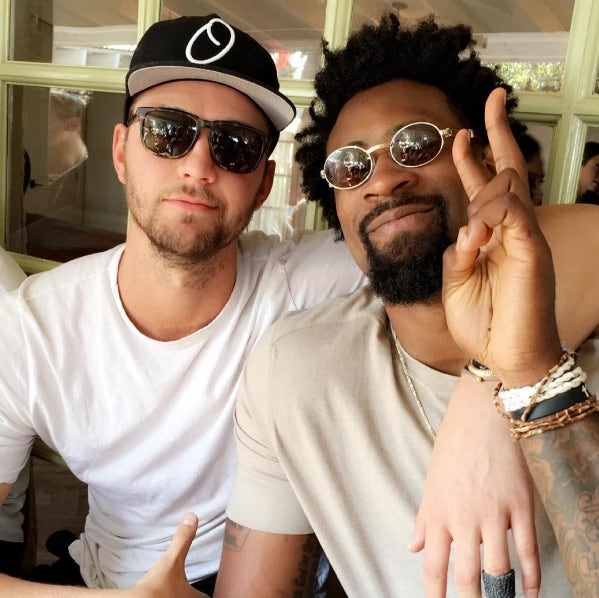 But the NBA has a weird rule called the moratorium. Essentially, the league's fiscal year ends on the eve of free agency. Over the next week, accountants and league office executives sort through all the important details from the past season, squaring away any discrepancies and setting the official salary cap for the next year. During that week, teams can negotiate with free agents, but they can't technically sign contracts until the moratorium is lifted.
Usually, that's not a problem. For whatever reason, though, Jordan was unsure about signing with the Mavericks. And when the Clippers caught word that he was wavering, they leaped into action. It started tamely enough, with Los Angeles coach Doc Rivers reportedly meeting with Jordan in Texas. From there, however, things got weird.
Chandler Parsons, who was a member of the Mavs at the time and was responsible for recruiting Jordan to Los Angeles, shared a seemingly innocuous tweet which seemed to reveal that he was on his way to meet with Jordan himself:
✈️

— Chandler Parsons (@ChandlerParsons) July 8, 2015
Yep, just a plane emoji. No big deal, right? But it was the tweet that would launch a thousand jokes. Clippers guard J.J. Redick — who owns a home in Austin, Texas — followed up with a car emoji:
🚙

— JJ Redick (@JJRedick) July 8, 2015
Then Blake Griffin, ever the jokester, escalated the situation:
✈️🚁🚙

— Blake Griffin (@blakegriffin32) July 8, 2015
Cool shot of me landing back on the mainland today. pic.twitter.com/eG7A3zXsYn

— Blake Griffin (@blakegriffin32) July 8, 2015
The chain of emojis even got LeBron James involved — sort of. LeBron had recently been spotted on an inflatable tube chilling with Dwyane Wade and Chris Paul, the latter of whom improvised a "banana boat" emoji, to the delight of social media:
🍌🚤

— Chris Paul (@CP3) July 8, 2015
Paul Pierce delivered the haymaker, though, when he tweeted a ClipArt rocket, as an old person might do:
— Paul Pierce (@paulpierce34) July 8, 2015
It was absurdly perfect and perfectly absurd. The NBA is at the perfect confluence of young players (and Pierce) who embrace social media and an audience that eats up that kind of interaction. More than any game from last year, this one night stands as a shining example of how awesome the league can be. And at that point, all bets were off. NBA brands and players that had nothing to do with the saga came out of the woodwork to share their two cents in Twitter form:
🏆

— GoldenStateWarriors (@warriors) July 8, 2015
🏆🏆🏆🏆🏆🏆

— Jordan (@Jumpman23) July 8, 2015
🐐

— Jordan (@Jumpman23) July 8, 2015
Emoji battle?

— Kobe Bryant (@kobebryant) July 8, 2015
Ah ok .. I see .. 🔓🏆🏆🏆🏆🏆🔒💤 #mambaout https://t.co/sdx5kpqWwY

— Kobe Bryant (@kobebryant) July 8, 2015
Even Roger Federer — yes, the tennis pro — decided to pipe in:
Hey @kobebryant, you're already an emoji natural: Ko🐝 Bry🐜

— Roger Federer (@rogerfederer) July 8, 2015
Yet while all this was playing out over social media, Mavs owner Mark Cuban and Jordan's agent, Dan Fegan, were reportedly trying to get one last meeting with Jordan to convince him to stay in Dallas. They were unsuccessful, in part because the Clippers made it seem as if they had barricaded themselves inside Jordan's home, with no intention of leaving until the moratorium ended at midnight ET that night, and Jordan could officially sign his contract with Los Angeles.
Don't agree with the furniture layout but I'm not an interior designer. pic.twitter.com/23PNgQB88z

— Blake Griffin (@blakegriffin32) July 9, 2015
So the jokes kept flying. The Clippers reportedly took it easy, playing cards and chatting about what the future might hold — and Griffin kept trolling:
Alright everybody goodnight! pic.twitter.com/cME0rFR5LC

— Blake Griffin (@blakegriffin32) July 9, 2015
In the end, Jordan stayed with the Clippers, with Pierce reporting the news to the world:
That's why they brought me here lol pic.twitter.com/Z64Tkiyp01

— Paul Pierce (@paulpierce34) July 9, 2015
Two days later, Jordan apologized to the Mavs on Twitter:
I want to publicly apologize to one of the best owners in the world @MCuban, the @DallasMavs and their fans.

— DeAndre Jordan (@deandrejordan6) July 11, 2015
I am humbled by @DallasMavs & @MCuban kindness and understanding. I am sorry to have a change of heart.

— DeAndre Jordan (@deandrejordan6) July 11, 2015
But Cuban didn't want to hear it, issuing a reply to Jordan's apology on Cyber Dust:
Seriously, though, how did this ever happen? Yes, this summer's free agency movements have been incredible. They've shaken the foundation of the league and built one of the greatest superteams we've seen. Durant (and, to a lesser extent, Wade) shaped NBA history for the coming decades with basketball decisions. But this? The whole DeAndre … thing? This was millions of dollars on the line over a bunch of emojis. What started as a report that Jordan might not be happy with his decision snowballed into the theater of the inane. And that wasn't the end of the saga. Cuban and the Mavs let Jordan know how upset they were by the perceived betrayal by referencing a rather cruel video on the scoreboard during the Clippers' first home games of last season.
However, when the Clips visited the Mavs in early November, Dallas decided against showing the video.
How @mcuban & @dallasmavs r dealing w/ DJ saga at home opener…animated video…simply Classic! pic.twitter.com/5pgfGLB0LG

— Matt Devlin (@Matt__Devlin) November 4, 2015
The NBA's "Night of 1,000 Emojis" (we refuse to call it "EmojiGate") might not have tipped the balance of power in the league. But it showed just how ridiculous this league can be. In terms of sheer absurdity, it's going to be tough to top last year's free agency bonanaza.