Carmelo Anthony Provides 800 Families With Thanksgiving Essentials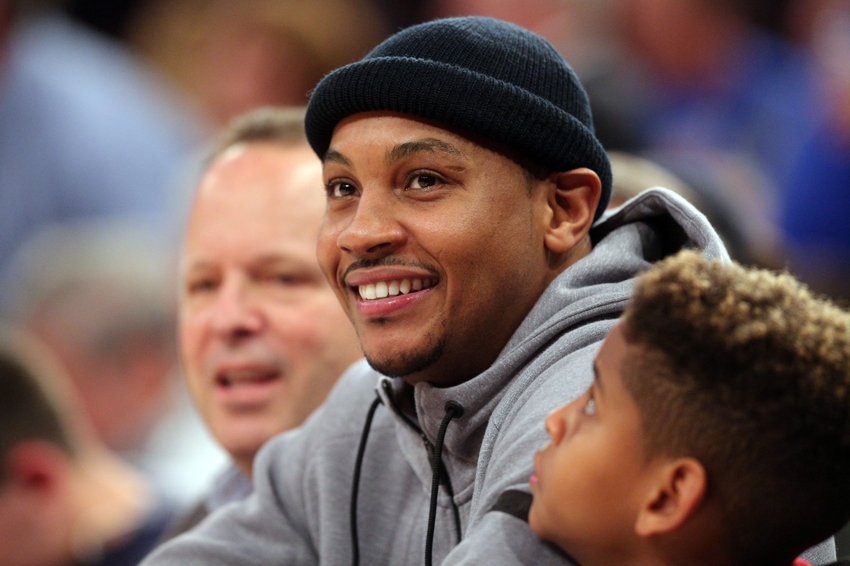 New York Knicks star Carmelo Anthony is one of the most active athletes in the local community. He continued his great work by donating to 800 families.
---
The New York Knicks employ a human being they can be proud of in starting small forward Carmelo Anthony. The six-time All-NBA honoree has been a leader on the social equality front and a philanthropist around the world.
Anthony continued his beautiful work in the local community by embracing the holiday spirit.
Anthony has been known to make donations to foundations and individuals around New York City. That, coupled with his vocal nature and activity during the summer of 2016, has created the reputation of a genuine leader.
True to his wonderfully generous form, Anthony provided 800 families with the essentials for a Thanksgiving dinner.
Anthony has done this in every season that he's spent with the Knicks.
Anthony's philanthropy has endeared him to members of the community in an even greater way than his play on the court. That's saying something considering Anthony led the Knicks to 54 wins in 2012-13—the winningest season since the 1990s.
Thus far in 2016-17, Anthony is averaging 22.9 points, 5.6 rebounds, 2.8 assists, and 1.9 3-point field goals made on a resurgent 6-7 Knicks team.
Bigger than basketball is the work he's done to help those in need. This past summer, he made a powerful Instagram post about police brutality, social inequality, and the need for celebrities to use their platform to influence change.
Anthony then made a powerful speech at the 2016 ESPY Awards and organized a meeting between police officers and civilians in Los Angeles.
Anthony has long been known for putting his money where his mouth is—both literally and proverbially. That continues what truly is an inspiring trend.
Of the many things to be gracious for, the city of New York should be thankful to have a person as giving as Anthony this Thanksgiving.
This article originally appeared on