After tough loss to Pacers, does LeBron need a hug?
Does LeBron James need a hug?
"Sad LeBron" came out in full force in the locker room after Wednesday night's 84-83 loss in a heavyweight battle with the Pacers. Appearing downright gloomy, LeBron sat at his locker, scowling, looking at the floor and answering most questions from reporters with only a few soft words.
But maybe LeBron deserves a break. For a guy who dropped 38 points, eight rebounds and five assists, King James had an especially rough night.
Let us count the ways:
1. He tripped over a referee.
Referees are supposed to be invisible and only be noticed when they blow their whistle. On Wednesday, Mark Ayotte failed at that part of his job, getting a little too close to LeBron on the perimeter, causing the King to stumble and give the ref a look that said "C'mon man!"
LeBron was understandably not thrilled, especially since the play resulted in a shot-clock violation against the Heat. Poor LeBron.
2. His nose got banged up, again
Lebron's been dealing with the effects of a broken nose for more than a month, and on Wednesday he probably wished he had kept wearing that mask he scrapped a few weeks ago. In the fourth quarter, LeBron needed a cotton swab shoved in his nose to keep playing after getting whacked in the face. Ouchie!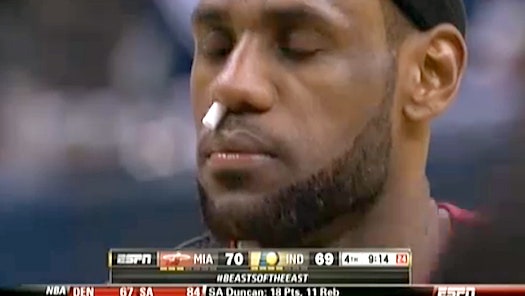 "I don't want to fall into the pit of what's going on," James said, when asked in the visiting locker room if he felt he was being targeted by the Pacers when he went to the basket. "You see me and Blake Griffin, we take some hard hits. They call it how they want to call it. It's very frustrating though. Very frustrating. As a player, you play the game the right way and sometimes …"
3. He got called for a flagrant foul.
In a matchup already filled with testy exchanges, LeBron was called for a flagrant foul in the fourth quarter when his elbow landed on the nose of 7-foot-2, 290-pound Roy Hibbert as he went up for a shot.
LeBron understandably was upset with the call, noting to reporters after the game that he'd have to be a "kung-fu master" to be able to jump in the air, elbow someone intentionally in the face and finish the play.
The hit left Hibbert feeling so groggy that he didn't even remember getting hit.
4. He got dunked on real hard.
5. He passed on the final shot.
LeBron and Chris Bosh both missed late jumpers that would have given Miami the lead, but LeBron passed on the last shot that ended up being an airball by Bosh from just right of the top of the key as time expired.
After the game, Heat coach Erik Spoelstra admitted the bust of a play was his call.
"Unfortunately, that was what I diagramed," coach Erik Spoelstra said. "It probably wasn't the best call. It might have been a little too gunslinger on my part. I just wanted an open shot."
Maybe LeBron is feeling too much weight being put on his shoulders. Miami is now 5-8 since March 4 and its 83 points against the Pacers was a season low — the previous low of 84 also being against Indy.
Lebron that hurts my heart!!!!! You have to take the last shot

— Phillip Tanner (@PTanner34) March 27, 2014
No lie thought LeBron was gonna hit a game winner

— Bri.Warren (@BrianaBball) March 27, 2014
LeBron passed AGAIN. Looked like he hopped in Blake Griffin's KIA and went back to 2011.

— Not Bill Walton (@NotBillWalton) March 27, 2014
Whoops! LeBron didn't wanna shoot it. Great play drawn up

— Jean Pierre Tokoto (@AirPierreTokoto) March 27, 2014
But what does it all mean? What does a heated showdown between the Pacers and Heat tell us about the battle that's likely to come in the playoffs?
"Nothing," James said.