How MLB service time dictates top-prospect promotions
If you stretch, maybe you could come up with a good baseball reason for the Houston Astros not calling up outfield prospect George Springer until earlier this week. And yes, GM Jeff Luhnow probably did need to stick with baseball reasons in his public explanations of the delayed promotion: Springer needed some more at-bats to work on cutting down his strikeouts, or the team wanted to see whether Robbie Grossman could start this season as strong as he finished the last one.
It's understandable why Luhnow can't say the real reason. By waiting two weeks, he was able to exchange a minimal amount of Springer in a bad season for a full year of Springer in what could be a good season. That would be the 2020 season, which is now part of the Astros' control period on Springer as he won't have a full six served after 2019. (Read more of the details in Evan Drellich's column in the Houston Chronicle.)
It would be nice if Luhnow could just come out and say that adding Jason Heyward to the Opening Day roster in 2010 will end up depriving the Braves of a full year of him, or that doing the same to Jose Fernandez last season may take him out of Miami sooner. But obfuscation about the impact of service time is part of baseball's unspoken tradition (as well as a good way to avoid a problem with the Players Association). Springer just happened to be ready as soon as enough days ticked off that calling him up wouldn't cost the Astros a full season.
Last year, like most years, we were having this discussion later in the season. That time, it was Tampa Bay's Wil Myers who happened to be ready as soon as the projected cutoff date passed for Super Two status, which makes a player eligible for arbitration four times instead of three. Myers was called up in mid-June. (You can read more about the Super Two system here.)
It isn't just anecdotal that waiting until midseason is the more common way of manipulating service time. Springer's promotion sparked a question about just when prospects are called up, so let's map it out. Courtesy of our infinitely talented researcher Rob McQuown, we have a list of debut dates of all 409 prospects from their team's BP top 10 prospects list who made their major-league debut in a year in which they were on the list.
On both charts, the peaks come about where expected. (Each bar represents 10 days of the season: 1-10, 11-20, etc. …) After Opening Day, the next local maximum comes around 60-90 days, as teams play it safe with the Super Two cutoff. This is an even stronger effect with the teams' No. 1 prospects, 25.4 percent of whom make their debuts in the one-sixth of the season that's 61-90 days old, as opposed to 20.3 percent of all prospects.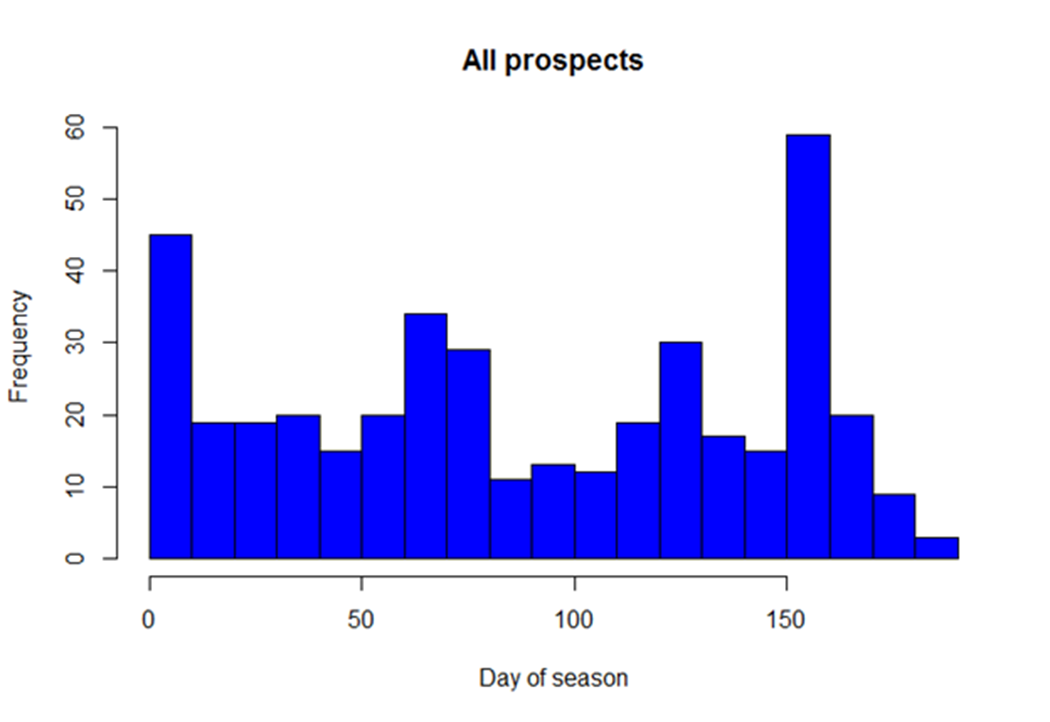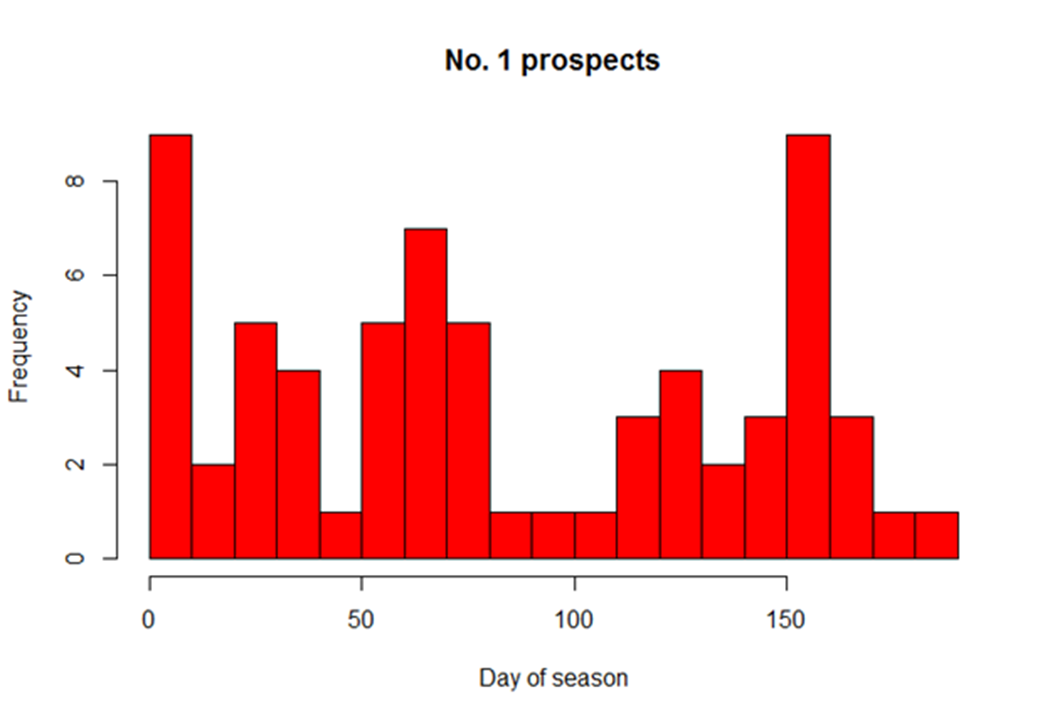 Then there's a small peak between 120-130 days, coinciding with the trade deadline, when prospects can get time on bad teams either because of a spot opening up from the trade of a veteran or by getting traded into a more favorable situation for themselves.
Finally, there's a huge spike, right where expected, as the final 30 days of the season are beginning, corresponding to September roster expansion.
That late-April period that likely controlled Springer's fate isn't even noticeable in the blue histogram of all prospects. In the red one of No. 1s, there's a small spike in late April, which shows that teams have been more conscientious with their most valuable minor-league commodities.
Fourteen times in the last seven years, a player who ranked No. 1 on one of our Top 10 prospect lists debuted in April. Of those 14, eight made the Opening Day roster. That doesn't necessarily kill the extra year of control — if the player subsequently returns to the minors for long enough, that year can be regained — but in many cases, it does.
On the Opening Day roster
Brandon Belt (Giants, 2011): Spent enough time in the minors after Opening Day for the Giants to get the extra year. Still a Super Two, but will be under team control from 2011–17.
Alex Gordon (Royals, 2007): Spent much of 2010 in the minors, buying the Royals an extra year of control before he was extended.
Heyward (Braves, 2010): Never returned to the minors, so he entered this year with 4.000 years of service time. The Braves won the NL wild card by one game in 2010 thanks to their top prospect's aggressive promotion, but Heyward, one of the few members of the team's young core who has not been extended, will be a free agent after 2015.
Colby Rasmus (Cardinals, 2009): Rasmus never returned to the minors, so the Opening Day spot makes him a free agent earlier — after this season, in fact. You could argue that the Cardinals could have received more when they traded him if he'd had the extra year of control, but they'll take the World Series title that came with the role players they received.
Jenrry Mejia (Mets, 2010): Has racked up all of one year and 140 days of service in four seasons despite the 2010 Opening Day job. This was a non-factor.
Rick Porcello (Tigers, 2009): A very brief four-start stint in Triple-A is what bought the Tigers the extra year. Porcello was optioned on June 20, 2010 and recalled 27 days later on July 17, 2010. Had the option been fewer than 20 days, it would have counted as a full year of service, but this saved Detroit the year.
Michael Pineda (Mariners, 2011): Spent time in the minors. Was probably a non-issue in the trade anyway.
John Danks (White Sox, 2007): Never returned to the minors, which left him just a year away from free agency in 2012 and made 80 percent of his five-year, $65M extension cover free-agency years.
Fernandez (Marlins, 2013): Was never optioned, and the NL Rookie of the Year presumably never will be, making this one an interesting case. When he made the Opening Day roster, it was somewhat out of character for the Marlins. One would have loved to see the sparks that would have flown had the Jeffrey Loria/David Samson crew tried to option him for his shutdown period at the end of last year, but that didn't happen. The full season brings him that much closer to becoming expensive, and maybe that much closer to a trade.
Late-April call-ups
Evan Longoria (2008 Rays, Day 13 debut): Longoria is at 5.170 years of service time, two days short of 6.000. (Service times, all obtained from Cot's Baseball Contracts, are traditionally given as y.ddd). Let's just say that Willy Aybar's arrival on the DL in mid-April of 2008 was well timed.
Jordan Zimmermann (2009 Nationals, Day 16): He's 18 days short of five years, giving the Nationals his rights for 2015, after which he'll be a free agent (as his deal covers only his arbitration years).
Anthony Rendon (2013 Nationals, Day 22): The call-up was just temporary — he went back to Double-A anyway.
Bryce Harper (2012 Nationals, Day 25): The classic case of the delayed call-up. This was an issue throughout spring training in 2012, but by waiting the couple of weeks, the Nationals gained control over Harper in 2018.
Brandon Wood (2007 Angels, Day 26): He's spent so much time in the minors that this hardly matters.
Phil Hughes (2007 Yankees, Day 26): The delay (in addition to more minors' time down the road) is what gave the Yankees the rights to 2013 Hughes, which proves that waiting isn't always a good thing.
Teams can save millions by managing the Super Two cut-off properly, and that effect is cumulative. They don't just save the Super Two year money, but the other three arbitration years, in which the raises start from a higher point.
The effect of timing prospect promotions in April can be just as important. Doing this properly, even though a late-April call-up will almost certainly lead to Super Two status if the player stays in the majors, means an extra year of not paying market rate. Or increasingly in 2014, it means not having to price one more free-agent year into the extension. Or offering one more year of team control in a trade, which can be huge.
The price isn't even two months, but two weeks. Such are the incentives under the current system that I'd much rather hear the explanations from the teams that do bring their prospects up on Opening Day than from those that don't.