Denny McLain showed off his power years before winning 31 games in 1968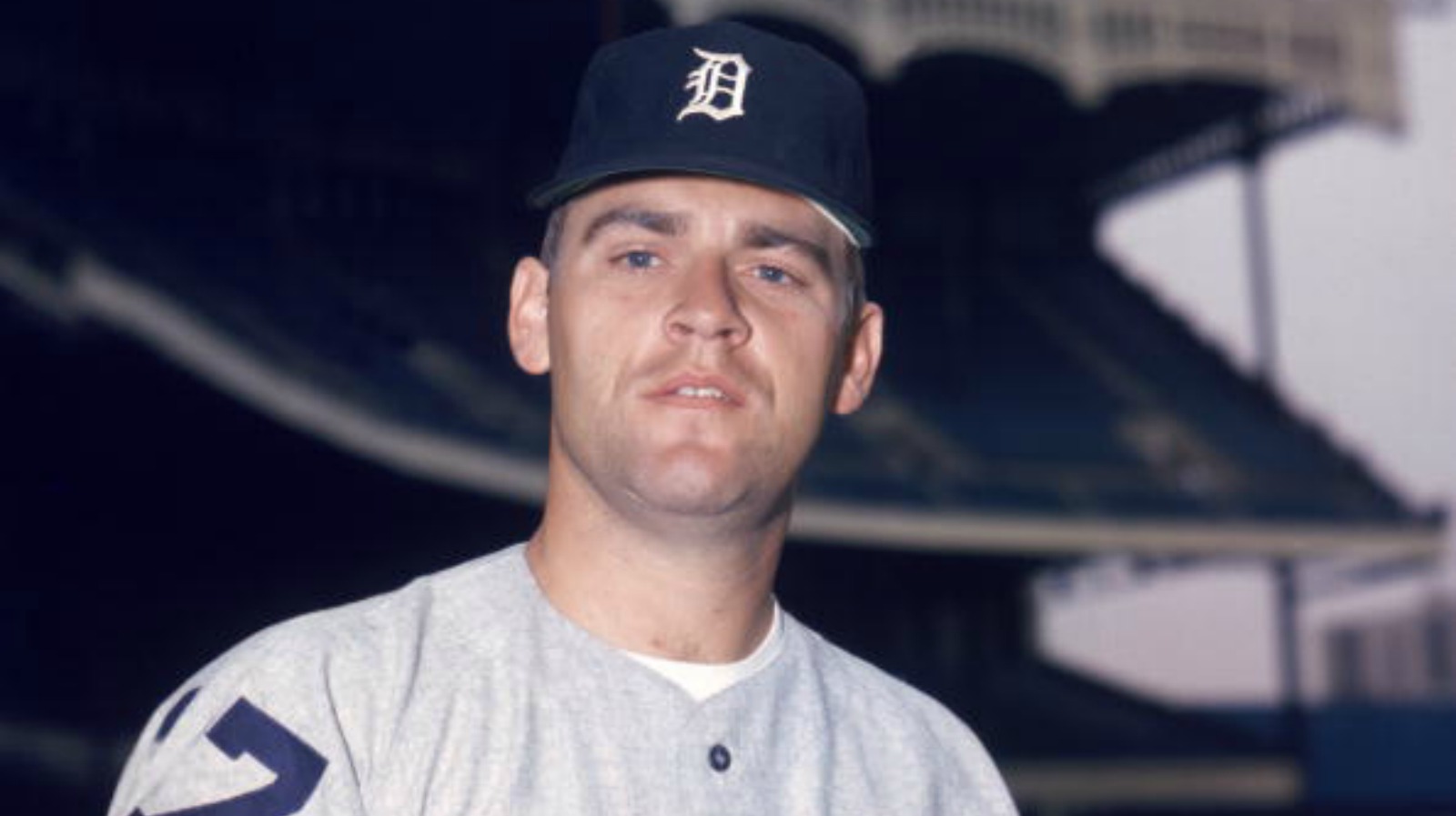 In the world of sports, athletes often dedicate their entire lives to reaching the pinnacle of their profession, but for many, life at the top can be short-lived. Sometimes all a player gets to experience at the highest level is one minute on the court, one trip to the plate, one shot on goal or one checkered flag, but more often than not, that fleeting moment in the spotlight is a story all its own. This is One and Done, a FOX Sports series profiling athletes, their paths to success and the stories behind some of sports' most ephemeral brushes with glory.
Major League Baseball hasn't seen a 30-win pitcher in nearly 50 years and it's increasingly unlikely there will be another. But long before Denny McLain went 31-6 for the 1968 Tigers, the two-time Cy Young Award winner won his major league debut thanks in large part to his bat, knocking off the team that told him he'd never be a big leaguer with the only home run of his career.
"No one was more surprised to win the ballgames that I did than I was, but it was a great time," McLain told FOX Sports recently. "I played for a great manager, played against great teams and great people — the Mickey Mantles and the Yogi Berras and the Elston Howards and guys like that — so it was a thrill of a lifetime. For a 19-year-old kid, how much better can life get?"
You'd never guess it now based on his resume, but the Chicago native McLain didn't want to be a pitcher coming out of the city's prestigious Mount Carmel High School. A self-proclaimed .601 hitter in high school, McLain had his sights set on playing in the field — center field, shortstop, didn't matter — but couldn't convince a single team he met with that doing so would be a good idea.
"When nobody offered me a deal to hit, I almost cried, but my mother said, 'Well, there's got to be a message there,'" McLain said. "My dad had died a few years earlier and she said, 'You know, your dad always said you had the worst hands he ever saw, so maybe this is a blessing. Maybe you can pitch.' And lo and behold, as they say, the rest is history."
I played for a great manager, played against great teams and great people …
Denny McLain
Originally, McLain signed with the hometown Chicago White Sox as a free agent in 1962, but the team barely gave him a chance and released him after one year, despite McLain going 5-8 with a 2.97 ERA in his first minor league season. A short time later, the Tigers scooped him up, and after going 18-6 with a 2.89 ERA between Single-A Duluth and Double-A Knoxville in 1963, Detroit called up McLain in September.
It was only fitting, then, that his first major league start came against the White Sox and Al Lopez, the manager who told him he'd never pan out.
"They used to call him The Scientist, The Senor, and they said he knew more about pitching than anybody in the history of the game," McLain said. "Well, I think I proved him wrong."
The game was played on Sept. 21, 1963, at Tiger Stadium, and from the outset, the 19-year-old McLain was impressive.
After walking leadoff hitter Mike Hershberger, McLain picked him off at first, then struck out the No. 2 and 3 hitters, Don Buford and Gene Stephens. McLain issued two more walks in the second inning but escaped unscathed, and didn't allow his first hit until Buford's single in the top of the third — only to pick off Buford at first, as well.
In the top of the fifth, the Sox finally got on the board with Buford's RBI triple, but McLain came up in the bottom of the frame and shocked everyone inside the ballpark with a game-tying home run in his second career at-bat.
"It was probably the quickest jaunt around the bases anybody's ever had in the major leagues," McLain said. "I mean, I was flying. In fact, I didn't know it was a home run until I got halfway between first and second. It was a line drive, actually, and the first thought in my mind was that major league pitchers pitch so close to the plate, almost every pitch is a strike, so I said, 'Hell, I can hit this. Are you kidding me? This is my kind of pitching. Just tee it up and hit it.'"
Unfortunately, that approach didn't stick for long.
"After I hit the home run, I didn't see another fastball or anything else other than a slider for the next year and a half," McLain said. "Sliders, curveballs — I saw them all because then they thought I could hit, and they embarrassed the hell out of me. Every time somebody would throw a slider or curveball, I didn't come close to hitting it."
In the case of his debut, however, that didn't matter, because McLain held his own from there. Moments after McLain rounded the bases, Bill Bruton hit a homer to give Detroit a 2-1 lead, and in the sixth the lead grew to 3-1 on a Bubba Phillips sac fly. Chicago tied the game in the eighth thanks to two unearned runs following a McLain throwing error, but a Norm Cash solo homer in the home half of the inning was the difference in the Tigers' 4-3 win.
"They put down a bunt," McLain said of his error, "and I threw it about halfway back to Chicago."
Then after the game, Tigers manager Chuck Dressen surprised the young McLain with a trip to the visitors' clubhouse.
"He grabbed me just as the ballgame was over after we got the third out (of the ninth inning) and said, 'Come on, I'm going to take you over to meet somebody,'" McLain recalled. "I don't know what the hell he's talking about, but he walks me out of the dugout, across the field, over to the White Sox dugout, down the stairs and into the clubhouse and walked over and pulled back Al Lopez and said, 'Mr. Lopez, I want to introduce you to Denny McLain, who will be, one day, a 20-game winner in the big leagues.'
"Then Lopez says, 'You have my apologies, I'm sorry,'" McLain continued. "He says, 'We all make mistakes, now really go out and prove that I was really wrong about you. Let's see what happens over the next five or 10 years.'"
By 1966, McLain was an All-Star and the 20-game winner Dressen said he'd be, but it wasn't until '68 that his star reached its peak. That season, McLain made 41 starts and threw 28 complete games, going 31-6 with a 1.96 ERA, earning himself both Cy Young and MVP honors. The Tigers then went on to win the 1968 World Series, and in 1969, McLain was again the winningest pitcher in the AL, going 24-9 with a 2.80 ERA over 325 innings.
"I think the first year or two you're in the big leagues you're intimidated," McLain said of his rise to success. "The intimidation factor is overwhelming. You're playing against the best of the best of the best and every time you see one of these guys come up, you think, 'Oh my god, what am I doing here? I cannot believe I'm standing in the middle of this ballpark trying to get this guy out.' It's 110 percent intimidation, then you've just got to settle in and let your concentration take over and do the right thing.
"You've got to work, you've got to make sure your concentration is in place all the time," he continued. "You can't hear what's going on in the ballpark, you've got to just know what's going on in the ballgame."
Things quickly went downhill from there for McLain, however. In 1970, he was suspended for half the season after a Sports Illustrated cover story alleging ties between McLain and an illegal bookmaking operation, and he was never the same after his return. In 1971, McLain went 10-22 for the Washington Senators, and was out of baseball by the end of the '72 season.
The decades since have been checkered for McLain, too, with a 27-month prison sentence following federal racketeering and drug convictions in the '80s, followed by a six-year incarceration in the '90s on charges that he'd embezzled money from his company's employee pension fund. More recently, McLain has been fighting a back pay lawsuit, but he still doesn't shy away from addressing controversy when it comes to the game of baseball.
For one, he thinks the sport should re-examine how it approaches PED abuse.
If a doctor will write a prescription it's OK with me.
Denny McLain
"If a doctor will write a prescription it's OK with me," McLain said. "It's just a shame that they have tarnished themselves and tarnished so many players — of course, a lot of the stuff they took was illegal, too, so let's not overlook that — but if we're going to allow it in any form, then we have to give it all the way, let everybody do it."
He also wonders whether any pitchers today deserve a place in the Hall of Fame — doing so largely on the basis pitchers don't go as deep into games as they used to.
"There is no way that a pitcher should ever give any consideration from now on getting into the Hall of Fame," McLain said. "They will never have a complete game. These guys, they go out there and throw 100 pitches in five or six innings.
"I mean, the reason we had so many complete games is because we threw strikes," added McLain, who had 105 complete games in 264 career starts. "We threw strikes all the time. My average pitch count in a ballgame was only about 112 or 115 pitches per nine innings, and I would average about eight strikeouts a game. The way I was taught how to pitch was, 'Listen, nobody's hit 1.000, .900, .800, .700, .600, .500, barely .400, one time.' What they were saying was, 'Throw strikes. Somebody will hit the ball at somebody.'"
A good idea on the surface? Maybe. But then again, "giving the batter something to hit" didn't work out so well for White Sox pitcher Fritz Ackley the day McLain went yard.
"When anybody ever says to me, 'Have you ever hit a home run?' I can say, 'Yeah, have you?'" McLain said of his only big-league dinger. "It's kind of a little smartass chuckle-buckle, as they say, and it's just a real good laugh."
PREVIOUS ONE & DONES:
May 12: Dean Morton
May 19: Ross Browner
May 26: Dave Salvian
June 2: Mine That Bird
June 9: Kerwin Bell
June 16: MIchael Campbell
June 23: Tyson Wheeler
June 30: Roe Skidmore
July 7: Steven Hill
July 14: LaMarr Hoyt
July 21: Bernard Quarles
July 28: Matt Tupman
August 4: Kevin Melillo
August 11: Roy Gleason
August 18: Cory Aldridge
August 25: Tom Brown
September 1: Tony Cloninger
September 8: Mike Pantazis
September 15: Wilbur Wood
September 22: Doug Clarey
September 29: Danny Young
October 6: Chad Wiseman
October 13: David Matranga
October 20: Brad Fast
October 27: Zenyatta
November 3: Ohio Northern
November 10: Dave Scholz
November 17: Matt Walsh
November 24: Clint Longley
December 1: Steve O'Neal
December 8: 1985 Miami Dolphins
December 15: 1998 New York Giants
December 22: Ed Podolak
December 29: Scott Skiles
January 5: Bram Kohlhausen
January 12: 1968 New York Jets
January 19: Ricky Proehl
January 26: Mike Boryla
February 2: John Kasay
February 9: Julius Erving
February 16: Shaquille O'Neal
February 23: Mario Andretti
March 1: Nykesha Sales
March 8: 1962 Yale Basketball
March 15: 1998 Harvard Women's Basketball
March 22: 1971 Penn Basketball
March 29: Earnie Killum
You can follow Sam Gardner on Twitter or email him at samgardnerfox@gmail.com.