Which Power 5 team is set up for the biggest letdown in 2017?
Last week's updated Program Pecking Order elicited a whole bunch of e-mails, most of them disagreeing with my placement of either their team or their team's rival. I sprinkled in some e-mails throughout this week's edition that address some of the most common complaints I received.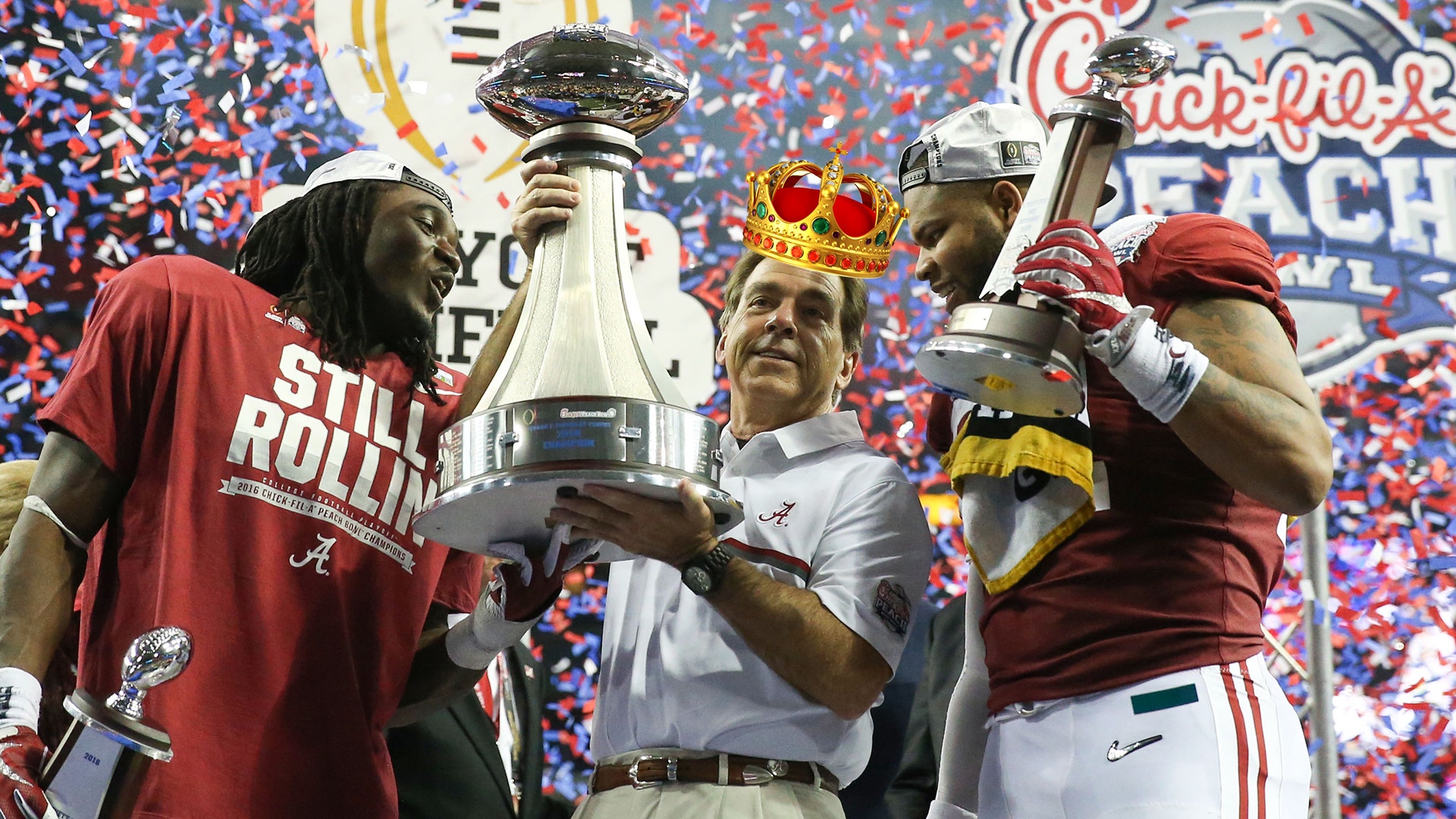 Which of the Power 5 teams that won 11 or more games in 2016 is set for the biggest letdown in 2017? They are, in alphabetical order: Alabama, Clemson, Ohio State, Oklahoma, Penn State, Washington and Wisconsin.
— Brian Stewart, Buford, Ga
I know well from past experience that at least one (if not more) of these teams will plummet to something far fewer than 11 wins. And yet I'll probably end up picking all of them to go at least 10-2, in part because you rarely see successful program's free-fall coming and in part out of fear of looking dumb. Why do you think all the early Top 25 rankings out there are basically the same?
But a good place to start looking is usually a team with uncertainty at quarterback. Interestingly, only one of the teams on that list doesn't return its starting quarterback from last season. That team is of course Clemson. And the Tigers, of course, aren't just replacing a starting quarterback but in fact the greatest player in school history, Deshaun Watson.
So Clemson is the easy answer here. It's just a matter of how big that letdown will be. The Tigers are still plenty loaded, especially on defense, where Brent Venables' unit has been successfully reloading for years. Dabo Swinney does not necessarily need leading contender Kelly Bryant or touted freshman Hunter Johnson to lead a 40-points-per-game offense to still win a lot of games. That's not a realistic expectation.
But the Tigers do need to be productive and take some pressure off the defense when facing capable opponents like Auburn, Louisville and Florida State. And if they struggle, it might not be solely due to the new quarterback. Clemson will also be without first-round receiver Mike Williams, productive tight end Jordan Leggett and underrated running back Wayne Gallman.
So, given all that … I might end up picking Clemson to go a measly 9-3. I know — so bold.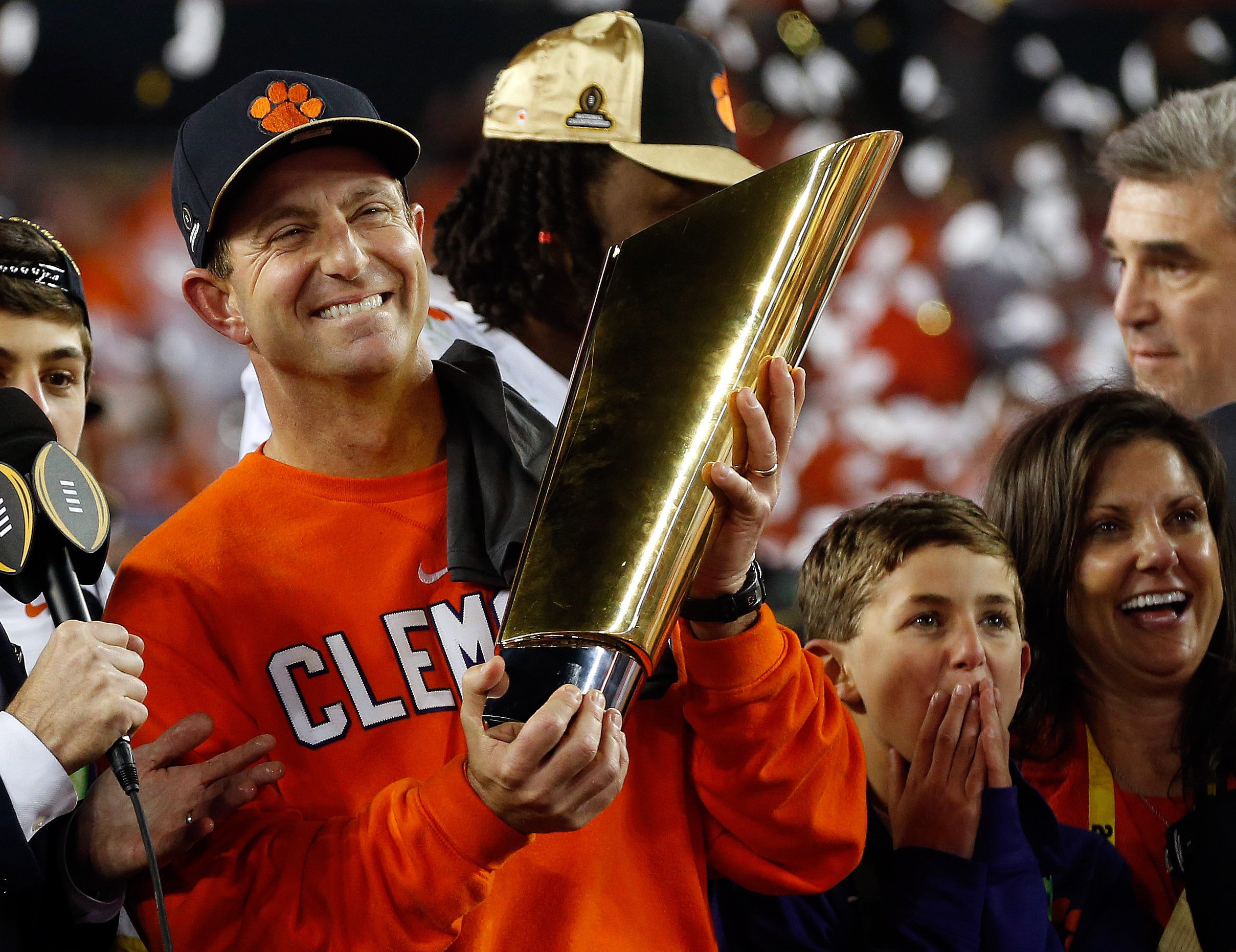 Will Notre Dame fans watch Malik Zaire tear it up at Florida in 2017 and wonder, "What could have been?" while suffering through another year with no postseason?
— Albert Cutler, Wales, WI
We'll find out later this week whether the SEC votes to lift a restriction on grad transfers that would allow Zaire to join the Gators this fall. No question, he's a big pickup for Jim McElwain's team if it goes through. Other than those six games of 2015 with Will Grier, Florida has been without a dynamic QB for what seems like forever. Zaire has shown he can be just that, albeit in limited opportunities. It's been nearly two years since leading that season-opening rout of Texas a week before breaking his ankle and watching DeShone Kizer supplant him.
But no, I don't believe it will be quite that dramatic. Zaire is a solid dual-threat quarterback, but he's not going to come out and win the Heisman at Florida. A more realistic expectation is that he performs a notch better than fellow ex-Domer Everett Golson did in his one season at Florida State. Furthermore, his old school should be just fine at quarterback with Brandon Wimbush, a former Top 50 recruit who bided his time behind Kizer and Zaire the past two seasons (redshirting in 2016).
I will be very surprised if the Irish miss a bowl this season. They weren't nearly as bad as their 4-8 record last year, finishing in the top 30 in the F/+ efficiency rankings, and I expect new DC Mike Elko to generate considerable improvement on that side of the ball. Perhaps they'll be that team no one sees coming that jumps from 4-8 to 11-1.
I'll probably pick them to go 7-5. You know — bold.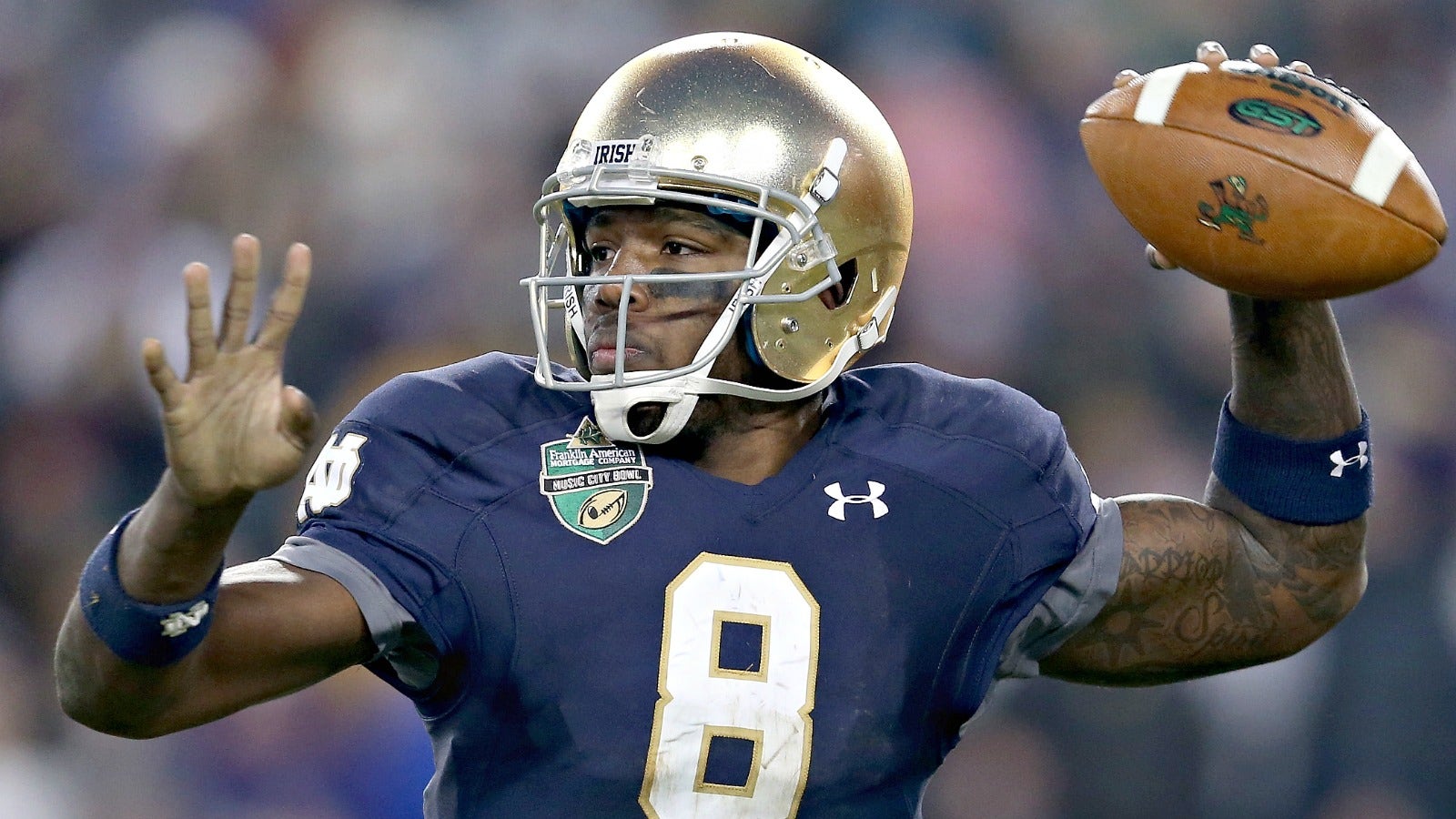 Hi Stewart: I am a Nebraska fan and completely agree with our demotion to Baron. What I don't understand is why Michigan gets a free pass with just one national championship (20 years ago) since the Korean War and going 13 years since its last Big Ten title. I get the point about the stadium, recruiting brand and the iconic uniform, but surely to be a King you have to, at some point, do it on the football field.
— Roger, London UK
I'll be honest, I was surprised how many of you chimed in with similar feelings about Michigan. It never remotely occurred to me to drop that school. It is, after all, a ranking of schools by perceived prestige. No question, the Wolverines had a rough decade on the field from about 2005-14, but the program lost maybe a tiny little snippet of prestige during that time? And since Mr. Harbaugh arrived, that program has received more attention than any in the country not named Alabama.
Sorry, but Harbaugh's not dominating the social media/news cycle at anywhere near this level if he's taking Virginia Tech to Italy or IMG Academy.
I'll even take this one step further. Of the 13 schools I listed as King, I would put Michigan as one of just four – along with Notre Dame, USC and Ohio State – that could go 0-12 for the next five years and still not drop. It's the Big House, the winged helmet, Bo Schembechler, Desmond Howard, Charles Woodson all wrapped up into an iconic brand that's sustained itself for more than a century at this point.
Maybe the Wolverines deserve their own classification — emperors.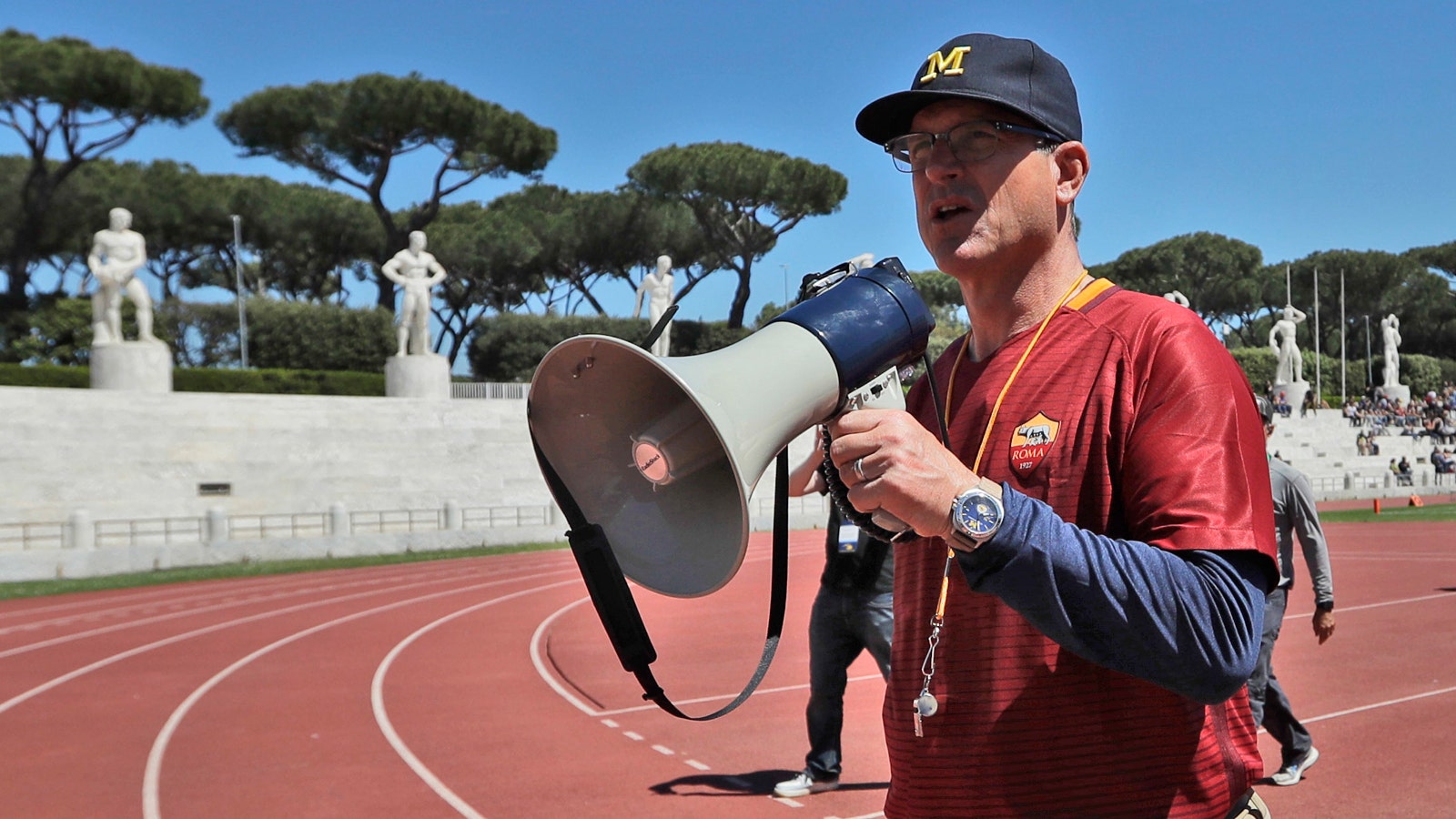 Now that the football program pecking order 3.0 has been released, I couldn't disagree with your logic on Nebraska. The evidence is overwhelming. That being said, with Mike Riley's improved recruiting and the athletic department's more open checkbook, do you see any possibility of Nebraska returning to King status in the next five to 10 years? 
— Joel Wenzl, Madison, WI
Unfortunately, I really don't. Riley is having decent success recruiting-wise, but the program's highest class ranking on 247Sports since it began competing in the Big Ten was 22nd. Not exactly King territory. Furthermore, what makes Nebraska's case particularly unique is that so much of its peak-era dominance was tied to a style offense (the option) that's no going to win national titles in 2017. Without it, I'm not sure what the Huskers' identity is anymore.
That's not to say Riley can't have success. Heck, Nebraska has played in three conference championship games since 2009. It's not a stretch to think the Huskers could get to Indianapolis and win. But I don't see them winning another national title under the current system. And that's how you move back up.
Stewart: What campus will Chip Kelly find himself on in 2018?
— James, Ottawa, Ontario
That's the $5 million question that figures to hover over this entire season – much like the season-long Urban Meyer derby during his one season in the broadcast booth in 2011 before landing at Ohio State and, of course, Texas' Tom Herman while still at Houston last season. Note, though, that in both cases those guys ended up at exactly the school most would have predicted before the season even started. There is no logical front-runner for Kelly, ESPN's newest studio analyst, just yet.
One that immediately jumps to mind is Texas A&M. Kevin Sumlin is most definitely on the hot seat. It's a big-name program with big money to spend, and a chance for Kelly to run his blur offense in a state full of fast skill players. If nothing else, the ultra-confident coach would likely relish the chance to face off with Nick Saban every year. Other SEC schools like Tennessee, Auburn and Ole Miss could come open, too, but A&M probably makes the most sense of that group.
But coaching in the SEC also means operating under a gigantic glaring spotlight. I don't think Kelly minds a major media market – he did just coach in Philadelphia and San Francisco – but knowing Kelly's personality he'd likely prefer a gig with as few glad-handing and baby-kissing obligations as possible.
With that in mind, I wouldn't be surprised if Kelly eyes a return to the Pac-12, with the most likely openings at UCLA or Arizona State. The former is a glamour job in a talent-rich city he knows well from recruiting. The latter has a little bit of Oregon "sleeping giant" to it. Neither, however, has ever demonstrated the level of financial commitment to football that Oregon/Phil Knight did for him.
And of course, there could be job openings we don't currently know will occur. All I know is if I'm ESPN, I would not count on Kelly still being out of coaching come that first Saturday in December.
Stewart, I agree with most of your list, but Miami is no king. Just look at their attendance issues. Yes, last year was an improvement thanks to Richt, but teams of royalty wouldn't have to beg for fans and average approximately 45,000-60,000 fans a game.
— Paul Crane, Atlanta
Many of you have made pretty compelling cases why I was perhaps too generous with Miami. One Georgia fan, Ryan Samoheyl, made a particularly good point: When Mark Richt got fired by Georgia (Baron) and landed at Miami (King), no one viewed it as him taking a step up.
I normally wouldn't make much of the attendance issue, as it's not uncommon for a program to have more prestige nationally than the local interest reflects. But with Miami, it's worth asking whether the program's mystique took a particularly big hit when the Orange Bowl got torn down. Or is it just a matter of the 'Canes getting back to 11-win territory and that Dolphins stadium is suddenly rocking?
Is it my imagination, or are fewer football programs on NCAA probation for recruiting violations? Maybe the Penn State and Baylor scandals overshadowed everything else, but it seems as if we have had a period of fewer teams in trouble. Is the NCAA less powerful or allocating fewer resources to recruiting violations, or are the teams actually abiding by the rules?
— Alan LeVar, Arkadelphia, Ark.
I'm not naïve enough to think Ole Miss is the only program in the country playing loose by the rules. Talk to any active recruiter and they'll tell you of rumors they've heard about this school or that recruit – everywhere but their own employer, of course. But nearly all of it goes on undetected.
I don't know how exactly the NCAA is allocating its resources, but its enforcement department definitely lost quite a bit of muscle back in 2013 following a review into unethical conduct in its Miami/Nevin Shapiro investigation. President Mark Emmert fired widely respected VP of enforcement Julie Roe Lach, and most of her top investigators left the NCAA shortly thereafter. Now North Carolina's lawyers in its academic fraud case are trying to prove if you spend enough money you can legal-ese your way out of anything.
But there's another unspoken issue at play here: The downturn in my own industry. Media exposes, not NCAA investigators, touched off scandals like Miami's, USC/Reggie Bush, Oregon/Willie Lyles and many more. But with media organizations laying off journalists and slashing reporting budgets, there are fewer watchdogs out there doing that kind of investigative work. Those that are, understandably, are likely to focus more on serious issues like Baylor's sexual assault crisis than a school paying for a recruit's hotel room.
So I wouldn't be surprised if it's the Wild, Wild West out there on the recruiting trail. Nobody's paying close enough attention to catch the cheaters.
Stewart: Come on. Don't you think Oklahoma State has had enough 10-win seasons and either won, tied or been second in the Big 12 long enough to move up? I think it's a pretty easy call.
— Lance
I strongly considered it. Oklahoma State's brand is certainly more recognizable today than it was a decade ago pre-Mike Gundy/Dez Bryant/Justin Blackmon/Brandon Weeden. But compare the Cowboys with the two schools I did move from Knights to Barons – Stanford and Michigan State – since 2010, and their run, while impressive, hasn't been quite as transformative.
| | | | | |
| --- | --- | --- | --- | --- |
| School | W-L | BCS/NY6 | Conf. titles | Draft picks |
| Stanford | 76-18 | 5 | 3 | 33 |
| Michigan State* | 68-25 | 3 | 2 | 24 |
| Oklahoma State | 68-23 | 2 | 1 | 14 |
* Note: Michigan State achieved its record despite going 3-9 last year.
It would likely take Oklahoma State reaching either the playoff or a couple more New Year's Six bowls over the next few years to merit a bump up in 2022.
Hello. My biggest gripe with college football is the fact that game times are often set only one to two weeks in advance. It is difficult to plan life and travel to places like Pullman, Washington, during football season for this reason. Is there any way to incentivize or require conferences to put out an advanced schedule like the NFL does?
— Allison Duncan, Vancouver, WA
Indeed, I have no idea how many of you manage the logistics of planning a weekend trip you where you either fly or drive a long distance without knowing if the game kicks off at Noon or 8 p.m. Even those of you who live in the same town still have to balance kids' soccer games and gymnastic meets.
Unfortunately, though, many more people watch the games on TV than in person, and the networks airing those games pay schools a whole lot of money to maintain the flexibility they need to produce the most appealing schedule possible.
The NFL can put out its schedule before the season because most of the games are shown in the same two windows on Sunday, and CBS and FOX just decide which games will air to the most markets when they get closer. By contrast, college games air in any number of windows on far more than two networks. And while certain games like Ohio State-Michigan are a no-brainer for networks to lock down before the season, you never know in August what the Game of the Week may be come November.
Given the issues ESPN has had getting stuck with bad Monday Night Football game the past couple of years, I'm sure it would love the more flexible system it enjoys in college football. Even in college, any weeknight games are set well before the season starts. But I don't sense any movement to lock in more Saturday kickoff times.
Will we see a team go 16-0 (12 games, Hawaii, conference championship, CFP semifinal, CFP title game) before the CFP expands to three games?
— George Stankow
Let the record show this is the second straight week that includes a Hawaii schedule-related question.
I don't believe you're going to see that, because presently none of the teams with realistic national title aspirations – i.e., the Kings and a few of the Barons on my list – are playing games at Hawaii. Looking at the Warriors' future opponents, the likely earliest candidates won't come until 2024, when both Oregon and Wisconsin visit. Granted, there's still a lot more games to schedule between now and then, but I don't see Alabama, Ohio State or Florida State taking on a game
Perhaps Boise State or another Mountain West opponent will prove me wrong.
Also, let the record show we are still awaiting our first 15-0 FBS team. Clemson in 2015 and Alabama last season came up one game short.
Hi Stewart. Would it be possible for you to list how many responses you get to your most recent royalty rankings?  My guess is you get bombarded with upset Husker fans.
— Andy Morrison
You know, I really didn't. As you saw, two of the questions above were from Nebraska fans and began with "I can't disagree." They are surprisingly at peace with the demotion.
OK, I guess five nattys don't mean anything? When did Penn State last win it all? MY HUSKERS are not what they once were, but tradition counts, every other team listed as royalty has tradition. Put them back up, don't be a schmuck.
— Todd Witt
But not all of them.