What richest NCAA apparel deal ever means for Notre Dame, Under Armour
Notre Dame's record deal with Under Armour, a 10-year agreement officially announced Tuesday, promises to deliver much more than just a bunch of cool stuff.
That's the face of the deal, of course, the new football uniforms and basketball shoes and workout apparel Fighting Irish teams will be donning during the next decade.
Under Armour (UA) has developed a penchant for creating eye-popping uniform designs — which is not always a compliment (see: Terrapins, Maryland) — and the first time anything exceedingly non-traditional sprints out of the Notre Dame Stadium tunnel, it will cause a massive social stir.
But that's not what makes this new Notre Dame deal so interesting. First, the financials.
Notre Dame athletic director Jack Swarbrick called the deal "the largest financial commitment ever made by a brand to a university," but the specific terms of the agreement weren't released. Given that adidas — which had been providing the Irish with shoes since 1997 and apparel since 2001 — inked a then-record $8.2 million-per-year deal with Michigan in '08, Monte Burke over at Forbes estimates that Notre Dame's deal approaches the $100 million mark over 10 years, if not more, while ESPN's Darren Rovell says it's worth about $90 million.
So the short-term victory for both Notre Dame and Under Armour is clear: The Irish get a boost from their last adidas agreement (reportedly $60 million over 10 years) while setting the market for apparel contracts in college sports, and UA nets the second-most valuable college football program in the country (and its only school in the top 10), according to Forbes.
Here's Forbes' top 10 most valuable college football teams in 2013 and the apparel deals for each (it's worth nothing that Auburn, at No. 11 and not seen here, is also an Under Armour school):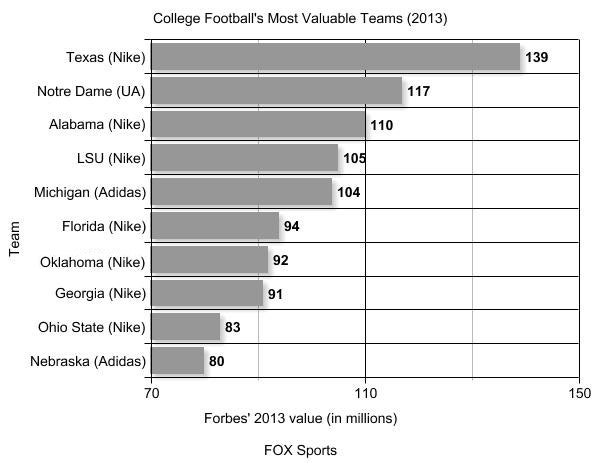 What's more important than that, though, are the long-term plays of the partnership.
"Notre Dame is the standard-bearer of excellence in collegiate athletics and is one of the most recognizable and admired universities in the world," Under Armour founder and CEO Kevin Plank said in a statement.
That final word — 'world' — is the spark to Under Armour's interest in the Irish.
Last October, Burke wrote about Plank's plan for aggressively expanding Under Armour's international reach, indicating that overseas growth would be the force that closes the revenue gap between UA (approximately $2.2 billion) and Nike (approx. $25.8 billion). UA wants to double the percentage international business accounts for in its overall revenue pie by 2016 (from 6 percent to 12 percent), and that move continued in earnest with the opening of the Under Armour Experience store in Shanghai.
What the heck is an "experience" store, you ask? Basically, UA built a space that includes a wrap-around video to suck people into the room and then flood them with Under Armour's story.
It's interesting to note that UA is not pushing product in the "experience" store; all it wants is for people to be overcome by this cool video and connect with the brand (another store is connected to that room and offers a limited selection of apparel if people are inclined to buy; point is, messaging is more important than purchasing at this store).
How is UA trying to connect with that market? By making Michael Phelps, an American sports "brand" who won eight gold medals in the 2008 Beijing Olympics, the host of the video. Here's a behind-the-scenes look:
Notre Dame — and specifically Notre Dame football — is a clearly an extension of that, given the university's broad international appeal and ubiquitous perception of prestige.
For the Irish, signing with Under Armour isn't really about the wardrobe overhaul — their adidas threads were fine. No, the real reward is the advancements in the sports science and technology fields Plank undoubtedly pitched hard to the university.
"Perhaps what makes me most excited is the overall level of commitment and partnership as reflected in what may be the most wide-ranging overall relationship anywhere in college athletics," Swarbrick said in a statement. "It is reflected in a shared desire to collaborate in areas such as sport technology, product development and athlete performance."
Here's an example: Last November, UA acquired MapMyFitness, a digital fitness technology company that offers a suite of apps for helping people track how hard and efficiently they are working out.
Plank has already spoken about a future where UA athletes wear clothing that collects biometric data while they're exercising, data that can then be logged, crunched and analyzed continuously.
If you're Notre Dame, combining these kinds of technologies means you can see exactly how certain training methods are sculpting your athletes.
You can pinpoint the most effective training for increasing explosiveness and tell your skill players, "Hey, let's do a lot of that this summer." You can decide which exercises are most efficient at burning fat and building muscle and build a plan around that information for players in need of a physical transformation.
All of this saves time, which creates more of it for the million other things Division I college athletes have to do.
The most fascinating area of discovery, to me, is in how this technology could improve recovery, rehab and injury prevention.
I don't have science behind any of these specific uses, so I'm only speculating, but the ideas at least don't seem that radical. If we can monitor how an athlete's muscles, tendons, ligaments and other vital nuts and bolts specifically respond to being worked, we should be able to establish thresholds at which point these body parts become vulnerable.
And if we can monitor a player's distance from those thresholds in real time — "real time" meaning at any time, including in competition when a player's body is beginning to break from the inside — we should be able to say, "This player is getting dangerously close — it's time to back off."
Will that prevent ACLs from tearing and bones from breaking and other instantaneous injuries? Of course not, but it's potentially transformative information in the most underexplored area of sports performance.
I suspect this is the kind of long-term dream Notre Dame saw when it agreed to its apparel deal with Under Armour, even if that kind of environment still seems far off.
Yes, it's important in the college football realm for UA to continue locking up big-brand programs – and there's a lot of work to do there, as UA represents 30 D-I programs while Adidas claims 30 and Nike possesses 79.
And, yes, it's important that Notre Dame increases and enriches its revenue streams so it can continue to pour resources into its non-football programs.
But if both parties in this agreement get what they ultimately signed up for, what the Irish's jerseys look like on fall Saturdays will be the smallest, and by far least compelling, part of this next decade in Notre Dame sports.
Teddy Mitrosilis writes and edits college football for FOXSports.com. Follow him on Twitter and email him at tmitrosilis@gmail.com.