Penn State scores touchdowns on four consecutive offensive plays in Rose Bowl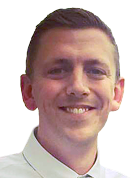 Penn State spent the entire first half of Monday's Rose Bowl trying to dig out of a hole against USC. By early in the third quarter, the Nittany Lions finally got out — and then some — thanks to an amazing run of offensive efficiency.
It began late in the second quarter, when the Nittany Lions capped a 13-play, 75-yard drive with an 11-yard touchdown pass from quarterback Trace McSorley to Mike Gesicki. That cut USC's lead to 27-21.
The Trojans then failed to score as the first half ended, then were held three-and-out on their first drive of the second half. On came Penn State's offense less than two minutes into the third quarter, and it was Saquon Barkley, the Nittany Lions' sophomore running back, who took a handoff and rumbled 79 yards for a fantastic touchdown run, providing the best highlight so far of an already wild game:
Penn State went up 28-27 after the ensuing extra point, its first lead of the game after trailing 13-0 out of the gate.
But that wasn't all. Just a minute and a half later, Penn State got the ball back after another go-nowhere USC drive. And on the first play, McSorley connected with Chris Godwin on a deflected pass for a 72-yard score to go up 35-27:
Chris Godwin and Saquon Barkley out here playing a game of Can You Top This? Wow. PennState with FIVE TDs on last 5 drives. Wow.

— Bruce Feldman (@BruceFeldmanCFB) January 3, 2017
How about one more? On USC's next drive, Penn State intercepted a Sam Darnold pass and returned it to the USC 3-yard line. On the next play, McSorley scampered into the end zone, making it a 28-0 run since USC was up 27-14 in the second quarter.
Four offensive plays. Four touchdowns. And a complete change in the tone of the game.
The incredible run finally ran out on Penn State's next drive, with Barkley being "held" to an eight-yard run on the first play. But the Nittany Lions still scored later on the drive.
What a game.