Oregon is in limbo while waiting on Vernon Adams Jr.'s arrival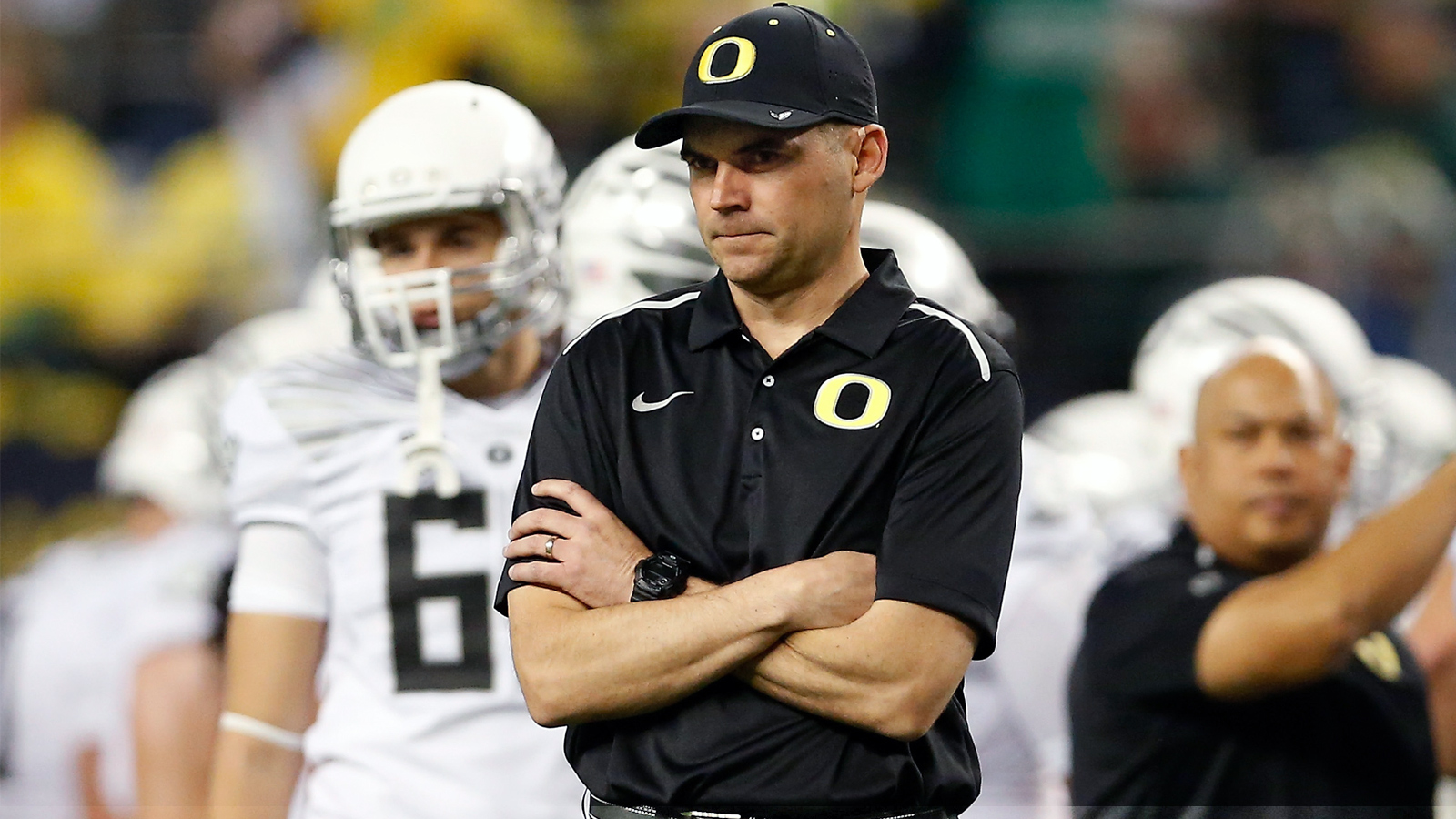 EUGENE, Ore. — A solitary reminder of Oregon's triumphant 2014 season sits in somewhat lonely fashion atop a reception desk in the extravagant Hatfield-Dowlin football complex. It's a trophy from the College Football Playoff for the Ducks' semifinal win over Florida State at the Rose Bowl.
That Oregon reached the first-ever playoff title game despite a rash of injuries and attrition on its offensive line and at receiver is fairly remarkable in hindsight. Isn't it?
"I wish I thought that way, but I don't," head coach Mark Helfrich said from behind his desk last Friday. "It's the masochistic way."
Helfrich fixates instead on a "heartbreaking" final loss to Ohio State. While hosting recruits one weekend in late January, Helfrich walked into the players' lounge to see various 2014 trophies — including Marcus Mariota's Heisman and the Ducks' Pac-12 championship — and, "You're kind of like, 'Oh yeah, that happened,'" said Helfrich. "It's bizarre."
That finishing second negatively overshadows winning 13 games signifies just what a lofty standard Oregon has set for itself in the Chip Kelly/Helfrich era, a perch it fully intends to maintain despite losing the most accomplished player in school history. In fact, as the Ducks enter their final week of spring practice, it's clear that the absence of two quarterbacks — one who started for three years, and another who's yet to play a down for them — hover over the program.
Here are a few takeaways from my recent visit to Eugene:
The probable starting QB isn't here yet
Jeff Lockie is Mariota's clear successor — until August. Lockie, a 6-foot-2, 205-pound fourth-year junior and Mariota's backup the past two seasons, entered spring as the most experienced of Oregon's five current quarterback contenders and has apparently separated himself from the pack.
"He's playing as well right now as he's played since he's been here," said offensive coordinator Scott Frost. "He's doing a good job running the offense, being vocal, being a leader. If Jeff's our guy going into the season, I feel fine."
And yet it's very likely Lockie won't be that guy because of a certain transfer arriving in June. Vernon Adams Jr., who threw for 10,438 yards and 110 touchdowns in three seasons at FCS Eastern Washington — including 886 yards and 11 TDs against Pac-12 foes Oregon State and Washington — is widely expected to come in and win the job. Oregon's coaches aren't commenting on Adams because he's not yet enrolled, so it's up to others.
"He's special," said a coach who's scouted Adams, noting his skill set naturally fits Oregon's spread offense.
Lockie is not as fleet-footed as previous Oregon QBs, but he can tuck and keep if needed. And no one expects he or Adams to throw as splendidly as Mariota.
"There's not many people in this country that can play football like him," said Lockie. "I'm just going to do it my way and lead the team and score touchdowns the best I can if I get that opportunity."
It's anyone's guess how quickly Adams can learn the playbook and adjust to Oregon's breakneck tempo, but the Ducks aren't bringing him in to be a backup.
The Ducks are loaded with offensive weapons
Whoever the quarterback is will have a lot of options to throw to. Injuries forced several Ducks receivers into action earlier than anticipated last season. A year later, they have what may be their deepest receiving corps in recent history. Last year's top four pass catchers — Byron Marshall, Dwayne Stanford, Devon Allen and Darren Carrington — all return, though Carrington will miss an as-yet unannounced number of games due to the NCAA drug test suspension that shelved him for the title game.
On top of that, veteran Bralon Addison, who had 890 yards and seven touchdowns as a sophomore in 2013, is back in action after missing last season with a knee injury. "He's back to full health — I wouldn't say he's back to full speed yet," Frost said of Addison. "He needed this spring to get his legs back under him."
Throw in the talented backfield tandem of Royce Freeman and Thomas Tyner, and this will clearly be another loaded set of Oregon skill players.
"Really, all we need the quarterback to do is distribute the ball to those guys to make plays," said Frost.
A key under-the-radar loss
Besides Mariota, Oregon's biggest loss is center Hroniss Grasu. Ducks coaches are finding out the hard way just how much they came to rely on their four-year starter and All-American.
"We've had some trouble getting the snap back from center," said Frost. "Never had to worry about that with Hroniss."
Grasu was one of Oregon's cornerstones. So, too, was departed left tackle Jake Fisher, whose early season injury last year contributed to the Ducks' sole regular-season loss to Arizona. But former starter Tyler Johnstone is back after missing all of last season.
"When we get Tyler Johnstone going, the Jake Fisher loss won't be as hard to fix," said Frost.
Wait, another playmaker?
Georgia Tech transfer Ty Griffin will see the field, though not likely at his current position. Griffin, a speedy third-year sophomore, began his career as an option quarterback and is practicing at quarterback this spring.
But with the logjam ahead of him, Oregon will likely find other ways to get the ball in his hands. He's returned kicks and punts and taken reps at receiver.
An Atlanta-area native, Griffin's younger brother, Taj, was a four-star signee in Oregon's class this winter and could crack the Ducks' tailback rotation this fall.
A defensive group to watch
Oregon could be very young at cornerback. The Ducks' defense is fairly experienced, with six of seven starters back up front, but they're replacing veteran corners Ifo Ekpre-Olomu and Troy Hill.
To ramp up competition, Helfrich moved sophomore receiver Charles Nelson to the position. Listed at 5-8, 170 pounds, Nelson last year "showed up and on the first day [of preseason camp] and was the most physical guy on the field," said Helfrich. "He weighed 156 pounds. … His skill set is unique. He's a little guy but tougher than heck."
Early enrollee freshman Ugo Amadi, a 5-10, 185-pound Nashville native, is competing at the position as well.
The same old Oregon question
There are TVs mounted to seemingly every wall of Oregon's complex, all of them tuned to sports news networks, and these days that means wall-to-wall NFL Draft coverage. Those inside the program are eagerly waiting to finally find out where beloved star Mariota lands. Fans outside the program are nervously waiting to find out whether Oregon can survive without him.
Just as they wondered whether the run would continue without Chip Kelly. Or LaMichael James. Or …
"I've been hearing that Oregon's done for about four years," joked Frost. "… Every time we've lost a player around here that people assumed we couldn't live without, the program's found a way to get it done."
This year's answer may be a quarterback who's not on the field at Saturday's spring game.
Stewart Mandel is a senior college sports columnist for FOXSports.com. He covered college football and basketball for 15 years at Sports Illustrated. You can follow him on Twitter @slmandel. Send emails and Mailbag questions to Stewart.Mandel@fox.com.