Notre Dame proved it's one of the nation's most overrated programs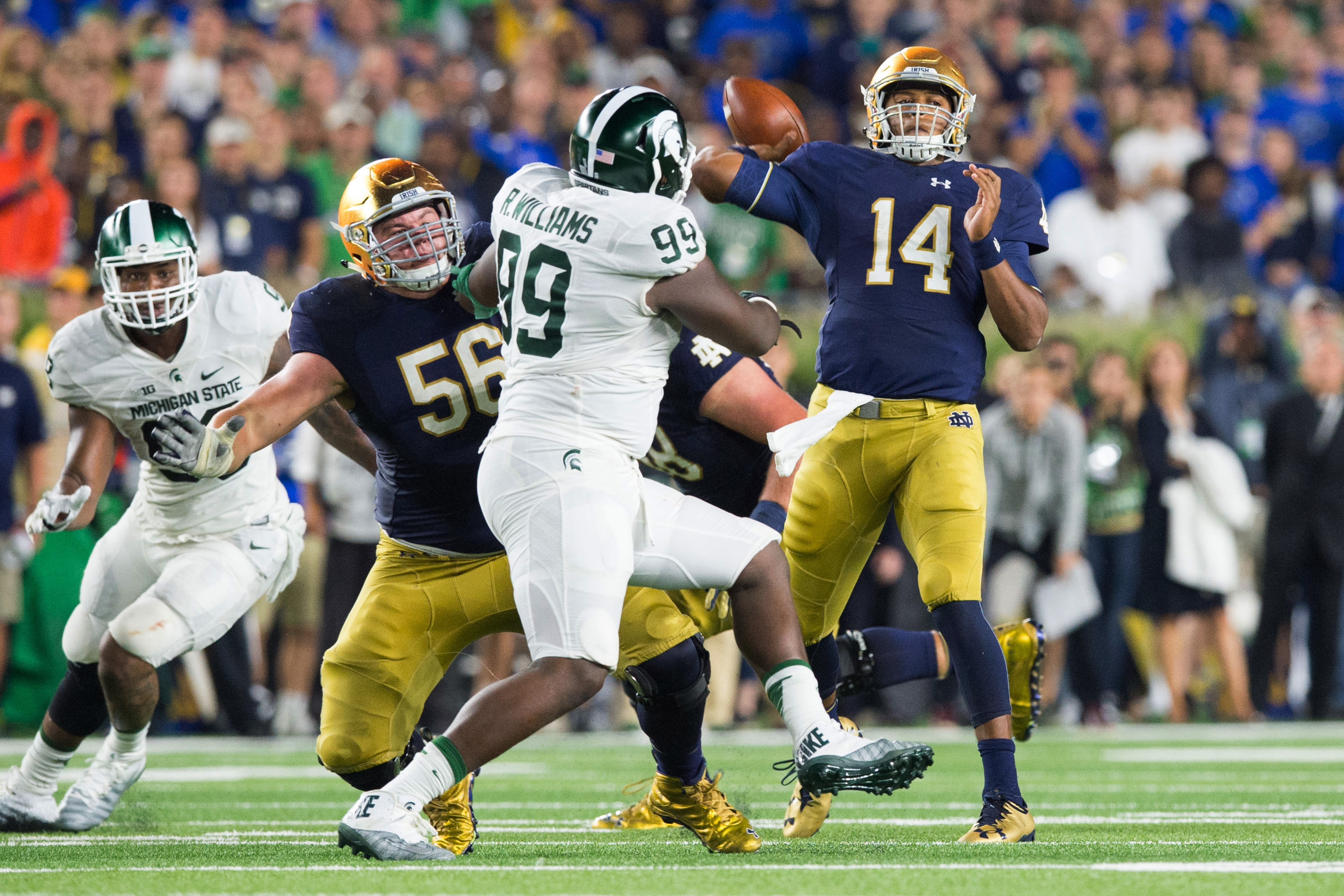 Notre Dame was never as good as so many of us thought.
They were never really national championship contenders, it just took us three weeks to figure that out.
The signs were there. We should have known before Saturday.
Notre Dame was not built to be a playoff team because it wasn't built to win in the trenches.
Michigan State exposed that on Saturday night in South Bend.
Spartans coach Mark Danonio put it best after the game: "You have to be able to measure up. You gotta make the plays when the lights come on."
Clearly, he wasn't talking about Notre Dame.
Michigan State manhandled Notre Dame Saturday, controlling the contest for the first three quarters of the game. It was an emphatic performance from the Spartans, but it said more about the Irish than Michigan State.
Notre Dame made a contest of it late — turning the blowout into an interesting contest in the fourth quarter — but that put frosting on an already burnt cake.
The Irish lost in the trenches and they lost on the sidelines. Not only did Michigan State control the line of scrimmage on both sides of the ball, Notre Dame coach Brian Kelly and his staff were obviously out-coached by Dantonio and his crew.
Brian Kelly right in his DC's face: "What the F_ _ _ are you doing?"

— Nick Baumgardner (@nickbaumgardner) September 18, 2016
Michigan State saw that Texas wrecked Notre Dame with a no-huddle offense, so after going 31 seconds between plays in their first game, the Spartans went to the hurry-up in their second contest Saturday.
By the time Notre Dame figured out what hit 'em and made a push, it was far too late.
Notre Dame looked like an upstart team, not one of college football's most established programs Saturday. It's Kelly's seventh year at Notre Dame — shouldn't the foundation be set by now?
The Irish have an excellent quarterback, but an excellent quarterback doesn't make a team unless you're a mid-major outfit.
It was one thing to lose a season-opener on the road to an upstart Texas team — that was a shootout that Notre Dame arguably lost because of Kelly's insistence of using a quarterback rotation. It's a whole other thing to lose to a Michigan State team that, while talented, lost its starting quarterback, top two receivers and top two offensive linemen. The Spartans played well, but after two games we can't say for sure that Michigan State is one of the nation's elite teams — that's how poor Notre Dame was Saturday.
This is not Ara Parseghian's Notre Dame

— Kyle Austin (@kylebaustin) September 18, 2016
Notre Dame's season is effectively over. The Irish have no conference to win and will be playing for a good bowl game from here on out — the College Football Playoff is out of the question for Notre Dame now.
But after watching Saturday's game, it's hard to see Notre Dame winning out the rest of the season. The Irish still have a tough contest against Stanford, while games against NC State and undefeated Army can't be penciled in as wins.
And given Kelly's terse tone following Saturday's game, who knows what a few more losses might bring to Notre Dame.