Alabama Basketball Help Is On The Way: Preview Next Season's New Players
Ronald Evans/FanSided via Bama Hammer

Fansided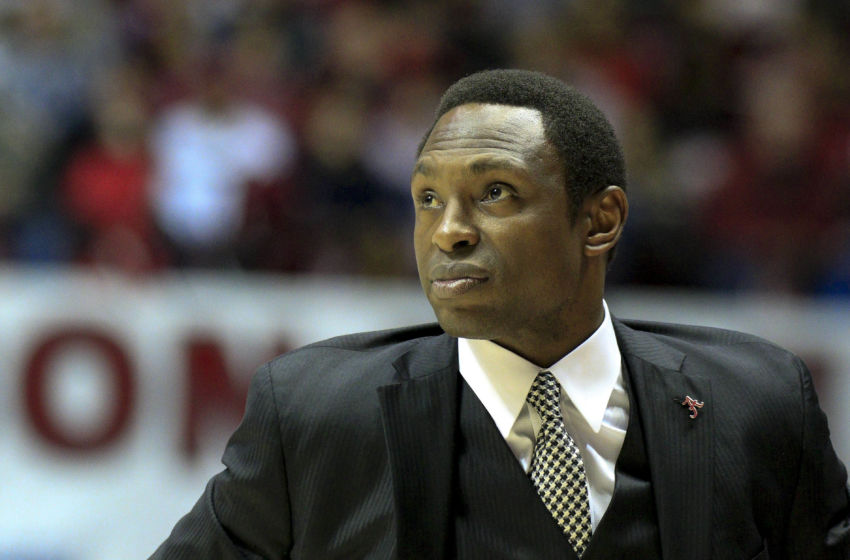 Alabama Basketball and Avery Johnson are building a roster with the No. 5 ranked class in the nation. Six new players join the 2017-18 Tide.
Alabama Basketball roster additions for next season could be the Tide's best ever class. Check out the first couple of minutes from November 2016 as Avery Johnson discusses the 2017-2018 Signing Class.
The core of Avery Johnson's temperament is optimism. So much so that it is infectious, impacting those around him and fans who yearn for an Alabama return to college basketball national prominence. An abundance of optimism can lead to unrealistic expectations. Avery aspires to Alabama becoming a regular NCAA Tournament participant and a program that every season will challenge for a spot in the Final Four.
Those are big goals. Can they be achieved, and if so, how long will it take? Before seeking these answers, let's review what Alabama has achieved in its basketball history.
Expansions of the NCAA Tournament field only reached 64 teams in 1985. Even in the era of smaller fields, Alabama made the Big Dance every season from the 1981-82 season through the 1986-87 season.
Trying to create a fair comparison of the Tide's NCAA Tournament participation, let's look at two 17 season periods, going back to Wimp Sanderson's first season in 1980-81.
In the older 17 year span, 1980-81 through 1996-97, Alabama made the NCAA Tournament 12 times. Taking Avery's 2nd season (2017-18) and going back 17 seasons to Mark Gottfried's 2000-2001 season as coach, the Tide has made the NCAA Tournament field only six times. Exactly half as many NCAA Tournament appearances in the two, 17 season spans.
Given the Tide's history of success and struggles, expecting Avery to turn around the Tide program in one or two seasons was overly optimistic.
Is it realistic to look at 2017-18 as THE turnaround season? It is clear, an abundance of talent has been added to the Tide roster. Let's look at each of the 2017-18 incoming players:
Collin Sexton – PG – 6′ 2″, 180 lbs. – Freshman – Mableton, GA
The 247 Sports Composite: 5-Star
247 Sports also ranked him the No. 2 Point Guard in the nation and the No. 7 Overall Players in the nation.
Collin had over thirty scholarship offers including Kansas, Villanova, North Carolina, Arizona, Connecticut, FSU, Florida, USC, Texas, and Auburn. Duke and Kentucky also showed interest in Sexton but Collin did not make either team a finalist for his signature. In the end, Alabama edged out Kansas for the McDonald's All-American.
Sexton is an elite player, the kind of player Alabama has struggled to sign for many years. Since Mark Gottfried's decline and eventual demise, Alabama has been challenged to persuade elite players to even visit Tuscaloosa.
During Anthony Grants' tenure, efforts to sign elite players led to little success. Avery Johnson's NBA pedigree has changed Alabama basketball's recruiting terrain. The barrier, blocking elite player consideration of the Tide, was destroyed by signing Collin Sexton.
Collin Sexton's skill set is deep. He can play point guard or shooting guard. The most accurate description for Collin would be to listed him as – Scorer.
Check out this video from Sexton's recent Senior Night. Notice the Alabama shirt he wore in pre-game warmups.
John Petty – SG – 6′ 5″, 180 lbs. – Freshman – Huntsville, AL
247 Sports Composite 4-Star; ESPN 5-Star; 2017 Mr. Basketball in the state of Alabama.
247 Sports ranked Petty the No. 1 player in the state of Alabama, No. 30 Overall Player in the nation and No. 5 Shooting Guard in the nation.
John Petty had more than a dozen scholarship offers, including Kentucky, Kansas, Vandy, Auburn, Connecticut, and Auburn. The recruiting battle came down to the Tide and Kentucky. The first recruiting call Avery Johnson made upon being named Alabama's coach was to John Petty. That turned out to be a very good decision.
During the recruiting process, there were reports Petty was not a priority for the Wildcats. Such conjecture conflicted with reports coming out of the Big Blue nation. According to Ben Roberts, broberts@herald-leader.com Petty was the first 2017 recruit offered by Kentucky. "Petty, who grew up rooting for UK, would likely be more of a role player, at least in his first season, if he picked the Wildcats. Still, he'd have an opportunity to make an immediate impact."
Check out this highlight video:
Petty is more of a wing player than a traditional shooting guard. Some reports suggest Petty is closer to 6′ 7″ than he is to 6′ 5″. He has good outside shooting range, but with his height and length, his greatest asset is getting to the rim.
Unlike many big name high school stars, Petty also excels defensively. While there is no shortage of flash in John Petty's game, his high school coach, Jack Doss insists Petty prides himself on his defense as well.
Alex Reese – PF – 6′ 9″, 230 lbs. – Freshman – Pelham, AL
247 Sports Composite 4-Star
247 Sports ranked Reese as the No. 18 Power Forward in the nation. No. 3 Player in Alabama
Alex Reese had fifteen scholarship offers, including Kansas, North Carolina, Michigan, Maryland, Auburn, Tennessee, Florida, and Vandy.
Alex Reese is reported from multiple sources as being 6′ 8″, 6′ 9″, and 6′ 10″. He is not a typical big body, inside bruiser. Reese is a fluid player, more in the mold of a high-post, "pick and pop" big man that Alabama has been lacking for years.
Reese has good shooting range and combined with his size he is a hard player to defend. If Avery Johnson decides to run more of a motion offense, compatible with the ball handling and shooting skills of Sexton and Petty, Reese can mesh into that offense. In today's terminology, Alex Reese is more of a "stretch four" than a traditional power forward.
Take a look at Alex Reese in action:
Auburn was long believed to be the leader for Reese. Austin Wiley tried very hard to persuade Reese to become a Tiger. Listen to Reese as he discusses his decision to sign with Alabama. His comments are another example of the recruiting power of Avery Johnson's NBA career as a championship player and as an NBA head coach.
Herb Jones – Small Forward – 6′ 7″, 185 lbs. – Freshman – Moundville, AL
247 Sports Composite 3-Star
247 Sports rated as No. 4 Overall player in the state of Alabama
Herb Jones had close to twenty offers, but most schools discovered him late after Alabama had already built a good relationship with him. Certainly, his close physical proximity to Tuscaloosa was an advantage for the Tide.
Jones had scholarship offers from FSU, Texas, Georgia, Florida, and Auburn, among other schools.
Herb Jones can play guard or small forward. He has good ball skills and has good shooting range, including outside the arc. There were two main reasons why Jones went under the radar for many big name basketball programs. One reason is that coming from Moundville, he did not see top competition in high school. The other reason is his slight build of only 185 lbs on his 6′ 7″ frame.
There were no questioning Jones' skills but recruiters knew he would need more weight to excel against more physically mature college forwards. In the "one-and-done" era of college basketball, redshirting freshmen is an anachronism. It will be interesting to see what Avery decides to do with Jones during his first season with the Tide.
Let's take a look at Herb Jones' impressive highlights:
Herb Jones has the skills to contribute as an Alabama freshman. In 2017-18. Alabama will have a bench full of skillful players. If Jones does not see much playing time next season, he has the potential to be a future star for the Tide.
Galin Smith – Center – 6′ 9″, 225 lbs. – Freshman – Clinton, MS
247 Sports Composite 3-Star
247 Sports rated as the No. 2 ranked player in the state of Mississippi and the No. 21 center in the nation.
Smith had fifteen offers, including Ole Miss, SMU, Mississippi State, Cincinnati, LSU, and UAB.
A couple of reports state Smith is up to 6′ 10″ and working hard to add weight before he gets to Alabama. Not unlike Herb Jones, Smith will need weight to succeed in the SEC. Even more than Jones, Smith will need to add bulk and muscle to battle inside the paint.
Smith did not begin seriously playing basketball until he was 14. If there is a project in this signing class, perhaps it is Galin Smith. But being someone with undeveloped potential does not mean a lack of talent.
Let's take a look at this video profile of Galin Smith:
How much Galin Smith plays in 2017-18 may be determined by how many guards and wings Avery Johnson decides to use. Next season, Dont'a Hall is expected to be the Tide's starting center. Alex Reese will certainly fit into a small line-up that utilizes a motion offense. Smith may end up becoming more of a future option at center for the Tide.
The reason Smith may not see much action as a freshman is because the Tide has another new center option besides Hall.
Daniel Giddens – Power Forward/Center – 6′ 10″, 235 lbs – Transfer Sophomore – Marietta, GA
ESPN rated Giddens No 2. in its list of "Best Available Transfers" in the nation.
Daniel Giddens completed his high school career at the basketball prestigious, Oak Hill Academy. Coming from Oak Hill, Giddens made multiple top 50 players in the nation lists. Most rating groups picked Giddens among the top ten centers in the nation. Scout rated Giddens as a 4-Star college prospect.
In his freshman season at Ohio State, Giddens started seven games and participated in a total of 33 games. His freshman numbers will not blow away skeptical fans. Splitting time at center and averaging eighteen minutes per game, Giddens contributed 3.8 points and 3.6 rebounds a contest.
Given the results of his freshman season, it is easy to understand why Giddens was interested in other basketball opportunities. Good news for the Tide. Tuscaloosa is less than a three-hour drive from Marietta, GA. affording the Giddens family easy trips to see Daniel play.
Similar to Dont'a Hall, Giddens excels at thunderous dunks, shot-blocking, and rebounding. Also like Hall, he has a tendency to foul when he would be better served by maintaining a strong defensive position.
Take a look at these Daniel Giddens highlights:
Daniel Giddens is a powerful player. He has the size and skills to push Dont'a Hall for the starting center role. A cautionary note before we get too excited about Daniel. In his freshman season at Ohio State, Daniel's free throw shooting percentage was 43.9 percent. Let's just hope he does not have a wicked side spin on those foul shots.
Avery Johnson has amassed an incredible 2017 signing class. 247 Sports rates the class as No. 5 in the nation. That is a better class than Duke and Louisville and everybody in the SEC except Kentucky. Hang on Tide fans – Help is on the way!
This article originally appeared on