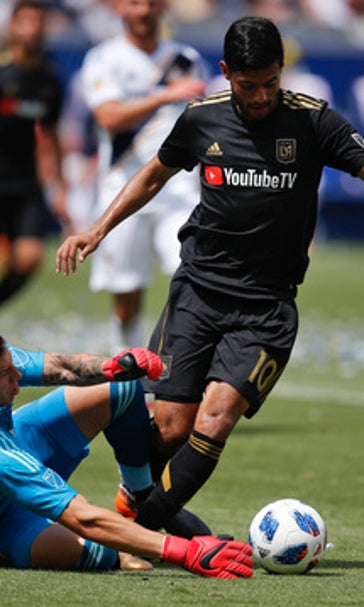 Ibrahimovic leads Galaxy rally past LAFC in MLS debut
March 31, 2018
CARSON, Calif. (AP) Zlatan Ibrahimovic couldn't have scripted his Hollywood debut any better.
The superstar Swedish forward scored twice in his first MLS game to cap the Los Angeles Galaxy's comeback from three goals down to beat LAFC 4-3 on Saturday.
''I gave them Zlatan,'' Ibrahimovic said.
Ibrahimovic won it in the opening seconds of stoppage time with a header off a cross by Ashley Cole to send a sold-out StubHub Center into hysterics.
''After that, I was like, 'Just stop the game now.' I don't want to feel any more adrenaline,'' Ibrahimovic said.
Ibrahimovic's first goal in America was more audacious, scoring on a 40-yard kick when he caught LAFC goalkeeper Tyler Miller off his line to tie the score 3-3 in the 77th minute. Still working his way back to full fitness after sustaining a major knee injury last April, Ibrahimovic said the play was more about being able to make it through the rest of the match than heralding his long-anticipated arrival in spectacular fashion.
''I felt like I played 40 games for my 20 minutes,'' Ibrahimovic said. ''I said this time I shoot, I don't run with the ball. That's the ball that went in. I said I will save strength to play another 15 minutes.''
No matter the intention behind the goal, Galaxy manager Sigi Schmid was blown away by the natural talent required to make it happen.
''That's just world class. You can't teach that,'' Schmid said. ''You can't do something brilliant unless you dare to be brilliant, and Ibrahimovic is a perfect definition of the guy who always dares to be brilliant. That's got to be a goal that's going to go around the world. I'm sure it will be a YouTube sensation, it's fantastic.''
It continued Ibrahimovic's streak of scoring in his first game for every club he has played for.
Ibrahimovic replaced Sebastian Lletget in the 71st minute shortly after chants of ''We want Zlatan'' started in earnest. Ibrahimovic's first touch came in the 73rd minute and helped lead to a goal by Chris Pontius on a header to pull to 3-2.
Lletget started the Galaxy's comeback by scoring in the 61st minute.
''It was a good team effort, but, in the end, I think it was a Zlatan day,'' Galaxy forward Ola Kamara said.
It was a stunning reversal after the first meeting between the first-year expansion team and five-time MLS Cup winners was a rout in favor of the newcomers in the first half, with Carlos Vela scoring twice.
Vela scored in the 5th minute, curling a shot from outside the penalty box in to give LAFC a 1-0 lead. Vela's second goal came in the 26th minute when a defensive breakdown left him alone against goalkeeper David Bingham. Bingham lost his footing, allowing Vela to tuck his shot in under the crossbar for his third MLS goal in three games.
Daniel Steres had an own goal in the 48th minute when he put Marco Urena's pass for Vela into his own net to make it 3-0.
Relying on up-and-coming players like Vela instead of big names on the downside of their career as the Galaxy have done, it seemed as if LAFC's approach was going to be rewarded.
However, as Ibrahimovic said with his usual aplomb, ''If they would have Zlatan, (the result) would be opposite.''
---
---