Minnesota Vikings
Minnesota Vikings
Vikings' Zimmer says he didn't take eye surgery seriously enough
Published
Jun. 6, 2017 5:01 p.m. ET
EDEN PRAIRIE, Minn. -- Eight months after initially injuring his right eye, Minnesota Vikings coach Mike Zimmer is still having trouble seeing out of it thanks to a gas bubble put there to hold the retina in place.

During a two-week leave ordered by the team to help his eye recover from an eighth surgery on a detached retina, Zimmer appears to have found some clarity for his plight.



"I've probably done a little bit more research with this stuff since the season's gotten over with, and I've probably needed to take it a little bit more serious than I did," Zimmer said Tuesday, one day after rejoining the Vikings following two weeks at his ranch in Kentucky.

The hard-nosed coach initially injured his eye during a game on Oct. 31. Despite advice from his doctors to shut things down to allow his eye to heal, he tried to coach through the discomfort while the Vikings were in a tailspin. He grinded through video, attended practices and meetings and burned the candle at both ends. He missed one game against Dallas on Dec. 1, but continued to work as hard as ever after his third surgery on the eye.

The Vikings had finally seen enough last month, ordering their coach to leave the team's optional practices, go home and recuperate. It was a difficult process for the coaching lifer to endure. He vowed just before starting his leave of absence that he would continue coaching "one eye, or two."

When asked on Tuesday if the leave was worth it, the prideful Zimmer let out a sigh and paused for several seconds.

"I guess. I don't know," Zimmer said. "I guess I did not have much of a choice. If everything goes good, it is worth it. And if it doesn't, it's not."

Zimmer turned over the team to his coaches to oversee the workouts while he was away. Defensive line coach Andre Patterson, a long-time Zimmer confidante, was counted on to relay daily messages. Zimmer would send text messages to players after watching practice video on his iPad.

"I think the first words he said to me when he got back were something I did wrong when he wasn't here," receiver Adam Thielen said with a chuckle. "So we know he's watching and that's obviously why we work so hard."

After completing his little getaway, Zimmer met with doctors in the Twin Cities before rejoining the team Monday. He remains optimistic that after so many complications and setbacks, he may finally be on the verge of a resolution.

The gas bubble in his eye has to dissolve before he can determine just how much vision has been restored. Until then, he said it's like looking through a glass of water when he closes his left eye.

"Right now it's probably the best reports I've had since all this stuff started," Zimmer said.

Doctors have told him to "be smart" and not to overdo things, a difficult route for Zimmer.

"I think everybody on this team is glad that he took time for himself and got his health down before he came back," Thielen said. "But at the same time we are glad he is back because this team is not the same without him, and he's our leader. When he's here, practice is a little different."

Known for his fiery demeanor, Zimmer was relatively subdued during practice Tuesday. He rarely raised his voice and pulled players aside for one-on-one instruction when he saw something he didn't like.

He said he's thankful for the way his players and coaches handled his absence and was hopeful he wouldn't need another one.

"They listened to all of the direction that I gave them each day," he said. "They did a really good job, so I am very lucky and very fortunate to have not only the coaches that I have, but the team that I have."


---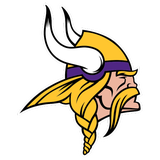 Get more from Minnesota Vikings
Follow your favorites to get information about games, news and more
---