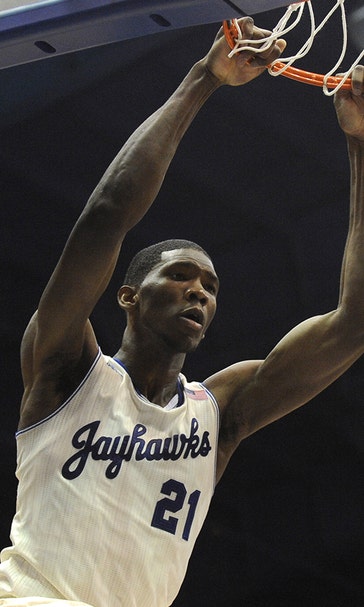 UPDATE: Joel Embiid blocks LeBron on Twitter after recruiting effort ignored
BY Jimmy Traina • July 3, 2014
Sixers rookie Joel Embiid has been in the NBA for a week, but he's already acting like a veteran.
The 7-footer who was drafted out of Kansas third overall by the Sixers on June 27, has been trying to recruit free-agent LeBron James to Philadelphia.
Embiid made his initial pitch on Tuesday:
@KingJames hey bro hope you're having a good day...... Want to join us in philly?? Peace

— Joel-Hans Embiid (@JoelEmbiid) July 1, 2014
LeBron never got back to Embiid -- maybe because he's on a boat watching his son make a bid for "Wicked Tuna":
So undeterred, Embiid followed up on Wednesday, poking fun at his own tape-delayed reaction:
I hope i'm not gonna get fined already with those Lebron's tweets is it legal to recruit over twitter @NBA ?

— Joel-Hans Embiid (@JoelEmbiid) July 3, 2014
UPDATE 7/4/2014: After three days without a response, Embiid had clearly had enough: The Philadelphia rookie made a drastic move and blocked LeBron James from his Twitter feed, effectively cancelling his social media effort to woo the two-time NBA champ to the Sixers: 
Can't wait to see Embiid try that same move in person when they meet on the court. 
---
---