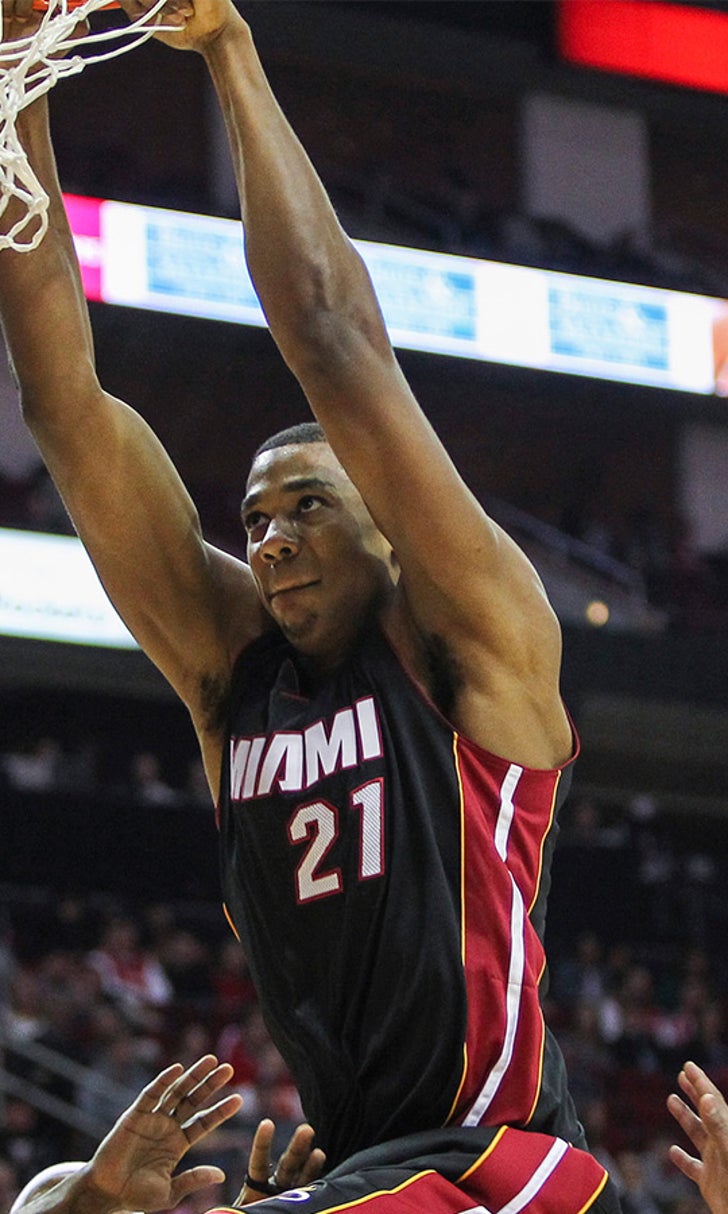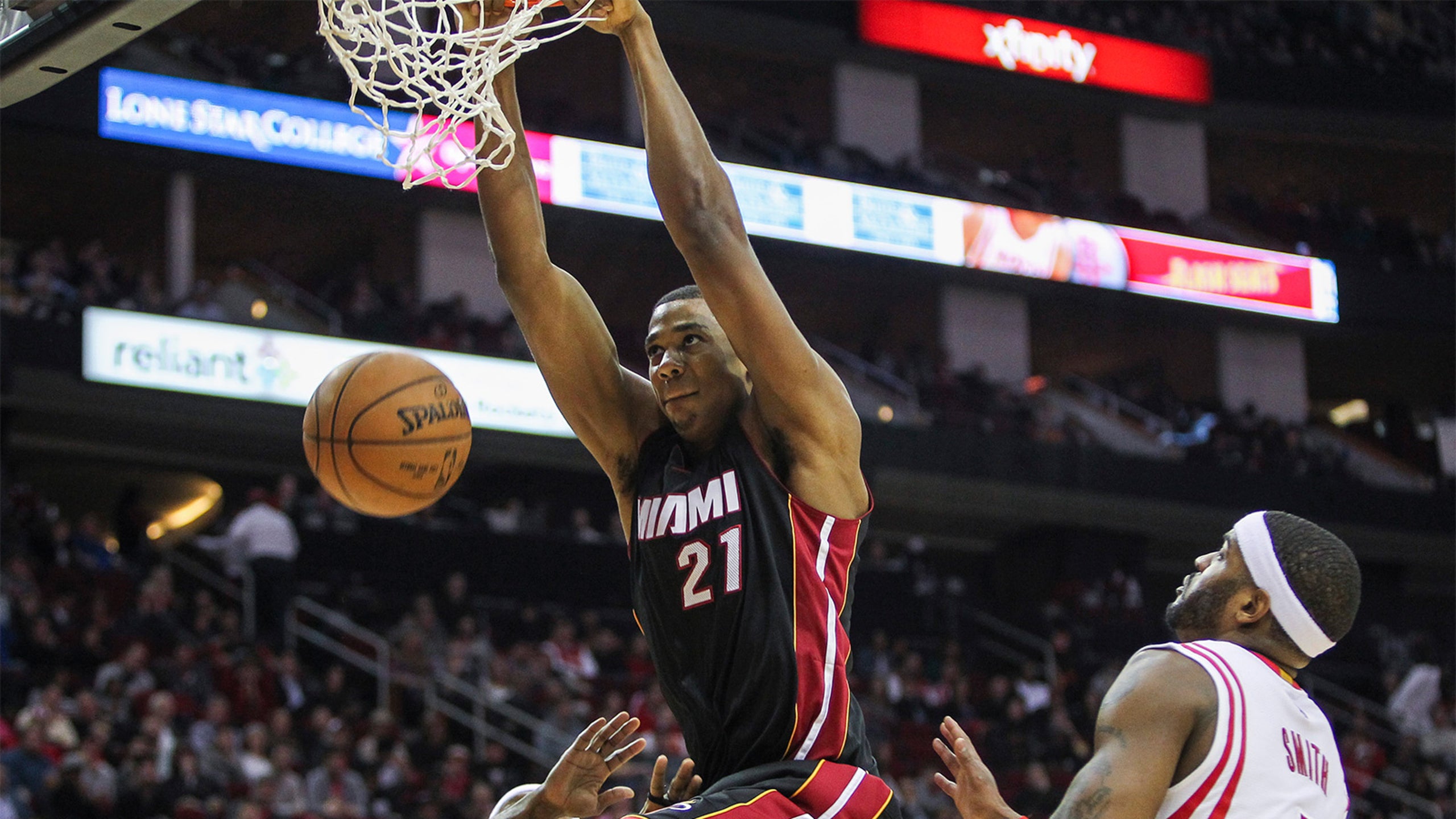 The Starting Five: Hawks, Warriors test the power of 3
BY foxsports • February 3, 2015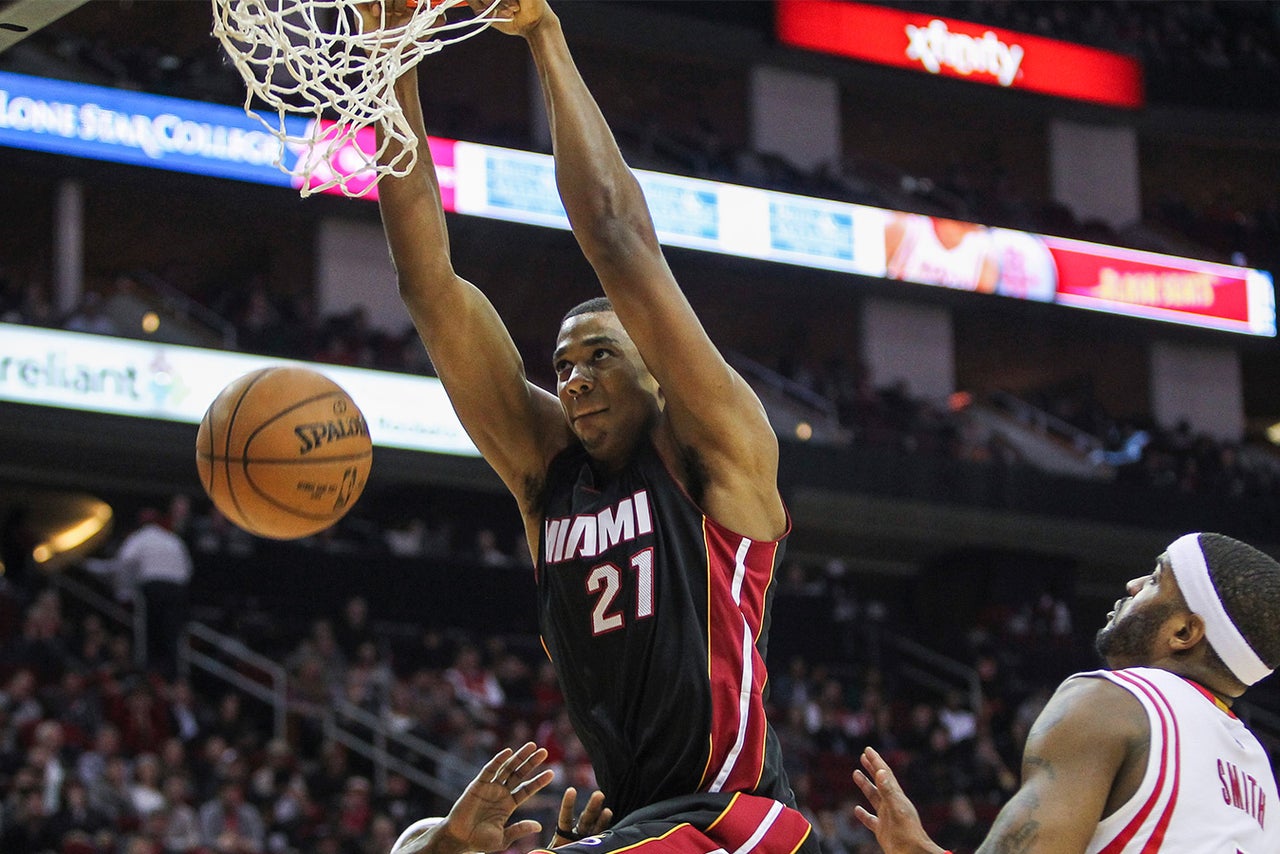 Now that the Atlanta Hawks are in free fall, let's move onto some other burning issues around the NBA.
Take a bow, Hassan Whiteside.
But instead of questioning your footwork on an NBA court, our traveling reference follows your path from Marshall University to the Miami Heat.
Our crucial metric is 11.
That's right, we're counting 11 teams involved -- from his second-round selection by the Sacramento Kings in 2010 through tours of Lebanon, China and the D-League -- before the 25-year-old, 7-footer began tearing it up for the Heat last month.
In Miami, Whiteside's performances include a 23-point, 16-rebound line in a win over the L.A. Clips, a triple-double (14, 13 and 12 blocks) to help the Heat defeat the Chicago Bulls, 16 points and 16 rebounds in a loss to Dallas, and 20, 9 and 3 in Sunday's conquest of the Boston Celtics.
Please note that in parts of two seasons with the Kings, Whiteside participated in 19 games. Now he's lobbying NBA 2K to put more juice in his video-game performances.
Whiteside also seems to have created a home in Miami, where a legit rebounding, rim-protecting center has been needed for several years.
We wonder how things would have unfolded in South Beach if this had occurred a year earlier.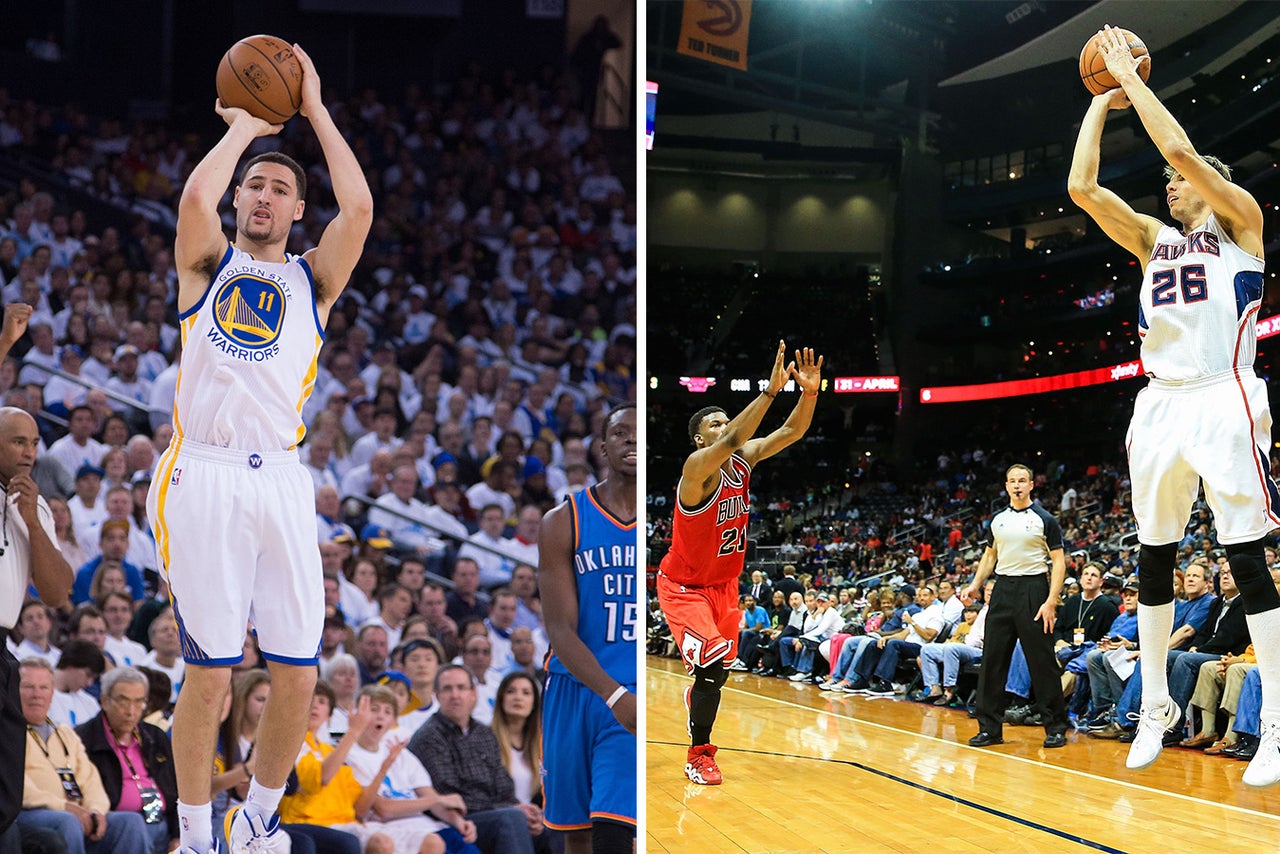 Charles Barkley questions whether the Hawks and Warriors can go the distance with their long-range oriented offense, but the evidence is inconclusive.
When Charles Barkley talks, most people listen. A lot of the listeners are then motivated to respond by rolling their eyes.
But Sir Chuck isn't bad when comes to making points about, well, making points.
And during an interview last week, Barkley said, "I don't think you can win a championship shooting jump shots" -- an apparent judgment on the 3-point happy Atlanta Hawks and Golden State Warriors.
We'll take this to mean "live by the 3, die by the 3."
There are many ways to reach the O'Brien Trophy . . . almost all of them require superstar talent.
Looking at the last eight NBA champions, however, we see that most of them weren't defined by how many shots they could squeeze off behind the arc.
For example, even though Gregg Popovich's San Antonio Spurs use the 3 quite well, they were only 10th among playoff teams last season in percentage of overall shots from that distance.
While almost winning one season earlier, the Spurs were 11th, three spots behind the champion Miami Heat.
Please note, however, that Miami was fourth in 3-point frequency while winning in 2012, one year after they lost to the gun-slinging Dallas Mavericks (second in 3-point frequency). So a heavy dose of 3 isn't a death knell, either.
Barkley should be applauded for preaching offensive balance, but this evidence isn't enough for us to count out the Hawks or Warriors from title contention.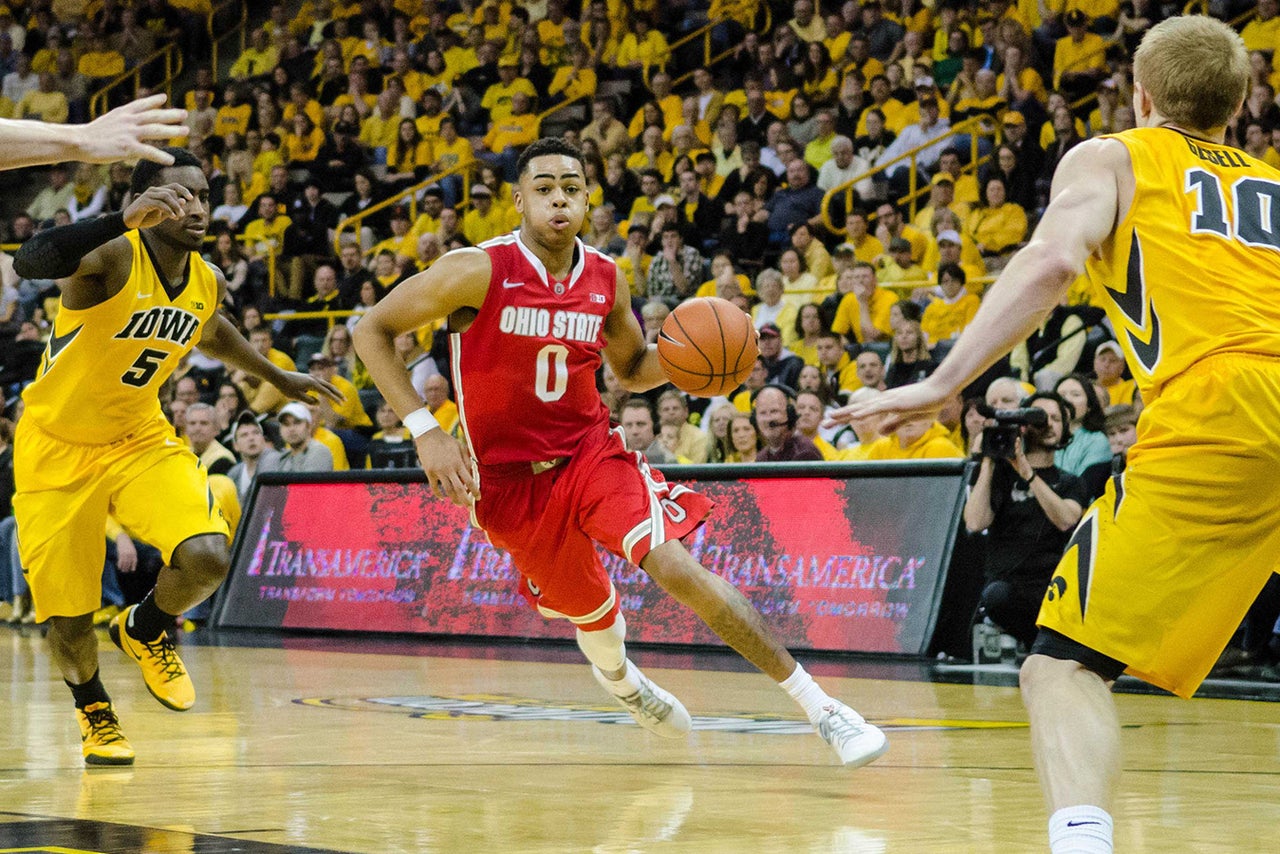 At least one NBA talent evaluator believes Ohio State freshman D'Angelo Russell has the most star potental of any possible candidates for the 2015 draft.
We went for wordplay with the "Russell Athletic" tag; ironically, the one concern some NBA personnel types have regarding Ohio State freshman guard D'Angelo Russell is a seeming lack of elite burst and bounce.
But the 6-foot-5 lefty is upper level in every skill-related category we can think of. That's why he's screaming up mock draft lists at a higher rate of speed than anyone in college hoops.
"His skill level, court presence, awareness and feel for the game are among the best I've seen in years," one personnel executive said after watching the former Montverde Academy star. "(Duke center Jalil) Okafor still looks like the top pick next summer, but Russell looks the part of future star more than anybody I've seen in college.
"I need to see a bit more pull-up off the bounce, but he really can shoot the 3, and it's been years since I've seen a passer create so many shots for teammates by just looking off defenders."
Russell has scored at least 21 points in eight of Ohio State's last 10 games. But he's also handed out five or more assists in half of those contests and twice took down 14 rebounds.
By the way, Russell is reasonably athletic; he's also smart to understand that a lot of elite guard play should occur with your feet on the floor.
Brooklyn's Brook Lopez is one of the biggest prizes who could be on the move at the trade deadline.
As the league strolls into February and near its trade deadline reports say that the Brooklyn Nets are holding out for more than most teams have been willing to cough up for center Brook Lopez.
This week's suitors are the Denver Nuggets, who probably should begin their reconstruction by having George Karl on the payroll again.
Aside from the expected rise of trade chatter, we also know Nets veteran Kevin Garnett is not looking to be bought out so that he can work for a contender because KG said so earlier this week.
Former Net Andray Blatche has finished his work in China for this season and is rumored to be on the radar screens of a couple of NBA teams. But now that Hassan Whiteside is rolling in Miami, the Heat may not be that eager to hire Blatche.
With things seemingly back on track for David Blatt in Ohio, the coaching rumor at hand is the pending release from duty of Orlando Magic head coach Jacque Vaughn.
"I have peace beyond the game of basketball," Vaughn said, "and I'll continue to do my job like I have since I accepted it Day One."
Vaughn began his coaching career in San Antonio, where talk of the Spurs making a strong push to sign free-agent center Marc Gasol gets a bit louder every week.
Gasol, presumed to be the summer's top free-agent target, seems like a great fit to sit tight in Memphis, where he finished high school and already is a vital cog in one of the league's best teams.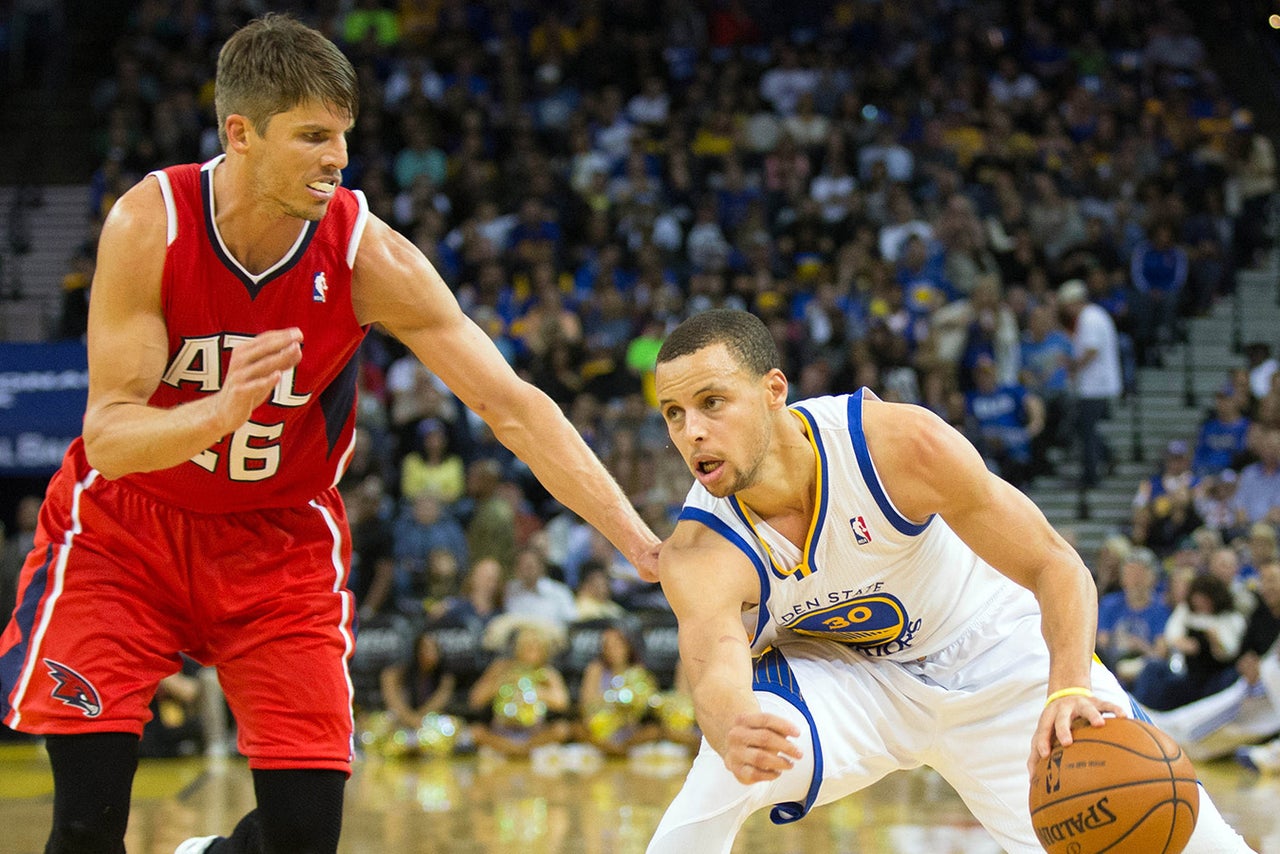 Atlanta and Golden State will battle for midseason supremacy on Friday night in Atlanta.
When the Warriors and their "Splash Brothers" backcourt take on the Hawks on Friday in Atlanta, they'll be the second-best 3-point shooting team (by percentage) on the floor.
The Hawks also enter this week as the NBA's best team (by record), followed by the Warriors, but it's Golden State that is ranked No. 1 in the league through a stat-based system found on basketball-reference.com.
The website ranks the Hawks third . . . behind the Los Angeles Clippers; so, embrace the numbers at your peril.
The commonalities of these team-oriented squads are many.
Both head coaches have professional roots that can be linked to the San Antonio Spurs. The Hawks are first in the league in assists (the Warriors are second); Golden State is first in defensive efficiency (Atlanta is fourth); both are among the top six in offensive efficiency.
Will their deep-shooting orientation keep them at the top of the playoffs in June?
---
---