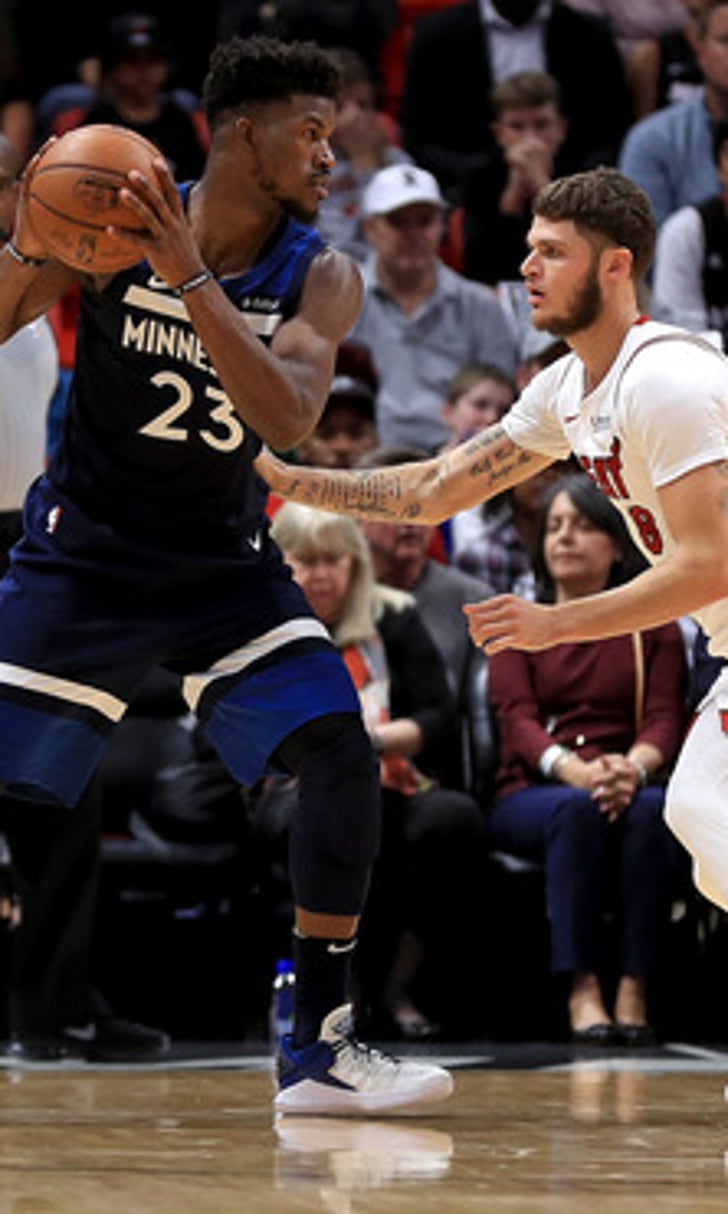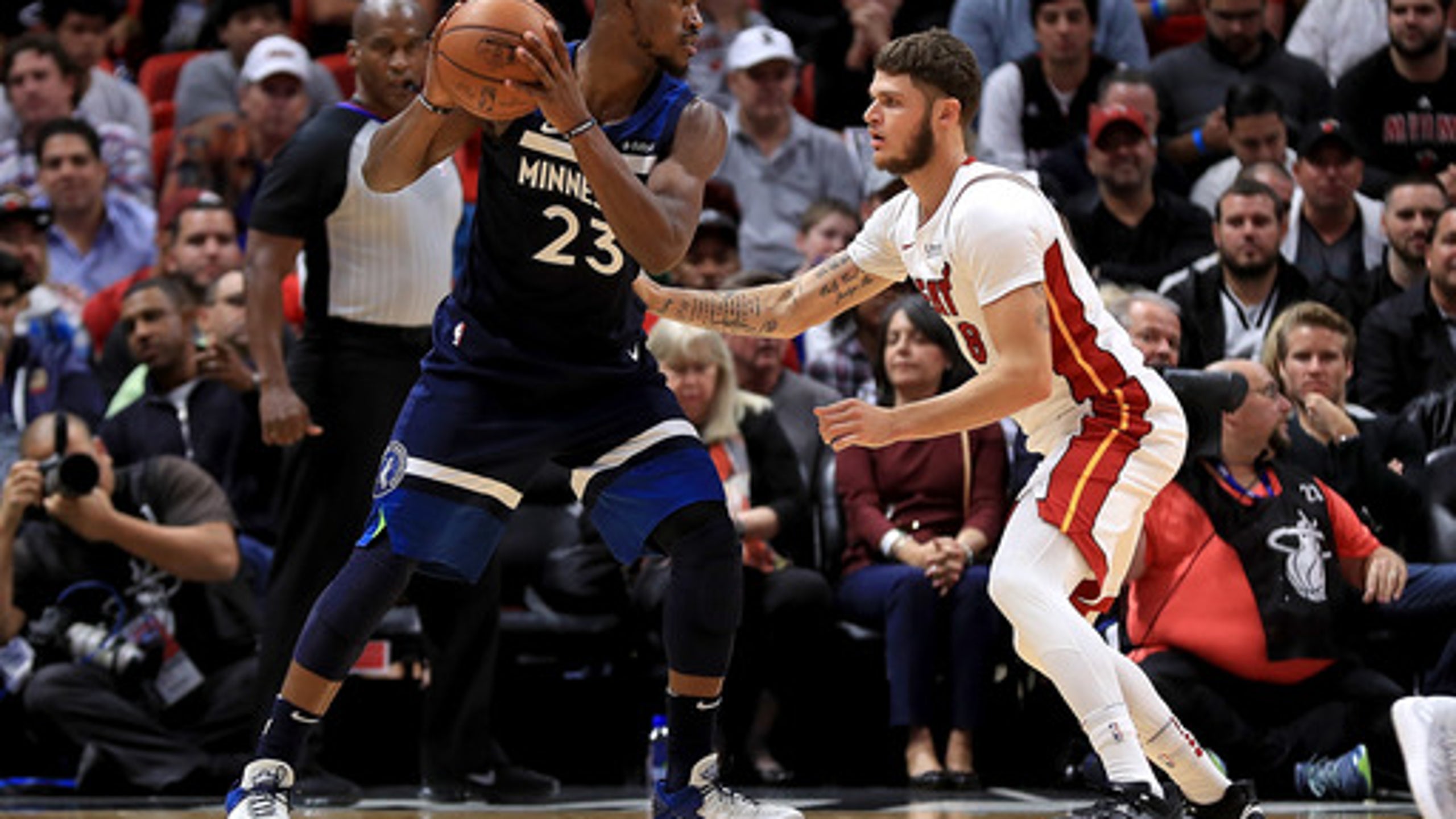 Preview: Timberwolves vs. Heat
November 24, 2017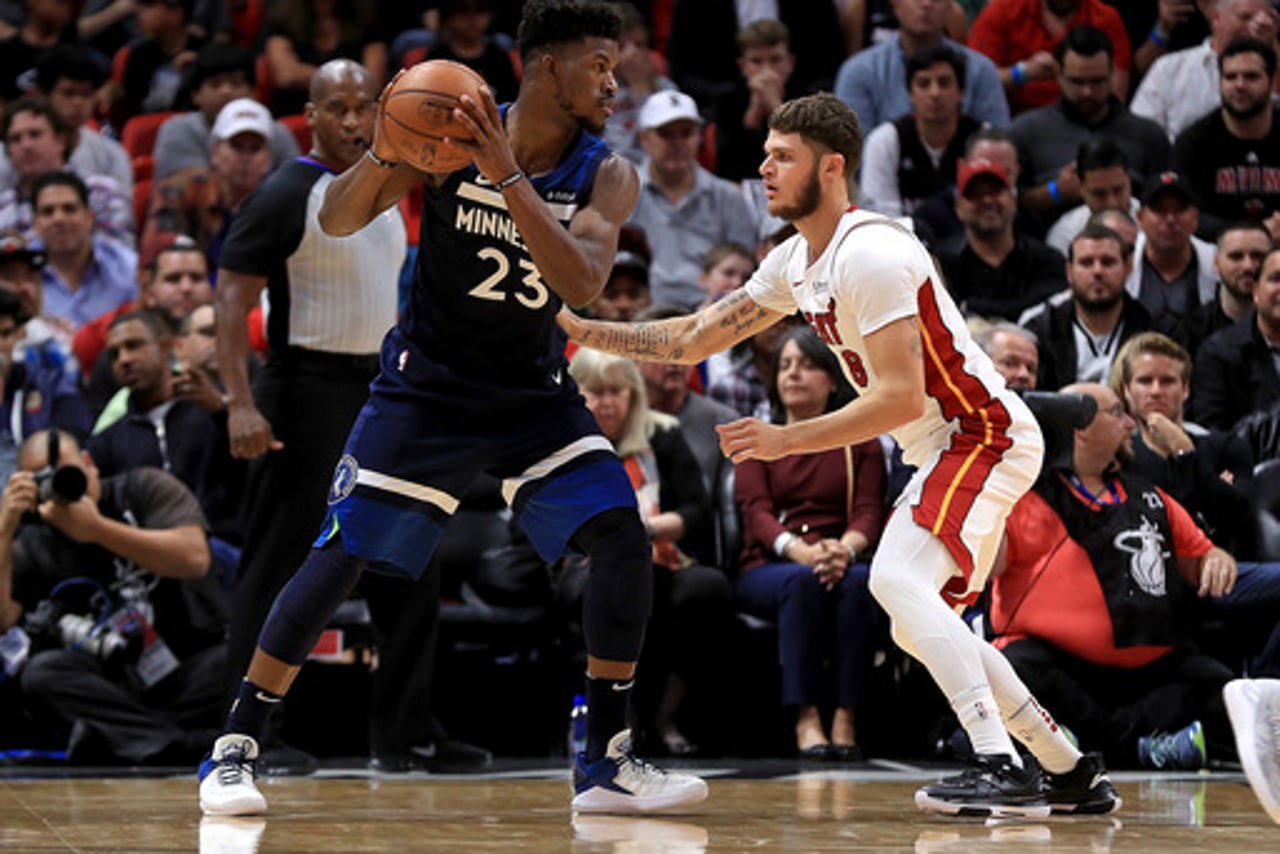 MINNEAPOLIS -- The Miami Heat arrive in chilly Minnesota to begin a four-game road trip less than 48 hours after cooling off the NBA's hottest team.

The Heat snapped the Boston Celtics' 16-game winning streak on Wednesday behind Goran Dragic's game-high 27 points and Dion Waiters' clutch 3-point shooting.

The 104-98 win gave Miami coach Erik Spoelstra a few more things to be thankful for on Thanksgiving.

"I don't even care about the result right now," Spoelstra said. "It's all about behavior and habits. Guys really brought a purity to the work, a focus, a discipline the past two days."

The Heat (8-9) were anything but hot in a 25-point home loss to Indiana on Sunday, but they bounced back convincingly three days later against the league's top team.

After the Celtics slashed Miami's 14-point fourth-quarter lead to one with 3:14 remaining, Waiters hit two consecutive shots from long range to help end the Heat's eight-game losing streak to Boston.

"Those guys didn't win 16 games for nothing," Waiters said of the Celtics. "It was a battle."

The Heat are looking to turn the tables on a Minnesota team that beat them 125-122 in overtime on Oct. 30 at AmericanAirlines Arena behind point guard Jeff Teague's 23 points. Miami was without center Hassan Whiteside, who sat out the loss with a bruised left knee but will be in the lineup on Friday.

Miami has won 15 of 28 all-time meetings between the two clubs at Target Center, including the past two, and 32 of 54 overall contests.

One could hardly fault Minnesota coach Tom Thibodeau if he spent his Black Friday shopping for a closeout of the fourth quarter variety. While his team managed to hang on for a 124-118 win over Orlando on Wednesday, the Magic outscored the Timberwolves 38-18 in the final quarter to close the gap to four with two seconds remaining before losing their sixth straight game.

"I was concerned because I saw they brought their starters back to start the fourth," Thibodeau said after the game. "So matching up with the starters was a concern. The way they shoot the 3, I knew that the lead wasn't safe."

Minnesota (11-7) led 106-80 after three quarters after outscoring the Magic 41-18 in the third, but the Timberwolves missed their next 14 field-goal attempts en route to being outscored by double digits in the final quarter for the second straight home game. The first instance led to a 100-97 loss to the Detroit Pistons after Minnesota entered the fourth with a nine-point lead.

For the season, opponents are outscoring Minnesota by 4.3 points in the fourth quarter overall. and the Timberwolves are 28th in the NBA in fourth-quarter scoring. By contrast, Minnesota is sixth in the league in both third-quarter scoring (27.3) and field-goal percentage (47.6) while Miami is 30th (20.6 points and 38.3 percent shooting) in each category.

"We got to play like we're down 20 instead of playing like we're up 20," said Minnesota center Taj Gibson, who scored a season-high 24 points on Wednesday night. "When you try to guard the lead, things tend to happen. When you're playing like you've got nothing to lose and you're down, you keep playing and running fast, running to offense, trying to get your points, trying to just get things done. When you're trying to be safe with the lead, you never know. You're turning down shots, you're not being aggressive."


---
---