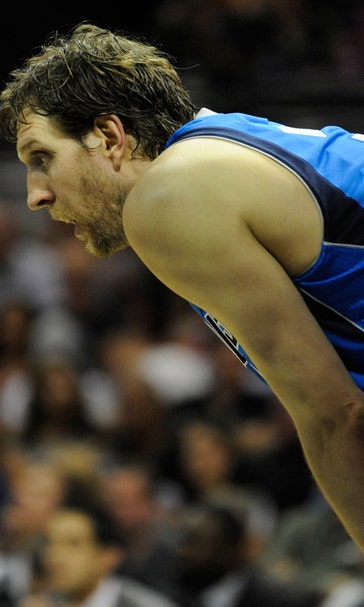 Mavs have no answers in blowout loss to Spurs
BY foxsports • May 4, 2014
SAN ANTONIO -- It took seven games, but this series finally resembled the one so many of us had predicted. After taking the Spurs to the brink in a mesmerizing first-round matchup, the Dallas Mavericks went quietly into the night in a 119-96 loss in Game 7.
Spurs point guard Tony Parker, who struggled early in this series, scored 14 of his series-high 32 points in the first quarter. That the Mavs were within 12 points at the end of that period seemed like an accomplishment. The Spurs threatened to make it a 30-point deficit in the second quarter, and the Mavs never got closer than 14 points the rest of the game.
It was reminiscent of what Dallas did to the Los Angeles Lakers in the Mother's Day Massacre of 2011 that sealed a sweep at the AAC. It's hard to know what led Mavs coach Rick Carlisle to have Jose Calderon defend Parker for much of the first quarter. And it didn't help that Monta Ellis had to leave the game early with two quick fouls. Ellis, the Mavs' best player in this series, never found any sort of rhythm. He finished with 12 points on 3-of-11 shooting.
It got so bad in the first half that Rick Carlisle nearly used his full allotment of timeouts for the entire game. He left himself two for the second half. My most enduring image of this game will be of Carlisle power-walking onto the court while calling timeouts. He was so desperate that he sent rookie point guard Shane Larkin into the game for the first time in the series. The Mavs had fallen behind early in other games in this series, but this time they couldn't gain any traction.
"Today we just got hit by a tidal wave early," Carlisle said. "They had their best game today. We weren't able to do quite enough to stay in it early. They are the best of the best and they have been great for a long time."
The Spurs were so dominant on offense that they had to miss nine shots in the fourth quarter to end up at 56.8 percent for the game. They shot 68.4 percent (26-of-38) in the first half while playing suffocating defense. There were several possessions where the Mavs were pressured so heavily on the perimeter they couldn't run a play. Dirk Nowitzki led the Mavs with 17 points in the first half, but nothing came easy.
Dallas made it mildly interesting by trimming the Spurs' lead to 14 points in the third quarter, but Kawhi Leonard responded with a 3-pointer that put the AT&T Center crowd at ease. If this type of Spurs team shows up on a regular basis, it can certainly win another title.
"Whenever you win, you're thrilled," said Popovich. "But I thought our best game was tonight. That worked out for us."
I'm not sure any team in the league could've hung with the Spurs on Sunday. But the Mavs can take a measure of pride in having made this a tough series. I was a bit surprised to hear Carlisle answer a question about the future of this team. It almost sounded like a cry for help.
"The one thing we'd like to do is get some more continuity," Carlisle said. "The more continuity we could have, the better off we would be."
He mentioned Shawn Marion, Vince Carter and Devin Harris before realizing he hadn't mentioned another key free agent, Nowitzki. In his 30 years of playing and coaching in the NBA, Carlisle said he's never been around a player who carries a "bigger load" for a franchise than Nowitzki.
"We got to get him back," said Carlisle.
That shouldn't be a problem since Nowitzki has always indicated he and Cuban will be able to reach an agreement. What the Mavs' star doesn't want is to break in a bunch of new players. Ellis did a great job of sharing the scoring load with Nowitzki this season. The so-called "big fish" strategy hasn't worked for the Mavs, so it's time to focus on adding the right pieces around Nowitzki and Ellis. It's unlikely Marion will be part of that supporting cast, although Carlisle said he wanted everyone back.
This team came within one game of beating arguably the best team in the NBA in a best-of-seven game series. The trick will be figuring out exactly what that means.
"The year we won, that's the standard now," said Nowitzki. "We want to get back up there."
For large stretches of this series, the Mavs played up to that standard. In time, that will mean something to them. But in the aftermath of Sunday's drubbing, it was hard to focus on the positives.
---
---