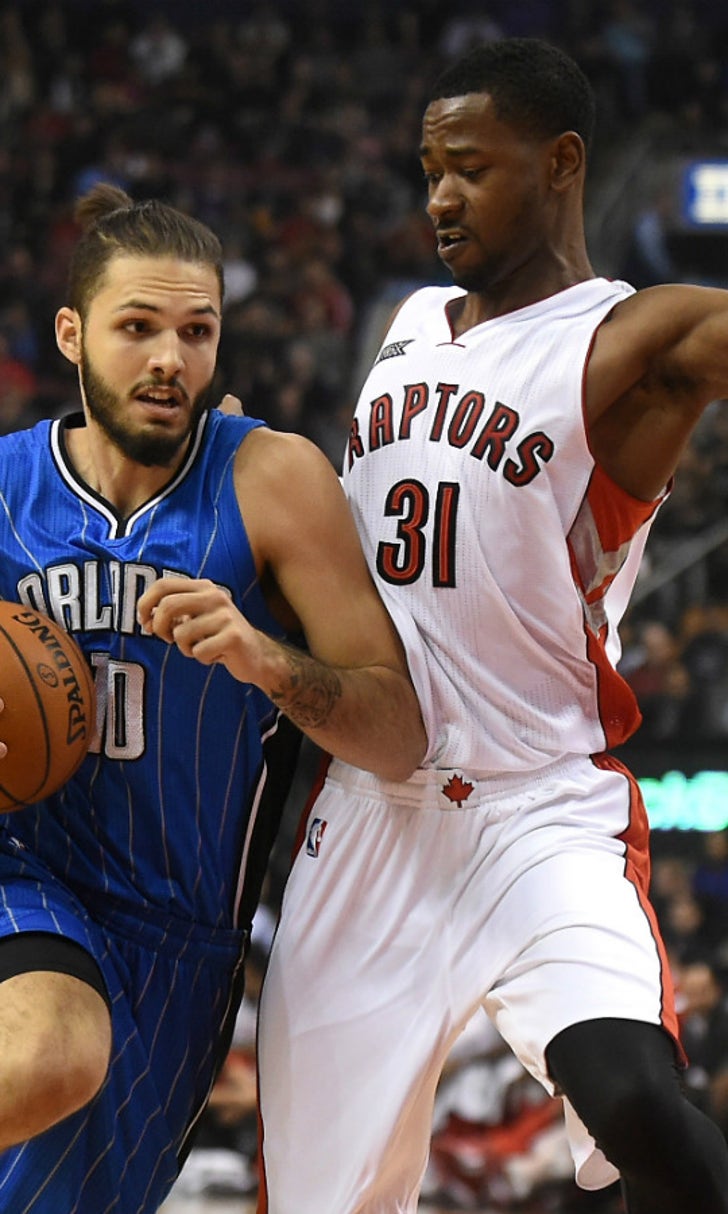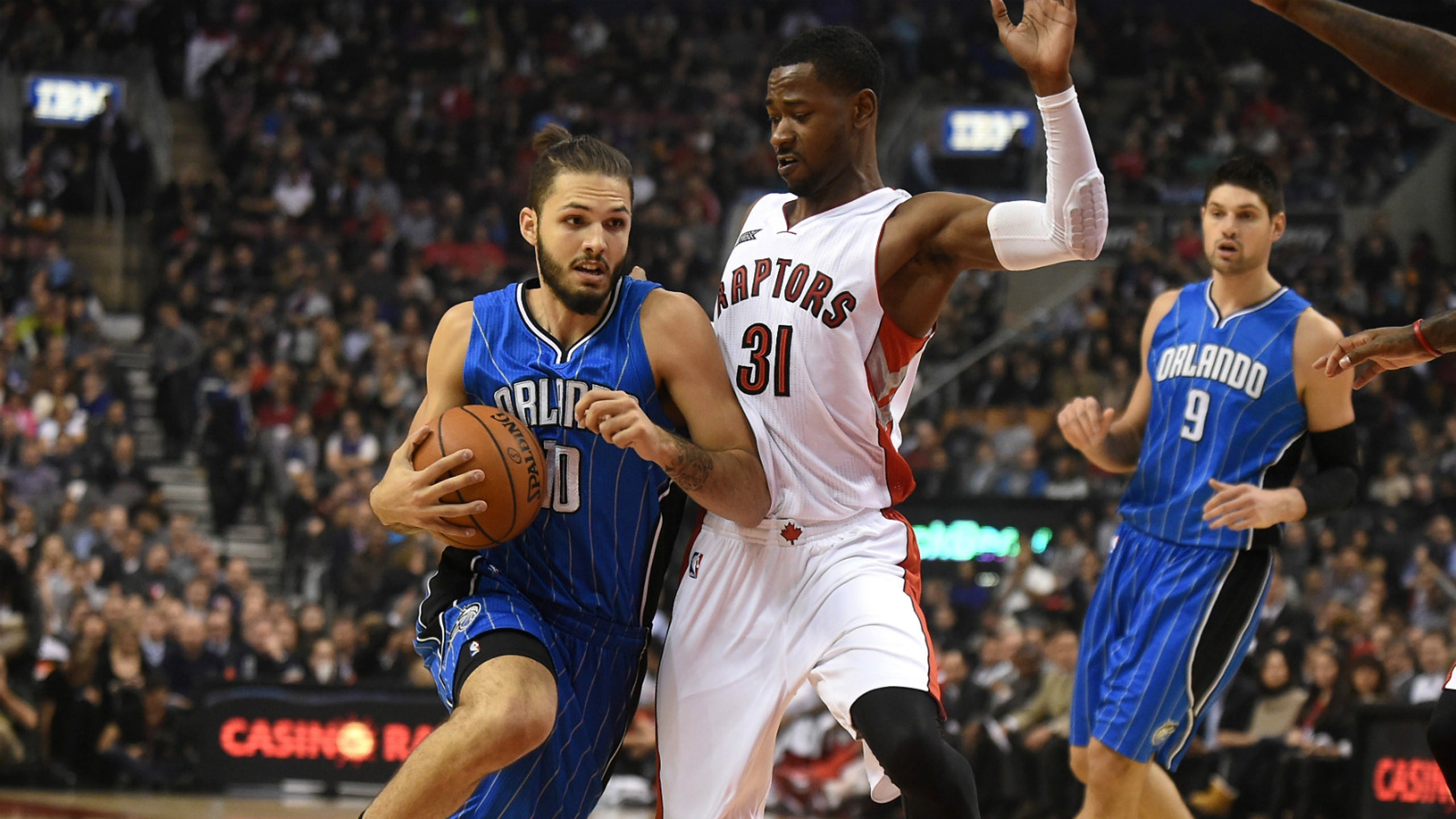 Magic commit 19 turnovers in double-digit road loss to Raptors
BY foxsports • December 15, 2014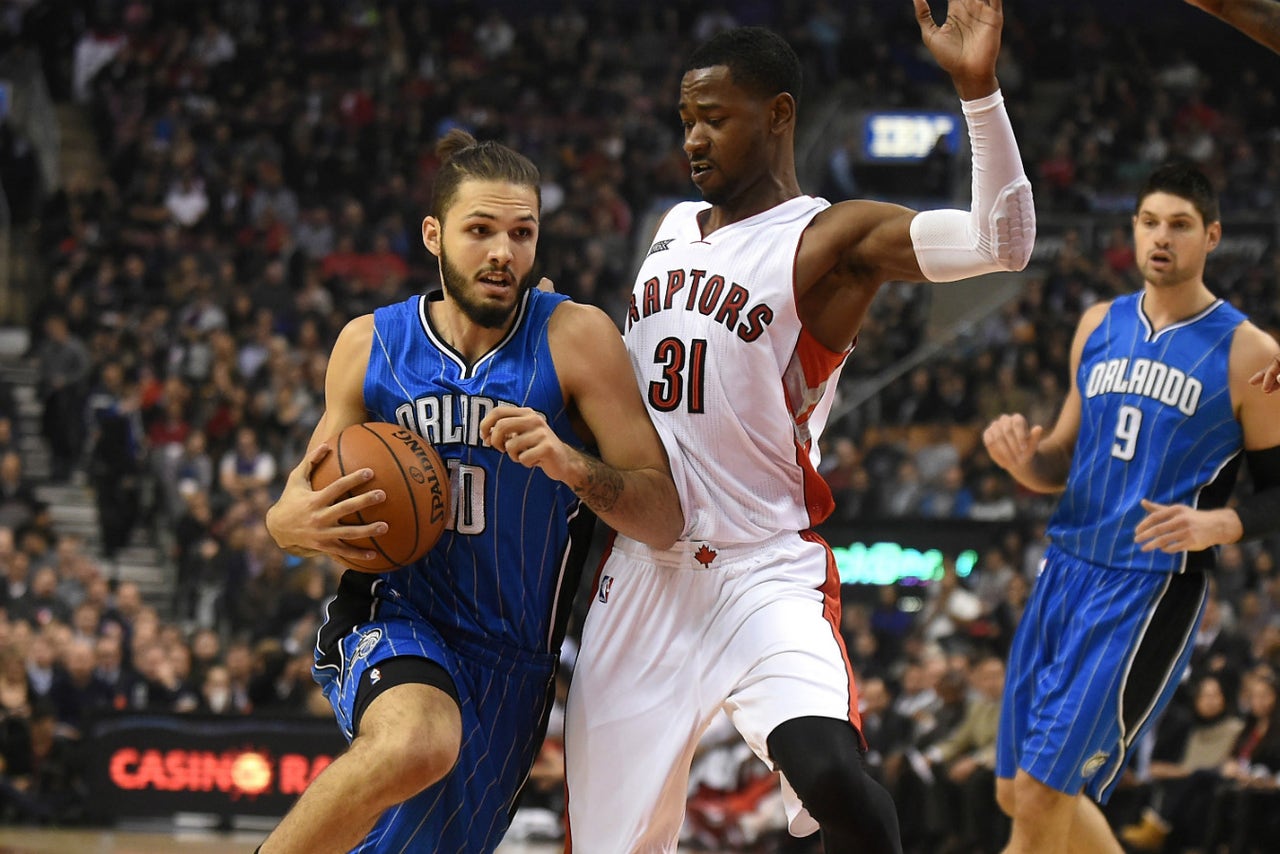 TORONTO (AP) -- The Toronto Raptors followed up a second quarter to forget with a second half to remember.
Lou Williams scored 18 points, Kyle Lowry had 17 and the Raptors won their 10th straight game over the Orlando Magic, 95-82 Monday night.
Lowry opened the second half with five straight points to turn the game in Toronto's favor as the Raptors boosted their Eastern Conference-leading record to 19-6 and won their third straight overall. It's Toronto' longest streak since a six-game run from Nov. 15 to 26.
"He set the tone in the first five minutes of the third quarter," coach Dwane Casey said of Lowry. "That's what you have to do if you're serious about winning and that's what he did."
Amir Johnson scored 11 points and Patrick Patterson had 10 for the Raptors, who improved to 11-1 this season against opponents with losing records. This was Toronto's third of six straight games against teams below .500.
Toronto was outscored 27-16 in the second quarter and trailed by eight at halftime, 52-44.
Casey, whose team pulled out an overtime win in New York the night before, said he "did most of the talking at halftime," letting the players know that despite a late, long trip home and tired legs, the game was still theirs to win.
"We had every excuse in the world," Casey said. "But the second half we found our voice, we found our energy, our spirit."
They sure did. Toronto held Orlando to 30 total points in the second half.
"Boy, they made it tough on us," Magic coach Jacque Vaughn said. "You're not going to win too many games that way unless they score 29."
Instead, Toronto scored 51, led by 11 from Lowry.
"We just came out more aggressive and played our game," Lowry said. "We knew we let a lead get away in the first half."
Tobias Harris scored 18 points, Ben Gordon had 16, Nikola Vucevic had 13 and Victor Oladipo 12 for the Magic, who have not won in Toronto since March. 26, 2012.
"That team, they looked hungry," Gordon said of Toronto's second-half surge. "It's like they smelled blood or something."
Orlando trailed 71-65 to start the fourth but used a 7-0 run, including 3-pointers by Evan Fournier and Channing Frye, to make it 74-72 at 9:28.
James Johnson and Patterson each scored four points as the Raptors answered with a 12-0 run, opening an 86-72 lead with 6:00 remaining. Toronto maintained its double-digit lead the rest of the way.
Toronto led 24-14 after a jumper by Lowry at 3:38 of the first, but the Magic cut the deficit to 28-25 after one.
Harris tied it 42-all on a pair of free throws at 5:01 of the second, then capped a personal 8-0 run with a jumper at 3:55, putting Orlando up 44-42. Harris and Gordon each scored eight points in the second and Toronto didn't make a field goal after Tyler Hansbrough's hook shot at 6:52 as the Magic took a 52-44 lead at halftime.
SHOT DOWN
Orlando has posted a better shooting percentage than Toronto in all three meetings this season, but has yet to beat the Raptors.
SHARING THE BALL
The Raptors finished with 25 assists, the sixth straight game they've had 20 or more. Patterson's six assists were a career-best. Toronto had 12 more assists than turnovers, their best differential of the season.
SEE YOU LATER
After playing three times already, the teams won't meet again until April 10 in Orlando.
TIP-INS
Magic: Twelve of Orlando's 19 turnovers came in the second half. ... Fournier had to be helped to the locker room with a towel over his mouth after he was accidentally elbowed by Hansbrough in the second quarter. Fournier needed stitches to close a cut on his lip but returned midway through the third. He finished with 11 points. ... Orlando extended its streak of games with at least one 3-pointer to 601. The streak began on March. 17, 2007.
Raptors: Toronto had more 3-pointers (11) than made free throws (10). ... This was the second of Toronto's sixth pair of back-to-back games this season. They're 4-2 in those games. ... The Raptors are 11-0 when holding their opponent below 100 points. ... Toronto is 12-3 at home.
UP NEXT
Magic: At Celtics on Wednesday.
Raptors: Host Nets on Wednesday.
---
---