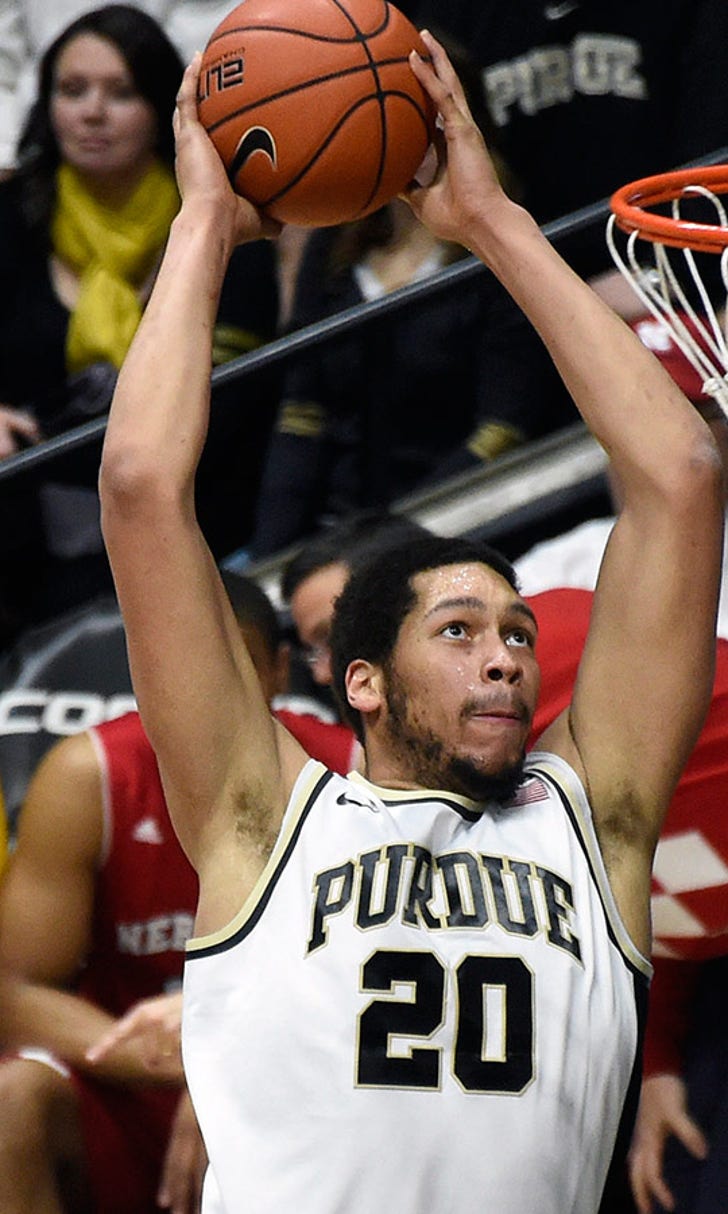 Hammons' best-ever 32 points spark Purdue past Nebraska 89-74
BY foxsports • January 30, 2016
WEST LAFAYETTE, Ind. -- When A.J. Hammons plays the way he did Saturday, No. 21 Purdue has an opportunity to beat most of college basketball's elite.
Hammons scored a career-best 32 points, grabbed 11 rebounds, had five assists and blocked four shots, leading the Boilermakers to an 89-74 victory over Nebraska.
Check out our gallery of NCAA hoops cheerleaders.
Rapheal Davis had 17 points and six rebounds, and Isaac Haas scored 13 points for Purdue (19-4, 7-3 Big Ten). Caleb Swanigan contributed six points, 12 rebounds and five assists for the Boilermakers, who improved to 5-0 against Nebraska (12-10, 4-5) in Mackey Arena.
"I just had a lot of energy at the beginning," said Hammons, who made 14 of 17 field-goal attempts and 4 of 4 free throws. "Coach said to just make sure you're locked in, so I have been trying to get locked in all day. I made sure I kept attacking the rim, and they got early fouls, so I tried to keep going."
Hammons and his teammates never stopped, shooting 58.9 percent from the field (33 of 56), including 7 of 12 from 3-point range (58.3 percent). Davis was 4 of 5 from beyond the arc, scoring 16 of his 17 during the final 20 minutes.
Andrew White III had 18 points, Tai Webster scored 17 and Shavon Shields added 16 for the Cornhuskers, who had no answer for 7-footers Hammons and Haas.
"They got 45 points from their two bigs and 21 on 3-pointers," Nebraska coach Tim Miles said. "I thought Rapheal Davis' four 3-pointers were more of a dagger than A.J.'s dunks. We knew he would get some of those. He is a physical presence, and we don't have that right now."
Hammons, who had 16 points and eight rebounds in Wednesday's win at Minnesota, surpassed his previous best of 30, notched in a loss to Indiana on Jan. 30, 2013. He scored the Boilermakers' first eight points in the second half.
"For A.J., it's all about posting up strong and making good decisions," Purdue coach Matt Painter said. "He posted hard all day, and you can do that when you have that kind of talent. Another key was that Rapheal got into a rhythm and knocked down those four 3s."
Purdue got a 3-pointer from Davis and a baseline jumper from Swanigan to increase its lead to 76-65 with 6:16 to play. Hammons broke his career high with a dunk with 4:28 remaining.
Davis' 3-pointer gave Purdue a 61-51 lead with 12:34 remaining, but back-to-back baskets from Shields and Glynn Watson Jr. trimmed Nebraska's deficit to 61-55 with 11:49 to play.
A 3-pointer by Watson with 12:52 to go capped an 8-0 Nebraska run and sliced Purdue's lead to 58-51, prompting a Boilermaker timeout.
While Nebraska enjoyed a 22-11 advantage in points as the result of turnovers, Purdue outrebounded the Cornhuskers, 38-22. The Boilermakers have outrebounded each of their first 23 opponents.
Purdue scored the final five points in the first half -- a Ryan Cline 3-pointer and a dunk at the buzzer by Hammons following an offensive rebound -- for a 44-35 lead.
The Boilermakers shot 51.7 percent (15 of 29) during the first half. Nebraska shot 43.3 percent (13 of 30).
TIP-INS
Nebraska: The Cornhuskers entered Saturday's game having won three consecutive Big Ten road games. A Nebraska basketball team has not won four consecutive league road games since the 1975-76 season. ... The Cornhuskers were playing their first game since an 81-68 loss to Michigan on Jan. 23 in Lincoln, Nebraska. ... Nebraska ranks second in the Big Ten in steals, averaging 7.2 per game.
Purdue: The Boilermakers honored their "Three-Peat" Big Ten championship teams from 1994, '95 and '96, all coached by Gene Keady. ... Before playing Nebraska, Purdue had won 19 of 20 home games, losing only to No. 3 Iowa on Jan. 2. ... The Boilermakers lead the country in rebounding margin at plus-12.1 and outrebounded each of their first 22 opponents. ... Purdue's non-starters outscored the opposing team's bench in 21 of the first 22 games.
SHARING THE WEALTH
Painter said Saturday was Purdue's best passing game this season. The Boilermakers had 27 assists on their 33 field goals. P.J. Thompson had seven, Vince Edwards had six and Hammons and Swanigan each added five.
M*A*S*H UNIT
Swanigan, who missed Purdue's 68-64 victory on Wednesday with a sprained right ankle, practiced Friday. It was decided Saturday morning that he would play. He said after the game that he is about 90 percent. The Boilermakers played without Kendall Stephens, who has missed three consecutive games after the death of a high school friend. Stephens and Painter are scheduled to meet Monday to determine when Stephens (7.2 points a game) might return.
UP NEXT
Nebraska: Hosts No. 7 Maryland on Wednesday night.
Purdue: Plays at No. 7 Maryland on Saturday.
---
---