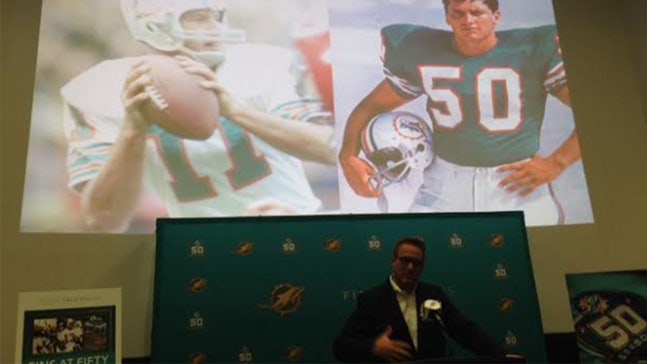 Dolphins to don 1966 throwbacks in anniversary season
Published
May. 9, 2015 6:00 p.m. ET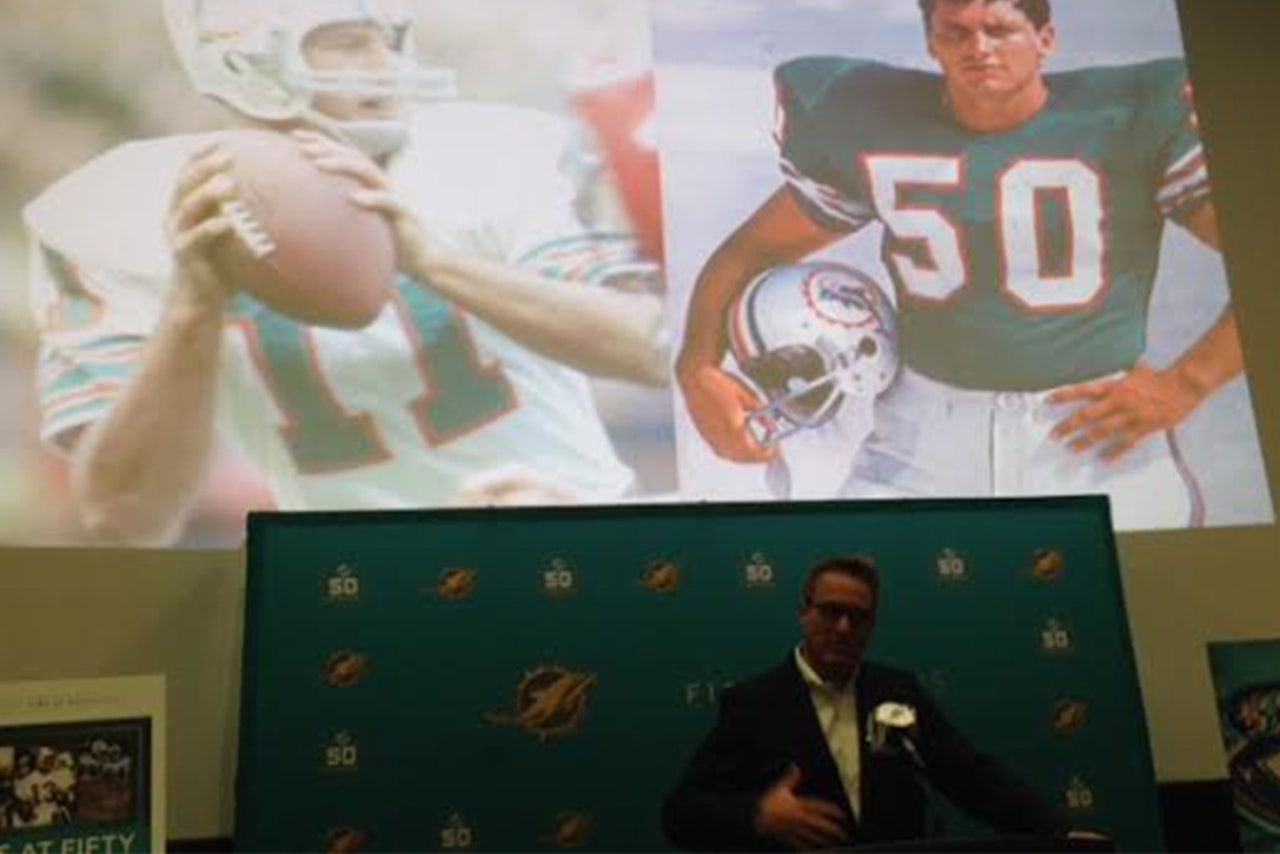 DAVIE, Fla. -- The Miami Dolphins will turn back the clock this upcoming season as the organization celebrates its 50th anniversary season in a variety of different ways.
With former players Sam Madison, Nat Moore, Bob Griese, Jeff Cross and Hall of Fame head coach Don Shula in attendance, the team unveiled its plans to honor the organization's past, present and future at Doctors Hospital Training Facility on Saturday afternoon
As part of the celebration, Dolphins fans, media and alumni will be able to vote for the top 50 players in team history. Voting is scheduled to begin in July and the team plans to release a video anthology of the organization's history in order to catch Miami's younger fans up to speed.
"We're going to try and do everything we can through our media content to educate and make sure the fans have a better understanding of the rich, traditional history of the Miami Dolphins," said Moore, who serves as Miami's senior vice president of special projects and alumni relations.
The Dolphins will also be releasing a commemorative coffee table book called "Fins at Fifty." The book will feature a foreword by Shula and contain colorful illustrations, unique photos and historical artifacts from the team's archives, including Dan Marino's rookie contract.
The book will be published shortly after the conclusion of the 2015 season.
"It will be a one-of-a-kind publication that only the Dolphins can produce," Moore said.
In addition to alternating between two commemorative patches -- one white and one teal -- the Dolphins will also dust off their classic 1966 uniforms to wear Dec. 14 in their Monday Night Football matchup with the New York Giants.
The Dolphins will choose between two variations of the original uniform to wear as their alternate and plan to announce the the winning jersey in July.
"Some people would ask, why would you announce this now and not the first game of the year to kick off the season?" Dolphins President and CEO Tom Garfinkel said. "And that's because really the season kicked off this week. When you see DeVante Parker out there catching passes, the other rookies are out there catching passes, the coaches are coaching up players, that means the season has begun. The 50th season has begun. So we wanted to kick that off by celebrating our 50 seasons and making some announcements today."
You can follow Jameson Olive on Twitter @JamesonCoop or email him at JamesonOlive@gmail.com.
---
---