With Rob Gronkowski gone, Bill Belichick and the Patriots found a new key to their offense
BY Nate Scott • January 18, 2017
When Rob Gronkowski went down with yet another back injury earlier this season, electing to have surgery and work to come back for next year, the Patriots had a problem.

With the exception of Tom Brady, Gronkowski was their best offensive player. A monster in the red zone, skilled pass catcher and effective run blocker, Gronkowski was a nightmare for opponents to match up against. He also had the characteristic that Patriots coach Bill Belichick values above almost anything else -- versatility. With just one player on the field, Belichick and offensive coordinator Josh McDaniels had someone who could block for a run or stretch the field as a deep threat, all in one massive body.

To replace him and keep the offense moving, the Patriots needed to find someone equally as dynamic and versatile. They didn't have another 6-foot-6 wrecking ball who could catch, though. No one did. There's only been one Rob Gronkowski in the history of the NFL.

So they looked a little smaller. A lot smaller. They turned to the smallest guy on their roster.

They turned to Dion Lewis.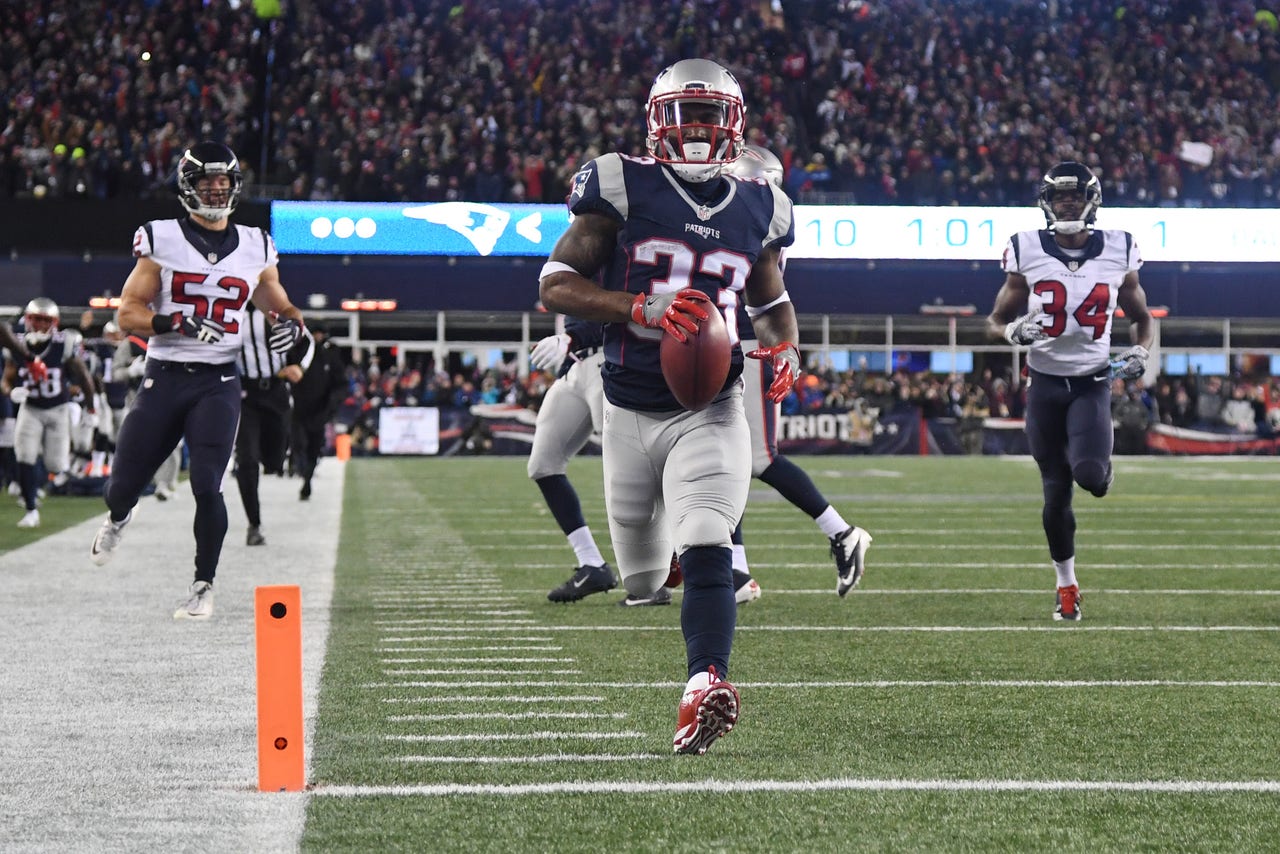 There aren't enough football players on an NFL roster.

Fifty two guys seems like a lot, but when you're trying to build complete offense, defense, and special teams units -- and provide cover for injuries -- it's actually quite difficult to do so.

Belichick, the master of the NFL roster, knows this. This is why he values versatility so much. An NFL player who's great at one thing is good, an NFL player who can do multiple things at a high level is better. This explains Belichick's love of tight ends -- Gronkowski was and remains his favorite Swiss Army knife, because when he's on the field, the Patriots are only limited by their imagination.

If the defense gives Tom Brady a look that suggests a run is going to be successful, Gronkowski can come in on the line and be a devastating run blocker. If the deep ball is open, Gronkowski can split out wide, where hopefully a linebacker will follow him in coverage. Now Brady has a mismatch with an elite receiver. One player, two wildly different looks.




Lewis, the 5-8 burner who is extremely good at catching a football, is similarly versatile, just in a different way. He can't block (much), but he can take a ball out of the backfield, and he can line up out wide as a receiver. Though the two teammates couldn't be much more different in appearance, McDaniels has employed Lewis in a similar way as he did with Gronkowski. He's Brady's mismatch generator. Lewis often lines up in the backfield only for Brady to move him around -- it's his way of seeing what the defense is giving him.

If Brady sees a lumbering linebacker shadowing Lewis, it's over. He'll split Lewis out wide, and now he's got the fastest guy on the field going at a defender who can't possibly keep up with him. If Brady wants to disguise it more, the Patriots will call for the wheel route out of the backfield, a route that's effective by my very unofficial count about 95% of the time. (I got a recent text message during a Patriots game: Has the Dion Lewis wheel route ever failed? Like even once?)

With Lewis moving around in the backfield, the defense is left with a bunch of terrible options. They can load up for the pass with a bunch of DBs, and be vulnerable to the run. They can switch a DB onto Lewis, but by doing so could give a favorable matchup to one of the Patriots receivers, which isn't a great tactic when going against Tom Brady. Or they can try and have a linebacker cover Lewis, in which case, good luck.

All of this isn't to mention Lewis' ability on special teams, which, yeah.

https://twitter.com/NFL/status/821439488069079040

It's hard to explain the success of the Patriots over the last 15 years with any one thing, but adaptability and versatility are way up there. They pride themselves on putting players on the field who can do lots of things well, who Tom Brady can employ to create mismatches and make the defense uncomfortable. When Rob Gronkowski went down, they needed to find someone else who could make that happen. Lewis was their answer.
---
---