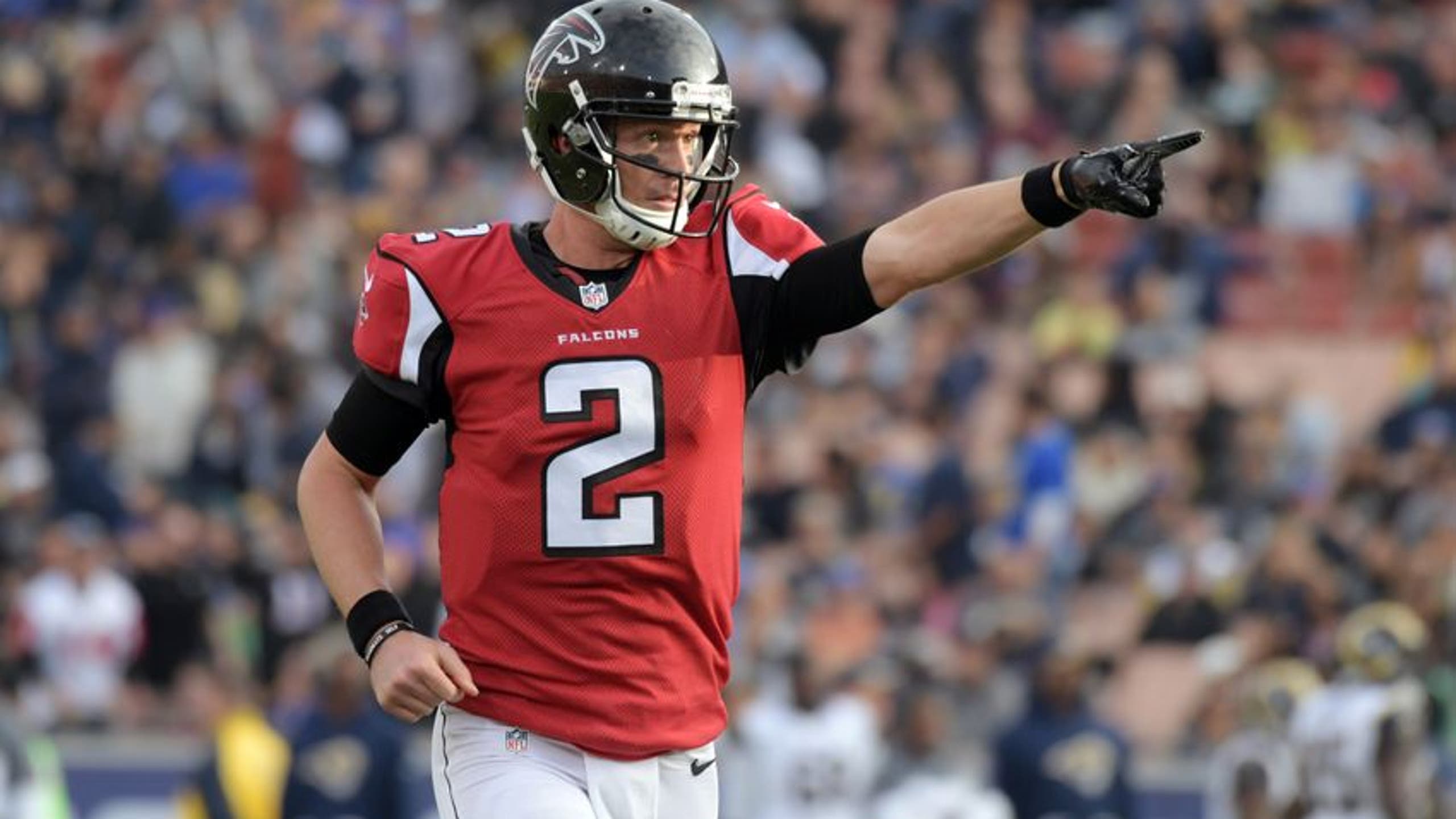 Why Matt Ryan is the NFL's Most Valuable Player in 2016
BY Fansided and Eric Robinson/FanSided via Blogging Dirty • December 27, 2016
Nov 3, 2016; Tampa, FL, USA; Atlanta Falcons quarterback Matt Ryan (2) against the Tampa Bay Buccaneers during the first half at Raymond James Stadium. Mandatory Credit: Kim Klement-USA TODAY Sports
There is no clear-cut favorite for league MVP with one week remaining in the 2016 regular season. Atlanta Falcons' quarterback Matt Ryan should be that favorite.
Matt Ryan isn't the 2016 NFL MVP favorite he should be. Some side with Patriots quarterback Tom Brady while others toss Raiders quarterback Derek Carr in the equation. Of course, it's tough to avoid the possibility of Cowboys running back Ezekiel Elliott running away with the award. Cowboys quarterback Dak Prescott has also made a distinct case.
The pool of worthy candidates is deep; however, Matt Ryan has built the more respectable argument. A body of work that, much like the Falcons' season, has gone very unnoticed in 2016. Ryan definitely deserves to be in more NFL MVP conversations.
Ryan has accumulated top individual and team metrics.
The numbers Matt Ryan has posted this season have been historic to say the least. Not only has the nine-year veteran made history for himself, but he has also guided the Falcons offense to historic plateaus as well.
Here is a rundown of the work Ryan has produced this season:
Again, that's just the tip of the iceberg. Here is what the Falcons offense has produced under Ryan's guidance this season:
Ryan's offense has scored a lot of point against better defenses.
The Falcons have faced four of the current top ten overall defenses this year and composed favorable results against each. Atlanta averaged 31.7 points per game in contests against Denver, Seattle, Arizona, and Los Angeles. Ryan himself tossed nine touchdowns with only two interceptions in those games. He also averaged 284.2 passing yards per game.
Dec 18, 2016; Atlanta, GA, USA; Atlanta Falcons quarterback Matt Ryan (2) passes against the San Francisco 49ers during the second half at the Georgia Dome. The Falcons defeated the 49ers 41-13. Mandatory Credit: Dale Zanine-USA TODAY Sports
Simply put, Matt Ryan has played lights out this season. The Falcons offense as a whole has been a machine. Regardless of the amount of skill position weapons in Atlanta, Ryan remains the engine.
If you've studied the history of the NFL MVP award, the team's overall record has a great deal in the ultimate winner. It makes sense. Awarding a quarterback with great numbers while his team is playoff-less just wouldn't seem right. So where does Atlanta fit into this equation? The Falcons enter the playoffs with no more than six losses, but their offensive has been incredible.
The Falcons offense compares to one of the best in NFL history.
The Atlanta Falcons are a mere 24 points away from equaling the total points scored by the 1999 St. Louis Rams. You remember, "The Greatest Show On Turf". The team led by Hall-of-Famers Kurt Warner and Marshall Faulk. Yeah, that one.
The 2016 Falcons have put up similar numbers as an offense that is considered one of the greatest of all time. That ol' Rams offense topped 40 points three times in 1999. The Falcons have already posted 40 points on five different occasions in 2016. Warner's Rams also topped 400 total yards nine times back then. Atlanta has seven 400-yard games to this juncture.
More from Blogging Dirty
Ryan still may not win.
I should flat out say, despite all the above, there is a possibility that Matt Ryan will not be the league MVP.
There are factors in play that can see the MVP awarded elsewhere. Ryan does have more losses on the year when compared to Brady and Carr. He's also sharing the stage with two Dallas Cowboys, their national brand, and massive fan base. Whether he does win the award or not, I will say this, Matt Ryan has been MVP-worthy.
The Atlanta Falcons may be experiencing something special this season. None of it would be possible with their special quarterback.
---
---