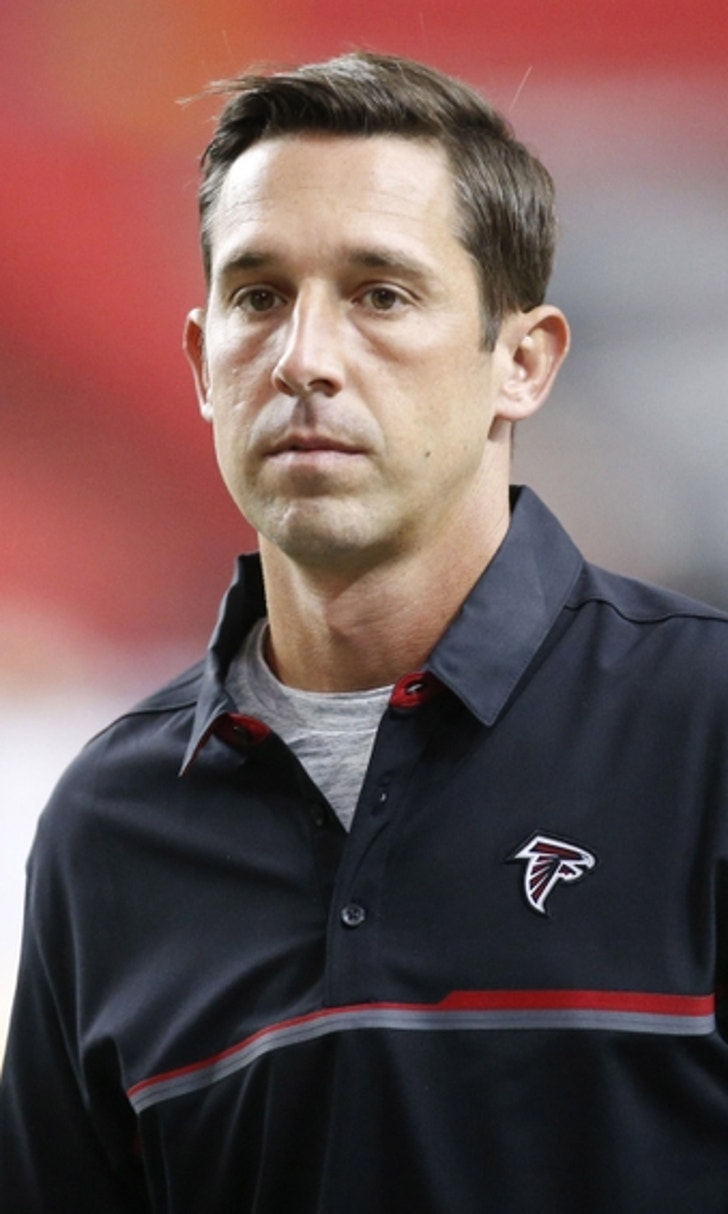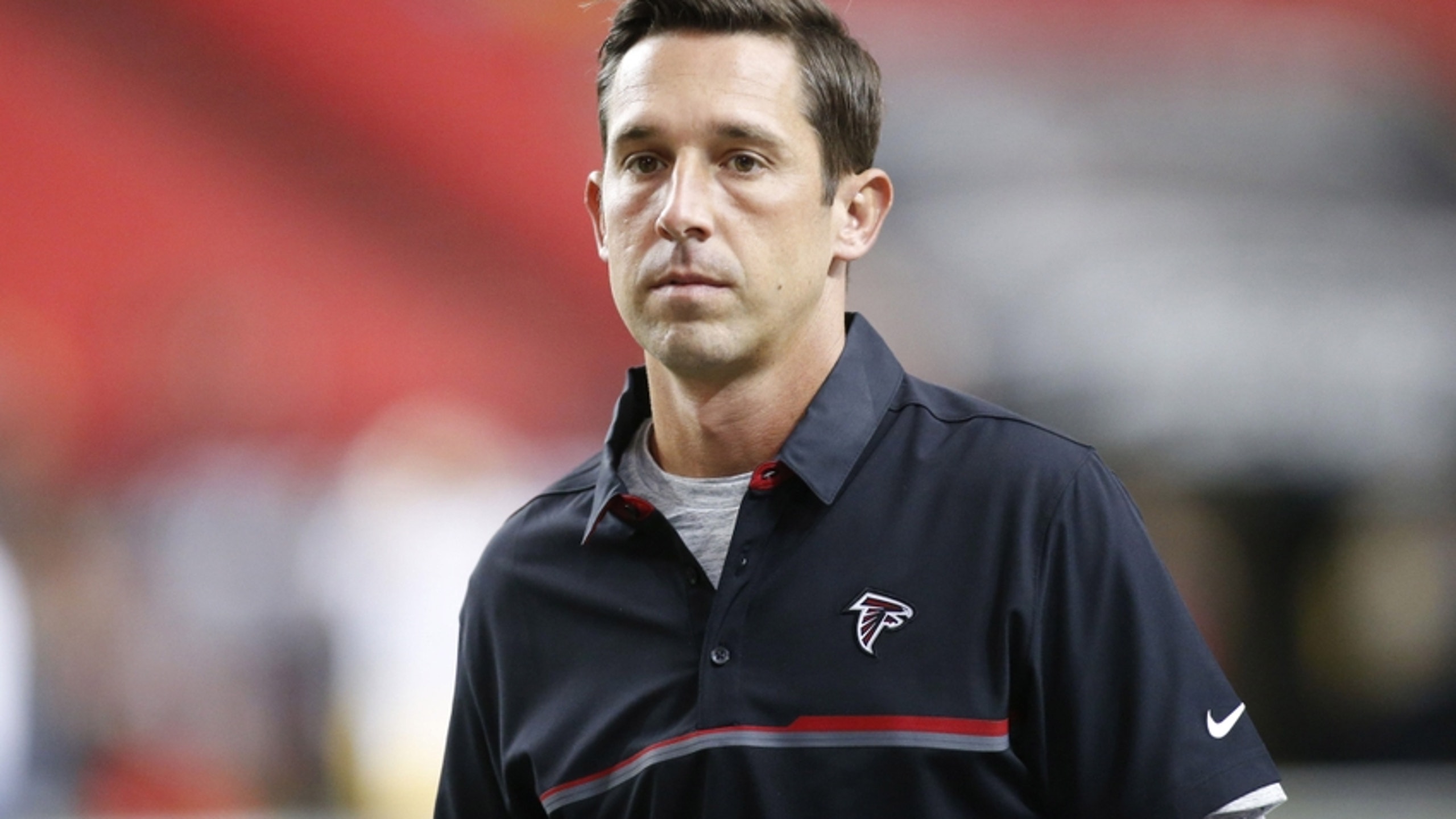 Why Kyle Shanahan Is The Best 2017 Head Coaching Candidate
BY Fansided and Erik Lambert/FanSided via NFL Mocks • December 30, 2016
Aug 11, 2016; Atlanta, GA, USA; Atlanta Falcons offensive coordinator Kyle Shanahan before a game against the Washington Redskins at the Georgia Dome. Mandatory Credit: Brett Davis-USA TODAY Sports
Look around the NFL and the big names being mentioned for head coaching jobs are all guys who have done it before. Where is the Kyle Shanahan love?
No, seriously. The talk over the past couple weeks involving three new head positions that just opened in Jacksonville, L.A. and Buffalo have connected well-known names to them. It's Josh McDaniels to this job, Tom Coughlin to this job and Jon Gruden to that job. Even Jim Harbaugh, who has repeatedly insisted he's not leaving Michigan was a hot rumor to make his return. All of these men have the same thing in common. They done the head coach thing before.
People tend to like what's familiar in life and experienced coaches are no different. Even ones who didn't have success the first time around like McDaniels. First-time candidates are unknowns, and that's scary. Even if the unknown is clearly qualified like Shanahan. Bleacher Report quote an NFC general manager on his impressions of the offensive coordinator and his viability as a head coach.
"I was concerned about him after the situation in Cleveland, but he fixed all those concerns, and he has picked up offensively where his dad left off. He's a great play-caller. I didn't think Matt Ryan was going to work in that offense, but he proved me wrong."
For context back in 2014 Shanahan was the OC for the Cleveland Browns. He only last one year however due to a heated disagreement to the front office, who demanded he start quarterback Johnny Manziel. How things have transpired for Manziel since then has vindicated Shanahan for that stand. Two years onward and he's enjoying the glory of leading the Atlanta Falcons back to the playoffs after four years.
So what exactly makes him the best head coaching candidate going into 2017? There are a number of reasons actually.
Jul 29, 2016; Flowery Branch, GA, USA; Atlanta Falcons offensive coordinator Kyle Shanahan reacts during training camp at the Atlanta Falcons Training Facility. Mandatory Credit: Dale Zanine-USA TODAY Sports
Age
The dream of any team is that they're able to land a head coach who is not only gifted for the job but is also quite young. This means not just good coaching, but good coaching for perhaps the next 20 years. Similar to what Don Shula and Tom Landry accomplished. Shanahan would certainly fit that bill. He's already got a wealth of experience as an assistant coach and coordinator, having entered the league back in 2004. What many don't know is he was only 25-years old at the time.
Now he is 37, having been a coordinator for eight years. People need to understand that this is not normal. Young coaches often don't have this much experience until they're in their early 40s. This means the man has to be a little more gifted at his job than normal coaches. Whether he can be a leader and hold players accountable? That's always the big question. Still, if he has the capacity and a team hires him, they could be set for decades to come.
Dec 24, 2016; Charlotte, NC, USA; Atlanta Falcons quarterback Matt Ryan (2) changes the play during the third quarter against the Carolina Panthers at Bank of America Stadium. The Falcons defeated the Panthers 33-16. Mandatory Credit: Jeremy Brevard-USA TODAY Sports
Success
There is no greater argument for a candidacy than success at the job given. Shanahan was a hit from the moment he became an offensive coordinator. Under his watch Matt Schaub became a two-time Pro Bowl quarterback in Houston while the Texans won their only two playoff games in franchise history. He turned Robert Griffin III into Rookie of the Year and a Pro Bowler in 2012 during his four-season stint in Washington. Now he's transformed Matt Ryan into an MVP candidate for Atlanta.
Of the nine seasons that Shanahan has been a coordinator, his offense ranked in the top 10 for yards gained six times. Three times it ranked in the top 10 for points scored. That is some pretty solid work in such a short span of time. The sign of any good coach is that he's able to sustain success over a long period of time, not just for two or three seasons clustered together. Shanahan has done it with three different teams now. That's impressive.
Nov 1, 2015; Denver, CO, USA; Denver Broncos former head coach Mike Shanahan before the game against the Green Bay Packers at Sports Authority Field at Mile High. Mandatory Credit: Ron Chenoy-USA TODAY Sports
Bloodlines
Like any other major sport, the NFL is a family-based business. In other words it can often be made up of generational successes. Fathers are succeeded by their sons. Clay Matthews Sr. was a Pro Bowl linebacker in Cleveland. Now Clay Matthews Jr. is a Pro Bowl linebacker in Green Bay. There is a lot to be said for having the bloodlines of NFL success coursing through ones' veins and Kyle Shanahan is a shining example of that.
He is the son of Mike Shanahan. For those who don't know their history, the man was one of the best coaches during the 1990s. He won a Super Bowl as an offensive coordinator in Green Bay, getting that monkey off the back of Steve Young. Then he took over the Denver Broncos as head coach and helped John Elway win two Super Bowls before ending his Hall of Fame career. Kyle had a front row seat to watch his old man do all of that.
Feb 8, 2016; San Francisco, CA, USA; Denver Broncos coach Gary Kubiak addresses the media flanked by the Lombardi Trophy after 24-20 victory over the Carolina Panthers in Super Bowl 50 during press conference at the Moscone Center. Mandatory Credit: Kirby Lee-USA TODAY Sports
Championship pedigree
The amazing part is Kyle's pedigree goes far beyond his father. Being groomed from childhood by a two-time champion head coach certainly would count as plenty but Shanahan has even more going for him. Some people might not know but he was brought up in the NFL back in 2004 by the Tampa Bay Buccaneers. This was just two years after their head coach, Jon Gruden had won the Super Bowl himself. Two years later he took a position with the Houston Texans.
More from NFL Mocks
They had just been taken over by Gary Kubiak, a former disciple of the elder Shanahan in Denver. Kubiak has since won the Super Bowl upon his return to the Broncos in 2015. So in essence Kyle has been groomed by three different head coaches who won a championship in this league. There isn't another coach in existence who can make that same boast. Often the coaches who are able to win the Super Bowl are the ones who've seen it done up close.
---
---