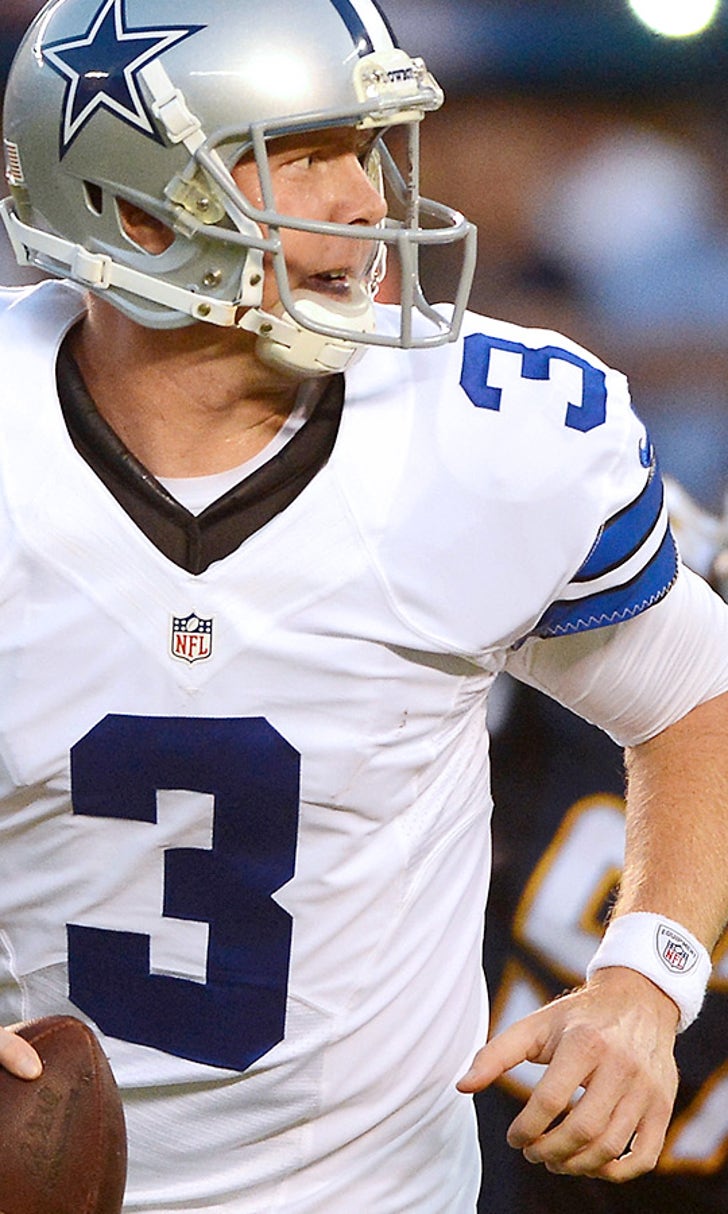 Weeden displays capable QB play, earns confidence in teammates
BY Ross Jones • August 8, 2014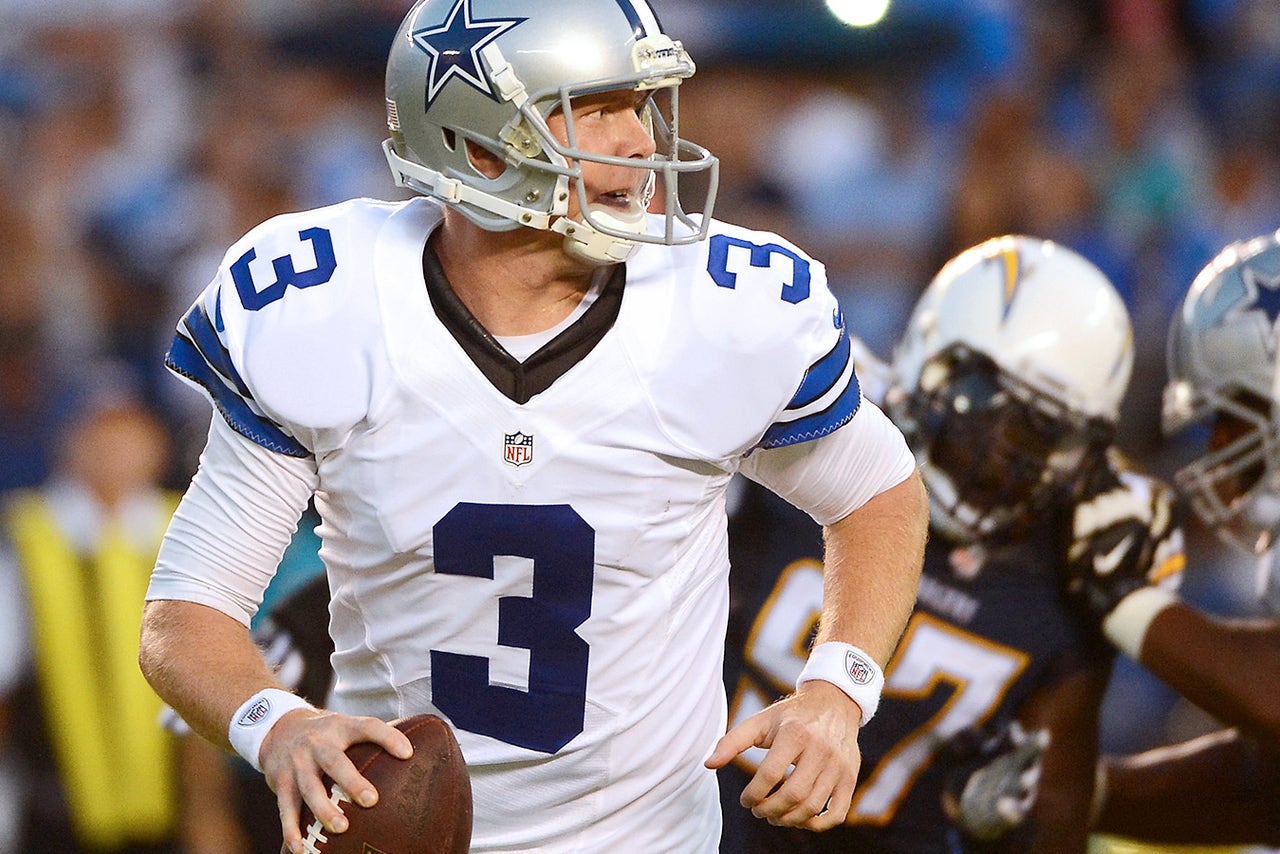 SAN DIEGO – Taking precaution with Tony Romo, the Cowboys got to see their contingency plan at quarterback in action.  
Eight months removed from back surgery to repair a herniated disc, Romo's preseason debut was delayed until Aug. 16 when the Cowboys host the Ravens.  
Quarterback Brandon Weeden piloted Jason Garrett's offense for the entire first half on Thursday night. While the Cowboys ultimately fell to the Chargers 27-7, Weeden's unit showed glimpses of efficiency.
Playing in his first live game since being released by the Browns in March, Weeden wanted to show his worth.
"First impressions are very important, especially at this position, in this league," Weeden said following the game. "It was nice to get out there and start on a clean slate."
In four series against a vanilla-flavored defense, Weeden completed 13 of 17 passes for 107 yards and a touchdown.
With the benefit of a strong ground game, via second-year running back Joseph Randle, Weeden was able to make the most of the play-action passing game.
"The highlight of my night was just being able to get back with Weeden again," Randle told FOXSports.com. "I never thought that we'd play together on the same field. That felt great. It felt like we were back at Oklahoma State just doing our thing."
Randle, who grinded his way to 50 yards on 13 carries, starred with Weeden in Stillwater, Okla. during their college days.  
Entering the Cowboys' second offensive series, Weeden connected with wide receiver Terrance Williams with a 17-yard strike. The completion set the tempo for a scoring drive.
The 30-year-old, third-year quarterback constructed an 11-play, 80-yard drive, which was capped by a 4-yard rollout-to-the-right touchdown completion to tight end James Hanna.
"We are so confident with Brandon," Williams told FOXSports.com. "And I'm not just saying that because he's my teammate. The thing that is great about him is you never know where he's going to go with the ball. It forces us to fight to get open."
Weeden, who was brought in to compete with veteran Kyle Orton for the backup position, has since assumed full-time responsibilities after the team cut ties with the latter in July.
"I saw a confident quarterback who trusts his receivers and our capabilities," Williams said. "It's something that receivers love when you can't tell where the quarterback is going to go with the ball. We continue to fight and do our best to get open."
While all of Weeden's night wasn't perfect, he plans to use this performance as a measuring stick. Specifically, the two-minute drill before the half. With a timeout and more than 90 seconds remaining, the Cowboys were able to march the ball to mid-field, but valuable seconds ticked off the clock and they came away with nothing.
"Those situations, we work on all the time," Weeden said. "I can look at that tape and learn from that. Those situations are going to come up in over three-fourths of the games we play in."
Being nitpicky, Weeden was inaccurate on a critical third-and-1 early in the game. Later, he threw an interception, which was negated because of defensive holding. Those minor mistakes must be cleaned up.
If anything, Weeden assured Dallas' decision-makers that he can react on the run, instinctively make plays and take ownership of the huddle.
"He had good command," head coach Jason Garrett said. "I was impressed with his decisiveness. He seemed to get back and make decisions and cut the ball loose."
Much of the credit deserves to go to the offensive line, which received some sufficient playing time opposed to the skill-position players. Putting a wealth of resources – including three first round picks (2011: Tyron Smith, 2013: Travis Frederick and 2014: Zack Martin) – the Cowboys hope to outmuscle their competition in the trenches.
"I thought they did an unbelievable job," Weeden said. "The communication was unbelievable. Travis Frederick started the whole deal. They got after it and didn't miss a beat. I've been kind of praising those guys because they are truly one of the best offensive lines that I've been around. That's pretty comforting as a quarterback."
For Weeden -- and most importantly Romo's sake – being upright is where quality quarterback play begins.   
---
---