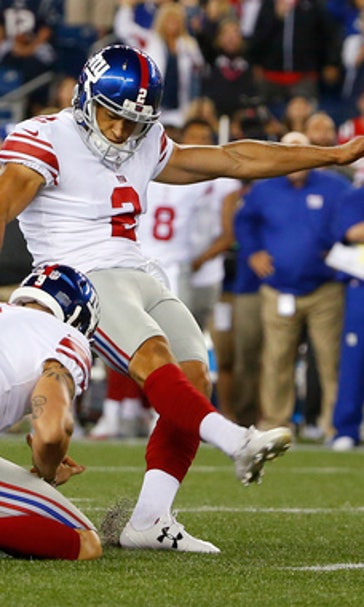 Veteran Nugent joins Cowboys with reliable Bailey sidelined
October 25, 2017

FRISCO, Texas (AP) A week after trying out for Washington, Mike Nugent will kick against them Sunday with the Dallas Cowboys.
Nugent didn't get the job with the Redskins, so instead he'll fill in for Dan Bailey, the most accurate in NFL history among kickers with at least 100 attempts.
The Cowboys don't know how long Bailey will be out after he injured his right groin - he's a right-footed kicker - in last week's 40-10 win at San Francisco.
But Nugent did let it slip that he could be doing this ''for the next few weeks.'' There is a timeframe of two to four weeks for Bailey.
The 35-year-old Nugent was with Cincinnati last season and spent training camp with the New York Giants this year. Nugent's career rate is 80.8 percent, compared to 89.9 percent for Bailey.
''The way I look at it is even though I'm older than Dan, he's the best,'' Nugent said. ''I get to hang out with the best every single day. We've already talked a lot. I'm excited just to hear certain situations he's been in and how he's handled them. Because I've seen it just on film or on TV.''
The Cowboys (3-3) had to turn to emergency kicker Jeff Heath , one of their starting safeties, when Bailey couldn't go after two point-after kicks and two kickoffs against the 49ers.
Heath became the first non-kicker or punter since 1980 to make more than one PAT in a game, getting the first one on a ricochet and going 2 of 3.
Heath smiled when asked jokingly if he was competing for the job this week. He's back to worrying about his other job, although he did say he was planning to practice kicking this week after doing so only once in training camp before Bailey's injury.
Jason Garrett is in his seventh full season as coach, and has had Bailey for each one. The previous time the Cowboys had someone other than Bailey kicking, Garrett was the midseason replacement for the fired Wade Phillips in 2010, when Dallas was playing for pride in a lost season.
Bailey has missed three times from inside 40 yards in 101 attempts. In one of the three seasons in which he made 93-plus percent of his kicks, Bailey was 6 of 7 from 50 yards and beyond.
The 29-year-old Bailey's career-worst rate (84.4 percent) came last season. Nugent has surpassed the number just twice in 11 qualifying seasons, the most recent one in 2011.
Bailey has never missed an extra point, including all 87 since the kick became a 33-yarder in 2015. Oh, and he's 7 of 7 on field goals this season.
''We certainly have immense confidence in him,'' Garrett said. ''Anytime we put him out there, he's come through for us and has won a lot of big games for us throughout the years. But he's not going to be available to us, so next man up.''
Nugent was a second-round pick by the New York Jets in 2005. He spent four years there and the past seven seasons with the Bengals.
The biggest discrepancy between him and Bailey is from 50 yards and beyond. Nugent is just 11 of 28, Bailey 25 of 36.
''I think the biggest thing is getting comfortable with Mike as the week goes on and just see where he is,'' Garrett said. ''We feel good about what he's done in the league up to this point. We'll see where he is and we'll develop a strategy.''
---
More AP NFL: http://pro32.ap.org and http://twitter.com/AP-NFL
---
---