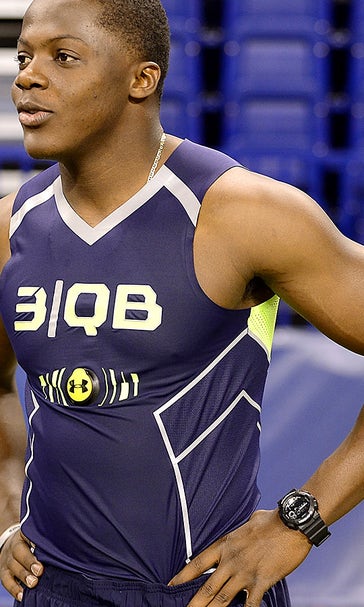 Teddy Bridgewater's pro day draws opposing opinions
March 17, 2014

Louisville quarterback Teddy Bridgewater saved his throwing and running for his pro day instead of performing at last month's NFL Combine.
Bridgewater, who weighed in at 208, 10 pounds lighter than he did in Indy, ran an unofficial 40-yard dash of 4.78 and decided to not run during his second attempt. His scripted throwing workout didn't go nearly as smooth.
The 6-foot-3 quarterback threw 63 balls, missed on a few throws while on the run and hisl control was reportedly described as "troublesome" by one coach. Bridgewater didn't let his turbulent day deter him, as he was the second-most accurate quarterback in the nation, completing 71 percent of his passes in 2013. Working with Chris Weinke, Bridgewater noted that he's been using his legs opposed to just his arm in his throwing motion.
Twenty-nine teams and six head coaches including the Houston Texans' Bill O'Brien, Philadelphia Eagles' Chip Kelly, Oakland Raiders' Dennis Allen, Minnesota Vikings' Mike Zimmer, Tennessee Titans' Ken Whisenhunt and Jacksonville Jaguars' Gus Bradley were on site watching all of the throws.
Bridgewater is in a race with Central Florida quarterback Blake Bortles and Texas A&M quarterback Johnny Manziel to be the first player at the position off the board on May 8.
Other talent evaluators weren't as down on Bridgewater's workout including NFL.com's Gil Brandt:
---
---