Super Bowl 50 Mega Preview: Breaking down all the key matchups
BY foxsports • February 4, 2016
All season Matt Chatham has been breaking down tape for FOXSports.com's NFL Game of the Week column. Now, as we shift our focus to Super Bowl 50, he will break down four key aspects that could decide if the Panthers or Broncos emerge victorious. Here's the compilation of his four-part series from last week.
The Panthers will get to Peyton
At this point in the season, there are no secrets. There are no unearthed weaknesses that only your team has discovered. The warts are what they are. Your opponent is fully aware and preparing to get at them the best it can.
Peyton Manning and the Broncos are back in the Super Bowl, but they come in with one of the more limited passing offenses in recent Super Bowl history. If it wasn't for the surefire interception-turned-34-yard-completion WR Emmanuel Sanders plucked from the hands of Patriots CB Malcolm Butler on an ill-advised in-game jump ball in the AFC Championship Game, the Broncos passing offense was staring at a paltry sub-150-yard day through the air, highlighted by a second half of general offensive inactivity.
This is the kind of stuff that makes Super Bowl defensive coordinators drool.
As we discussed here heading into the AFC Championship Game, Manning really needs his "spot" to step into and drive throws down the field at this point in his career. What that means is the pass rush action is much more important on the inside of the offensive line to collapse the front portion of any potential pocket.
The Patriots provided some template material that the Carolina Panthers are bound to try to work toward in their own scheme, especially considering the talent they have on the inside with defensive tackles Star Lotulelei and Kawann Short.
The key here is to maximize pressure, stunts, and games to the inside. This is where the focus of pass-rush game planning should lie, much as it did for New England (see below).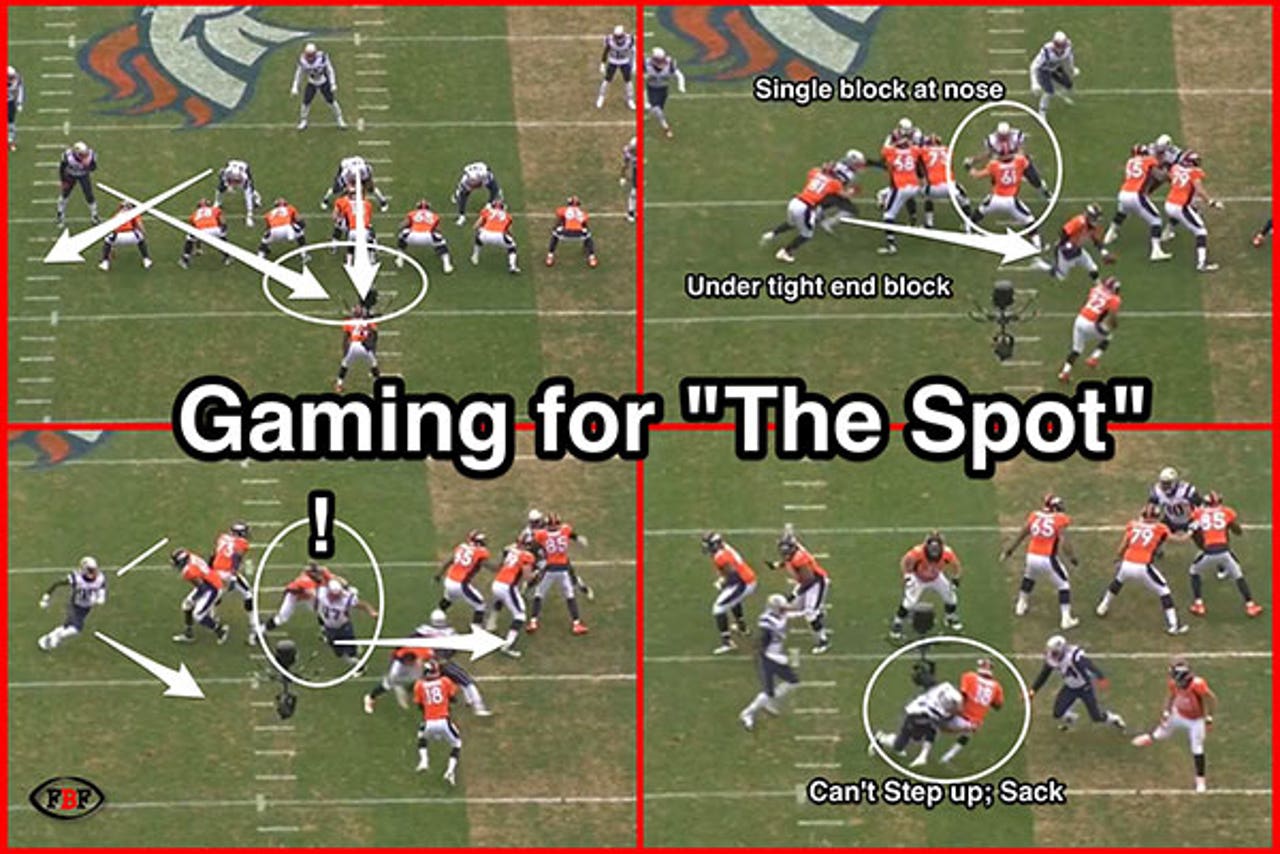 The Panthers will use various four-man front alignments, but invariably somebody on the inside is bound to be blocked 1-on-1. He is the guy who needs to crash the party. In those situations for the Patriots, DT Alan Branch feasted over Broncos center Matt Paradis, forcing Manning to throw that pass that looked like it was shot out of the sky (see below).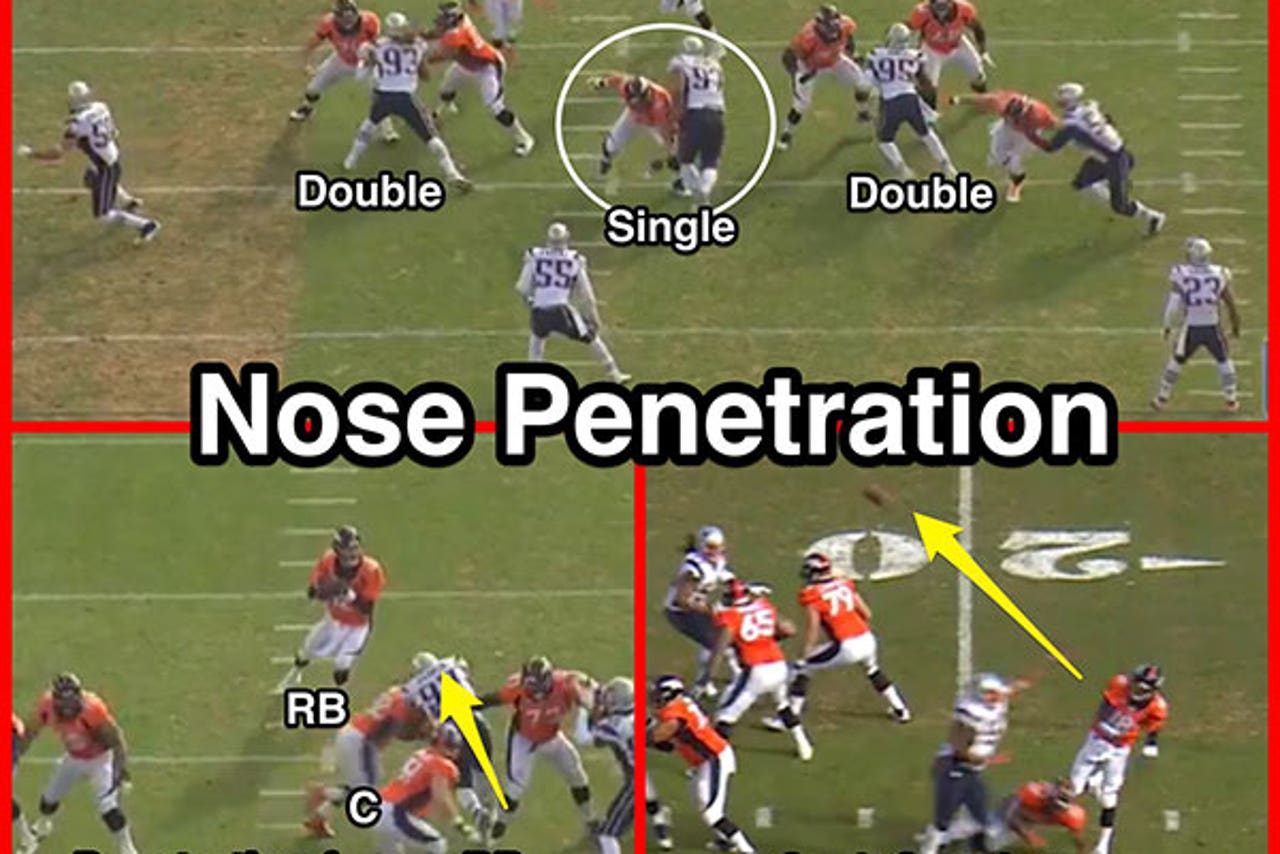 More than sacks alone, this kind of strategy is about forcing bad throws. Manning was fortunate this one wasn't intercepted. Expect the Panthers to work their focus on creating confusion and/or penetration over the center and guards in hopes that they can get as many balls like that one as possible. Carolina has as strong a penchant as any team in the league for turning those kinds of balls into turnovers.
Lotulelei is well-versed in this kind of "step up when singled" mantra for getting a pocket quarterback off his spot, as evidenced in the NFC Championship Game against Arizona several times (below).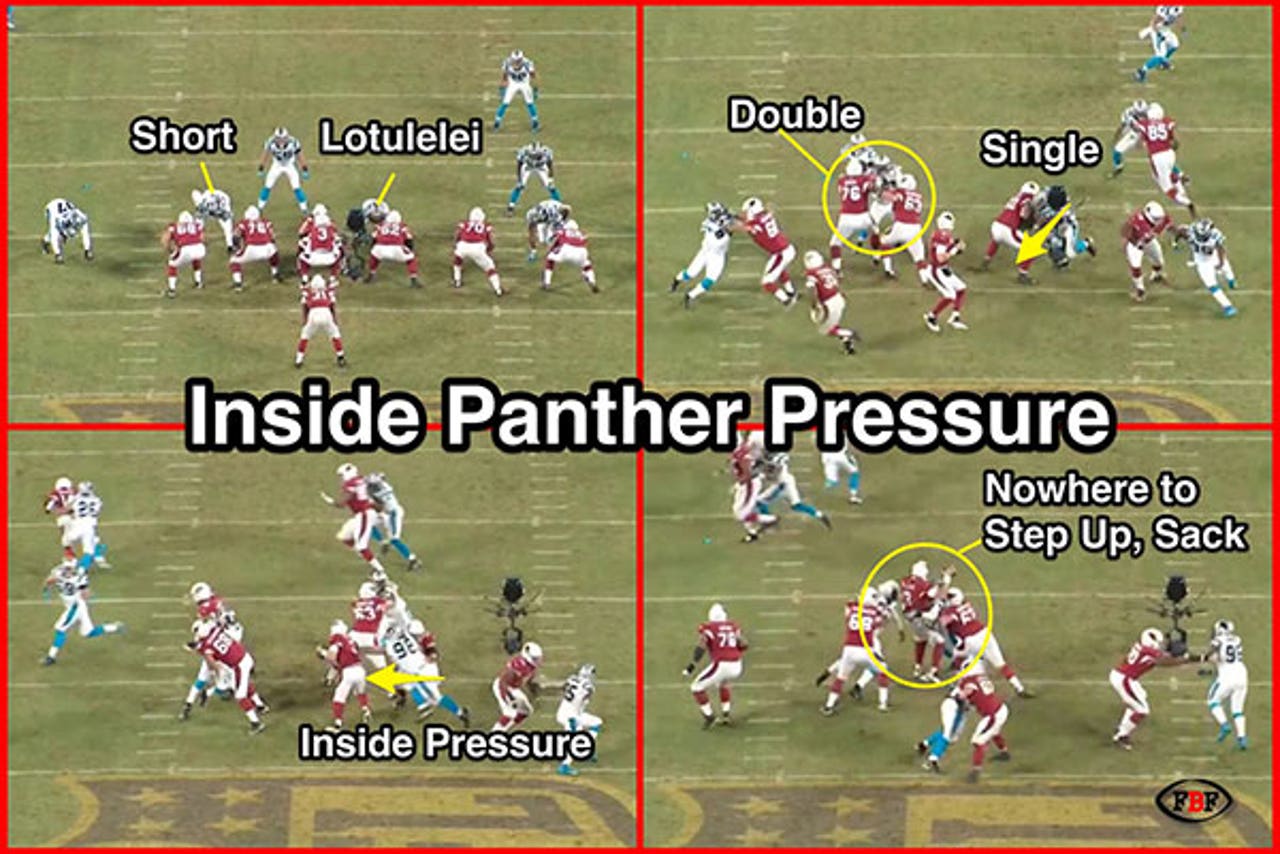 This play illustrates the importance of the guy providing that initial spot pressure -- even if he ultimately isn't credited with the sack stat in the end.
The formula isn't new. And fortunately for the Panthers, they're particularly talented and experienced at providing pressure where Manning wants it least. Edge rushers will have their opportunity as well, but Manning has always had an ability to let those fly by provided he can step up in the pocket.
The Panthers defensive line's task is very simple: Make sure he can't, then get a ring.
Can the Panthers protect Cam?
The Broncos came screaming off the edge in unprecedented fashion against the Patriots offense in the AFC Championship Game. Never have I seen two edge players like Von Miller and DeMarcus Ware beat the silent snap count so perfectly throughout a game.
They clearly had a key on Patriots center Bryan Stork's head-bob routine, and they exploited it over and over again by jumping the snap count on the game's biggest plays -- from Miller's near-safety third-quarter sack of Tom Brady, to a critical fourth-and-1 stop in the fourth quarter, to the final two-point conversion stop to end the game. These 1-on-1 wins were far more about anticipating and winning the snap than any particular pass-rush move.
Finding these kinds of tips and keys is huge for pass rushers, but rarely do they extend throughout a game. Unfortunately for Denver, this kind of advantage is unlikely to be available for Super Bowl 50 for a couple reasons. Most notably, while it is true the silent count is necessary from time to time in Super Bowls where there's a mixed crowd, often times it is not.
That said, screaming up the field against Cam Newton -- silent count tip or not -- can actually get you beat.
The Broncos know quarterbacks that can take off and roll very well, with Alex Smith a comparable scrambler in their own division. Where Smith is similarly fast and elusive, he's 30-40 pounds lighter, so Newton is really a next-level version of what they've prepared for in the past.
Against that kind of quarterback, pocket control is infinitely more important than sack totals. The risk of an aggressive up-field attempt at a sack that may garner a marginal loss is outweighed by the probability of Newton stepping up past rushers, escaping the pocket, and delivering a scramble or pass worth exponentially more yardage than the sack.
The following example shows Miller getting an excellent "get-off and rush," beating the tackle, but Smith simply turns into a running back and heads back downhill for big yards, something Newton is equally -- if not more -- apt to do (below).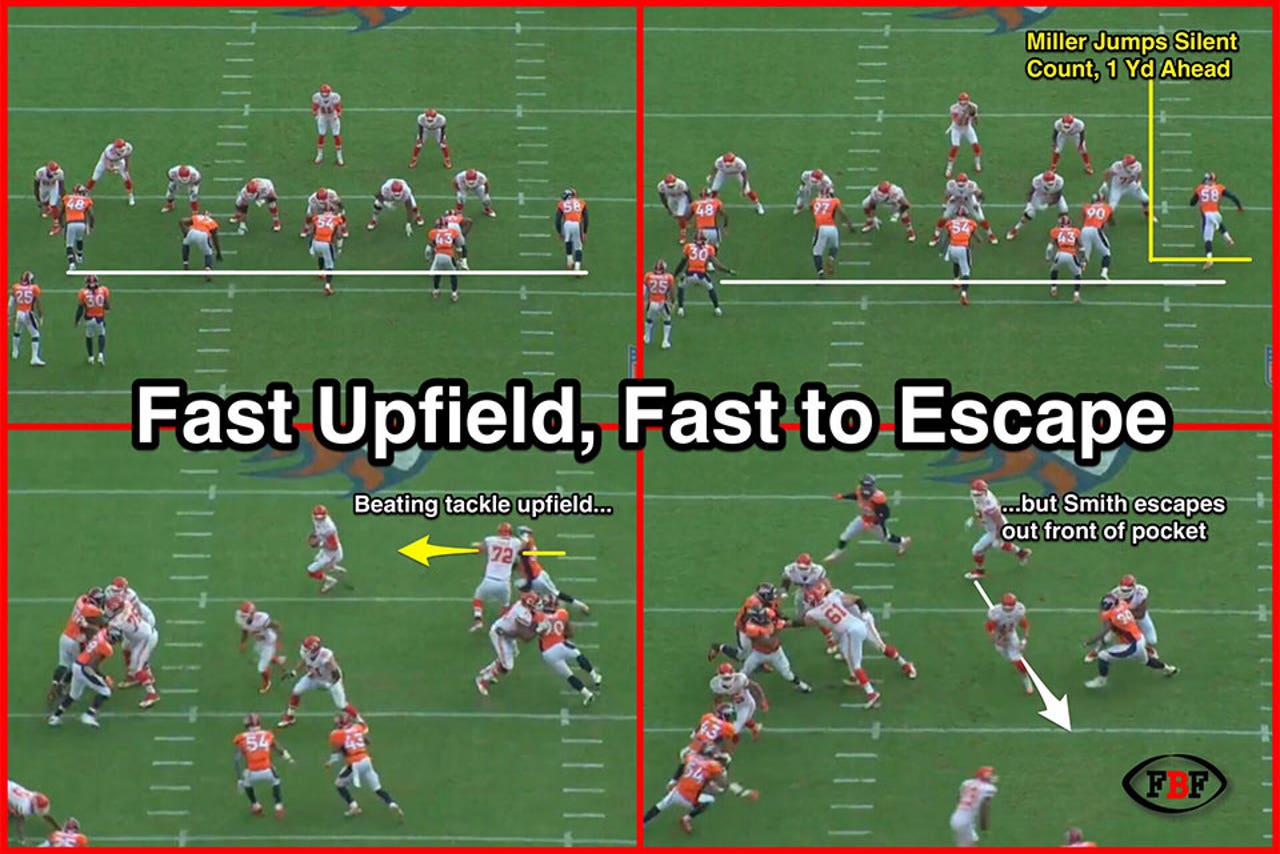 Another layer of concern when it comes to pass-rushing Newton and the Panthers that's dramatically different than rushing against the Patriots is Carolina runs the football as its lead option. Pass rush is far from the first reasonable consideration. Because of this, edge rushers have to be aware of getting too far upfield and unintentionally creating bigger running lanes.
Miller has acted as a spy or shadow player against Newton in the past, and is one of the few players on the field with the short-area quickness to run him down. That kind of role might actually be more important in this game than blasting up the field and creating a new place for Newton to leave.
One final difference this week for Denver is formations they'll see from Carolina -- formations intended to blunt any upfield rush idea from the start. In the example below, the Panthers adopt a double wing line that's essentially a punt protection look.
Both of the "wings" are there to aid the offensive tackles as either a double-team partner or chip and release into the pattern. A chipping and releasing back in the wing position should make any snap count jumping scenarios moot.
The pass rush challenge for the Broncos in this game is understanding that pass rush isn't the most important part. This game is much more about stopping the Panthers run game and preventing big plays in the passing game by pressuring Newton with him corralled and not invited to leave.
Ware and Miller might get a sack stat or two in the game, but that's less important for the Broncos' Super Bowl ring hopes than is preventing Newton from getting even bigger plays in the pursuit of those sacks.
Carolina wide receivers will gave the Broncos defense problems
I'm sure the Panthers' wide receivers have heard it a number of ways and a countless number of times. They are nothing more than supporting actors in the Cam Newton Show, or something like that. The story is well-worn.
Rising-star WR Kelvin Benjamin tore his ACL in training camp, supposedly leaving Carolina without any hope through the air. The Panthers run the ball really well. Newton loves to throw to his stud tight end, Greg Olsen. Occasionally, veteran fast guy Ted Ginn Jr. catches a go route. And that's about it.
Or is it?
Yes, the offense is highly dependent on Newton and the run game, and a tight end is actually the Panthers' top wide receiving threat. But that doesn't mean the rest of the receivers aren't just the right complementary pieces for the particular offense they're in.
The Broncos have plenty of all-stars on their back end, including cornerbacks Aqib Talib, Chris Harris Jr. and Bradley Roby, as well as big hitter T.J. Ward at strong safety. As far as overall secondary talent, this is one of the better collections in the NFL. But in facing another one of those top-talent secondaries two weeks ago in the Arizona Cardinals, who featured Patrick Peterson, the Panthers went for more than 300 yards with two touchdowns through the air on the way to a 49-15 victory.
If that doesn't make football sense, it's OK. It shouldn't.
No, this group of Panthers receivers wouldn't likely have the success it has had this season in a more traditional NFL offense. But as the run game pounds away, this group provides just the right dose of big-play ability to take advantage of all the attention given to Newton and the run game.
Olsen is the master of the seam area on the football field. He'll line up all over the formation and is a willing blocker in the run game, but his biggest impact comes when he stretches the middle lanes. The example below is a classic Olsen route: a wide release from the line of scrimmage to toy with the leverage of the safety covering him, only to return back down the hashes for a big play.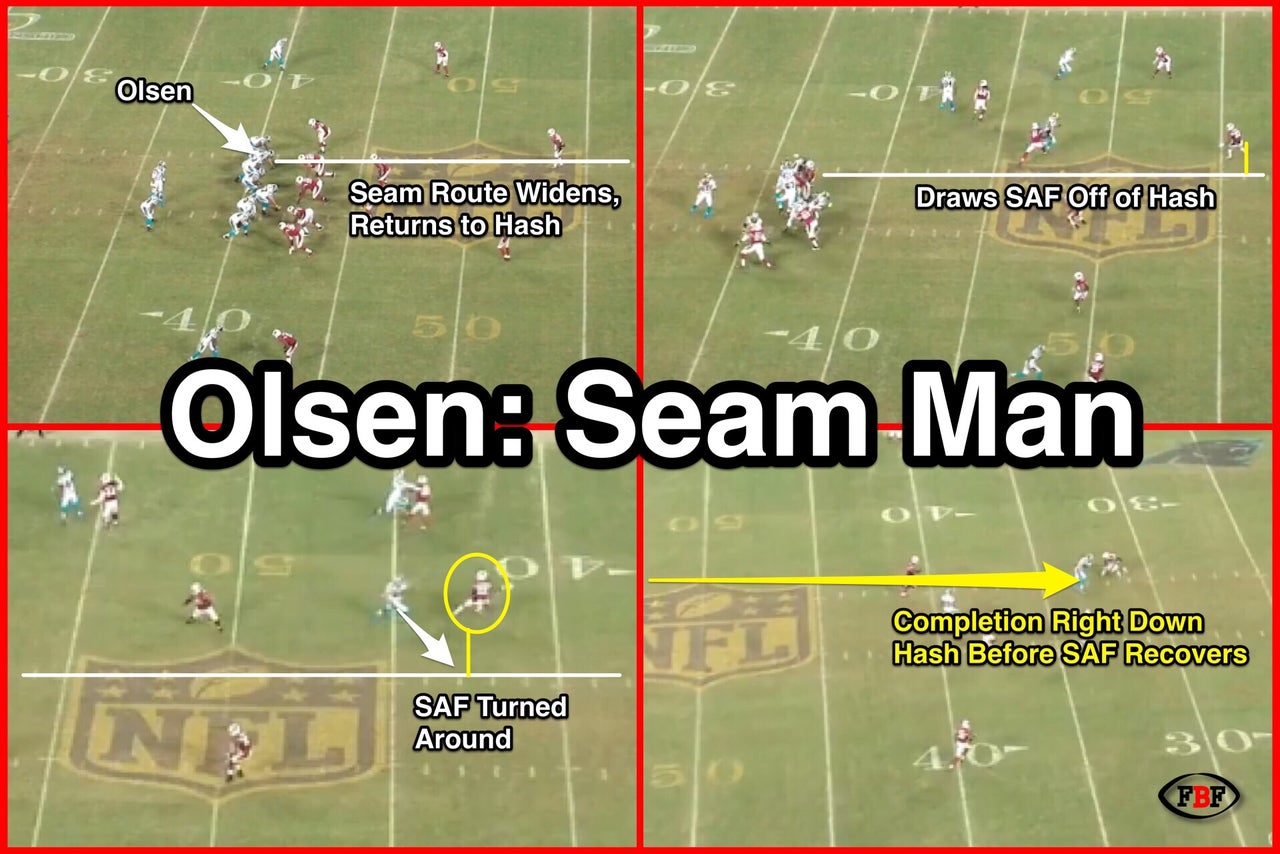 Olsen is a serious concern all over the field, but the times where he'll warrant the most coverage attention by Denver is when he's working the intermediate-to-deep parts of the middle of the field. Fall asleep on him there and you're virtually guaranteed Newton will be working the ball his way for a big try.
In the true receiver group, Ginn's 10 touchdown receptions this season are one less than the number he'd accumulated over his previous eight seasons in the league combined. Ginn was always considered an excellent returner, but his receiving history was a mixed bag. He was a speed and run-after-the-catch guy, but never a catch gobbler.
But that's why he's such a perfect fit in Carolina. A typical day for him amounts to a few catches, one of which is usually a big, game-changing play. In the NFC title game, Ginn ran a reverse for a touchdown -- emblematic of his elite return skills, the kind of play that keeps a defense honest and not just lagging off him to prevent shot plays.
The following example shows how the Panthers are able to take advantage of the grace given Ginn, this time by way of a deep comeback completion against Peterson, one of the best cornerbacks in football. The cornerback stays on top of the route throughout, guarding first for the deep route that dominates Ginn's reputation.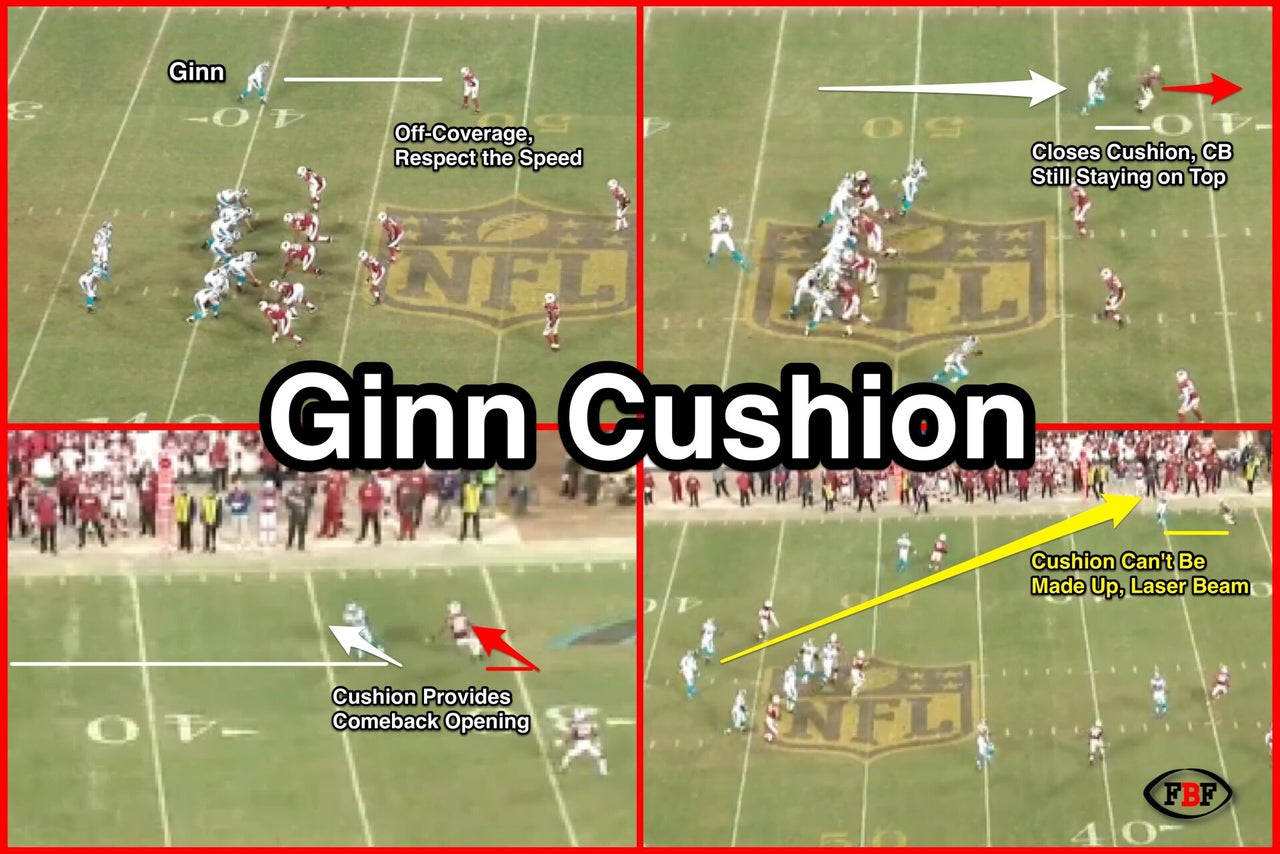 Corey "Philly" Brown had a monster 86-yard touchdown in that NFC Championship Game in typical Panthers fashion, making one guy miss in the extreme open space and then running the rest of the length of the field. Jerricho Cotchery, the savvy veteran, is always good for a handful of important stick-moving conversions throughout the game, and talented rookie project Devin Funchess will also show up from time to time.
Running games will be a factor
So I hear the NFL is a passing league? Naw, 2015 was yet another reminder that it's still just a football league. The best two teams at playing all-around football usually advance to this stage, and this season neither of them are particularly adept at throwing the football compared to their couched NFL peers.
But here they are in Santa Clara, Calif., still playing football. Huh.
It's been a while since both Super Bowl participants were so dependent upon their running games as the first weapon in their offensive arsenal -- although both of these teams run the football decidedly different ways. Style differences aside, it's a safe bet that if either of these two teams has their running games significantly stymied by the opposing defense on Sunday, we then know who the new Super Bowl champion will be.
For the Panthers, they are as odd a duck as you'll get in a present-day defensive-preparation week. Oddball motions, goofy formations, stretches of plodding play followed by some of the most explosive action you'll see in today's game. The Panthers test the patience of opposing defenses and adherence to the fundamentals of run fits in a defensive front as much any offense in the league. They lull you to sleep with piles of benign 3-yard runs until you slip. Then they swallow half the field in a single run.
But News Flash: Cam Newton is the heart of this Panthers operation.
Yes, technically he's a quarterback in your game program, but he's also the best runner on the Carolina roster. He's big and fast (I'm pretty sure you've heard that by now). But what makes him particularly dangerous with the ball is his combination of decision-making in the read elements of the Panther offense, his short-area burst to out-leverage tacklers in the box, and his fall-forward tendency to finish off runs -- a totally underappreciated aspect to his game that typically accounts for a couple extra yards on the tail end of nearly everything he does (see below).
As rare as true two-back offensive sets have become in the NFL, the Panthers have their own little twist. Because Cam is essentially a third potential ball carrier -- one even willing to throw from time to time -- two-back sets ostensibly have to be considered three-back sets by the defense. And because of this, typical seven- or eight-man boxes built to stop the run can still come up a gap short.
Running back Jonathan Stewart is the perfect complement to this offense because he's got deceptive quickness to the edge, good patience, solid change-of-direction skills, and the requisite power style that works in the tight spaces of Carolina's beefy formations (see below).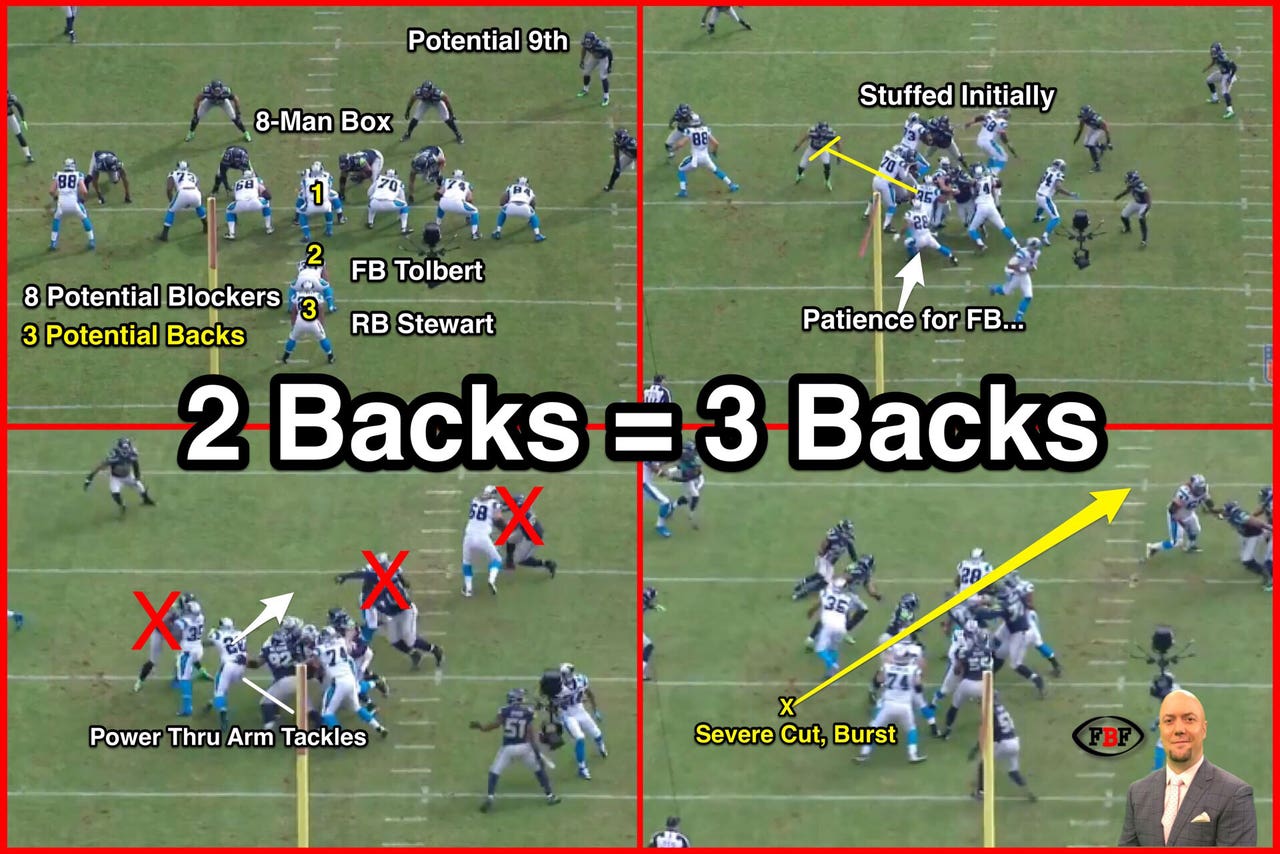 One of the biggest reasons you've seen such great gains in Newton's pocket passing this year is the pocket is often a very safe place for him and his cannon arm. The success the Panthers have had on the ground keeps opposing defenses out of hardcore man-to-man concepts because defenders simply can't afford to spend much time with their backs to the ball.
The glut of more basic, rules-based defensive looks also helps slow the exotic pass-rush schemes another passer in the pocket might see. This offense simply isn't one you want to gamble much against. The Panthers sit and wait for the big-shot play, willing to jab and jab until you're ready to be knocked out.
And those back-breaking plays are frequently run plays. Double huh.
For the Broncos, the running game is more of a lifeline. Denver's defense has pulled the Broncos through the playoffs with outstanding performances, but the offense has been there with a handful of critical plays that the team has needed to advance. This is very much an offense that needs its running game to stay on track to help put the Panthers on their heels and out of Manning's face.
Surprisingly, a very big part of the Broncos' running game is their quarterback who doesn't run so well anymore. I don't mean that Manning himself runs much with the ball, but rather that he judiciously audibles and sets the point of attack in the running game to fit the defensive front's math. As a youth football coach of mine used to say, Manning is an expert at reading the box and picking the play to "run it where they ain't" (see below).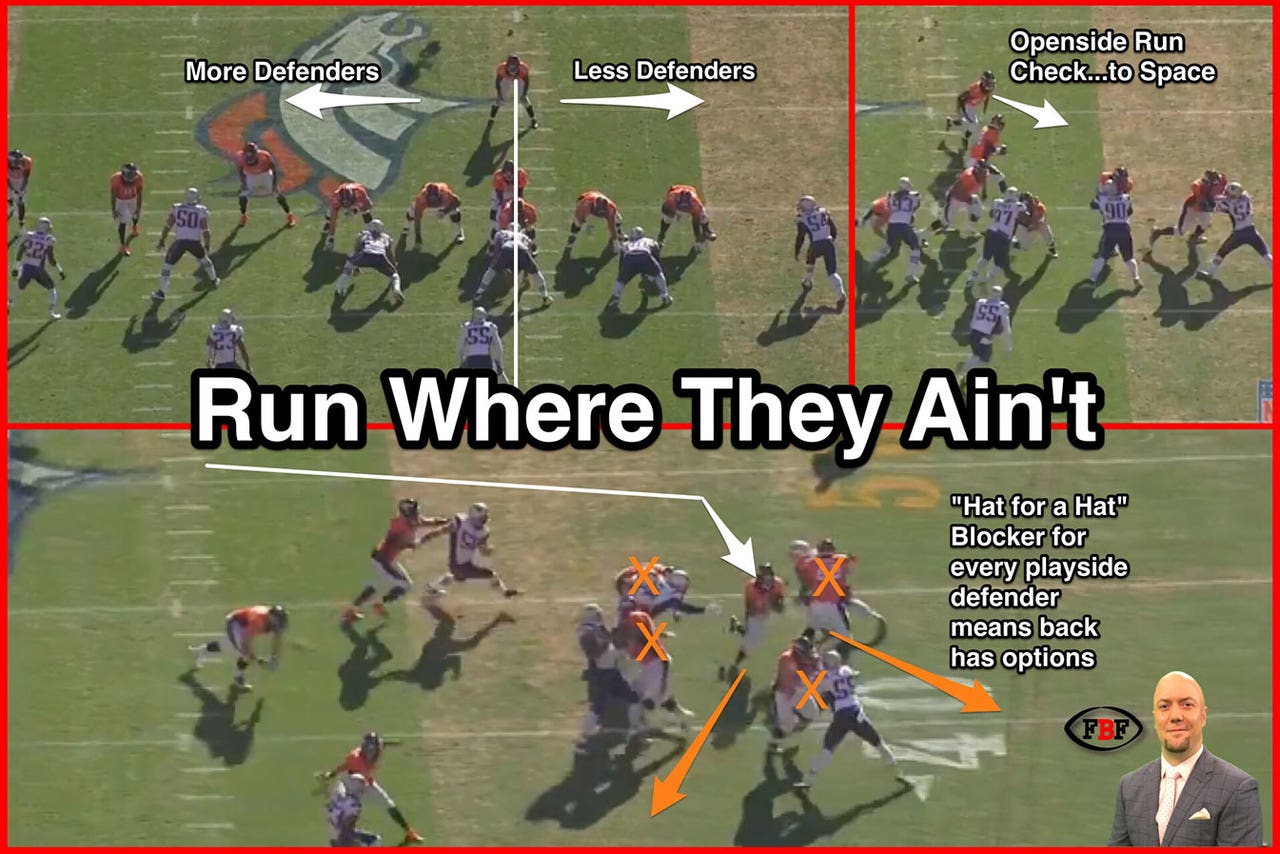 Both running backs C.J. Anderson and Ronnie Hillman have had big days for this Denver offense throughout the season, and at different times. It's sometimes difficult to predict who'll garner more carries week to week, which is likely something Denver coach Gary Kubiak likes to use to keep the opposition guessing. Anderson has been the hotter hand lately, and his timely explosive runs in the Denver stretch-run game have been just what this team has needed.
Anderson and Stewart actually have quite similar styles, but Anderson has flashed another gear at times to get the corner or make the mundane into something special. One of the more positive areas of growth seen in Anderson late this season is his penchant for working with his blockers -- playing off their leverage, helping to avoid too many negative runs (see below).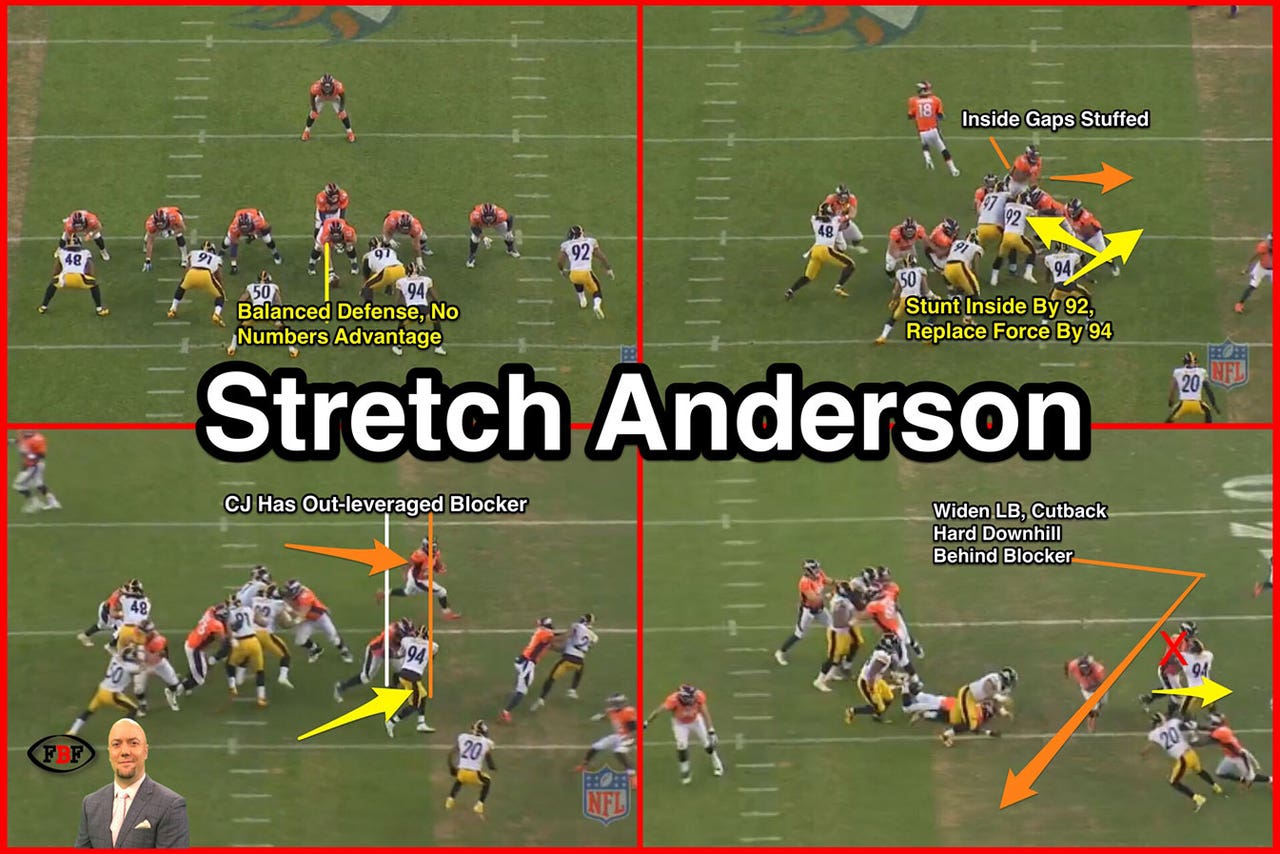 He plays with great leverage and explosiveness when he finds a hole, and should significantly test linebackers Luke Kuechly and patched-up Thomas Davis to not overrun cuts and wrap up in their second-level tackling.
Most importantly in all of this is Manning doesn't need third-and-10s. He needs third-and-3s. He can still pick you apart in the right down and distance. And getting him there sits largely on the shoulders of this Broncos running game.
Football is still a game of getting from here to there. When you throw it, there's more risk. When you don't have to, there's obviously much less. These two offenses rely heavily on the less risky proposition, and both have shown that complementary-only passing games can still get you onto the world's biggest stage.
Somebody's going to take home the prize. My guess is that somebody runs off with it.
STORIES FROM FOOTBALL BY FOOTBALL
Pocket Melt: Broncos Burned Patriots On the Edges
Rocky's IV: Pre-Super Bowl Week
VIDEO: Why the Patriots' two-point play against the Broncos failed
Will Cam Newton's Success Lure More Teams All-In on Dual-Threat Offensive Schemes?
Matt Chatham played for the Patriots and Jets for nine NFL seasons, winning three Super Bowls. He is also the founder of footballbyfootball.com. You can follow him on Twitter
---
---