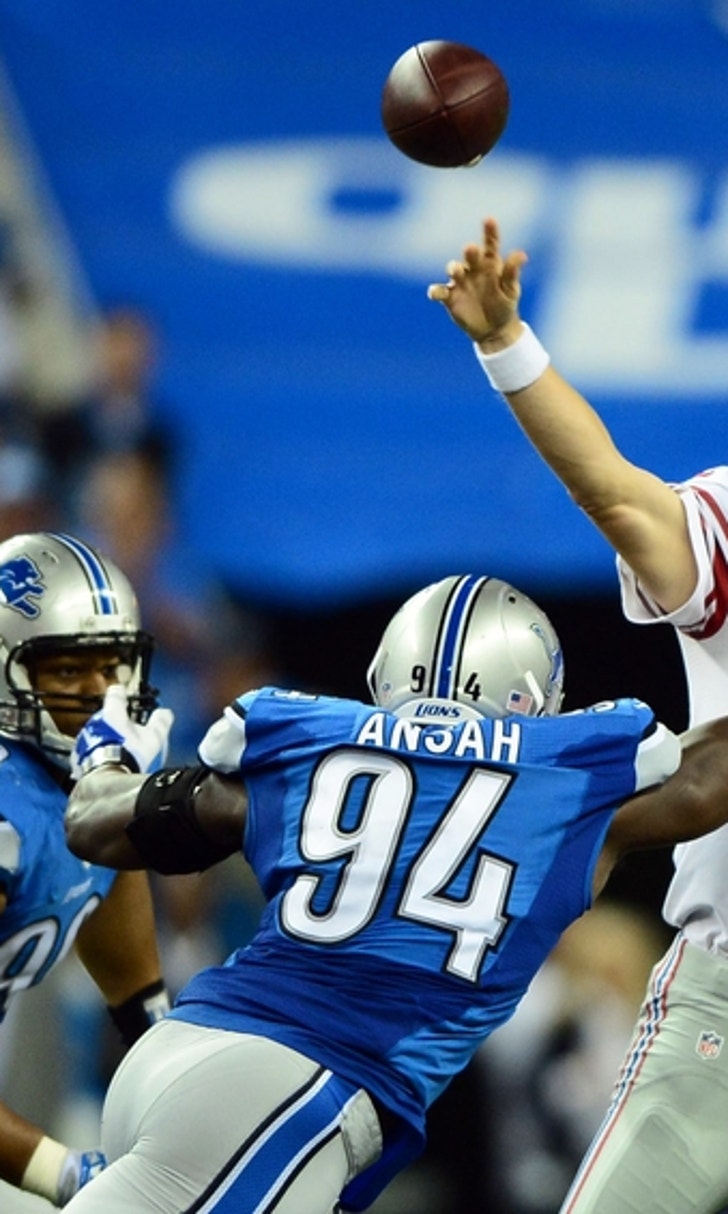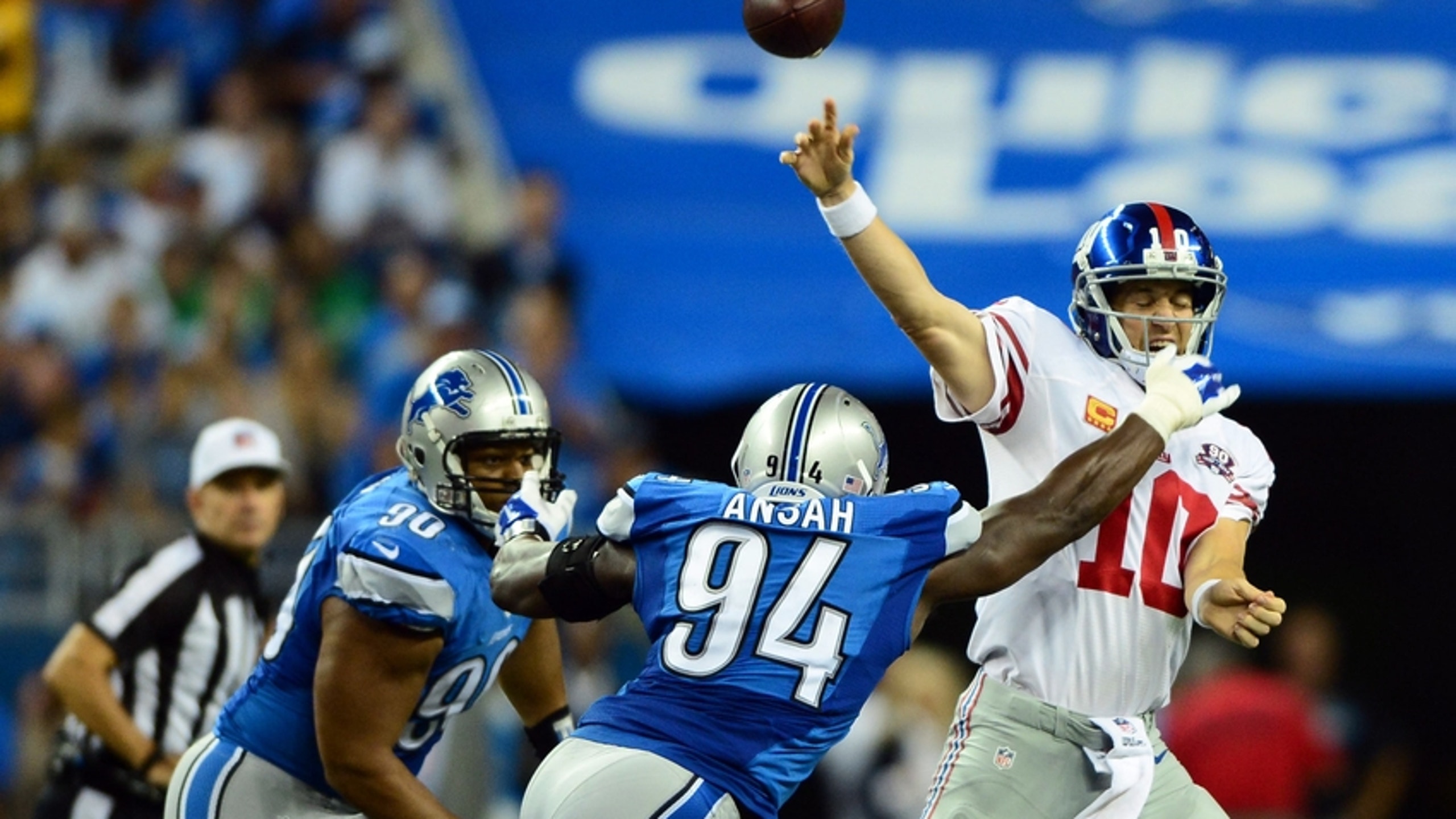 SideLion Report's Week 15 Picks
BY Fansided and Matt Urben/FanSided via SideLion Report • December 17, 2016
Read what the SideLion Report writers had to say about Week 15.
Credit: Tim Fuller-USA TODAY Sports
The Detroit Lions hit the road to take on the red-hot New York Giants on Sunday. This is a huge game between two 9-4 teams, with the winner taking sole possession of the #2 seed in the NFC. Take a look at what our writers had to say about the Lions game and one other game from around the NFL. Jack and Brandon are on top of the standings, while I've fought back into a tie with Al. Ty makes a bold statement about the winless Cleveland Browns and Jacob makes his pick debut for SideLion Report! So, let's get to the picks already.
Al Stahl (7-7)
Detroit-23, NYG-20.
The Lions have been in nail-biters all season and this week won't be any different. If I'm going to make a specific prediction, I say this is the score with under two minutes to play after the Lions take the lead. The Giants will have the ball with a chance to win late. They will opt to go for the touchdown and either throw an interception or run out of time on some fluke play (maybe a Ziggy Ansah sack-caused fumble?). Either that or they win. But that's no fun.
PS – I'll be there in person. If you are interested, find me on the Twitters @LethalSax.
Dallas-30, Tampa Bay-25.
Since starting 3-5, Tampa has railed off five straight wins. The offense is clicking well enough, but the defense has really found its footing, holding opposing offenses to about 10 points per game. For Dallas, their first loss in three months cost me my fantasy football championship. Stupid five-yard loss by Zeke Elliott on a 3rd and 11 toss…who runs a toss on 3rd and 11?! Get bent Garrett. Since I am now out of contention in that league, Zeke Elliott will run for 600 yards and like 8 touchdowns the rest of the season. Tampa Bay is just standing in his way.
Important note: Since I have the Buccaneers losing here, the Lions cannot move into the 1 seed with a win over Dallas in week 16. So if you want to root for that, root against me here.
– Follow Al  @LethalSax
Brandon Finley (10-2)
NYG-24, Detroit-17.
If there was a game that can tell you where Detroit ranks among the league's top teams, this is it. New York, coming off a Cowboys sweep, is playing fantastic football with elite talent in the secondary. The first test is that defense. The second test is Odell Beckham Jr. With cold weather and a hurt finger for Stafford I wouldn't be surprised to see Detroit lose a game here. It's not the end of the world, but if there's a chance we will need some more of that Frat Stafford magic.
Kansas City- 21, Tennessee-13.
A long shot from the playoff, Tennessee is hanging by a thread. I just don't see the defensive tools required to take on both Tyreek Hill and Travis Kelce. On the other side of the ball, Marcus Mariota has played excellent football this season but faces not 1, not 2, but 3 elite level defenders in Berry, Peters, and Houston. The Titans success rides heavily on getting the league's second leading Running back DeMarco Murray into space.
-Follow Brandon @Finley_BD
Matt Urben (7-7)
Detroit-31, NYG-27.
This is a matchup of two good teams that rarely seem to play up to their potential. With both teams having 9-4 records, the winner will be in the driver's seat for that first-round-bye. The loser isn't even a sure-bet to make the Playoffs. The Lions' defense has been impressive, not allowing 20 points since their week eight loss to the Houston Texans. Meanwhile, the Giants just held the Cowboys' high-powered offense to 7 points last week.
Matthew Stafford's finger is in question, reportedly having torn ligaments in the middle finger of his throwing hand. The cold weather certainly won't help, but I think we see the Lions play a smart game. Most will predict a low-scoring game, but because these two teams are so unpredictable, I think we see that defensive streak end but Stafford will play well enough to win.
New York Jets-24, Miami Dolphins-16.
On paper, this one looks like an easy win for the 8-5 Miami Dolphins. Upon closer review, they just lost quarterback Ryan Tannehill for the season which leaves it up to journeyman Matt Moore (who's a better quarterback than he gets credit for). The Jets are a hot mess on the other hand. Coming into the season, expectations were high for the team that was 10-6 in 2015. Quarterback Ryan Fitzpatrick has been a major disappointment since holding out in the offseason.
The Jets are rolling with former Baylor star Bryce Petty. I think overall the Dolphins are a slightly more competent team, but without their starter, they will either rally or lay down. I like first-year coach Adam Gase, however, he's already exceeded expectations winning eight games. I predict an ugly game, with a defensive score being the difference for the Jets.
– Follow Matt @MattUrben88
Ty Finch (3-9)
NYG-19, Detroit-17.

This game on Sunday is the biggest matchup in the NFL in terms of playoff odds. Just take a look at this recent article from Fivethirtyeight.com. Basically, if the Lions win, their odds of making the playoffs increase to 98% from 84%, according to their model. If they lose, their chances decrease to 71%. The Giants have even more of a swing than the Lions do. For such an important game, it is near impossible to pick. The Lions' strengths and weaknesses matchup directly with the Giant's strengths and weaknesses. Both teams are 9-4, and have had three game losing streaks and five-game winning streaks. Anyone's guess on the outcome is as good as mine, especially considering I am apparently horrid at the prognostication game.
The difference could be the quarterbacks. Matthew Stafford has had a career year, but is battling torn ligaments in his middle finger. Eli Manning and his woebegone face has had quite the underwhelming season thus far, but is facing a defense that generally allows opposing quarterbacks to put up great stats, even if that doesn't always translate to points. With both teams sporting lousy run offenses, whoever has the best day out of the two likely wins the game.
Cleveland-11, Buffalo-9.
The weather in Buffalo on Sunday looks to play a large part in deciding this game. The forecast is calling for freezing temperatures, snow, and high winds, all of which favors a dedicating rushing attack. The Bills have the best running game in the league. The Browns are 17th in the league according to DVOA. The Bills have won twice as many games this season than the Browns have in their last two years. The Browns haven't won a game in over a calendar year. So, of course, the Browns get the win here. It's rational. Just go with it.
There seems to be a rift in the Lions' fan base in terms of whether or not they want the Browns to get a win this year. Is it a point of "pride" to be the only team to not win a game in a single season? Is it too harsh to wish on Brown's fans to endure a winless season? For what it's worth, I choose the latter. 2008 was a season from hell, and while it would be nice to have company on the futility podium, I can't wish that on anyone except Packers supporters. The Browns have gone through enough, dammit.
– Follow Ty @Finchty
Jack Ozark (8-4)
Detroit-24, New York-20.
I need more Lions Kool-Aid. These last games of the season are going to make me so nervous. Luckily, I feel like the Giants are being seen as favorites in this game and that will help the Lions immensely. Much like Detroit, New York does this weird thing where they play very well when they are the underdog, so the Lions have a real good chance of winning this one. This game is the most important game yet, (and yes, the next two weeks I will be saying the same thing) and Detroit has to be well aware of the Packers getting hot again.
As for the most interesting matchup this week, it has to be Odell Beckham Jr. verses the Lions secondary. Now I would assume Slay would be on him most of the game, but when he isn't the safeties need to do everything they can to shadow him. The last thing the Lions need is to be burned for an 80-yard touchdown off a seven-yard slant. Odell has the ability to do that, and the Lions have the ability to stop him. Detroit will let the other guys have great games, but if they can at least contain Odell, then I think they will leave New York and head to Dallas in a one vs two matchup next week.
Jacksonville-24, Houston-20.
This game could be a beautiful mess. We all know that the Jags are going to play an ugly game and struggle the entire time, but the Texans are always mysterious because you never know if they're going to show up. So because of that, I think this game is going to be a pick-six off. Bortles is going to throw one, that's as obvious as the sun rising. I had a lot of faith in this guy and this team before the year. If you have the weapons that the Jaguars have then you should at least be able to put up points. And it isn't like the defense is horrible either, they actually have some young studs over there.
Osweiler, on the other hand, isn't much better than Bortles. I think your team is screwed with either one of them, but I might actually take Bortles over Osweiler because at least he looks like he wants to score points. Brock throws plenty of picks, (he has 14 touchdowns to 14 interceptions) but usually doesn't throw the ball further than three yards. I think playing against the Jags, who Houston believes they are way better than, will cause them to finally air the ball out to their receivers. Unfortunately, this is Brock Osweiler we are talking about, so every one of those deep bombs will be picked off. It'll be a real ugly one, but I'll take the Jags simply because they know how to actually play offense at times.
– Follow Jack @J_zark
Jacob Slocum (0-0)
Detroit-27, NYG-23.
The Lions and Giants are almost statistical carbon copies on defense, with Detroit only allowing 0.9 more yards and less than 2 more points per game than New York. After watching the Cowboys offense struggle the last few weeks, the Giants' win over them on Monday Night is not as impressive as it is to others. Prepare for another tight game that will be decided in the 4th quarter with the Lions coming out on top.
Pittsburgh-31, Cincinnati-14.
The Bengals are allowing an 8th worst 119 rushing yards/game  to opposing backfields. Meanwhile, Le'Veon Bell is coming off of a Kentucky Derby-style performance against the Buffalo Bills. Bell, who missed the first 3 games of the year due to suspension, is currently the 4th leading rusher and 2nd in yards/game (105). After taking just ten games to break 1,000 yards, he along with the rest of the Steelers seem poised for what has become a bitter rivalry over the last 2 years.
Like the SLR Facebook Page and follow us @SideLionReport
More from SideLion Report
This article originally appeared on
---
---