Dallas Cowboys
Dallas Cowboys
Romo won't need surgery, likely to sit 2 months with broken collarbone
Published
Sep. 21, 2015 4:23 p.m. ET

IRVING, Texas -- Tony Romo won't be back for at least two months because of a broken left collarbone, and maybe closer to three with the way the schedule falls for the Dallas Cowboys.
His All-Pro receiver, Dez Bryant, will be sidelined perhaps through the end of October because of a broken right foot.
The defending NFC East champions are alone atop the division at 2-0 after a 20-10 victory at Philadelphia that cost them their quarterback a week after Bryant's injury in the opener.
And yet the biggest question is whether they'll still be in contention by the time Romo and Bryant are on the field together again.
The first start-to-finish test without both star players is Sunday at home against Atlanta (2-0).
"There is pressure on everyone in this organization," said Brandon Weeden, the backup responsible for keeping the Cowboys afloat while their four-time Pro Bowl quarterback is out.
"So I am not going to put any added pressure on myself. I know what is at stake. I know we have a good team. So hopefully we can all rally and keep this going in the right direction."
Coach Jason Garrett said Monday that tests revealed no ligament damage for Romo after the second broken collarbone of his career. The other was in 2010, when he missed the final 10 games of the season. However, Dallas was out of playoff contention before he could have returned.
Now the Cowboys have to decide whether to clear a roster spot by putting Romo on the injured list with a designation to return, which would sideline him for seven games over eight weeks.
Dallas must also decide whether to add another quarterback. Weeden was the only healthy one for most of the second half against the Eagles, and Garrett said the emergency option would have been direct snaps to running backs Joseph Randle and Darren McFadden.
The two quarterbacks on the practice squad, Kellen Moore and Jameill Showers, have never taken a snap in a regular-season game, although Moore is a fourth-year player who worked under Cowboys offensive coordinator Scott Linehan in Detroit.
"We'll certainly consider all options to make our team better," Garrett said. "We like the options we have right now."
The most optimistic time frame for Romo's return is during a two-game Florida swing on Nov. 15 (Tampa Bay) and Nov. 22 (Miami). If he goes on the injured list with the option of returning, the visit to the Dolphins would be the first possible return date.
And if he's not ready for either of those games, Romo's absence could approach three months if he skips a short week for the Thanksgiving home game against Carolina and returns Dec. 7 at Washington.
Owner Jerry Jones has said Bryant's broken foot, sustained in the fourth quarter against the New York Giants, will need six weeks to heal. That would put his earliest return date at Nov. 1 at home against defending NFC champion Seattle. And he will miss a visit from Super Bowl champion New England on Oct. 11.
"We have a lot of weapons, a lot of good weapons," Weeden said. "So my job is to make it easy on those guys, let them do their jobs, get them those one-on-one matchups, and let them do what they do best."
Weeden threw a clinching 42-yard touchdown pass to Terrance Williams in the fourth quarter against the Eagles after replacing Romo.
But the 31-year-old in his fourth season has lost his past eight games as a starter, including Arizona last year when Romo was out with a back injury. The skid goes back to his two-year stint with Cleveland after the Browns drafted him late in the first round in 2012.
"I think the players around him have confidence in him, and he goes and executes the ball plays," Garrett said. "He's gotten a lot of reps in Tony's absence from practice the last couple of years, so I think that's benefited him."
The Cowboys are 6-9 without Romo since he became the starter in 2006, and this is the first time Dallas will be without Romo and Bryant since both were sidelined for the last two games of Bryant's rookie season in 2010. The Cowboys went 2-2.
"Nobody really cares about injuries," Garrett said. "No one's focused on, `Boy, the Cowboys .' Nobody feels sorry for you. That's not really how the world works."
The Cowboys will be in a new, uncertain world starting Sunday.
NOTES: Garrett said he was optimistic TE Jason Witten would play against the Falcons despite injuring both ankles and a knee against the Eagles. He stayed in the game. Witten has appeared in 192 consecutive games, including the playoffs.
---
---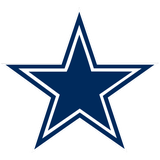 Get more from Dallas Cowboys
Follow your favorites to get information about games, news and more
---