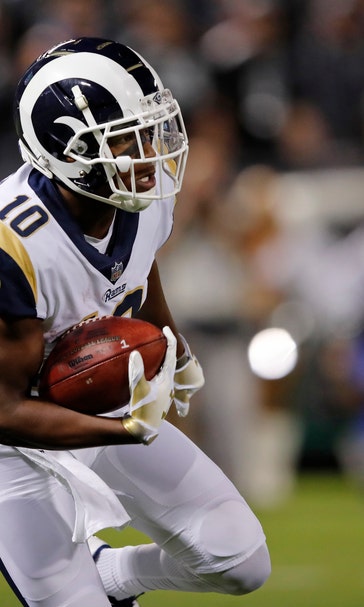 Rams All-Pro kick returner Pharoh Cooper headed to IR
September 12, 2018
THOUSAND OAKS, Calif. (AP) — All-Pro kick returner Pharoh Cooper will be placed on the Los Angeles Rams' injured reserve list after he severely sprained his ankle in the season opener at Oakland.
Cooper will need surgery to repair his ankle, coach Sean McVay said Wednesday.
The injury throws an early obstacle into the path of the Rams (1-0), who won the NFC West last season with four Pro Bowlers leading their nearly flawless special teams units. All four returned this season, with All-Pro kicker Greg Zuerlein and All-Pro punter Johnny Hekker alongside Cooper and long snapper Jake McQuaide.
"What a great competitor and a tough guy," McVay said about Cooper. "It's unfortunate, but I think if there's anybody that's going to respond the right way and just do what he can to get back sooner than later, it's going to be Pharoh."
Cooper emerged as an elite kick returner last season, his second with the Rams. The South Carolina product easily led the NFL with 1,331 combined yards on kickoffs and punt returns, also finishing first in the league in yards per kickoff return (27.4) and second in yards per punt return (12.5). He also returned a kickoff 103 yards for a touchdown early in the season.
Cooper also caught 11 passes for 84 yards as a depth receiver for the Rams during the worst-to-first transformation of their offense. But his outstanding season ended on a mediocre note in the Rams' home playoff loss to Atlanta when he muffed a punt and fumbled on a kickoff return in the first half, directly leading to 10 points by the Falcons in their 26-13 victory.
With Cooper's ostensible backup, Michael Thomas, also dealing with injuries, the Rams' primary kick returner on Sunday is likely to be JoJo Natson, McVay said. Natson was re-signed by the Rams on Wednesday, 12 days after being waived in their late roster cutdowns.
Natson, who is also a receiver, appeared in seven games last season as a rookie with the New York Jets, returning 16 kickoffs and 16 punts after starting the season on their practice squad. He signed with the Rams in July.
He spent the past several days back home in Florida after missing out on a spot on the Rams' roster despite having a solid, occasionally exciting preseason. Natson got the call from Rams special teams coach John Fassel on Tuesday and jumped on a plane to the West Coast a few hours later.
Natson watched last weekend's games on his couch, but he'll be in uniform when the Rams open their home schedule against the Arizona Cardinals.
"I didn't expect for the turnaround to be this quick at all, but I'm just thankful for the opportunity to come around again," Natson said. "It's a tough process at first. It was always my dream to play in the NFL, but when things don't go my way, I just keep pushing on. I just stay positive."
Natson knows he is small by NFL standards. He lists himself at about 153 pounds and 5-foot-7, or "5-8 on a good day."
"It's light, but you know, you can't hit what you can't catch," Natson said. "I just go out there and just try and play with my heart, because that's what I live off, my heart, and everything else takes care of itself."
NOTES: With a short week of preparation following their Monday night game in Oakland, the Rams held only a light workout Wednesday and concentrated on the mental aspects of preparation. McVay plans to hold a regular Thursday practice as they get back into standard game preparation. ... LB Mark Barron still isn't practicing while he attempts to return from an ankle injury. ... Thomas also missed practice with a hip/groin injury.
---
---