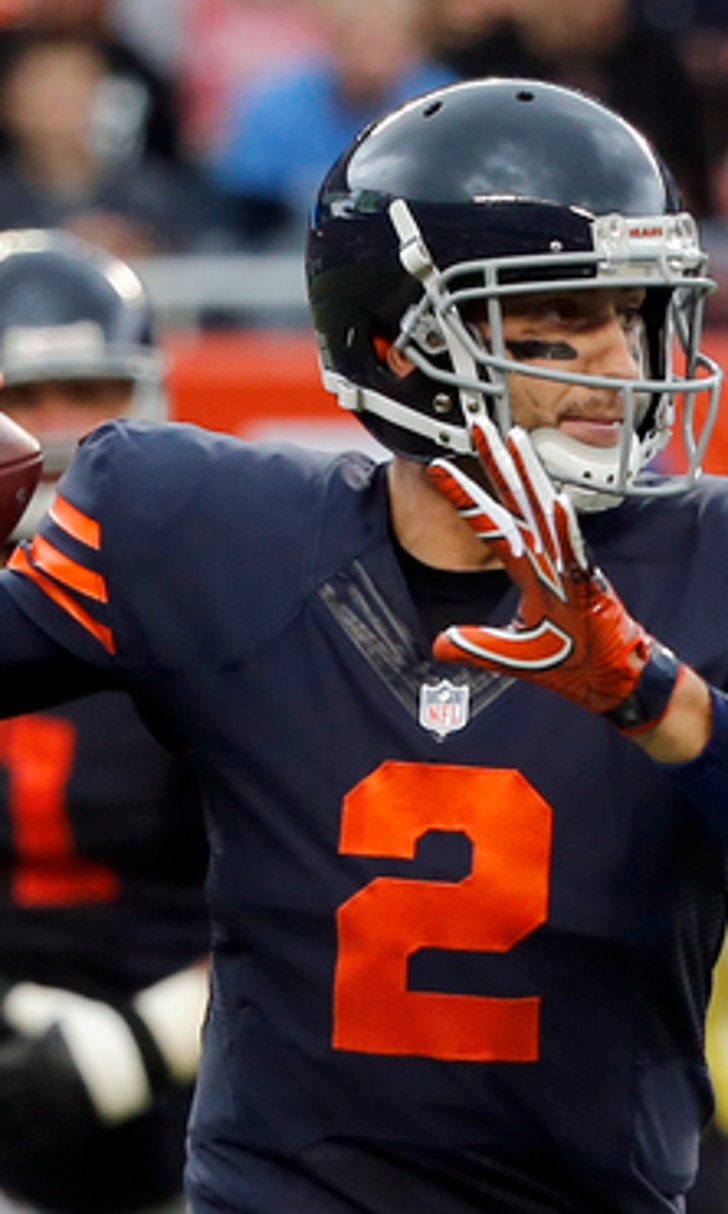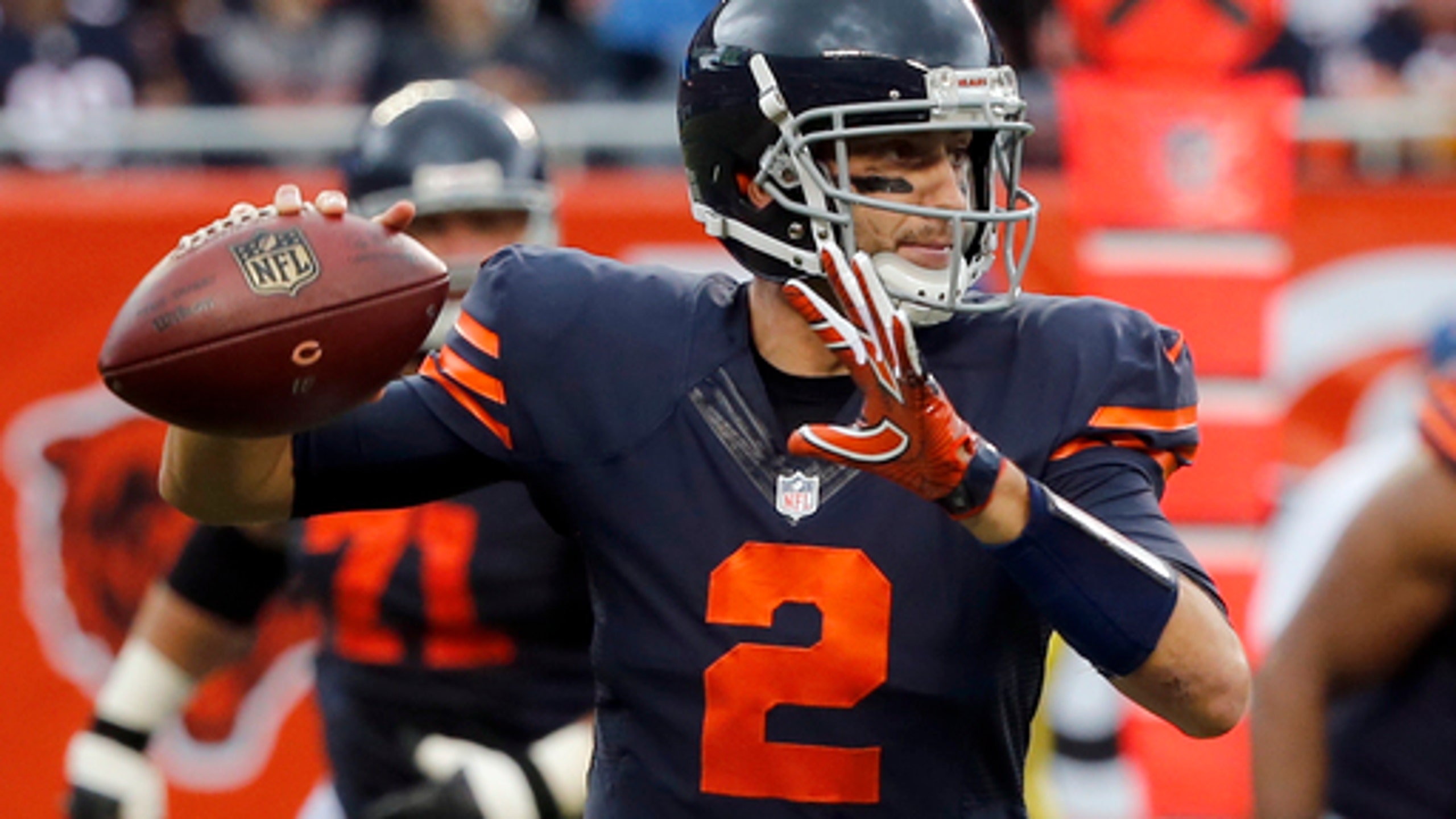 Quarterback Brian Hoyer gives Chicago Bears needed momentum
BY foxsports • October 3, 2016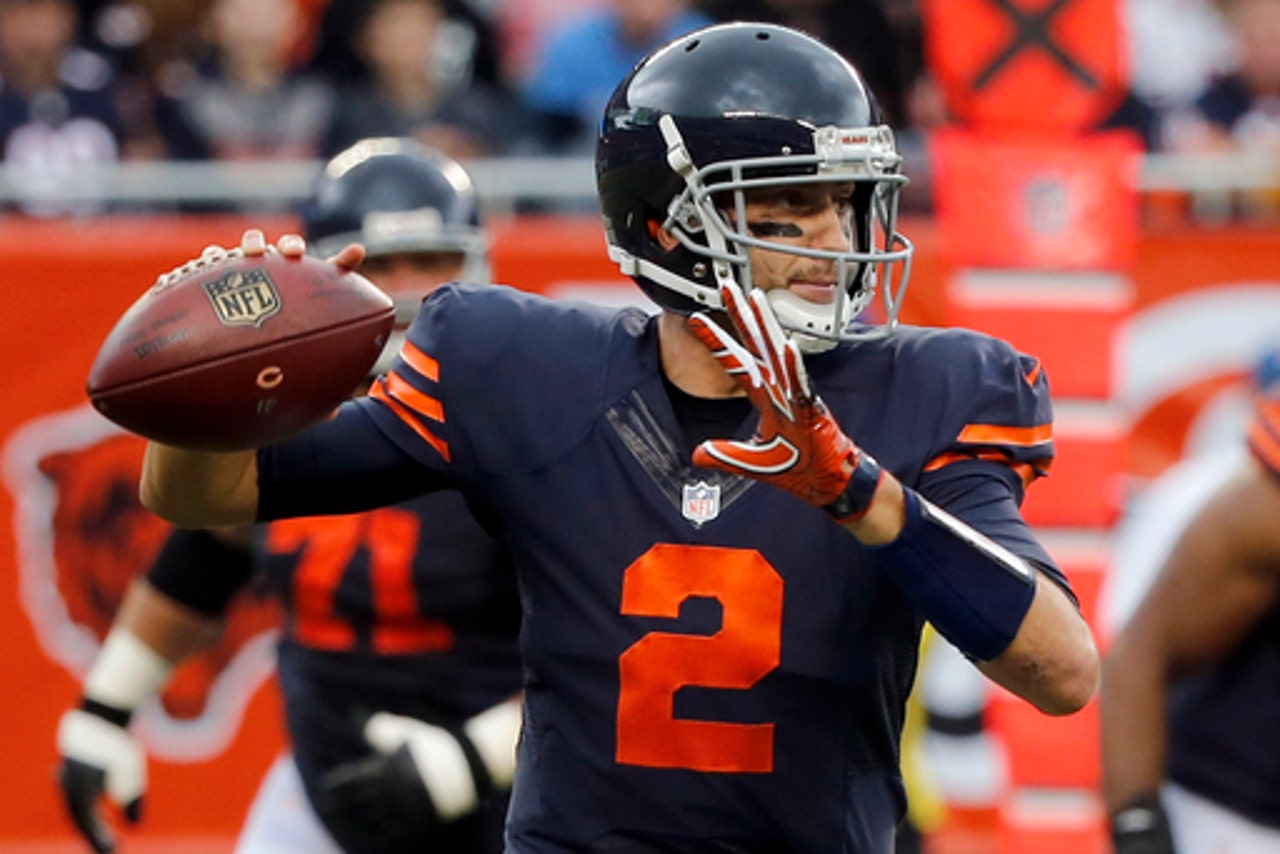 LAKE FOREST, Ill. (AP) If quarterback Brian Hoyer continues producing as he did Sunday for the Chicago Bears, Jay Cutler could find regaining his starting spot is no mere formality.
Bears coach John Fox didn't want to speculate Monday on how much longer Cutler would be out with a sprained thumb after calling it a ''significant injury,'' but did say the starting quarterback position is like any other.
''I think it's performance-based,'' Fox said. ''So anybody that's performing well, I don't think we're going to be likely to change.''
Hoyer, an eight-year veteran, threw for 302 yards on 28 of 36 with two touchdowns and no interceptions in Sunday's 17-14 victory over the Detroit Lions.
Hoyer has yet to throw an interception in three Bears appearances, and is 67 of 97 with a passer rating of 103.3.
Cutler had a 75.7 passer rating and completed 28 of 46 passes for a touchdown and two interceptions. Cutler's two starts came against Philadelphia and Houston while Hoyer faced Dallas and Detroit.
When Cutler is healthy enough to return, Fox said evaluation of the spot will begin. At least until then, Hoyer is still the starting quarterback.
''I think we'll evaluate it just like we do every position on the football team,'' Fox said. ''I think Jay has played a lot of good football.
''In fact in the (film) cut-ups watching Detroit in last year's two games I thought he played pretty well. We'll evaluate it like everything. Right now I don't like getting into speculation and predictions because we'll know more on Wednesday.''
The Bears are 1-3 after ending a six-game home losing streak and go to Indianapolis on Sunday.
Hoyer was particularly adept at moving and throwing against the Lions. The Bears used a moving pocket or passes off bootlegs to keep Detroit's pass rush off balance.
''I think we kind of were starting to do more of that anyway, just because we had some (pass) protection issues, and I think any time you can get the quarterback on a different spot is important in football,'' Fox said. ''So it's just something we kind of put in the system.''
Another thing Hoyer did well was distribute the ball to different receivers after Alshon Jeffery had been the chief target opponents sought to stop.
Three Bears caught four or more passes and Eddie Royal took a pass over the middle 64 yards to set up a score.
''It makes the defense so that they can't key on one guy,'' Royal said. ''They all know how good Alshon is. And when we're spreading the ball around hopefully it will take away some double coverage from him.''
It didn't hurt Hoyer to be able to lean on a running attack that featured a back Fox said reminded him of former Carolina running back Stephen Davis.
Rookie Jordan Howard ran for 111 yards on 23 carries in his first start. He had been sharing time as the third back behind Jeremy Langford and Ka'Deem Carey, who were injured.
''Just being the main guy, you know you can be comfortable and relaxed, sort of,'' Howard said. ''You don't have to worry about being pulled very fast, so you can definitely get into a rhythm.''
Fox said he thought Howard tired out Detroit's defense, and the rookie wouldn't disagree.
''I felt like they were getting worn down as the game went on,'' Howard said. ''I definitely try to make the defense not want to tackle me toward the end of the game. So I try to bring everything I have on each run.''
Langford is out with a sprained ankle and Carey with a hamstring pull. So it's likely Davis will continue to get work.
''He's got good feet,'' Fox said. ''He's got good vision. I think his hands are better than I think we thought, even when we drafted him.
''He does have an even-keel demeanor. He's not going to go real high. He's not going to go real low. But he's a very instinctive football player.''
Fox was also encouraged by another young player, wide receiver Kevin White.
However, White had to have an MRI after suffering an ankle injury in the game and the team will know the extent of the injury later in the week.
White had six catches for 55 yards against Detroit.
''I thought it was by far his best game,'' Fox said. ''I think he was real aggressive. I think he caught some contesed balls.
''I think after the catch he was aggressive to get extra yards. I thought it was his best performance.''
---
Online:
AP NFL website: www.pro32.ap.org and www.twitter.com/AP-NFL
---
---