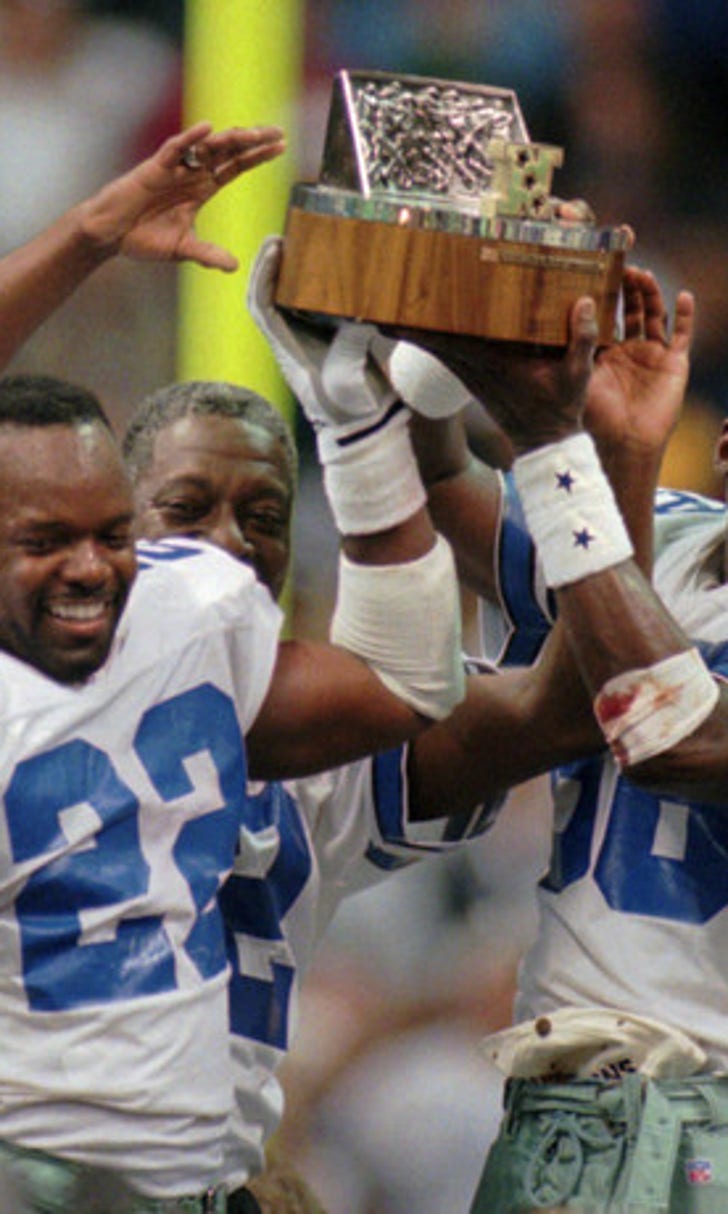 Playoff history for Packers and Cowboys dates back decades
BY AP • January 13, 2017
GREEN BAY, Wis. (AP) The Dallas Cowboys and Green Bay Packers go way back, as in the 1967 NFL championship game played in such frigid conditions at Lambeau Field that it is known in league annals as the ''Ice Bowl.''
Cowboys receiver Dez Bryant has more recent memories, and they're painful for reasons other than the cold.
Two of the league's marquee franchises share a postseason history that dates back five decades. They have met seven previous times in the playoffs , with Dallas holding a 4-3 edge going into the divisional round game on Sunday against the Packers at AT&T Stadium.
While the teams may not be heated divisional rivals, their postseason meetings often leave an impression.
''I hope the Cowboys don't spoil it, or I'll be really (angry) if they do,'' said former Packers offensive lineman Jerry Kramer.
He was one of the blockers for Hall of Famer Bart Starr's game-winning, 1-yard quarterback sneak with 13 seconds left in the fourth quarter of Green Bay's 21-17 win in the Ice Bowl.
Each team has made 32 postseason appearances, tied with the New York Giants for most in NFL history.
Dallas and Green Bay have unique owners. For the Cowboys, owner Jerry Jones is part-showman, part-personnel executive and part-spokesman. Dallas plays in a cavernous, modern stadium in a sprawling suburb.
Green Bay plays in the league's smallest market. Lambeau Field is the league's longest-tenured stadium, situated in the middle of a blue-collar neighborhood. It's the only publicly owned franchise in the NFL.
''Part of it is, I don't think the organizations could be more different. Their stadium and our stadium - ours is iconic, an older stadium. Their (stadium) is glitzy,'' Packers president Mark Murphy said. ''But I have tremendous respect for the Dallas organization and Jerry.''
A look back at some postseason highlights of postseason between the teams:
NEW YEAR'S DAY: Fifty years ago on Jan. 1, the teams met in the 1966 NFL championship game, which took on new meaning since the winner would represent the league in the first Super Bowl against the AFL winner. Starr was 19 of 28 for 304 yards and four touchdown passes in the 34-27 victory at the Cotton Bowl in Dallas. The Packers went on to beat the Kansas City Chiefs in the Super Bowl.
After joining the NFL as an expansion franchise in 1960, Dallas started a streak of 20 straight winning seasons in 1966.
ICE BOWL: The temperature was minus-13 at kickoff on Dec. 31, 1967, when the Cowboys and Packers met at Lambeau in a classic NFL championship game . Cowboys equipment staff gave players a salve to rub on to keep warm, and put Saran Wrap around feet in an attempt to add another layer of warmth.
There wasn't much of a rivalry then because the Cowboys were still relatively new to the league, Kramer said, though the seeds of a rivalry were planted.
DALLAS DOMINATION: The Cowboys dominated in the mid-1990s with a star-studded lineup led by the Hall of Fame trio of Troy Aikman, Emmitt Smith and Michael Irvin. Dallas hosted the Packers and another future Hall of Famer, quarterback Brett Favre, for three straight seasons, from 1993-95, all Cowboys victories.
Kramer remembers a weekend in which he attended one of those playoff games and got frustrated by the brash and confident Cowboys. His anger boiled over in a radio interview.
''There wasn't anything about any of them that I liked,'' Kramer recalled this week. He has become friends with former Dallas players, though his heart remains with the Packers.
The loss in the 1995 NFC title game served as a learning experience for Green Bay. The Packers went on to beat New England in the Super Bowl in the 1996 season.
''Every year, you got better, you learned from your mistakes,'' former center Frank Winters said. ''From a motivational point ... you tried to overcome those adversities, tried to learn from them and move forward.''
They didn't face the Cowboys in the playoffs that year after Dallas was knocked out by Carolina. The Packers returned to the Super Bowl the following season, losing to Denver.
''I think the signature `win' for the Packers was a loss, and that was the NFC championship in 1995 in Dallas,'' former Packers linebacker George Koonce said. ''That really prepared us and got us focused to really get us ready to win a championship.''
OVERTURNED CATCH: The Cowboys returned to Lambeau for a postseason game on Jan. 11, 2015. They left with a 26-21 loss after Bryant's leaping, 31-yard catch to the Packers 1 on fourth-and-2 with 4 1/2 minutes left was overturned by officials.
Cornerback Sam Shields had solid coverage. Coach Mike McCarthy saw otherwise and threw a challenge flag.
Replays showed that Bryant bobbled the ball as he rolled into the end zone, with part of it touching the field. After reviewing the play, officials overturned the call, saying Bryant didn't maintain control all the way to the ground.
''Still to this day,'' Bryant said when asked if fans still come up to him about the call. ''Still to this day they (will) be like ... `I just want the world to know that Dez Bryant still caught it.'''
As for Bryant, that call is history .
''It's already erased ... I'm just thinking about this game,'' Bryant said. ''I can't wait. It's going to be a fun game Sunday.''
---
AP Sports Writer Schuyler Dixon in Frisco, Texas, contributed to this story.
---
For more NFL coverage: www.pro32.ap.org and http://twitter.com/AP-NFL
---
---